Fake news, misinformation, and propaganda—these are the defining words of today's news outlets.
A few months ago, rumors about Disney removing age restrictions for alcohol consumption took online platforms by storm. It even reached mainstream news. This incident highlights how easily people can fall victim to falsehoods.
The problem is that media power extends beyond viral controversies. It can shape the public's opinion on heavier matters, such as war. That's why individuals need to separate truth from propaganda.
This is where Noam Chomsky's course comes into play. In Noam Chomsky's MasterClass review, we'll explore critical topics like media manipulation, activism, and more. So, keep reading for all the details!
Noam Chomsky MasterClass Summary
What you'll learn: In Noam Chomsky's MasterClass, you'll learn many valuable insights. These include critical thinking skills, identifying misinformation, and the role of activism. The course even delves into linguistics, social media, and artificial intelligence.
Runtime: This course is concise yet informative. It has a running time of only 41 minutes, including a bonus clip.
Recommendation: 9/10. Despite its controversial subject, Chomsky's MasterClass offers a digestible journey into critical thinking and media analysis. It empowers you to navigate a world of carefully crafted messages and shape your perception.
---
Quick Q&A
Before I delve into this subject, here's a brief Q&A, giving you an overview of how to access this course:
Q. Do I need a subscription to access this course?
Yes, like all MasterClass courses, you need to pay for a subscription to access this course. You can choose from several annual plans, all of which allow you to access other classes on the platform.
Q. How long is Noam Chomsky's MasterClass?
Noam Chomsky's MasterClass is only 41 minutes long, divided into several videos. So, it's not your regular one-hour academic-style lecture. It consists of short clips, ranging from 5 to 15 minutes, making it easily manageable to complete.
Q. Can I cancel the MasterClass subscription?
Yes, you can cancel the MasterClass subscription anytime. All you need to do is go to your account page, choose settings, and follow the prompts to cancel. Once you're done, MasterClass won't renew your membership.
If you cancel within 30 days of registering, you can request a refund, as they have a money-back guarantee policy!
Q. Is Noam Chomsky's MasterClass worth it?
Yes, the Noam Chomsky Masterclass is worth it. If you want to gain insights into critical thinking and filtering misinformation, this course can be an excellent resource.
That's especially true for those who use social media platforms to get little sound bites of what's happening in the world.
---
About Noam Chomsky
Avram Noam Chomsky, named the most important intellectual alive by the New York Times, is a prolific scholar.
Since his career in academia in the 1950s, Noam Chomsky has written over 150 books. He's a renowned linguist, revolutionizing the field through his theories, such as the Chomsky hierarchy.
Aside from the language sector, Chomsky's theory has applications in other areas, like computer science.
Although he has contributed significantly to linguistics, the American professor's work extends beyond that.
Chomsky has influenced other fields like philosophy, psychology, cognitive science, mathematics, and more! What sets him apart is his political commentary and open criticism of American power.
The professor is an outspoken critic of media manipulation. He sheds light on its role in brainwashing the public and pushing propaganda. His contributions to this topic began in the 1960s.
However, Chomsky's insights about media control extend back to Woodrow Wilson's days. The American president was elected in the middle of World War I. At the time, most of the population was pacifist.
Shockingly, that wasn't the case with the Wilson administration. They were pro-war. To get everyone on board, the government set up a propaganda commission. And in just six months, they managed to turn the people into raving, anti-German groups.
---
What Does Noam Chomsky's MasterClass Promise?
Noam Chomsky's MasterClass promises an in-depth exploration of critical topics like media, misinformation, and activism. Through the course, you can expect to learn about these skills:
Critical thinking: The lessons equip you with tools to dissect news, challenge mainstream narratives, and develop your perspective on complex issues.
Understand misinformation: Chomsky delves into the world of misinformation and its impact on society. You'll gain a deeper understanding of the mechanisms used to create propaganda.
Activism: The course uncovers the role of activism in creating positive change. Chomsky's journey will inspire you to invest your knowledge in empowering others and moving toward a better society.
Linguistics: For language enthusiasts, Noam's bonus module on linguistics helps you understand the language's role in challenging power structures.
---
How Much Does Noam Chomsky's MasterClass Cost?
As you might know, MasterClass doesn't offer a single-course membership. You need to subscribe to an annual plan, between $120 and $240, to access Noam Chomsky's course.
The good news is that you have several packages to choose from, depending on your budget.
The Individual plan is the most affordable package, costing $10 per month, which is billed annually. It sounds great. However, you only get one account for one device.
Pricier plans, like the Duo plan, cost $15 per month or $180 annually. As for the Family plan, it's $240 per year, which is $20 monthly.
The only difference between these packages is that you can connect your account to two devices in the Duo plan, while the Family plan offers six.
Regardless of your choice, all packages offer access to 180 classes across multiple categories. You also get bonus content and can download lessons for offline viewing.
I find it a great deal since you can watch similar content, like the Neil deGrasse Tyson MasterClass on Scientific Thinking and Communication, with the same membership.
---
What Is Included in Noam Chomsky's MasterClass?
Noam Chomsky's MasterClass is concise. It consists of short video lessons, including a bonus clip. The course also provides community access.
Here's an explanation of each component:
Video Lessons
The classes in Noam Chomsky's course offer an exploration of hefty topics. You'll find five sessions covering crucial subjects like media as a weapon to spread propaganda.
The American linguist also talks about the mechanisms used to create these false narratives and how to cut through them. Additionally, he touches on other topics, like AI.
What I found striking was the presentation. The videos are a series of short interviews, making them engaging.
Community Access
Like any MasterClass course, you can join a community of learners enrolled in Noam Chomsky's classes. You can connect with fellow students, discuss session materials, and exchange ideas.
---
About the Structure of the Class
Despite the subject's complexity, Chomsky's Independent Thinking and Media's Invisible Powers offers a simple exploration of this topic.
It consists of five videos discussing media misinformation, filtering the news, activism, and more! Let's discuss this critical thinking course in further detail!
1. Meet the Instructor: Noam Chomsky
Like any MasterClass session, the first portion begins with introducing the instructor.
The five-minute video starts on an intense note, with Noam Chomsky remembering his days as a counselor at a summer camp in 1945. The news of the Hiroshima bombing was revealed.
Despite the shocking announcement, life around him continued, which left the American linguist appalled.
As you can see, these few minutes into the lecture help you understand the instructor's character and views.
Aside from linguistics, Chomsky is a thought leader in understanding the influence of media and mainstream narratives to push certain ideologies.
Such views trace back to the 1960s. The American intellectual believes in empowering people to think for themselves instead of being told what to think.
As media platforms increasingly become echo chambers, having these critical thinking skills becomes indispensable. That's because it'll help you unveil propaganda.
According to Chomsky, several challenges threaten human survival, from the pandemic to the reckless acts of leaders.
Figuring out the truth and having that curious but critical-thinking mind will help us overcome these problems. And no one is better to teach those skills than Noam Chomsky!
2. New Media: Information and Misinformation
In the ever-evolving landscape of media, you can see that the platforms we engage with today are different from those in the past. The American professor recognizes this change.
In this lesson, Noam Chomsky discusses social media, like Facebook, TikTok, and Twitter (X), as rising news outlets.
These sources play a significant role in shaping public perception. Such tools can be dangerous. That's because they contribute to censorship. Algorithms guide the content we see, amplifying select voices.
The problem is that these companies are tools to spread out-of-context narratives. They act as catalysts, polarizing opinions.
What adds fuel to the fire is that celebrities can misuse these platforms to push an agenda.
Such media personalities, often with no subject-matter expertise, have significant influence. They present a false image with great confidence to silence a certain party—all for profit. And the misinformation doesn't stop there.
Chomsky talks about the decline of traditional journalism, with many local publications, like the Boston Globe, having gotten smaller or shut down completely.
Even well-established newspapers, like The New York Times, don't take long to read. That's because they contain opinion pieces. The column writers don't have a deep understanding of the issue.
Instead of accepting media views at face value, Chomsky's MasterClass provides insights to help you think for yourself.
3. Manufacturing Consent: The Control We Can't See
From the above, you can see that media outlets have a major influence on public perception, and they can be misleading.
That became clear to the American linguist in the 1960s, when he wrote some of his most influential pieces. His work discussed the connection between media and governments, which gained a lot of attention.
It wasn't until 1988 that Noam wrote Manufacturing Consent: The Control We Can't See, one of his most influential books in the field of social science.
This book sheds light on how mass media serves as a powerful ideological institution, shaping our understanding of the world. In just under 12 minutes, the influential public intellectual discusses the five filters the media use to spread propaganda.
So, it's high-level. However, understanding this theory will help you think more critically about the information you consume.
Here's an explanation of each element:
1. Ownership
Media outlets are part of larger corporations. They're driven by profit. For that reason, they cater to the financial interests of their owners.
This dependency can lead to editorial bias and a focus on stories that align with the investor's preferences.
Additionally, since the primary goal of these outlets is profit, they may only push news that generates the highest revenue. That means critical journalism isn't a priority.
2. Advertising
Running a news outlet costs a sizable amount—even more than what consumers pay. So, how does the media ensure profitability? As you might have guessed, through advertisement.
A large portion of these companies' revenue comes from advertisers. That's especially true if they have a large audience.
The problem is that this dependence can influence the content and narrative of news.
3. The Media Elite
To reduce information acquisition costs, media outlets can follow an exclusionary system.
Governments, large corporations, and institutions gain special access to the news gates, providing them with routine stories.
That pushes the media to favor these power structures. As a result, non-routine sources may struggle to get proper coverage.
4. Flak
Flak is the fourth filter in Chomsky's theory. For those wondering, the term refers to the negative responses the media receives. These can be in the form of comments, complaints, letters, and lawsuits.
Of course, that affects these companies' revenue. To avoid the hassle, they may stop reporting about content that'll cause flak.
5. The Common Enemy
To control the public's opinion, media outlets need to market an enemy. In the 1988 publication, anti-communism was the bogeyman.
However, Chomsky currently argues that the media's control mechanism shifted to the "war on terror." Understanding their narrative will help you evaluate the news and detect misinformation.
4. Turning Truth Into Activism
Thinking independently and cutting through propaganda isn't enough to change the world. Noam Chomsky emphasizes the importance of being proactive and working for a better future.
That's what the instructor recognized during the Vietnam War. In this lesson, he reflects on his activism days, where he challenged the prevailing narrative.
At the time, people believed that the US entered the conflict with good intentions. However, he highlighted that it was a destructive war against South Vietnam.
While you can't break through the mass media's propaganda alone, Chomsky believes that activism in the 1960s helped change the public's perception of war over the years.
That's why the American linguist supports collective action to drive social and political change. That's especially true if it's led by the youth.
Chomsky suggests that empowering people to develop informed opinions within their communities will help address systemic issues.
Interestingly, Noam calls for listening to young voices. I'm not sure what he thinks of the current youth activists, like Greta Thunberg, though.
Still, his message is clear: we don't need to speak truth to power structures; they know it. Instead, you should empower those who lack a voice to think for themselves.
5. Bonus: Challenging the Status Quo: Noam Linguistics
In this bonus six-minute clip, Noam Chomsky discusses his groundbreaking work in linguistics. Language is a distinct human trait that enables us to convey thoughts.
Chomsky believes you can tell a great deal about the human mind through the structure of language. He talks about the role of this unique trait in shaping societies and challenging power structures.
As he comments on AI, Chomsky recognizes its potential for constructive use. However, he warns about its potential harm, such as using it for deception or creating dishonest content.
---
Key Things I Learned
Noam Chomsky's MasterClass offers a unique perspective on media, critical thinking, and activism.
While he doesn't teach you how to think about particular types of journalism, the American linguist provides you with fundamental principles to help you think for yourself.
The course taught me to stop and filter information before consuming it. It helped me realize that modern media outlets, like social media, mailboxes, and so on, have changed how we perceive the news. Nowadays, it's about sound bites, which can easily be taken out of context.
Even daily news personalities aren't knowledgeable about the subjects they discuss. And with the decline of public intellectuals, people can mistake overconfident individuals for experts.
So, instead of taking their words as facts, you should opt for a more critical approach when assessing information.
Below are a few key learnings that stood out during the MasterClass
Here are some of the lessons that stood out to me:
Cut through propaganda: Noam teaches you independent thinking by asking questions like: where is this information coming from? How is it presented? What are the media hiding?
Understanding media manipulation: The five filters affecting news reporting were eye-opening. Chomsky sheds light on the mechanisms used to spread propaganda. Understanding these concepts helps detect misinformation.
---
Things I Liked About Noam Chomsky's MasterClass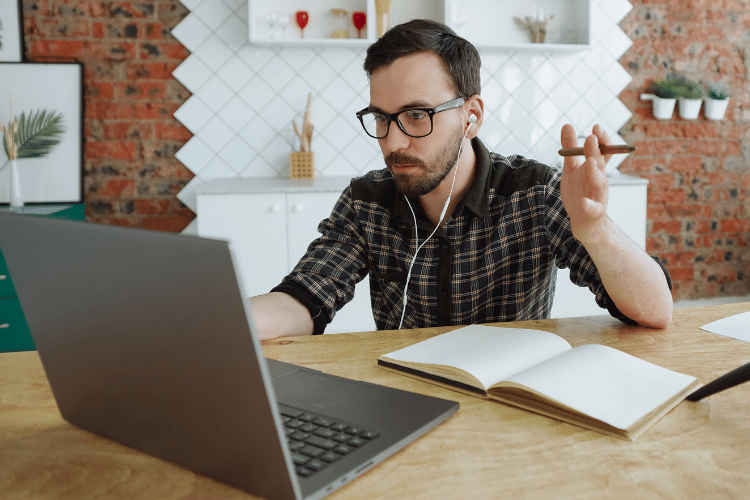 I find the entire course to be great and informative. However, what stood out the most was its masterful presentation.
Despite being a hefty topic, the MasterClass was engaging. The lessons are all under 15 minutes. So, you can finish this course in an hour.
Aside from following a conversational style, the videos include little flashback clips from Noam's early work.
This transition adds depth to the subject, helping you understand the professor's career. It provides insights into why he helps people develop intellectual self-defense against mainstream manipulation.
Chomsky's way with words and concise language was the cherry on top of the cake. While the topic is complex, the presentation is simple, making the content digestible.
My Favorite Quotes From Noam Chomsky's MasterClass
Noam Chomsky is one of the most cited intellectuals in the world. So, it's no surprise that his MasterClass is packed with many insightful quotes. These include:
"Science has made significant advances, and activists have opened up new vistas. But challenges which have never arisen in human history are now facing us."
"If I can teach people to think through issues for themselves, not the way they're taught to conform, that's the best legacy I can imagine."
"Control and domination—that's the goal of all power systems. They can be resisted—and should be."
"Social media tends to drive people into self-reinforcing bubbles. It's driving people even to more extreme views."
"For every serious problem we face, there are feasible answers."
---

Things I Didn't Like About Noam Chomsky's MasterClass
While there isn't much to dislike about Noam Chomsky's MasterClass, it still has some shortcomings. One notable drawback is its short running time.
Sure, the videos are concise, and the dialogue-style format makes them easy to understand.
Still, the topics are complex. Plus, Chomsky's extensive expertise leaves you yearning for a more in-depth explanation. Breaking down each lesson into a series of short clips could provide a deeper understanding.
Additionally, the classes lack hands-on exercises. Providing such activities could enhance the learning experience, as it allows students to apply what they learned to real-life problems.
---
Does the Class Keep Its Promises?
Yes, Noam Chomsky's MasterClass delivers on its promises. It provides valuable insights into critical topics, like media manipulation and activism. It also touches on the power of AI.
The American linguists' expertise shines through, encouraging the learners to seek independent thought and action, which I think is a healthy thing to do.
---
Is Noam Chomsky's MasterClass Worth the Money?
Yes if you…
Want to learn from an iconic intellectualWant to foster critical thinking, especially in the age of social mediaAre intimidated or excited by AI and its powerPrefer a conversational and concise teaching approach
No if you…
Prefer longer, academic-style lessonsWant a prescriptive teaching method, expecting to be told what's good journalism or publications
---
Wrapping Up
As you can see, Noam Chomsky's MasterClass is a valuable resource for anyone interested in developing critical thinking skills. That's especially true in the age of social media and AI.
This course is suitable for those who read the news and engage in online platforms. It'll help them learn how to filter what they consume and have independent thoughts. I believe it's one of those essential meta-skills that'll set you up to have a more successful life.
It's digestible and engaging, making it worth your time and investment. So, enroll in the course and get started on this journey of independent thinking and critical analysis!
Watch This Review on Youtube