David vs Goliath. The British Office vs The U.S. Office. Skillshare vs MasterClass. These are examples of timeless head-to-head matchups that get people talking.
In this article, we're going to deep-dive into the perks and appeal of these popular online learning platforms and help you decide: Skillshare vs MasterClass—which one is for you?
I'm an avid subscriber and user of both platforms. To be honest, I can't recommend one or the other because both platforms serve specific types of learners. Therefore, my goal for this review is to highlight the pros and cons of each, break down the types of learners who benefit from either, and uncover what makes each platform unique. From there, I believe you'll be able to assess which platform suits your learning goals.
So, who wins out? Well, that is entirely up to you! Let's dive in to find out.
Skillshare vs MasterClass—A 30,000-foot overview
On the outside, Skillshare and MasterClass appear one and the same. However, each contributes their own uniqueness to the online learning space. To kick things off, here is a quick side-by-side comparison of the two (I'll include a more detailed comparison at the end of this article).
| Features | Skillshare | MasterClass |
| --- | --- | --- |
| Price/month | ~$14 | $15 |
| Instructors | Less-known Experts | Celebrities/Well-known |
| Free trial | 1 month free | 1 week free |
| Length of courses | 1-3 hours | 2-4 hours |
| Course Materials | Some | Yes |
| Geared toward | Niche learners | Avid learners |
| Course Quality | Amature/High | Excellent/Professional |
To better understand the difference between Skillshare and MasterClass, think about the difference between YouTube and Netflix. One is more open-sourced and accepts content from various contributors. The other works in-house and is focused on quality.
Both get the job done but in their own unique way. Keep this in mind as you read through the remainder of this review.
Now that you have a bird's eye view of the two e-learning platforms, let's look at each one individually, starting with MasterClass.
A high-level MasterClass review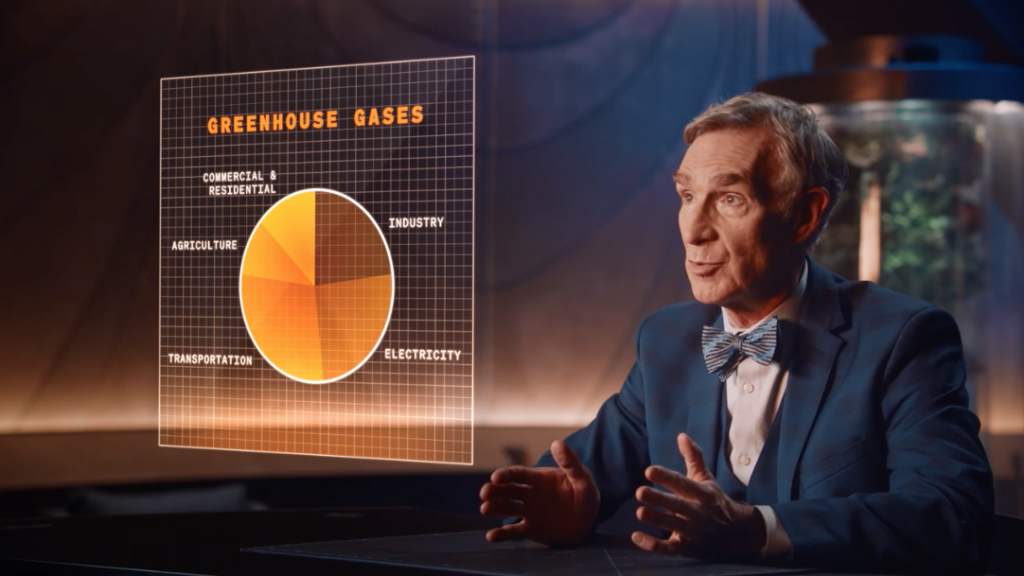 Founded in 2014 (originally as Yanka Industries, Inc.) by Stanford student, David Rogier, MasterClass launched its website the following May with only three instructors. Over the years, MasterClass has grown to offer a variety of courses under the following categories:
Arts and entertainment
Home and lifestyle
Music
Writing
Business
Food
Design and style
Sports and gaming
Community and government
Wellness
Science and technology
MasterClass classes are taught by respected and renowned experts in a series of high-quality courses totaling between two and four hours of video per course. Individual courses are divided up into ten to fifteen video lessons that last about ten to twelve minutes per lesson. The video quality of each course is nothing short of world-class.
If students are curious to expand their level of knowledge or want to ask questions, MasterClass has now rolled out a new feature called Sessions that guide students through a 30-day, hands-on learning experience with trained teaching assistants.
Students also have access to a downloadable workbook that is a perfect companion for supplemental learning outside of the video lessons.
A high-level Skillshare review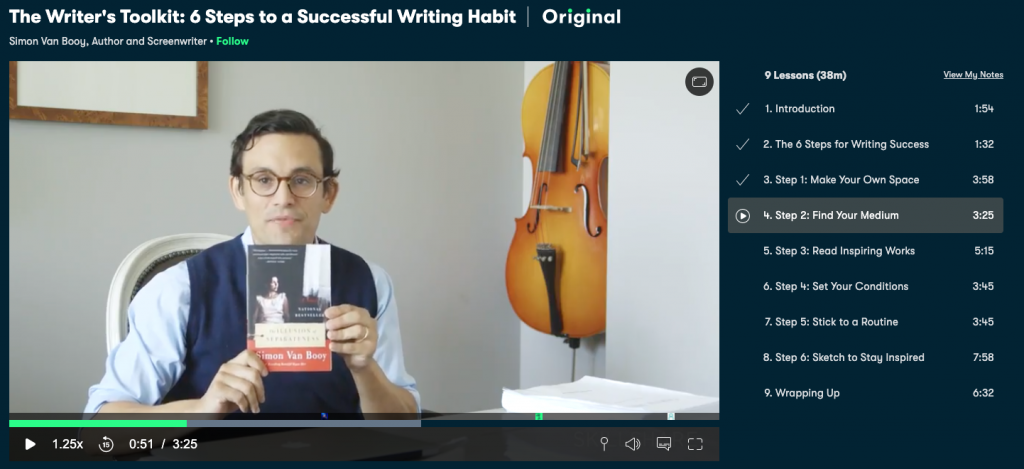 Founded in 2010, Skillshare is an online learning community for students to take online video classes at their own pace. The Skillshare platform offers a broad variety of specific skills such as UX design, creative writing, business analytics, graphic design, Photoshop, web development, and so much more.
Compared to other e-learning platforms, Skillshare is cost-effective and an excellent launching point for people to boost their careers with new skills or discover new courses to perk new interests.
Skillshare divides its courses into the following categories:
advertising
business
design
entrepreneurship
fashion and style
film and video
food and drink
gaming
music
photography
social media
technology
writing and publishing
The nearly 35,000 courses offered to Skillshare members are taught by thousands of teachers across a broad array of talent and experience. Some notable Skillshare teachers include Susan Orlean, Young Guru, Marc Ecko, Gary Vaynerchuk, Guy Kawasaki, and Paula Scher.
Skillshare recently launched Skillshare Originals, courses created by their in-house content team. Skillshare Originals along with their Staff Picks helps students easily discover courses worth taking.
Overall, Skillshare is suited for those looking to gain practical skills without paying an expensive tuition at an accredited university.
Skillshare vs MasterClass—Pricing (what's probably already on your mind)
In such turbulent economic times, you're probably reading this article to know whether or not Skillshare and MasterClass are worthy investments of your time and money. To help you make that assessment, I've laid out below in simplest detail each platform's pricing plans and how much you can expect to pay per year for their courses.
Let's start with MasterClass who are more upfront on their pricing.
MasterClass pricing
In 2021, MasterClass began testing alternative subscription models besides their original flat-rate annual membership. Eventually, they settled on a new cost-friendly three-tier MasterClass pricing model for their annual subscription:
Individual – $120 per year (average $10 per month)
Duo – $180 per year (average $15 per month)
Family – $240 per year (average $20 per month)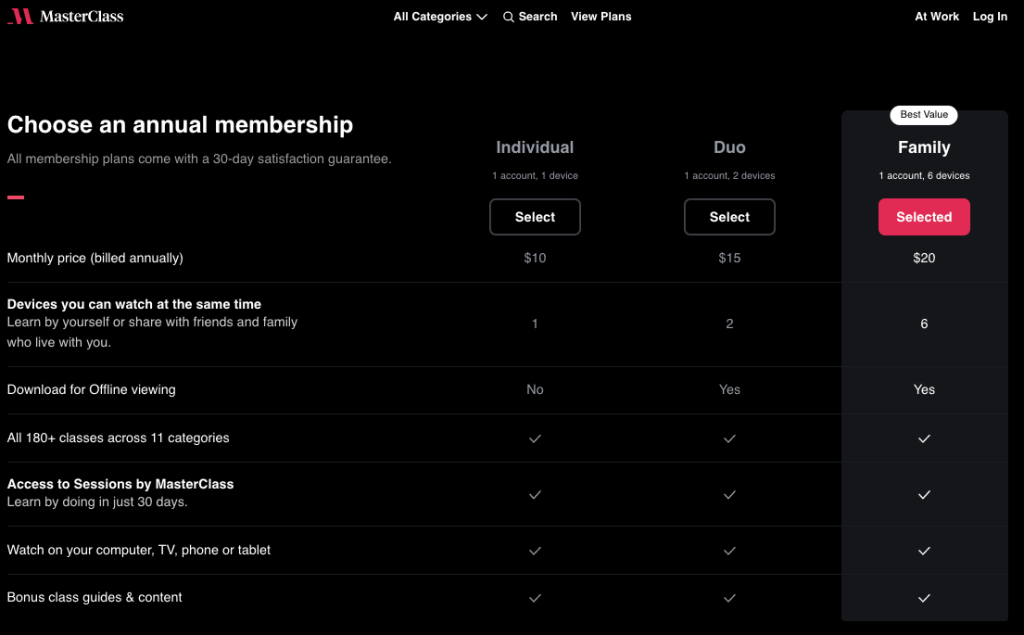 The Individual membership (formerly the "Standard Plan") is perfect for single individuals who are most likely to consume online learning at home. The Duo (formerly the "Plus Plan") and Family (formerly the "Premium Plan") plans are better for couples as MasterClass allows multiple devices to watch at the same time. (Netflix has similar restrictions for their membership plans).
However, the ability to download video lessons for offline viewing is helpful for people who might want to watch MasterClass on their commute to work without eating up most of their data. The Plus and Premium plans offer their users the ability to do just that.
Personally, I go for the $120 per year option as I average about one MasterClass per month, which means my cost per class is $10.
MasterClass pricing has varied over the years (at one point they sold memberships for single classes). However, this three-tiered model appears to be around for the long run.
Individual Plan (formerly the Standard Plan)
The Individual membership all-access pass is perfect for single individuals who are most likely to consume online learning at home. With the Individual plan you still receive access to all 100+ courses and have the ability to watch on your computer, TV, phone, or tablet. The only restriction is that you are unable to download courses for offline viewing nor are you able to watch on multiple devices at the same time.
Duo and Family Plans (formerly the Plus and Premium Plans)
The Duo and Family annual subscriptions are almost identical except in one way. Unlike the Individual plan, Duo and Family MasterClass memberships allow users to download courses for offline viewing and simultaneous streaming on multiple devices, up to two devices for Duo and six for Family.
The Duo and Family plans are better for couples as MasterClass allows multiple devices to watch at the same time. (Netflix has similar restrictions for their membership plans). The ability to download video lessons to view later is helpful for people who might want to watch MasterClass on their commute to work without eating up most of their data.
Enterprise Plan (aka MasterClass at Work)
What if you want to give your team access to MasterClass, how would you go about bulk ordering subscriptions? Lucky for you, MasterClass has an easy-to-use program called MasterClass at Work that offers bulk discounts (5-35%) for multiple licenses. After your purchase, you'll gain access to an admin portal where you can easily distribute and manage access to MasterClass to your team.
Skillshare Pricing
If you've ever dug around Skillshare's website, you might have noticed that their pricing plans aren't readily accessible. In fact, they're nowhere on the homepage.
The easiest way to find out the cost of Skillshare is to ask someone who's already signed up for a premium membership. Oh hey, that's me!
Since I'm privy to Skillshare's pricing plans, let's first talk about how to access Skillshare for free. Now, Skillshare used to have free courses under a free membership option. However, that plan is no longer offered. Instead, Skillshare offers free access for one month after signing up for a Skillshare Premium membership (yes, you will need a credit card to sign up). After your one-month trial, you have two membership costs options to choose from:
Monthly subscription—$32 a month
Annual subscription—$168 a year (Over 50% savings, averages about $14 a month)
With a premium plan, you gain unlimited access to all 35,000+ online classes. Also, as a premium member, you can also download classes onto your iOS or Android devices for offline viewing.
Wait what, Skillshare is free?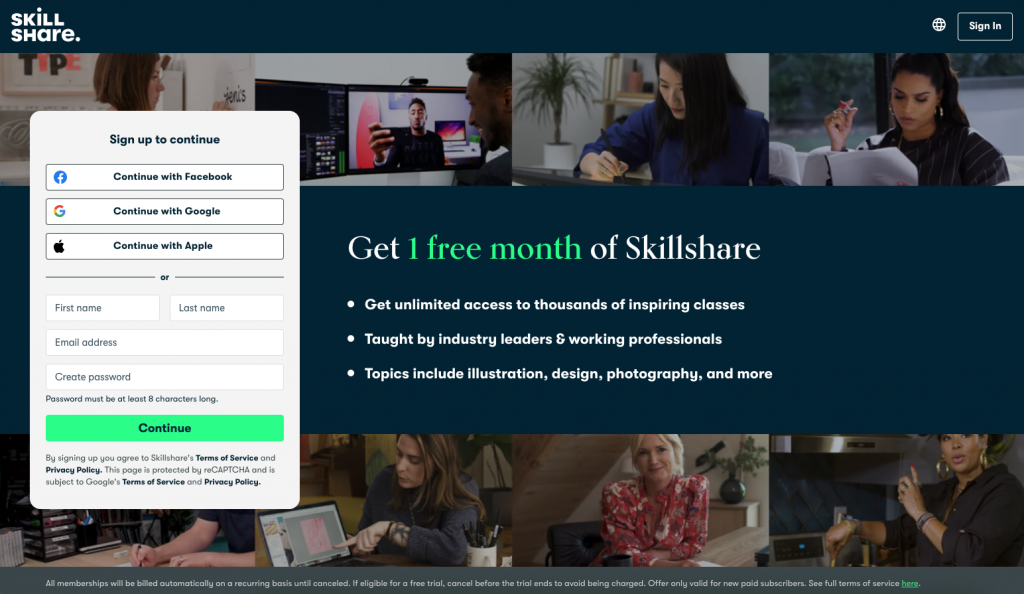 Yes, Skillshare is free. But access to free classes is only available for the first month.
It is entirely possible, however, to sign up for a free month of Skillshare, have access to high-quality online courses, and cancel before the one-month trial ends to avoid being charged.
If it sounds a bit sleazy, even Skillshare admits it's totally acceptable to do so. Just take a look at the text at the bottom of their free trial sign-up page.
"Cancel before the trial to avoid being charged."
Skillshare vs MasterClass—Courses and Instructors
There is a noticeable difference between Skillshare and MasterClass courses and instructors. One is geared toward a wide variety of niche topics and the other is known for their celebrity instructors. Again, each comes with its own benefits and functionality suited to your needs.
Let's look at each one in more detail.
MasterClass Courses
As I mentioned above in the high-level overview, MasterClass offers courses ranging from arts to science and technology. Currently, MasterClass offers over 150 courses to their members (with more courses added every month). With each course averaging approximately 4 hours of video content, that's over 600 hours of course material.
Speaking of course material, every course comes with an additional curated course workbook that can be downloaded for personal use. Each workbook is unique and employs its own cohesive style that fits the instructor.
Every MasterClass is subdivided into ten to fifteen or so video lessons that average approximately 10 to 12 minutes a video. You can complete these video lessons at your own pace and in any order you choose (although the next lesson automatically plays after you complete a lesson).
The production quality of these courses is top-of-the-line. They use real filmmaking experts who know how to light, film, and edit high-quality video lessons.
If you're wondering how hard is it to find a course to take, MasterClass makes it easy by onboarding you with a quick questionnaire that'll recommend courses to you. Or, you can always browse the Library Catalogue.
Subject areas, how long, what comes in a course
Popular MasterClass Courses
If you're looking for a quick guide to the most popular MasterClass course, here's our list based on views and engagement of MasterClass' trailer videos on their YouTube channel:
You can always browse all of our MasterClass reviews for more recommendations.
MasterClass Instructors
It's no secret that MasterClass instructors tend to be easily recognizable names (some would even go so far to deem them "celebrity instructors"). However, this fact shouldn't take away the fact that these well-known instructors are known for, well, their expertise. Think about it for a second, where else can you learn basketball from Steph Curry or cooking from Massimo Bottura?
But don't let these instructors scare you away. MasterClass courses are geared toward curious beginners who are looking to learn new subjects. For example, I absolutely loved Paul Krugman's MasterClass on economics without knowing too much about finance and economics.
Overall, some critics might be quick to judge MasterClass based on their use of "celebrity" experts; however, as an avid learner, I've never found the classes to be underwhelming. These MasterClass instructors know how to deliver a course worthy of your time!
Skillshare Courses
What Skillshare lacks in notable instructors, they certainly make up for it with the sheer quantity of courses offered. With over 35,000 Skillshare classes available on the platform, Skillshare certainly outpaces MasterClass in this regard.
With such a large number of courses available (covering a variety of subjects from advertising to fashion to writing), you'd think discoverability would be an issue. However, that is not the case. Skillshare has helpful browsing features that let's you sort courses by subject, popularity, trending, course length, and my favorite, "Staff Picks" which are curated courses selected by Skillshare themselves.
Each course comes with additional functionality and resources such as:
About page to learn more about the course and the instructor
Reviews by past students
Discussion board for current students to discuss the course with the instructor
Projects and Resources to apply what you've learned
Transcripts in case you'd like to retrieve certain bits of information
Recently, Skillshare rolled out a new feature called Chroma Courses which are, "Multi-week, immersive, small group courses that feature limited seating, exclusive content from expert teachers, live Q&As, and personalized feedback on your assignments."
Chroma courses allow you to collaborate with other learners in private Slack channels. Anyone can join; however, seating is limited. If a Chroma course is full, you can always add your name to the waitlist or wait until a new session launches the following month.
Chroma Courses do cost an extra $499 which is a bit steep for average learners like me.
As you can see above, for a brief time, Skillshare offered a feature called Chroma Courses. While I never enrolled in one personally (I thought they were a bit too expensive), Skillshare decided to roll back the feature and launch Learning Paths instead (more on that in the following section).
I contacted Skillshare to comment on their decision to remove Chroma Courses. Here is what they had to say:
"Based on the information we gathered from our community and students while running our Chroma Courses, [we] made the decision to deprecate Chroma Courses. Our last Chroma Course ran in June of 2022. While not intended to be a replacement for Chroma Courses, we did recently introduce Learning Paths with curated classes on some of our most popular topics."
Learning Paths, on the other hand, definitely feels better suited for learners who are eager to learn but don't want to spend time browsing for the perfect course to take. Instead, Skillshare created Learning Paths where carefully selected courses are stitched together to create one cohesive, well, learning path.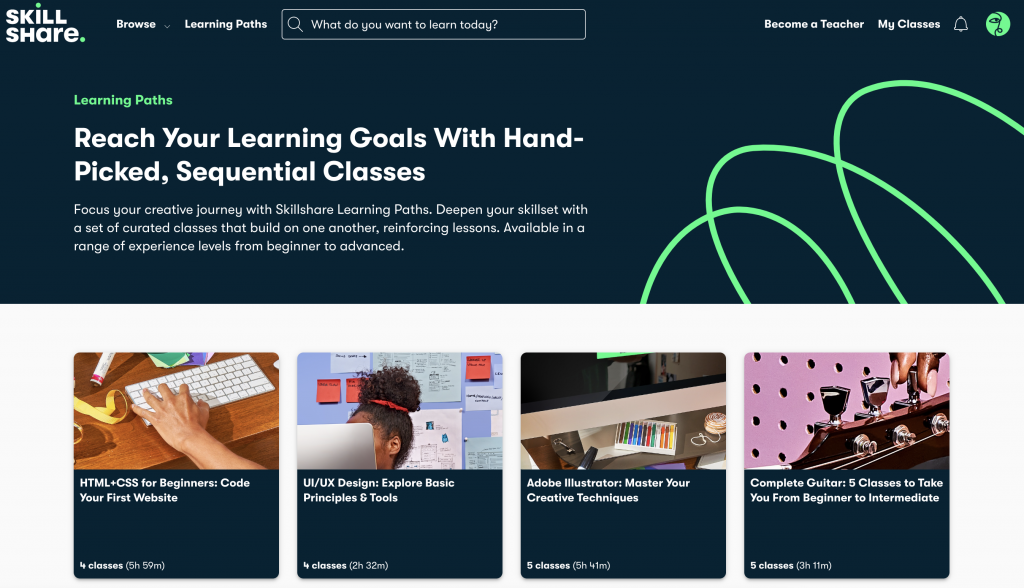 At the time of publication, Skillshare has released 35 Learning Paths ranging from a variety of learning subjects such as playing the piano and self-care.
Popular Skillshare Courses
According to Skillshare, here are a few of their most popular courses:
Adobe Illustrator CC – Essentials Training
Video Editing with Adobe Premiere Pro for Beginners
Productivity Masterclass – Principles and Tools to Boost Your Productivity
iPhone Photography: How to Take Pro Photos On Your iPhone
Mastering Productivity: Create a Custom System that Works
Digital Illustration: Learn to Use Procreate
Intro to Procreate: Illustrating on the iPad (UPDATED for 2022)
Graphic Design Basics: Core Principles for Visual Design
Skillshare Instructors
It's no secret that Skillshare instructors are less prestigious than their MasterClass counterparts. Nevertheless, that's what sets Skillshare apart. Instead of prestige, Skillshare instructors are experts in a wide variety of niche disciplines. If you're looking for personal development courses, for example, you'll most likely stumble across Nedra Tawwab's "Reach Your Goals: 7 Personal Development Exercises to Build a Life You Love" course. Sure, Tawwab isn't a household name but she is a New York Times best-selling author, licensed therapist, and the founder and owner of the group therapy practice, Kaleidoscope Counseling.
If you are looking for some notoriety, Skillshare does offer classes by teachers including Susan Orlean, Young Guru, Marc Ecko, Gary Vaynerchuk, Guy Kawasaki, and Paula Scher.
Skillshare vs MasterClass—User experience
Now that we've looked at the important things let's get into the nitty gritty: which learning platform is user-friendly?
When we think of online learning, we want something a bit more technologically upgraded from our days at university. No need to worry, both Skillshare and MasterClass offer a stunning learning experience and exceptional functionality.
Let's look at what each one has to offer.
Skillshare user experience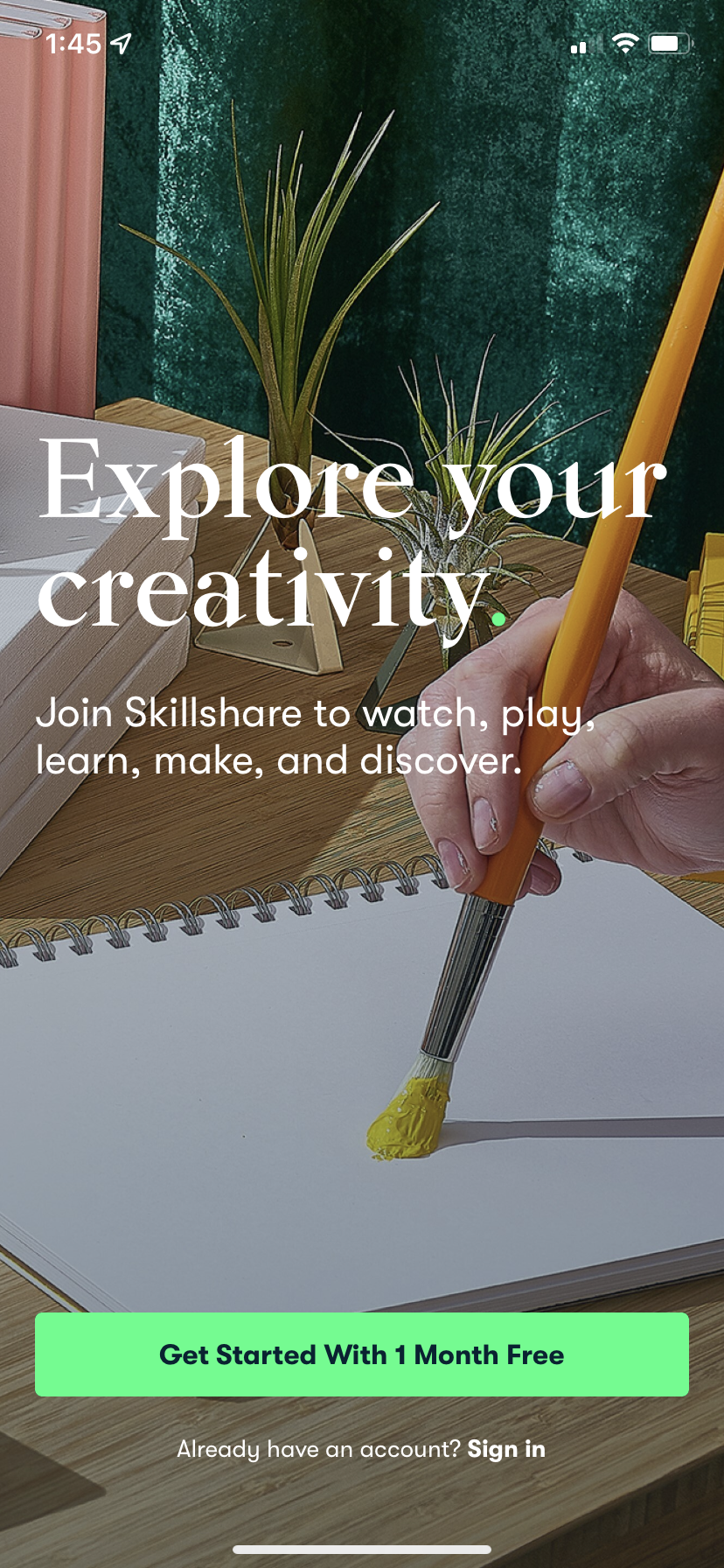 Skillshare is available online at skillshare.com or can easily be accessed on their mobile app. The Skillshare app can be found in both iOS and Android stores and offers users the ability to download courses for offline viewing.
However, to access the app, you must first sign up for a 1-month free trial or sign in with an already existing account.
The Skillshare app is easy to navigate and search for new course content. If you want to stay up-to-date on new classes offered by Skillshare, you can turn on push notifications to receive alerts directly to your mobile device.
MasterClass user experience
Whether you use masterclass.com on a browser or the mobile app (available on both iOS and Android app stores), you're getting a high-quality, interactive experience.
On both versions, students have the ability to download supplemental class workbooks or join group Sessions hosted by some of their favorite instructors.
However, unlike the web browser version, the MasterClass app comes with the functionality to listen to just the audio portion of each lesson. This is especially helpful for commuters who'd rather consume their learning a la podcast-style.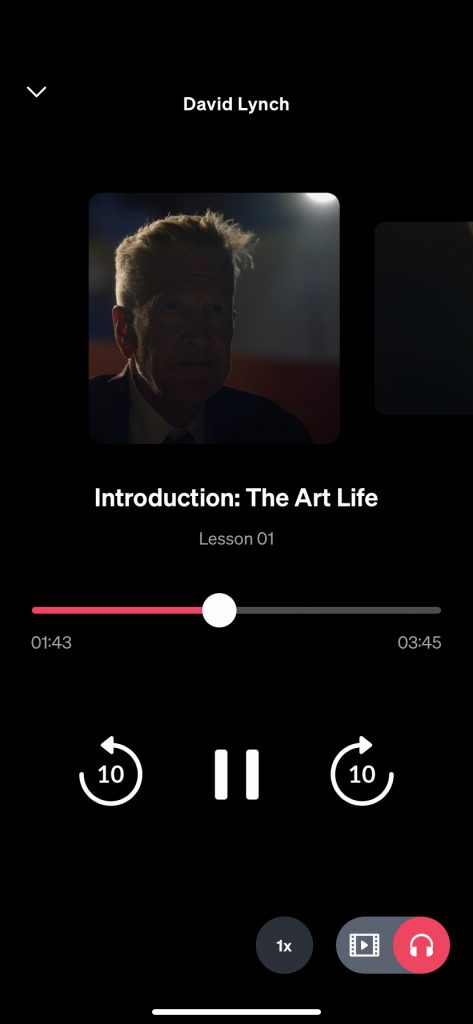 The MasterClass app also comes with the ability to cast each video lesson to a smart television such as Apple TV or Chromecast-enabled TV.
I don't particularly use the MasterClass App as I prefer to take hand-typed notes on my computer while I watch. However, for passive learners, this is an incredibly helpful feature.
Skillshare and MasterClass alternatives
If you are looking for other high-quality or accredited online learning alternatives, below are a few options to consider.
Skillshare vs Udemy vs MasterClass
With Udemy, you gain access to the bargain outlet of online learning. While Skillshare offers over 35,000 quality online courses from high-caliber instructors, Udemy offers thousands of cheap online classes from thousands of unknown instructors.
MasterClass, on the other hand, offers over 150 high-quality online courses from high-caliber instructors, Take writing classes, for example, MasterClass has a dozen or so taught by successful people like Judy Blume, Neil Gaiman, and Margaret Atwood. Udemy offers hundreds of much cheaper writing classes but from less-known authors.
If you have time to look for a gem on Udemy, they don't sell monthly or yearly subscriptions. Rather you pay per class access.
Skillshare vs LinkedIn Learning vs MasterClass
I'm not the biggest LinkedIn fan (or user). Somewhere along the way LinkedIn lost who and what they are and eventually dove into the world of online learning with LinkedIn Learning.
At $39.99 a month, or $323.88 paid annually, LinkedIn Learning is way more expensive than MasterClass for way less the value. I can see how this can be useful for employers to give to their employees for career development training. But for personal use, I'd much rather spend my time learning from the much more enjoyable MasterClass (which never feels like homework).
Skillshare vs Coursera vs MasterClass
Unlike Skillshare, Coursera offers courses from world-leading universities, not everyday instructors.
Coursera's user experience feels a lot more traditional compared to Skillshare. However, Coursera is geared toward more professional users looking to build skills in their profession with actual Degrees and Certificates.
---
MasterClass FAQ
How do I cancel my MasterClass subscription?
If you give MasterClass a try and find out it's not for you, you can simply email their support team [email protected]. If you made your purchase less than 30 days ago MasterClass will refund you the full amount, no questions asked. I've interacted with the MasterClass support team multiple times and they are always extremely helpful.
Can I send MasterClass as a gift?
Yes, you can! Actually, that's how my journey into MasterClass began. A relative of mine gifted me a year's membership for my birthday. I've renewed every year since. Also, when you sign up for MasterClass you also have the ability to share a membership with someone for free. That's right, each membership comes with the ability to invite one person to try MasterClass for however long your subscription is. In other words, if you purchase (or receive as a gift) a MasterClass subscription for a year, you can gift one other person a year-long membership as well.
Can you try MasterClass for free?
Yup, MasterClass offers new students a 7-day free trial (along with their 30-day money-back guarantee).
Is there a MasterClass app?
Yes, and it's available to both iOS and Android users.
Can you stream MasterClass on a television?
Yes, through the MasterClass app, users can cast MasterClass videos to their Apple TV, Chromecast, Roku, or Amazon Fire TV.
Skillshare FAQ
Does Skillshare come with a free trial?
Yes, you can sign up for a 1-month free trial of Skillshare. You will have to create an account, however, you can cancel your subscription prior to being charged if it turns out Skillshare is not for you.
Can I cancel my Skillshare membership?
Yes, to cancel your Skillshare subscription, go to "Payments" in your "Account Settings" and click on the "Cancel Membership" link and follow the prompts.
Is there a Skillshare app?
Yes, there is! The Skillshare app is available to both iOS and Android users.
Can I watch video classes offline?
Yes, to view video classes offline simply navigate to any course and click on the "Download Video" button. The videos will be saved under the "My Classes" button on the Skillshare app.
Can I stream Skillshare courses on my smart T.V.?
Yes, with Chromecast or Airplay you can stream Skillshare videos directly to your television. Follow these more detailed instructions to do so.
---
Final Verdict: MasterClass or Skillshare—which one is worth it?
Here's my final verdict: MasterClass AND Skillshare are incredibly worth it.
The amount of value you receive compared to the cost of each service means both options are impeccable.
Now, the question comes down to which online-learning platform suits you and your learning goals. That you will have answer for yourself. And as I keep mentioning, you can try both for free and decide on your own.