Here are eight free online photography classes for aspiring and professional photographers!
Thanks to modern technology and social media, mastering the basics of digital photography has never been easier.
Anyone can whip out their smartphone, snap a photo, add a black and white filter, and consider themselves a professional photographer. However, to become a better photographer and learn proper photography techniques, all one needs is access to online learning offering to teach you the photography lessons you need to create Insta-worthy family photos or rake in the big bucks by offering your photography services as a side hustle.
The best part? We've found eight photography classes that are available online for absolutely free. So turn off your phone's photo auto mode, grab your DSLR camera, and let's get started!
Table of Contents
1. An Introduction to Photography
Format: 10 short video segments + eBook
Offered via: Karl Taylor Education
Professional photographer Karl Taylor offers a wide variety of photography and filmmaking classes through his education site Karl Taylor Education. Some of the courses do cost money, however his introductory photography course, Introduction to Photography, is entirely free and does not require any sort of sign-in to access.
The course comprises 10 short video segments, a downloadable eBook, and a 25-question quiz to test your knowledge at the end. Skills covered include camera basics, exposure, shutter speed, focal length, aperture, depth of field, lighting, and composition. The eBook also includes cheat sheets, infographics, and other details you can reference as you begin photographing items on your own.
Although the videos are recorded in English, subtitles are available in several other languages. The course is also easily accessible regardless of your camera type.
2. Intermediate Digital Photography
Format: 2 modules broken into 17 short video segments
Offered via: Alison
If you're looking for a slightly higher-level course to boost your photography skills, then you may want to check out this Intermediate Digital Photography course offered through Alison, one of the world's largest free learning platforms.
The course is broken into two separate modules, and each module includes a series of short, 10-minute videos. The first module, titled "Getting More Out Of Your Camera" covers topics like shutter speeds, ISO, aperture, and lens filters. Then, the second module touches on editing photographs using Adobe Photoshop. The course wraps up with an assessment, and you are awarded a certificate for completing the 3-hour course. All you need to sign up is a valid email address — no subscription or payments required.
3. Photography for Beginners
Format: 34 mini-lessons
Offered via: PhotographyCourse.net
Whether you are a visual/auditory learner or do better when you are reading and writing, the Photography for Beginners course offered through PhotographyCourse.net will be an outstanding fit. The course is comprised of a series of 34 mini-lessons that are written in a blog style but also include video components embedded into the posts, and you can access it all without even creating an account. The final lesson also includes a list of commonly-used photography terms so you feel better prepared to continue your learning once you complete the course.
Although this class is geared towards beginners, the topics it covers can help any amateur photographer hone their skills. The lessons cover topics like lighting, white balance, aperture, shutter speed, ISO, color, camera settings, and more. Some classes also encourage you to play with different staging to add variety to your pictures.
4. Chris Bray Photography Course
Format: 10 short video segments
Offered via: Chris Bray Photography
Australian Geographic photographer Chris Bray is mostly known for his extravagant photography tour groups. However, he also offers a variety of photography sessions, including his free online photography course that you can access without even providing your email address.
The course, which Chris says can be completed in just one day, involves a series of 10 easy-to-understand videos that range from 12 to 20 minutes each. The courses cover topics such as lighting, exposure, lenses, composition, and movement. The videos are hosted on YouTube, meaning they are available on-demand at any time that works for you.
In addition to the free course, Chris also has created an eBook with information, reference guides, examples, and extra tips.
5. Ditch Auto – Start Shooting in Manual
Format: 35 video segments + periodic quizzes
Offered via: Learn With Jerad
If you have a digital SLR (DSLR) camera and would like to learn how to shoot in manual mode so you have greater control over your photographs, then this course is for you. It's offered by Jerad Hill, a photographer and online teacher.
As the name implies, this course covers DSLR photography basics and covers everything you need to know in order to shoot in manual mode. The course is split into seven sections: Introduction, Basics, Getting to Know Your Camera, Understanding Light, Know Your Settings, Know Your Subjects, and Closing Thoughts. Each section contains multiple videos and quizzes to test your knowledge.
According to the notes from Hill, the course can be completed in just four hours. However, it may also be helpful to take your time and test out your skills before moving on to new sections. Since you have to create an account to enroll in the course, it saves your progress as you work through it.
6. 10 Do's & Don'ts in Photography
Format: 2 modules broken into 13 short video segments
Offered via: Udemy
There are a lot of beginner-friendly free photography classes out there. However, not very many provide information in a "do this, not that" format. That all changes with this free Udemy course titled 10 Do's & Don'ts in Photography.
In this series of 13 videos, instructor Andrew of Beyond Photography covers everything related to camera care, lenses, accessories, and photography basics. The entire course can be completed in just a few hours, and you can re-watch the videos at any time — you just have to create an account to enroll and save your progress. What's more, Beyond Photography offers a total of nine online courses through Udemy, so you can continue on the same course of study once you complete this introductory course.
If you're looking for low-budget (but high-value) photography courses on Udemy, here are a few other recommendations:
• Adobe Premiere Pro CC 2020
• A Beginners Guide to Managing a Photography Business
• Adobe Lightroom: up your content game
• The Authentic Portrait Photography Toolkit
• The Basics of Photography Course
• Basics of Film Photography and Developing
• Lightroom CC Masterclass Beginner guide for Photographers!
7. How to Take Portraits
Format: 27 short video segments
Offered via: Class Central
Portrait photography sessions are a common request professional photographers receive. If you're looking for ways to monetize your hobby, then this free online photography class focused on portrait shooting may be exactly what you need.
Going beyond just the basics of photography, this course covers how to pose people, location selection, and using accessories to create the best possible portraits. Additionally, the course covers unique types of portraits, such as family photos or pictures with pets. The course is self-paced and set up so you can watch all the video segments in a single setting or over several weeks.
8. Photography Essentials: Understanding the Basics
Format: 13 short video segments
Offered via: Skillshare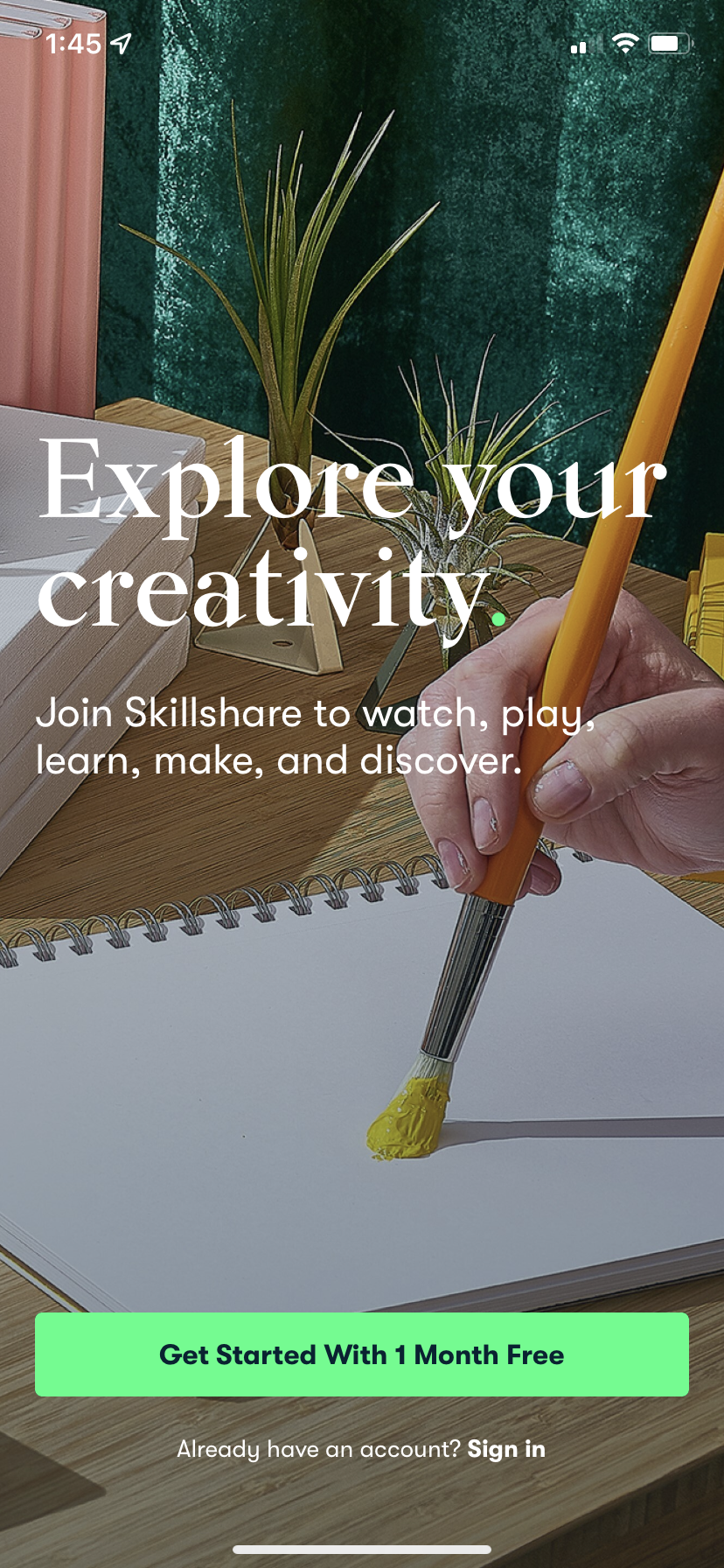 In this 90-minute course created by travel photographer Sean Dalton, you'll learn photography basics, plus tips and tricks to help you establish yourself as a photographer. Like many of the other classes on this list, this course covers the basics of camera settings, focus, lighting, and composition so you can go out there and start shooting.
However, this course also offers some unique segments that aren't included in many other free online photography classes. For example, the class covers how to find your own style as a photographer so you can stand out from the crowd. It also covers suggestions for promoting and protecting your work on social media, and photo editing tips so you can offer friends or clients the best possible photos.
Bonus: Learn the fundamentals from the pros
I can't help but mention another opportunity to access next-level quality online courses for free: MastpetrerClass.
You've probably seen their ads showcasing experts in a variety of fields sharing their knowledge in high-quality video content. Now, I know this article is intended to cover free photography tutorials. However, for only $15 a month to gain access to photography tips taught by:
…I just have to make the intro. Besides, MasterClass offers a free 7-day trial which means you can test out "free" photography lessons on their platform and determine for yourself if it's worth it.
Not only that, MasterClass offers over 150 other high-quality courses in other creative fields such as writing, filmmaking, and music. So if you're looking for more in-depth tutorials in various fields, take a look at MasterClass.
Start Your Photography Journey Now
The evolution of technology has made us all discover a love of photography. However, mastering the art of photography isn't as easy as it seems — which is exactly why online photography classes like the ones mentioned above exist.
Whether you plan to take pictures of your dog on your iPhone or just invested in a brand new Nikon, these free online photography classes will help you elevate your skills to a whole new level. So what are you waiting for? It's time to hop into the classroom from the comfort of your home!