Here are six free online acting classes for aspiring actors and professional actors!
Whether you took theater classes in high school or just woke up one day and decided to try your hand at an acting career, you may want to take some classes before performing in a community play or auditioning for a role on a television show.
Luckily, the internet makes acting classes more accessible than ever before.
This article will break down six websites offering free online acting classes to take at your own pace. No need to memorize lengthy monologues, hire a photographer for headshots, or book a flight to Hollywood, Los Angeles, or NYC. These online acting courses are available at any time and are completely free.
Ready to boost those acting skills? Try out these following acting lessons.
Table of Contents
1. TakeLessons
TakeLessons offers a variety of live-acting classes through its online platform. Unlike many other online acting schools, TakeLessons brings the benefits of real-time learning with the convenience of online course work.
How TakeLessons Works
TakeLessons is a web platform designed to connect people who want to learn with passionate acting coaches who are willing to connect with you in real-time. This gives you the ability to ask questions, receive feedback, and enjoy the benefits that come with real-time instruction. If your schedule doesn't work for the live sessions, you can also watch on-demand videos at a more convenient time.
You can take eight courses online for free each month, and all that's required to sign up is a valid email address (no credit card required). If you decide you'd like to take more than eight classes per month, you can pay for a subscription for unlimited access.
TakeLessons Course Options
TakeLessons has hundreds of live acting classes available every week. Some popular options include Script Reading, Two Person Scene Work, Method Acting, and Scene Study. There are also courses available for people of all ages, including children and teens. Classes are available at the beginner level, but there are also more advanced course options for those who are looking to improve their skills further.
2. Truthful Acting Online
Based in Orlando, Florida, Truthful Acting Studios offers in-person acting classes to the general public. However, the company also provides online acting classes through its website.
How Truthful Acting Works
Truthful Acting Online is Truthful Acting Studio's online course platform. The platform has pre-packaged, detailed course options created by the same master instructors who teach in-person courses. This makes it possible for anyone to master acting basics online from the comfort of their home.
Truthful Acting Online's course offerings are pre-recorded and set up so that each student can work at their own pace. Each lesson includes a lecture component, exercises to complete as homework, and submission checkpoints so you can find out if you are mastering the material. In other words, Truthful Acting is designed to work like online university courses.
Truthful Acting Course Options
Because of how Truthful Acting operates, its online course offerings and free online sessions change frequently. However, you can investigate their current free online course options or visit their YouTube channel anytime for additional free online acting classes.
3. Skillshare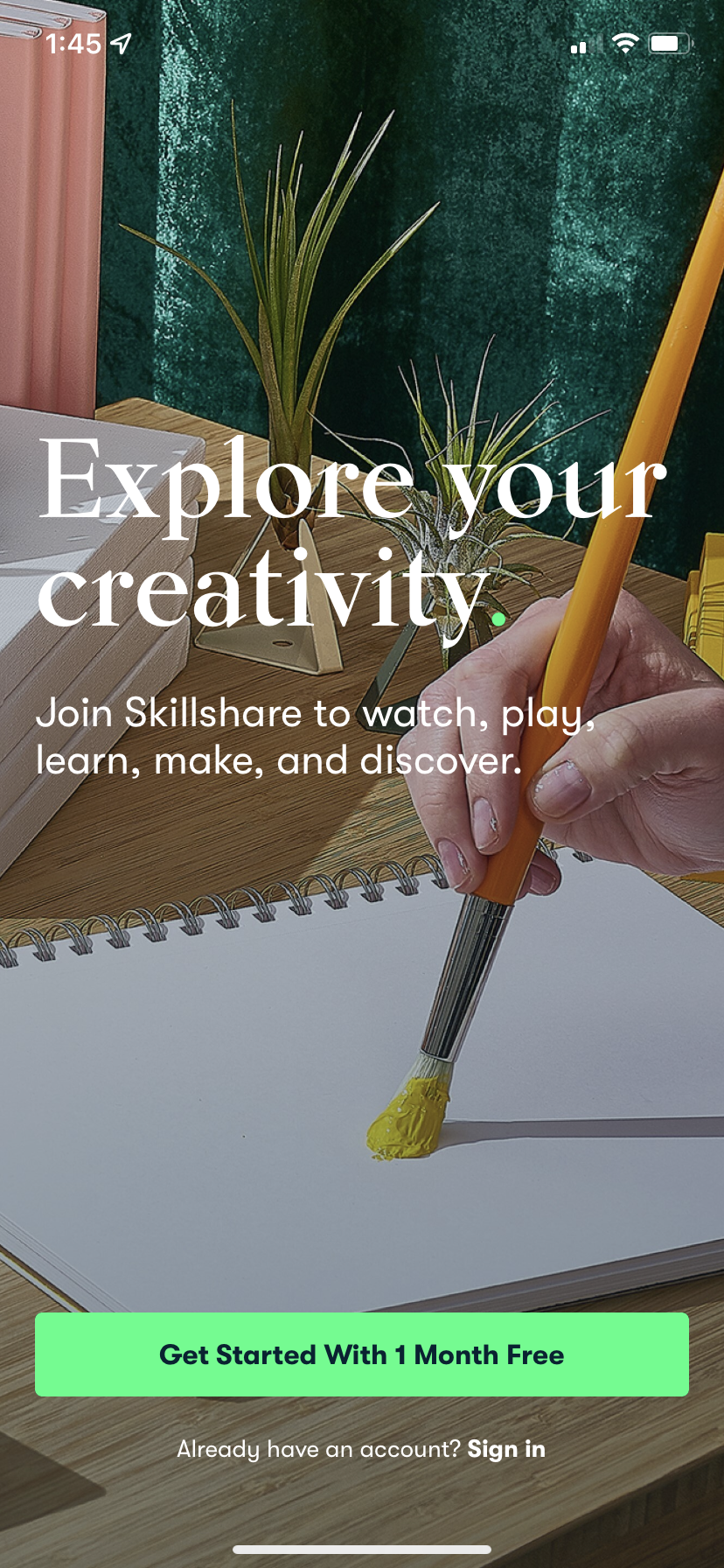 Skillshare is an online learning platform with thousands of course offerings. The site offers everything from classes on design and illustration to self-care. Most importantly, the platform has numerous acting class options for aspiring thespians (like you).
How Skillshare Works
As you might imagine from the description, Skillshare is a platform that charges users an annual fee to access the courses they want. However, the site also offers a free 30-day trial, which means you can access online acting classes for free as well.
Classes range from short, 30-minute lessons on a specific topic to longer multi-part courses. Luckily, most courses can be completed in a single day, meaning you can take advantage of multiple classes before your free trial expires.
Skillshare Course Options
Skill Share is a highly utilized online learning platform. This means that there are close to 100 acting classes available to you once you create an account. Some of the most popular courses include ones on Acting Basics, Improvisation, Script Reading, Getting Into Character, Character Development, and Voice Acting.
4. Alison
Alison prides itself on being one of the world's largest free learning platforms. This obviously means the site offers courses on nearly any subject you can imagine — including acting classes.
How Alison Works
Alison is a completely free online learning platform. This means you don't have to pay for any courses you take, and there are no limits to how many classes you take in a month. The site does require a valid email address, but no other information is collected when you sign up.
Once you create an account, you can search for courses that interest you, then push "Start Course Now" to take the free online class you've chosen. Any course you enter into will be stored as a course in progress for your account until you complete it, meaning you can watch and learn at times that are convenient for you.
Alison Course Options
Despite the massive course offerings through Alison, they don't have a large number of acting classes just yet. That being said, there are several free online acting classes available at any time. These courses include topics like audition prep, script analysis, and courses for specific types of acting.
5. Eventbrite
Most people don't think about Eventbrite as a place to search for free online acting classes. However, there are actually quite a few great options to choose from.
How Eventbrite Works
Eventbrite is a popular platform for advertising local events and selling tickets. In addition to local events, Eventbrite gives people the option to list online events as well. When an online event is created, the creator can set up information for registrants (such as a Zoom link), and can decide whether they will charge for the event or make it free.
When you register for an online event through Eventbrite, you'll receive a confirmation email with important information and a reminder email before the event starts. Then you can attend the event at the scheduled time through the links you received.
Eventbrite Course Options
Because of how Eventbrite works, the options for online acting classes can change daily. However, there are usually at least a few listed options at any given time. If you're interested in taking acting classes through Eventbrite, it's worth checking the site or mobile app frequently so you don't miss out.
6. Class Central
If you're asking yourself, "I wish there was one place where I could search for online acting classes" then look no further than Class Central who curate courses from across multiple online platforms.
How Class Central Works
Unlike most of the other websites on this list, Class Central is an online platform that aggregates course offerings from across the web. Although this means that not every course found on Class Central is free, the site does make it easy to see which options are free or include a free trial.
If the class is free, you can typically go through the course directly through Class Central. Class Central will keep up with your progress and provide you with any necessary information. If it's a paid course, you'll be redirected to the college, company, or website hosting the course. From there, you can decide whether or not you'd like to take the class.
Class Central Course Options
Class Central has dozens of free online acting classes available at any given time. Though the course offerings do change periodically, there are usually a variety of introductory acting classes, classes on specific acting techniques, and advice courses on career acting.
Bonus: MasterClass
If you're looking for less acting tips and more acting masterclass, look no further than MasterClass. Now, I know this article is intended to cover free acting training. However, for only $15 a month to gain access to acting legends such as Natalie Portman, Helen Mirren, and Samuel L. Jackson, I couldn't help but mention MasterClass.
Besides, MasterClass offers a free 7-day trial which means you can test out "free" acting lessons on their platform and determine for yourself if it's worth it.
Not only that, MasterClass offers over 150 other high-quality courses in other creative fields such as writing, filmmaking, and music. So if you're looking for more in-depth tutorials in various fields, take a look at MasterClass.
Which Free Online Acting Classes Appeal To You?
As you can see, there are tons of amazing options for online acting classes. Before you sign up, consider whether you'd like an online class that operates in real-time or is available on-demand. From there, it's just a matter of finding classes that fit your needs. Break a leg!