In this Neil Gaiman MasterClass review, we'll take a look at Gaiman's The Art of Storytelling and see if it lives up to its promises and delivers a course worthy of your investment.
Neil Gaiman MasterClass Summary
What you'll learn: How to develop your unique voice, discover interesting ideas, breathe life into your characters via quirky character development, and navigate the life of a writer.
Run time: 4 hours 49 minutes
Pairs well with: Dan Brown teaches writing thrillers, Margaret Atwood teaches creative writing, Malcolm Gladwell teaches writing, and Judy Blume teaches writing.
Recommendation: 9.5/10—Even if you don't consider yourself a fiction writer, Gaiman's MasterClass on the art of storytelling is a masterpiece on navigating the creative process, understanding your readers, collecting and retrieving ideas, and finishing projects. By the end of this online course, you will possess the essential tools any (and every) writer requires to succeed in this business.
Neil Gaiman, the prolific and award-winning author, opens up the trailer to his MasterClass on the Art of Storytelling with a big promise:
In my MasterClass, I'm going to tell you what stories are. I'm going to give you some tips. I'm going to give you some exercises, and most of all, I'm going to give you a little push forward that you might not have had.
If Gaiman's promise isn't enough to draw you in, his poetic and soothing voice will calm the nerves of any aspiring storyteller and give them the inspiration to start writing.
I spent the better part of this past weekend absorbing everything I could from Neil Gaiman's MasterClass and have put together this thorough review that'll answer the following question: Is the Neil Gaiman MasterClass on Storytelling worth it?
"Writing a novel is like driving through the fog with one headlight out," Gaiman says, "You can't see very far ahead of yourself, but every now and again the mists will clear."
This MasterClass is chock-full of gems like these. But I'm getting ahead of myself.
Overall, I enjoyed the Neil Gaiman writing course and highly recommend it to any aspiring writer. (Jump to the recommendation section.) However, let's dive in to see if MasterClass delivers a course worthy of your investment.
---
Table of Contents
---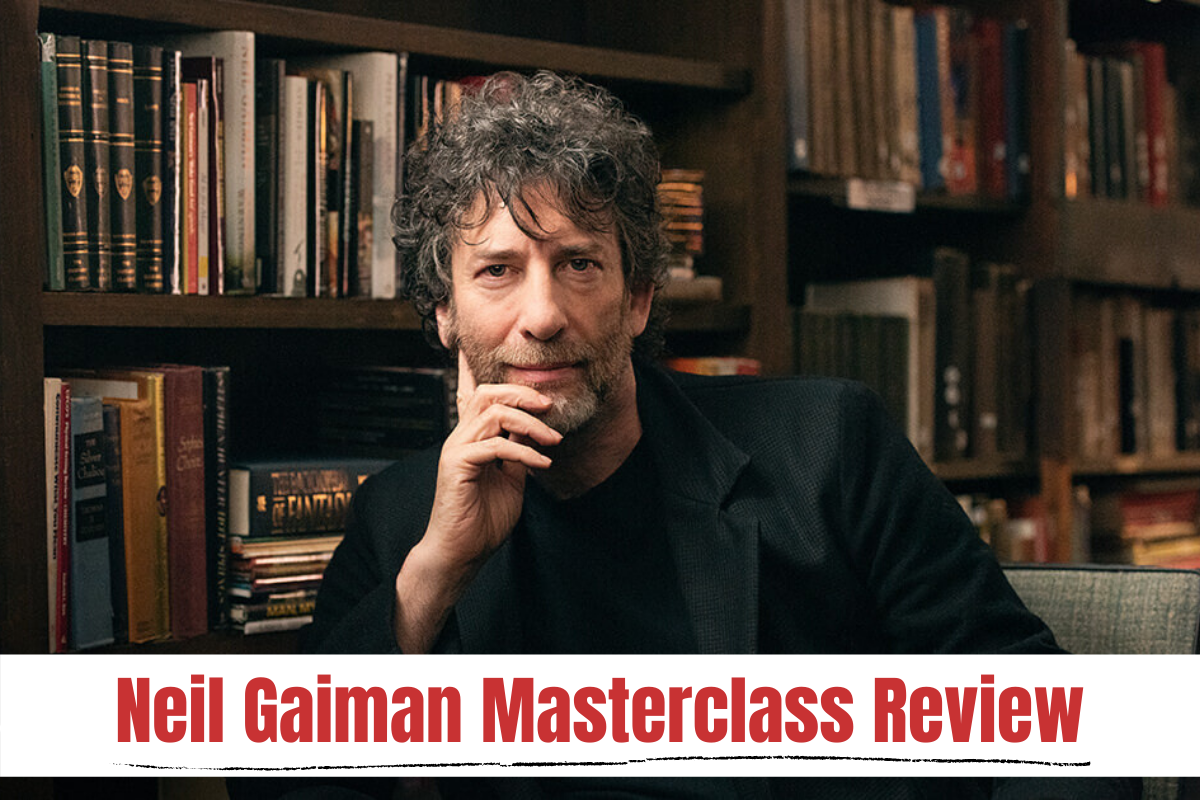 Quick Q and A
How much is Neil Gaiman's MasterClass?
MasterClass charges a yearly subscription to access all of their courses. Jump to the pricing section to learn more.
How long is Neil Gaiman's MasterClass?
The Neil Gaiman MasterClass on storytelling is 4 hours and 49 minutes long and spans 19 video lessons.
Does MasterClass have a cancellation policy?
Yes. If you cancel within 30 days of purchase, MasterClass will issue you a full refund.
Is Neil Gaiman MasterClass worth it?
Yes, absolutely. This MasterClass is perfect for aspiring and seasoned writers who want to "Discover Neil's philosophy on what drives a story—and open new windows to the stories inside you."
---
About Neil Gaiman
Before taking this course, I had never heard of Neil Gaiman (I'm more of a J.R.R. Tolkein reader), which is a shame because Mr. Gaiman has had an extensive creative career in fiction writing and comic books.
Gaiman describes his upbringing as "a feral child raised in libraries". He's known to blend and combine genres which is prevalent in his fantasy novel American Gods and his young adult novel Coraline. Gaiman also authored the graphic novel series The Sandman.
Currently, Gaiman is a Professor of the Arts at Bard College in New York and has even penned television shows such as Amazon Video's Good Omens.
---
What does the Neil Gaiman teaches the art of storytelling MasterClass promise?
The MasterClass website specifically lays out the following promises for Neil Gaiman's course:
Learn how to find your unique voice
Develop original ideas
Breathe life into your characters with high-quality character development
They also go on to promise: "Discover Neil's philosophy on what drives a story—and open new windows to the stories inside you."
To me personally, these seem like very big promises, even for a nearly 5-hour long course. As someone who's never written a novel before, I hoped that an author at Gaiman's level could deliver a course that's pared down for beginners and offer writing advice that is practical for first-time fiction writers.
After watching the course trailer and reviewing the lessons I felt better about Gaiman's chances of upholding his promise and teach someone like me how to find my unique writing voice and develop original ideas.
The downloadable workbook that accompanies this class states you'll learn:
How to push your story beyond a single genre or influence, how to subvert the unexpected, and how to weave disparate ideas into something unique and fresh.
So, did Neil Gaiman live up to his promises? Did he meet my expectations? I'll cover that at the end of the review (skip ahead if you want to find out). But first, let's talk about what's probably on your mind…
---
How much does the Neil Gaiman MasterClass cost?
If you want to take Neil Gaiman's writing course on MasterClass, you have three one-year subscription options to choose from.
In 2021, MasterClass began testing alternative subscription models besides their original flat-rate annual membership. Eventually, they settled on a new cost-friendly three-tier MasterClass pricing model for their annual subscription:
Individual – $120 per year (average $10 per month)
Duo – $180 per year (average $15 per month)
Family – $240 per year (average $20 per month)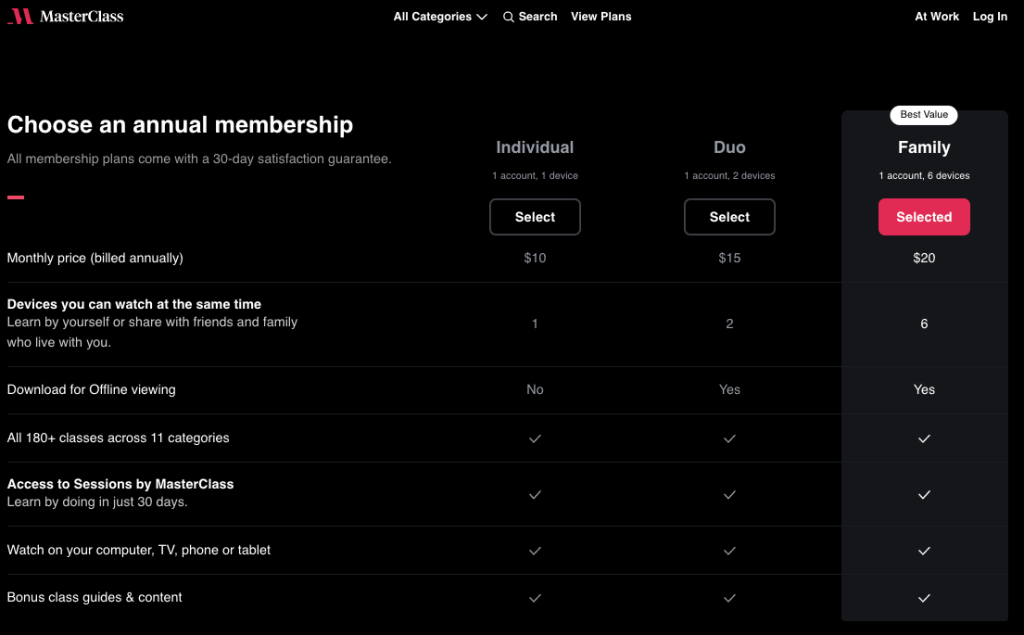 The Individual membership (formerly the "Standard Plan") is perfect for single individuals who are most likely to consume online learning at home. The Duo (formerly the "Plus Plan") and Family (formerly the "Premium Plan") plans are better for couples as MasterClass allows multiple devices to watch at the same time. (Netflix has similar restrictions for their membership plans).
However, the ability to download video lessons for offline viewing is helpful for people who might want to watch MasterClass on their commute to work without eating up most of their data. The Plus and Premium plans offer their users the ability to do just that.
Personally, I go for the $120 per year option as I average about one MasterClass per month, which means my cost per class is $10.
If the prices seem steep, you can always cut down the price per class by pairing Neil Gaiman's class with other writing classes. There are currently 21 writing MasterClass courses which averages to only $8.57 per course if you sign up for the Standard plan. A steal in my opinion.
---
Neil Gaiman MasterClass Stats
Here's a rundown of what you are getting with the Neil Gaiman MasterClass.
| | |
| --- | --- |
| Runtime: | 4 Hours 49 minutes |
| Rating: | 4.7 out of 5 ⭐️ |
| Lessons: | 19 video lessons |
| Materials: | One 94-page class workbook |
Runtime
At 4 hours and 51 minutes, this is the longest MasterClass I've reviewed so far. Granted, the length might be because of the pace of Gaiman's voice and delivery. Unlike James Patterson, who talks quickly and often goes on tangents, Gaiman pauses frequently to compose his thoughts, very similar to Margaret Atwood's MasterClass.
If the nearly 5-hour long course seems too long of a time commitment, the video playback buttons offer you the ability to watch the course at 1.5x and 2x speed. I watched the videos at 1.5x speed with subtitles on and finished the course in about 3 hours and 15 minutes. I found it did not negatively affect my learning experience.
Even with the long run time, I never felt like Gaiman was dumping too much information. At one point he even says, "Start with the idea, that instead of being paid by the word, I am paying by the word." He really takes this advice to heart.
Supplemental material
Gaiman also provides one downloadable PDF for students. It's a 94-page class workbook that includes assignments and supplemental material.
An important note to keep in mind. The class workbook includes two additional sections in each lesson called "For Your Novel" and "Writing Exercises."
These sections are never mentioned by Gaiman himself, however, they do utilize the tools and techniques covered by him in the lesson and turn them into practical exercises. You may find these sections extra beneficial, but keep in mind that Gaiman doesn't review any of your work, nor does the MasterClass team.
Community Access
Until 2022, MasterClass used to offer a community forum called "The Hub" for every course. This was a place where students could interact with other students, ask questions, or even share their own work. However, this feature was discontinued and replaced with the new Sessions by MasterClass.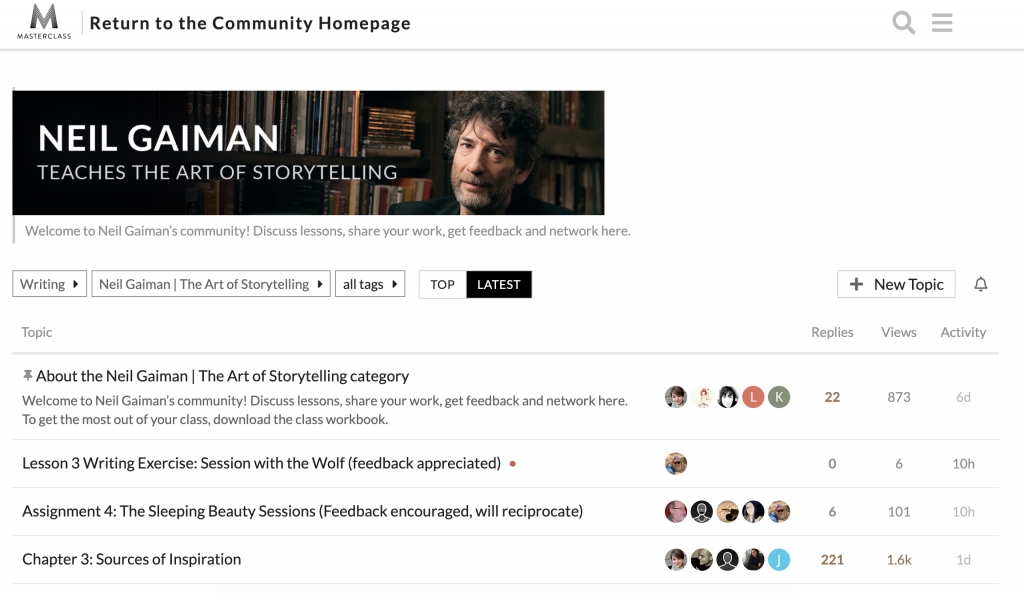 Sessions is a new "hands-on" format where students learn in a structured curriculum alongside one another. Think group projects but with cooler teachers and flexible office hours.
Each Session is built so that you can start and finish within 30 days. As long as you keep your MasterClass all-access pass, you can always return later to the materials and content.
Unlike the video lessons, Sessions is designed to be more interactive with hands-on projects sprinkled throughout. The goal is to apply what you are learning to the real world.
Learn more about Sessions here.
---
About the structure of the class
Neil Gaiman's online course on the Art of Storytelling is divided up into 19 lessons with an average run time of approximately 15 minutes per lesson. Each lesson is subdivided into 3 to 5 sections.
Neil Gaiman MasterClass Lesson Plan:
Introduction
Truth in Fiction
Sources of Inspiration
Finding Your Voice
Developing the Story
Story Case Study: "The Graveyard Book"
Short Fiction
Sort Fiction Case Study: "March Tale"
Dialogue and Character
Charter Case Study: "October Tale"
Worldbuilding
Descriptions
Humor
Genre
Comics
Dealing with Writer's Block
Editing
Rules for Writers
The Writer's Responsibilities
The first nine lessons of this MasterClass dive into the basics of storytelling skills and offers plenty of tools to use, even for a beginner like myself.
I learned how to develop characters, create conflict, and find my voice as a writer. Gaiman uses his own short stories as examples to illustrate these tools (bonus: listening to Gaiman narrate his stories is a treat).
Lessons 10 through 15 cover more specific applications such as understanding genre and creating comics.
Side Note: One of my favorite lessons is Lesson 10, which is a case study of a short story Gaiman wrote called "October Tale." Gaiman reads the story which is about a genie who comes across a woman who doesn't want any wishes. It's a delight to listen to him read and then use it to break down how to develop characters and build a plot, all within the span of 15 minutes.
And the final four lessons provide us with practical advice for the writer's life such And the final four lessons provide us with practical advice for the writer's life such as overcoming writer's block, finishing your first draft, and getting published.
If you are looking for an abbreviated lesson plan, I compiled my own version that covers the basics in just under 2 hours. I found these lessons to be the most impactful and beneficial to helping me learn the writing process.
Course Reviewers 2-Hour Lesson Plan
4. – Finding Your Voice | 14m57s
5. – Developing the Story | 18m10s
9. – Dialogue and Character | 25m17s
11. – Worldbuilding | 23m05s
12. – Descriptions | 10m20s
17. – Editing | 11m28s
18. – Rules for Writers | 12m51s
Total runtime = 1 hour 55 minutes
---
Key Things I Learned
This MasterClass taught me a lot about storytelling, which applies to much more than writing fiction novels.
Whether you are talking to a friend or writing a blog post or dabbling in screenwriting, Gaiman's tools and techniques are all about forming a connection with another person and sharing your point of view.
Below are a few key learnings that stood out during the MasterClass:
You can't go wrong with specific and concrete sensory details. Adding details to your story draws your reader into a lifelike experience and gives it a sense of reality.
Always carry with you a small notebook, and keep it as a "compost heap" of ideas.
Finish things. Find the things you've abandoned and finish them. Take the things you're trying to perfect and finish them.
"You learn more from finishing a failure than you do from writing a success."
The four most important words for a writer are: And Then What Happened?
Dialogue has three important purposes: adding to the character, moving the plot forward, and providing entertainment.
If you find yourself dealing with writer's block, go for a walk ("Chop wood…explore kittens."). Then, come back and pretend you've never read the thing before.
---
Things I liked about the Neil Gaiman MasterClass
In the next two sections, I'm going to cover what I liked and what I did not like about the Neil Gaiman MasterClass.
First, one of the pieces of advice that I mentioned above was the practice of having a small notebook to collect random ideas and create what Gaiman calls a "compost heap." Not everything you add to the compost heap will make it into your writings, however, sometimes ideas you may have captured years ago will "break down" and make their way into future work. Because of this suggestion, I've started carrying around a small notebook wherever I go.
Second, do you know what "Figgin" and "Sherbet Lemons" have to do with writing? Probably not because they are made up terms by Terry Pratchett that Gaiman himself enjoys using.
A Figgin is a "story element that promises to be something horrible or disgusting but which turns out to be humorous, and yet later has a pay-off." Sherbet Lemon, on the other hand, is a "minor detail you put in a text to make the reader smile."
Third, Gaiman finally explained to me exactly what genre is: the collection of your reader's expectations. I have always heard of genre and could kind of define what it was, but never that succinctly.
Fourth, what I love most about this MasterClass are all the gems of knowledge Gaiman shares. I cannot do them justice by summarizing them, so I'll leave them here below in verbatim.
My favorite quotes from Neil Gaiman's MasterClass
Don't write things that you know…If you write the fiction that you know, then the best you'll ever be is a good copy of somebody else.
The process of doing your second draft is a process of making it look like you knew what you were doing all along.
Remember that characters always, for good or for evil, get what they need. They do not get what they want.
I think it's really important for a writer to have a compost heap. Everything you read, things that you write, things that you listen to, people you encounter, they can all go on the compost heap. And they will rot down. And out of them grow beautiful stories.
Finally, this little gem of advice. Whatever you write can be improved upon, that's why it's better to write something down than to stare at a blank piece of paper. In other words:
You cannot fix nothingness.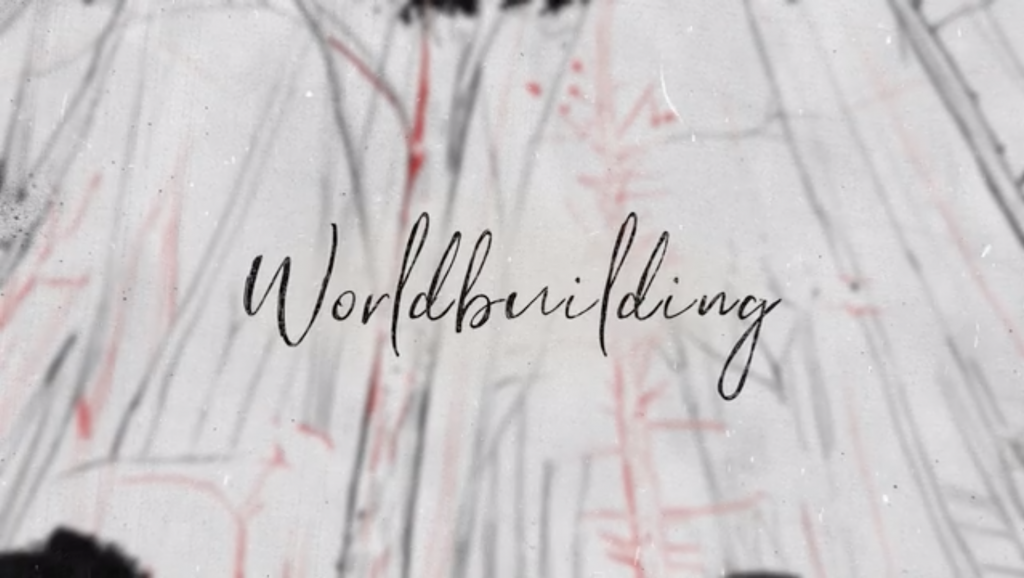 ---
Things I didn't like about the Neil Gaiman MasterClass
It was difficult to find any faults with Gaiman's MasterClass. I rather enjoyed the majority of every lesson and preferred this MasterClass over the James Patterson class on writing because Gaiman added artistic elements to the process. Patterson was more direct.
There was only one lesson I did not find useful — Lesson 15. I had no interest in learning how to write comics, so I completely skipped over the lesson. I've never read comics nor am I great at drawing. If you personally are interested in illustrating or comics then you might find the lesson more helpful than I did.
---
Does the class keep its promises?
Short answer: It comes close.
Remember, MasterClass laid out in their marketing material that, by the end of this class, students will:
Learn how to find their unique voice
Develop original ideas
Breathe life into their characters
I had realistic expectations that at the end of 5 hours of video lessons I probably wouldn't become an expert novelist. However, remember that MasterClass does make a second, much more manageable promise: Discover Neil's philosophy on what drives a story—and open new windows to the stories inside you.
This second promise, in my experience, is kept throughout the class. Gaiman This second promise, in my experience, is kept throughout the class. Gaiman clearly has strong philosophies around his work and shares many of them with students. Also, I feel he helped me "open new windows" of my creative side, I spent the past weekend working on a good story of my own.
For that, I believe this MasterClass keeps its most realistic promise.
---
Is Neil Gaiman's MasterClass worth the money?
Yes if you…
Are a new writer and are looking for concrete steps to get started
Have ideas for stories but don't know where to begin
Are a seasoned writer but want to polish up your fiction
Are interested in writing short stories and/or graphic novels
No if you…
Are Neil Gaiman and already know everything you taught
Are not interested in writing fiction
---
Conclusion
Of all the MasterClasses pertaining to writing, I can confidently say the Neil Gaiman MasterClass on the Art of Storytelling is at the top of my list. There is a reason Gaiman is a bestseller, he cares about his craft and, more importantly, about his readers. The class comes close to delivering on all of its promises, the pace is long but Gaiman is enjoyable to listen to, and the ample supply of examples throughout the lessons makes it worth your time and investment.
If you're interested in learning more, here is a trailer to the class:
---