In this review, we'll see if the James Patterson MasterClass on writing lives up to its promise of teaching us the "mechanics and techniques he's mastered to help you write your next novel."
As someone with zero experience writing novels, I wanted to uncover whether the James Patterson MasterClass could take a novice like me and give me the necessary tools to get started.
On the course page, MasterClass says, "In his first online writing class, [Patterson] guides you from the start to the finish of your book." My own personal goal by the end of this MasterClass is to have a full novel outline fleshed out.
Is paying for access to James Patterson's MasterClass on writing worth it? Will I learn enough to be able to start writing a novel?
Table of Contents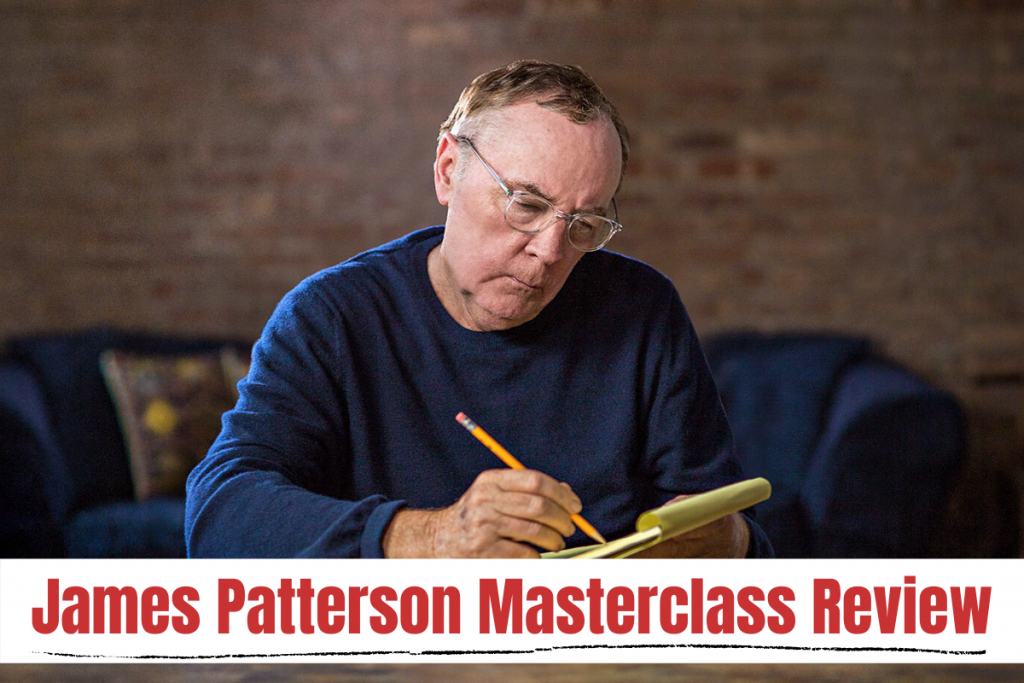 Quick Q and A
Do I need a subscription to access this course?
Yes. MasterClass charges a yearly subscription to access all of their courses. Jump to the pricing section to learn more.
How long is the MasterClass?
The James Patterson MasterClass on writing is 3 hours and 31 minutes long and spans 22 video lessons.
Does MasterClass have a cancellation policy?
Yes. If you cancel within 30 days of purchase, MasterClass will issue you a full refund.
About James Patterson
Patterson is a prolific author who has published well over 140 books since his first publication in 1976: The Thomas Berryman Number. He's known for his Alex Cross, Michael Bennett, and Woman's Murder Club series and focuses on detective stories, thrillers, science fiction, and romance novels.
Patterson spent most of his career in advertising and wrote fiction in his spare time. In 1993 he became a breakout success with his Alex Cross novel, Along Came a Spider, which went on to become a best seller (the first of many). Patterson eventually left his executive life in advertising to focus on writing fulltime.
He holds the Guinness world record for most books on the New York Times bestseller list. Patterson also became the first person to sell over 1 million ebooks.
What does this MasterClass promise?
"Imagine taking a writing class from a master," the course trailer begins. "We'll deal with outlines, how to create a scene," Patterson then promises. "Why am I do this? Because I've been there, it's daunting to sit down and start a book."
Although they don't spell it out, I believe MasterClass is making a big promise: James Patterson will teach you how to start writing a book.
The key word is "start." On first glance through the lessons, it looks like Patterson gives us enough tools to take an idea out of our head, flesh it out into an outline, then get to work building characters, scenes, and chapters. He then will cover what happens after your book is finished — such as editing, getting published, and working with Hollywood if (it ever comes to that).
It's a big promise to say by the end of this MasterClass we'll have everything we need to write a book. I'm going into it with realistic expectations that 3 and a half hours should give me the basics, but won't make me a master. That only comes after a lot of practice.
So, did Patterson live up to his promises? Did he meet my expectations? I'll cover that at the end of the review (skip ahead if you want to find out). But first, let's talk about what's probably on your mind:
How much does James Patterson's MasterClass cost?
If you want to take James Patterson's MasterClass, you have three options to choose from.
In 2021, MasterClass began testing alternative subscription models besides their original flat-rate annual membership. Eventually, they settled on a new cost-friendly three-tier MasterClass pricing model for their annual subscription:
Individual – $120 per year (average $10 per month)
Duo – $180 per year (average $15 per month)
Family – $240 per year (average $20 per month)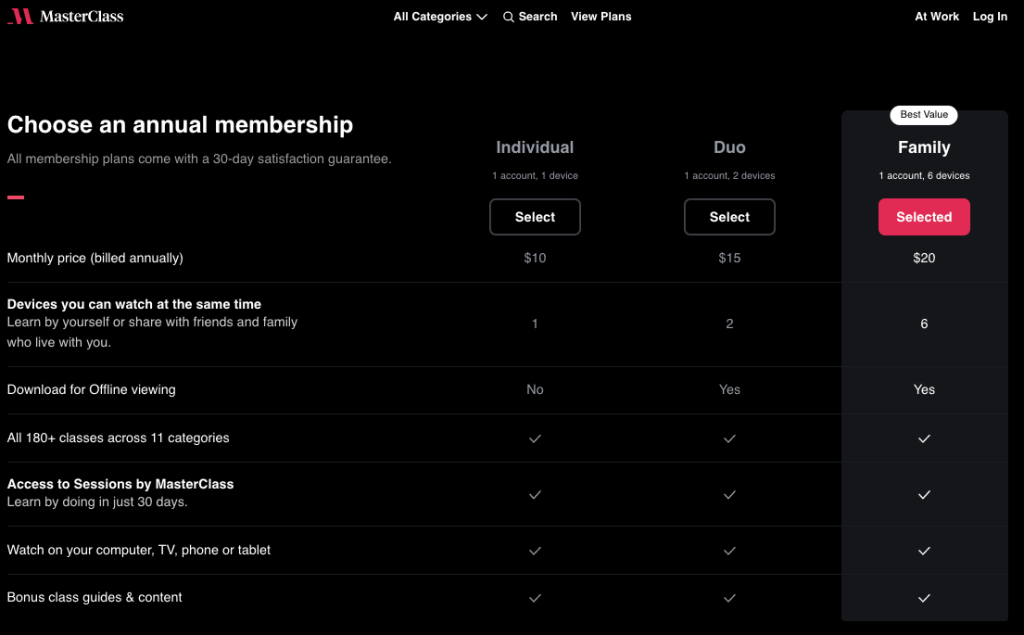 The Individual membership (formerly the "Standard Plan") is perfect for single individuals who are most likely to consume online learning at home. The Duo (formerly the "Plus Plan") and Family (formerly the "Premium Plan") plans are better for couples as MasterClass allows multiple devices to watch at the same time. (Netflix has similar restrictions for their membership plans).
However, the ability to download video lessons for offline viewing is helpful for people who might want to watch MasterClass on their commute to work without eating up most of their data. The Plus and Premium plans offer their users the ability to do just that.
Personally, I go for the $120 per year option as I average about one MasterClass per month, which means my cost per class is $10.
The price may seem steep, however, the subscription gives you access to all 90+ MasterClass courses, including other writers such as Margret Atwood, Neil Gaiman, Aaron Sorkin, Dan Brown, and more.
If you think about it, access to someone's lifetime of work, distilled into engaging and enjoyable video content, is a fair price for me. And, if it turns out the James Patterson MasterClass isn't for you, chances are you'll find other MasterClasses to suit your interests.
James Patterson MasterClass specifics
Here is a breakdown of what you'll receive with the James Patterson MasterClass.
Runtime:

3 Hours 31 minutes

Reviews:

4.7 out of 5 ⭐️

Lessons:

22 video lessons

Materials:

• 1 workbook
• 1 sample outline
At 3 and a half hours and 22 lessons, this MasterClass feels hefty and I presume will cover a wide range of topics and tools. Since I tend to watch courses at 1.5x speed, I can consume the course in 2 hours and 20 minutes.
MasterClass rates this course at an average of 4.7 out of 5 stars. The company doesn't share individual reviews publicly, however, I found the following comments after the final lesson: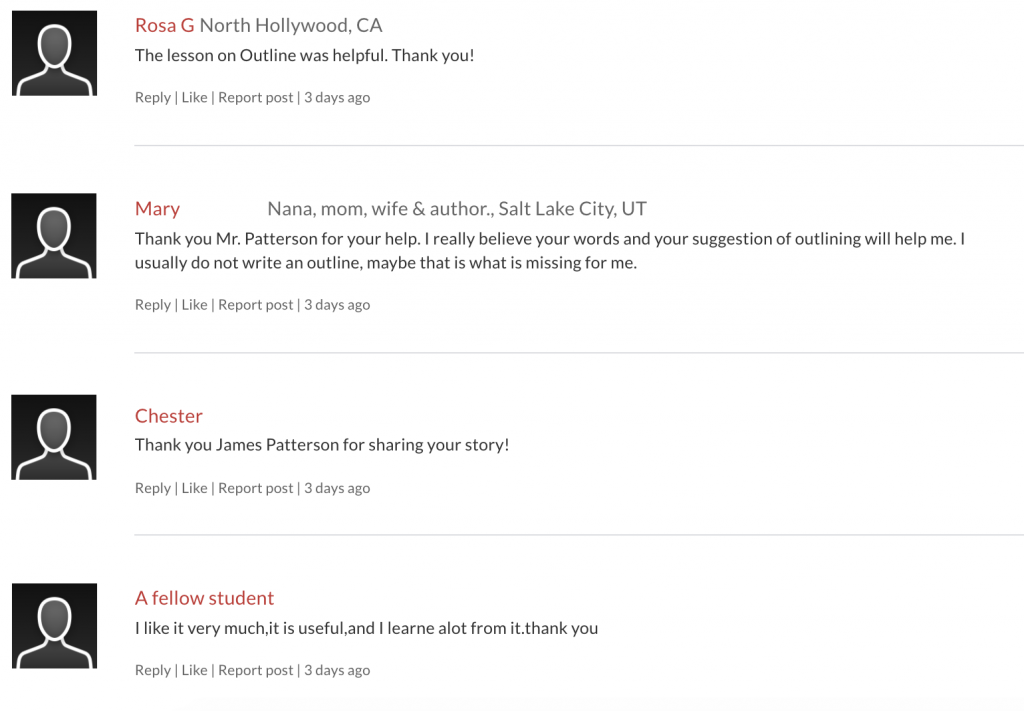 MasterClass provides two downloadable PDFs for students. One is a 66-page course workbook that comes equipped with assignments, examples, and supplemental material. The other is a 27-page sample outline that Patterson uses throughout the course.

About the structure of the class
James Patterson's MasterClass on writing is divided up into 22 lessons with an average run time of approximately 9 and a half minutes per lesson. However, the video playback buttons offer you the ability to watch the course at 1.5x and 2x speed.
Lesson plan:
Introduction
Passion + Habit
Raw Ideas
Plot
Research
Outlines: Part 1
Outlines: Part 2
Writer's Block
Creating Characters
First Lines
Writing Dialogue
Building a Chapter
Writing Suspense
Ending the Book
Editing
Working with a Co-Author
Getting Published
Book Titles and Covers
Marketing the Patterson Way
Hollywood
Personal Story
Closing
Each lesson is subdivided into 3-5 sections which helps to hold your attention.
The meat of this MasterClass, at least in my opinion, is lessons 3 through 14. These lessons cover the bulk of the writing process from beginning to end.
The rest of the lessons are helpful tidbits, especially for those who've written a novel but need help getting published. For example, lesson 18 on book titles and covers is something I didn't even consider. Before a book is bought, it has to first be picked up, says Patterson. And nothing communicates to the potential reader what your book is about more than the cover.
Key Things I Learned from This MasterClass
Before this MasterClass, I had an idea for a fiction novel. I was really excited about it and I even tried to sit down and write, but I felt stuck.
After taking this MasterClass, I've picked up on a few things and feel I have a much better grasp on the writing process. Here are a few things that I've learned.
Who's telling the story?
The biggest struggle I faced was taking a cool idea for a novel in my head and making it sound cool on paper. "Who's telling the story?" Patterson asks during the MasterClass.
That never occurred to me. I started writing with a narrator telling the story, but then changed it to having the main character tell it. Game changer. Patterson reminded me that the goal of the author is to find the person who has the most interesting point of view.
Outline, Outline, Outline
Patterson spends two whole lessons explaining outlines and even includes a sample outline with the MasterClass resources. He credits outlines as the main reason he can churn out so many books in so little time.
His best advice with outlines? TBD
That's right, write "TBD" anytime you get stuck and move forward. I took this advice to heart and fleshed out an outline of my own that was peppered with TBDs. When I sat down to write a few chapters, I got the clarity I needed to fill in those TBDs with actual plot points.
Instead of overthinking, just keep writing.
How to end a book
"The outline is a lot more logical than emotional," says Patterson while talking about how to end a book. He mentions the endings he writes in his outlines almost never become the actual endings, since a lot has changed since he started writing the book. I like rules and structures, so I found this advice freeing. Let yourself feel for the ending of your book.
How to get published
James Patterson was turned down by 31 publishers before his first novel was finally published. He knows a thing or two about rejection (not so much anymore, but you get the idea).
Patterson really stresses the importance of reaching out to mentors and making contacts if you want to land a literary agent. "You're going to have to pester them for a little bit — hopefully not in a way that'll irritate them."
If you don't have access to a vast network of contacts, Patterson recommends a helpful little trick: Read the acknowledgment sections of books by authors in your genre. It's a gold mine of folks who work behind the scenes to make authors successful. A simple internet search may give you enough contact information to reach out.
Things I liked about the James Patterson MasterClass
Overall, the class felt hefty enough to be considered a MasterClass. James Patterson is not a boring person to listen to, and it's amazing to listen to a successful author who has made over $700 million writing books.
My personal favorite lesson from this class is the lesson on ending your book. In one of the subsections, Patterson talks about not shying away from ambiguity. As I've mentioned, going into this MasterClass I had an idea for a novel I wanted to flesh out. However, I wasn't sure how I wanted to end it.
Going into this particular lesson, I felt I needed to tie a neat bow on my novel, so to speak. However, Patterson shows it's possible to end on some ambiguity and mystery as a lot of readers and critics love that type of ending. I found this advice to be especially helpful.
Things I didn't like about the James Patterson MasterClass
I have to come clean, before watching this MasterClass I had never read any of James Patterson's novels. I don't read a lot of mystery or suspense novels so I was skeptic at first whether or not I'd get anything out of this class. However, he is successful and he knows he's successful, which means his delivery can sometimes comes off a bit snobbish.
Nevertheless, I admire his work ethic and ability to break down the writing process into something attainable instead of some mysterious craft.
This MasterClass was obviously filmed across different days because the setting changes throughout. I don't have a problem with that. However, there are a few lessons that feel a bit thrown together and edited from multiple clips from different days. It's kind of jarring; however, you eventually get used to it.
Does the class keep its promises?
Short answer: yes. Of course, going into a MasterClass and expecting to become a master by the end of it should never be your expectations.
However, after finishing this MasterClass, I felt I had a good grasp on the fiction writing process, I completed an outline of a novel, and I understood the next steps required to get published.
So yes, going in with realistic expectations, I do believe this James Patterson MasterClass on writing upholds its promise to help you start writing a book.
Is James Patterson's MasterClass worth the money?
Yes if you…
Are just starting out as a writer
Want to write and publish a book some day
Are interested in learning more about co-authoring
Struggle to outline your book ideas
Are a fan of James Patterson's work
Need help writing suspense
No if you…
Are an experienced writer
Don't want to become an author
Already have a solid process for outlining and writing a book
Conclusion
Taking everything into consideration, I highly recommend this James Patterson MasterClass on writing based on the following things:
Quality of production
Length of the course
The Class Workbook provided
James Patterson is a proven and successful writer
The fact that a MasterClass pass gives me access to many, many more courses (especially access to other authors such as Neil Gaimon, Dan Brown, Margaret Atwood, Judy Blume, and more)
If you're interested in learning more, here is the class trailer:
---