In this review, we'll see if the Margaret Atwood MasterClass on creative writing lives up to its promises and delivers a course worthy of your investment.
Margaret Atwood opens her MasterClass with an obvious, yet astute, observation:
"If you're a writer, you have a very limited repertoire of tools. Your repertoire is a blank page and some words that you put on it."
I've read Atwood's books and know she can be quite descriptive. Therefore, I was shocked by her rather to-the-point opening remarks. But then she opens up about the role of any writer.
"Reading is the most participative of the arts. There's more brain activity when you're reading that kind of intense text because the brain has to supply everything with the words used as cues, clues. What you are providing the reader is a score, a score that the reader will then interpret. And all you can do as a writer is make your book as good as it can be."
I've taken countless MasterClasses and I can honestly say Atwood's opening remarks are the best. They set the tone and heightened my expectations. And for the rest of the MasterClass? She delivered.
I tremendously enjoyed Atwood's class on creative writing. I learned a lot of valuable information. Even as someone who dabbles more in non-fiction writing, I found her MasterClass to be packed with information and gems about the writing process that I haven't seen in any of the other writer MasterClasses.
In my opinion, the Margaret Atwood MasterClass is the best writing course on MasterClass. However, let's dive deeper to see if this particular MasterClass is worthy of your investment.
Quick Q and A
Do I need a subscription to access this course?
Yes. MasterClass charges a yearly subscription to access all of their courses. Jump to the pricing section to learn more.
How long is the MasterClass?
The Margaret Atwood MasterClass on creative writing is 3 hours and 43 minutes long and spans 23 video lessons.
Does MasterClass have a cancellation policy?
Yes. If you cancel within 30 days of purchase, MasterClass will issue you a full refund.
Is the Margaret Atwood MasterClass worth it?
Yes. None of the lessons feel like "filler" and are substantial on their own. You will learn a lot about the creative writing process from Atwood.
---
About Margaret Atwood
Margaret Atwood is an award-winning Canadian poet and novelist. Her work has been published in over 45 countries and has received numerous awards such as the Booker Prize, Arthur C. Clarke Award, and the Franz Kafka Prize.
Most known for her 1985 dystopia book The Handmaid's Tale (now a Hulu TV series), Atwood has published 18 novels such as The Blind Assassin and Alias Grace as well as 11 non-fiction books and various short stories.
Atwood's work typically touches on powerful themes such as feminism, religion, politics, and gender. Although she doesn't like to apply labels, Atwood's work tends to fall under "speculative fiction" and even "historical fiction" at times.
In 2019, Atwood published The Testaments, a sequel to The Handmaid's Tale. The Goodreads Choice Awards awarded the book 'Best Fiction' novel in 2019.
---
What does the Margaret Atwood Teaches Creative Writing MasterClass promise?
Margaret Atwood's MasterClass has one of the best, most clearly defined promises.
Here's text taken straight from the marketing page:
"In her first-ever online writing class, the author of The Handmaid's Tale teaches how she crafts compelling stories, from historical to speculative fiction, that remain timeless and relevant. Explore Margaret's creative process for developing ideas into novels with strong structures and nuanced characters."
The MasterClass creators are even more specific in the class workbook:
"You will learn ways to structure a novel, how to develop characters, how to get readers interested with a compelling beginning, and how to keep them interested through the last page. Margaret will also share some tips to help you keep going and stay motivated during the drafting and revision process."
To summarize, this MasterClass makes some big promises. You will learn how to:
Write a compelling story
Create a structure for your novel
Develop nuanced characters
Keep your readers interested
Stay motivated to keep writing
Whether you already have a half-written draft of a book or are just getting started, this MasterClass is geared to those who want to turn their work into a masterpiece.
So, did Atwood live up to her promises? Did she meet my expectations? I'll cover that at the end of the review (skip ahead if you want to find out). But first, let's talk about what's probably on your mind…
---
How much does Margaret Atwood's MasterClass cost?
If you want to take Margaret Atwood's Masterclass, you have three all-access pass options to choose from.
In 2021, MasterClass began testing alternative subscription models besides their original flat-rate annual membership. Eventually, they settled on a new cost-friendly three-tier MasterClass pricing model for their annual subscription:
Individual – $120 per year (average $10 per month)
Duo – $180 per year (average $15 per month)
Family – $240 per year (average $20 per month)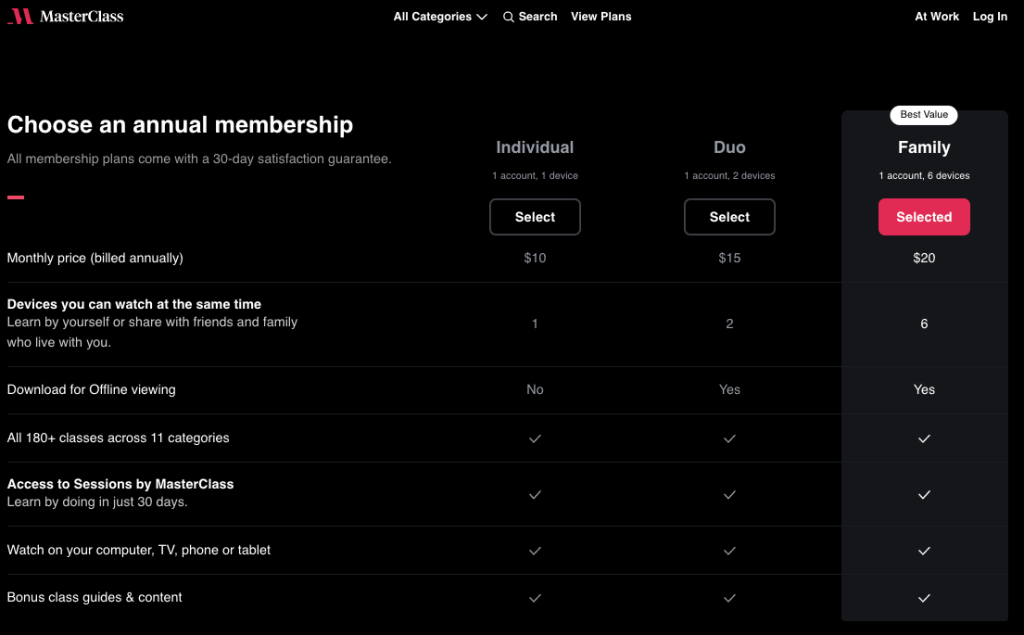 The Individual membership (formerly the "Standard Plan") is perfect for single individuals who are most likely to consume online learning at home. The Duo (formerly the "Plus Plan") and Family (formerly the "Premium Plan") plans are better for couples as MasterClass allows multiple devices to watch at the same time. (Netflix has similar restrictions for their membership plans).
However, the ability to download video lessons for offline viewing is helpful for people who might want to watch MasterClass on their commute to work without eating up most of their data. The Plus and Premium plans offer their users the ability to do just that.
Personally, I go for the $120 per year option as I average about one MasterClass per month, which means my cost per class is $10.
The price The annual membership may seem steep, however, the subscription gives you unlimited access to all 150+ MasterClass courses, including other creative writing courses such as James Patterson, Malcolm Gladwell, and Neil Gaiman's the art of storytelling.
In other words, if it turns out the Margaret Atwood online course on masterclass.com isn't for you, chances are you'll find other MasterClasses you do enjoy.
Plus, you have to remember that each MasterClass is someone's lifetime of work distilled into well-organized and enjoyable video content.
---
What is included in the Margaret Atwood MasterClass?
Here's a rundown of what you are getting with the Margaret Atwood MasterClass.
| | |
| --- | --- |
| Runtime: | 3 Hours 43 minutes |
| Reviews: | 4.7 out of 5 ⭐️ |
| Lessons: | 23 video lessons |
| Materials: | 1 class workbook |
Runtime
The runtime of this MasterClass is just under 4 hours, which felt comparable to other MasterClasses. Atwood is a slow speaker, so I found that watching the course at 1.5x speed didn't hinder my learning experience. I was able to finish watching the video lessons in just about 2 and a half hours.
Supplemental Material
Margaret Atwood's MasterClass comes with an accompanying 92-page class workbook, and it's one of the best I've seen. For comparison, the Aaron Sorkin MasterClass is almost 8 hours long, yet it only comes with a 52-page class workbook.
Atwood's class workbook is chock-full of additional writing assignments that build upon her video lessons as well as resources for writers. Here are a few gems I've found because of the workbook:

An important note to keep in mind. The class workbook includes assignments for each lesson; however, these are not reviewed by Atwood nor the MasterClass team. The assignments are there for your benefit and are a great launching point for discussion in the community forum. Speaking of which…
Community Access
Finally, like every MasterClass, this one comes with its own community page called "The Hub" where you can interact with fellow writers. The Atwood page is active with other aspiring writers and is a great resource to receive peer feedback.
---
About the structure of the class
Margaret Atwood's MasterClass on creative writing is divided up into 23 lessons with an average run time of approximately 10 minutes per lesson. Each lesson is subdivided into 3 to 5 sections.
Lesson plan:
Introduction
Getting Started as a Writer
Story and Plot
Structuring Your Novel: Layered Narratives and Other Variations
Who Tells the Story: Narrative Point of View
Point of View Case Studies
Bringing Characters to Life Through Detail
Creating Compelling Characters
Writing Through Roadblocks
Crafting Dialogue
Revealing the World Through Sensory Imagery
Prose Style and Texture
Working With Time in Fiction
The Door to Your Book: The Importance of the First Five Pages
Writing the Middle and Ending
Revision: Seeing Your Work Anew
The Novel and the Shifting Sands of Genre
Speculative Fiction
Speculative Fiction Case Study: The Handmaid's Tale
Research and Historical Accuracy
The Writer's Path
The Business of Being a Writer
Parting Words
Lesson summary:
Although Atwood speaks at a slow pace and is prone to smirk at her own jokes (it's adorable actually), the pace of the class never feels slow. Each lesson is about 10 minutes long. Some lessons are divided up into 3 to 5 sections; and others, like the case studies, focus on only one thing.
I never felt overwhelmed with information, and none of the lessons felt like filler. (In comparison, I recently finished the Aaron Sorkin MasterClass and felt like it was about 3 hours too long. Atwood's class felt just right.)
Side Note: Although not included in my fast-track lesson plan below, one lesson stood out as a gem: The Door to Your Book: The Importance of the First Five Pages. "If you cannot get that reader through the first page," Atwood says, "they will never read the brilliant insights into life that are on page 75." It's a terrific and simple reminder. While other authors talk about finishing your book strong, Atwood reminds us there's no point unless the beginning of your book is compelling enough to capture the reader.
Although not officially segmented into sections, this MasterClass has two distinctive parts. The first part deals with the nuts and bolts of writing a novel. This section is lessons 1 through 16 and encompasses the bulk of the entire class.
Part two is lessons 17 through 23 and mainly deal with the "other things" writers have to deal with such as:
Getting published
Working within genre
Understanding the business side of being an author
Part one can be thought of as the how-to and part two can be thought of as sage advice.
My fast-track lesson plan
Although 4 hours of video lessons isn't a huge time commitment, I created an abbreviated lesson plan in case you're looking for a fast-track version. In just over 90-minutes, you can acquire a decent understanding of the novel-writing process. I found the following lessons to be the most impactful and beneficial to helping me learn creative writing.
Course Reviewers 90-Minute Lesson Plan
3. – Story and Plot | 9m44s
5. – Who Tells the Story: Narrative Point of View | 9m18s
7. – Bringing Characters to Life Through Detail | 11m14s
10. – Crafting Dialogue | 8m26s
11. – Revealing the World Through Sensory Imagery | 9m09s
12. – Prose Style and Texture | 10m44s
13. – Working With Time in Fiction | 9m10s
15. – Writing the Middle and Ending | 10m04s
16. – Revision: Seeing Your Work Anew | 8m03s
22. – The Business of Being a Writer | 9m29s\
Total runtime = 1 hour 34 minutes
---
Key Things I Learned
If you asked me to define "genre" before I took this MasterClass, I would have rambled off an incoherent 5-minute explanation before finally admitting I have no clue.
Atwood covers all of the nuts and bolts of creative writing and demonstrates with simple and familiar stories. For example, in Lesson 4, Atwood uses the childhood favorite Little Red Riding Hood to show the difference between story and structure.
"The story is what happens," begins Atwood, "the structure is how you tell the story." She then tells the popular version of the story which is a chronological "this-then-that" style. "You know the rest," continues Atwood.
Now, if you tweak the structure, you get something like this:
It was dark inside the wolf. The grandmother, who had been gobbled whole, couldn't say a word because it was quite stifling and full of old chicken parts and plastic bags that the wolf had eaten by mistake.
This is just one of the many things I learned throughout the MasterClass. I summarize a few of my other takeaways below.
Below are a few key writing tips that stood out during the MasterClass:
A story is made up of events and characters, but a compelling story happens because a pattern is interrupted.
You don't have to start a story from the beginning. Jumping around a timeline makes for an interesting story.
You don't have to stick to just one point of view for your story.
Unlike film or television, a writer must describe their characters. Do you have enough details for your readers to formulate their own impressions?
Remember to be kind to yourself while you write. Take breaks. Rest your eyes and wrists.
When crafting a scene of dialogue, ask yourself what each of your characters are trying to get.
---
Things I liked about the Margaret Atwood MasterClass on Creative Writing
First, I loved the pace of this MasterClass. The amount of content covered didn't feel like too much or too little for the time allotted. As I've already mentioned, I didn't feel like the Aaron Sorkin MasterClass covered as much useful content and it lasted 8 hours. In other words, I learned more in Margaret Atwood's 4-hour MasterClass than I did in Aaron Sorkin's 8-hour one.
Second, the class workbook is honestly one of the best I've seen. Based on what I've experienced in other class workbooks, Atwood appears to have collaborated with the MasterClass team on it. There are extensive reading recommendations with Atwood's own comments as well as long samples of her work.
Third, I learned enough about the creative writing process to begin writing my own story. Like I've mentioned, I mainly dabble in non-fiction work, but Atwood inspired me to give fiction a try. Her advice about understanding "who" is telling the story helped me to get the ball rolling and put words on the page. Who knows, maybe I'll be teaching my own MasterClass someday.
Finally, Atwood is a sweet lady and a joy to listen to. She has a funny sense of humor and an earnest desire to share what she knows about creative writing. All in all, I enjoyed the Margaret Atwood MasterClass because it was taught by Margaret Atwood.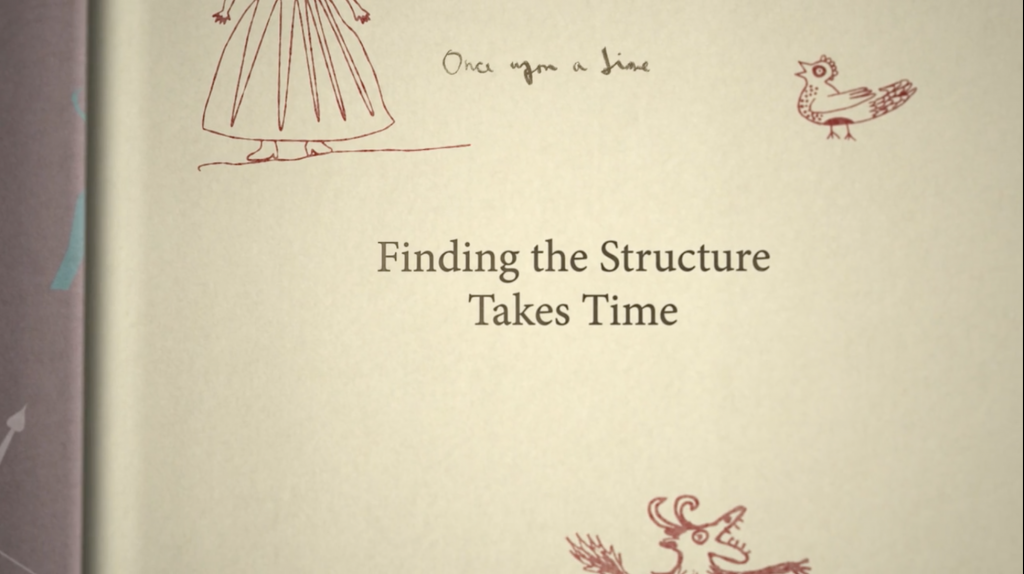 My favorite quotes from Margaret Atwood's MasterClass
If you really do want to write, and you're struggling to get started, you're afraid of something. What is that fear?

Lesson 2 – Getting Started as a Writer
Unless you're writing something on the page, you're not writing.

LESSON 2 – GETTING STARTED AS A WRITER
People are not perfect and that there are many different kinds of them. And why should that not be reflected in fiction?

LEsson 8 – Creating Compelling Characters
I think it's a good idea, especially when you're younger, you keep your hand in by writing something every day. I recommend it. But it's one of those recommendations that I myself have been unable to follow. (smirks at the camera)

Lesson 9 – Writing Through Roadblocks
If you're writing a book, the time in which you are writing it and the space in which you're writing it are always different from the time and space in which the reader is reading it. It's a letter. You write it. You mail it.

Lesson 21 – The Writer's Path
---
Things I didn't like about the Margaret Atwood MasterClass
There really is nothing I disliked about Margaret Atwood's MasterClass. If I had to get really picky, I'd say I wish there were a few more lessons, specifically around building attention as a new fiction writer.
However, I'm not alone in thinking there is very little to complain about. I even dug through the community access page and found other students who left their feedback.
---
Does the class keep its promises?
To recap, this MasterClass made five promises of what we should expect to learn:
Write a compelling story
Create a structure for your novel
Develop nuanced characters
Keep your readers interested
Stay motivated to keep writing
Does this MasterClass keep all five of its promises? Yes, yes, yes, yes, and yes. I've reviewed other writing classes, but this one remains at the top of my list as my go-to recommendation to learn how to write.
---
Margaret Atwood MasterClass Review: Is it worth the money?
Yes if you…
Are starting out in writing
Want to learn the basics and fundamentals
Are interested in publishing a book
Need better advice to help you overcome writer's block
Are a fan of Atwood's work
No if you…
Aren't interested in writing
Don't have 4 hours to devote to video lessons
---
Conclusion
In my opinion, the Margaret Atwood MasterClass on creative writing is the best writing course on MasterClass. In fact, I think it's the best MasterClass period (of the ones I've taken so far).
You will come away with not only the motivation to write, but the technical know-how needed to write a compelling novel, create memorable characters, craft enticing dialogue, and overcome writer's block along the way.
This MasterClass has my 100% recommendation for anyone interested in becoming a better writer.
If you're interested in learning more, here is a trailer to the class:
---