In this review, we'll see if the N.K. Jemisin MasterClass on Fantasy and Science Fiction Writing lives up to its promises and delivers a course worthy of your investment.
N.K. Jemisin MasterClass Summary
What you'll learn: How to write fantasy and/or science fiction through carefully researched and thought-out worldbuilding, character arcs that aren't derivative of old cliches, and writing career advice that goes beyond the page.

Run time: 4 hours and 2 minutes

Recommendation: 8/10—Fantasy and Sci-Fi are niche genres, however, there are many aspects of this course that are applicable to any aspiring writer.
I've mentioned before in my reviews that my goal is to become a published novelist. In pursuit of my goals, I've taken many of the writing classes offered by MasterClass taught by the likes of Margaret Atwood, Neil Gaiman, Dan Brown, and James Patterson. Each course has helped me in some way, shape, or form.
That is until I saw that MasterClass offered a course by N.K. Jemisin on fantasy and science fiction writing.
Because I am working on a speculative fiction novel, I found N.K. Jemisin's MasterClass is both timely and highly insightful.
In this N.K. Jemisin MasterClass review, I will answer a few key questions, summarize what I liked and disliked about the course, and give you my honest recommendation from the perspective of someone writing a science fiction novel.
My goal is to give you as much information as you need to decide: Is the N.K. Jemisin Teaches Fantasy and Science Fiction Writing MasterClass worth it?
🔥 Get 50% off a MasterClass subscription! 🔥
Get a head start on Father's Day shopping with a MasterClass 50% off offer. Give the amazing dad in your life a gift that fuels his passions and empowers him to reach new heights!
---
In this review:
---
Quick Q and A
Do I need a subscription to access this course?
Yes. MasterClass charges a yearly subscription to access all of their courses. Jump to the pricing section to learn more.
How long is the MasterClass?
The N.K. Jemisin MasterClass on Fantasy and Science Fiction Writing is 4 hours and 2 minutes long and spans 16 video lessons.
Does MasterClass have a cancellation policy?
Yes. If you cancel within 30 days of purchase, MasterClass will issue you a full refund.
Is the N.K. Jemisin MasterClass worth it?
Yes. This course is highly valuable for aspiring fantasy and science fiction writers. Coupled with the dozen other writing MasterClasses, this course is worth the investment.
---
About N.K. Jemisin
Author of the well-known The Fifth Season, Nora Keita Jemisin—better known as N.K. Jemisin—is a prolific fantasy and sci-fi novelist and writer. Jemisin has won countless awards, such as the Locus Award and the Hugo Award for The Broken Earth Trilogy.
Initially a counseling psychologist, Jemisin broke into the creative writing scene with her debut novel: The Hundred Thousand Kingdoms. However, she contributed many short stories to sci-fi publications before becoming a full-time fantasy writer.
Jemisin's latest novel, The City We Became, a story set in New York City, was published in March 2020. Currently, Jemisin is adapting her Broken Earth Trilogy for the big screen, a deal that earned her seven figures.
On Jemisin's website, she writes that her most frequent themes:
"[I]nclude resistance to oppression, the inseverability of the liminal, and the coolness of Stuff Blowing Up. She has been an advocate for the long tradition of science fiction and fantasy as political resistance."
So I hoped to learn a lot about writing fantasy and science fiction in this MasterClass.
---
What does this MasterClass promise?
N.K. Jemisin didn't take a direct route toward becoming a professional author. She bounced around different states and worked as a college counselor, all the while she kept writing. Her knack for worldbuilding caught people's attention, which secured her first agent and book contract.
Breaking into the publishing industry isn't easy, but Jemisin believes that she can help teach you a thing or two that she's learned along the way.
In this MasterClass, N.K. Jemisin makes a few promises to anyone who believes they have the skills to write and publish a novel. Jemisin promises to teach you how to:
build a world from scratch
develop characters
demonstrate ways to get across information
become (and survive as) a professional writer
So, did N.K. Jemisin live up to her promises? Did she meet my expectations? (Spoiler: Yes, and so much more!) I'll cover that at the end of the review (skip ahead if you want to find out). But first, let's talk about what's probably on your mind:
---
How much does N.K. Jemisin's MasterClass cost?
In 2021, MasterClass began testing alternative subscription models besides their original flat-rate annual membership. Eventually, they settled on a new cost-friendly three-tier MasterClass pricing model for their annual subscription:
Individual – $120 per year (average $10 per month)
Duo – $180 per year (average $15 per month)
Family – $240 per year (average $20 per month)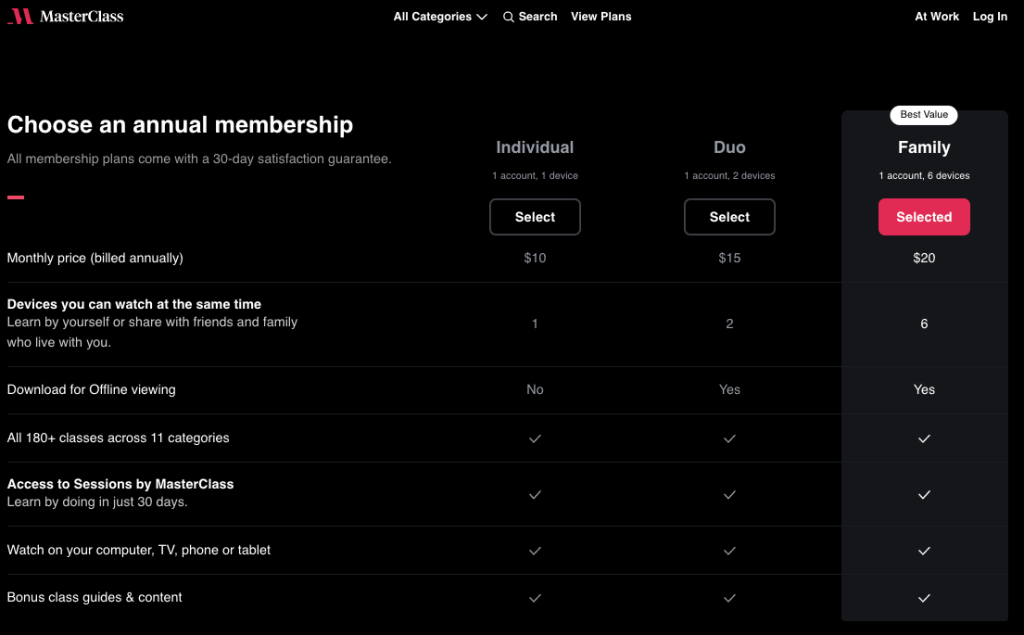 The Individual membership (formerly the "Standard Plan") is perfect for single individuals who are most likely to consume online learning at home. The Duo (formerly the "Plus Plan") and Family (formerly the "Premium Plan") plans are better for couples as MasterClass allows multiple devices to watch at the same time. (Netflix has similar restrictions for their membership plans).
However, the ability to download video lessons for offline viewing is helpful for people who might want to watch MasterClass on their commute to work without eating up most of their data. The Plus and Premium plans offer their users the ability to do just that.
Personally, I go for the $120 per year option as I average about one MasterClass per month, which means my cost per class is $10.
The price may seem steep, but the all-access pass gives you access to all of the MasterClass courses, including other writing classes taught by Malcolm Gladwell, Salman Rushdie, R.L. Stine, Judy Blume, and Shonda Rhimes.
Plus, you have to remember that each MasterClass is someone's lifetime of work distilled into well-organized and enjoyable video content. In other words, if it turns out the N.K. Jemisin MasterClass isn't for you, chances are you'll find other classes on masterclass.com you do enjoy.
---
What is included in the N.K. Jemisin MasterClass?
Here's a rundown of what you are getting with the N.K. Jemisin MasterClass.
| | |
| --- | --- |
| Runtime: | 4 Hours 2 minutes |
| Reviews: | 4.7 out of 5 ⭐️ |
| Lessons: | 16 video lessons |
| Materials: | 1 workbook |
Runtime
The runtime clocks in at just over 4 hours, which I thought was the perfect sweet spot compared to some other writing MasterClasses I've taken before. I preferred watching the course at 1.5x speed which means I finished the entire video course in about 2 hours and 40 minutes.
Supplemental Material
This MasterClass (like all MasterClasses) comes with an extensive supplemental PDF workbook that summarizes all the key topics covered in the course.
Compared to the previous MasterClass I took (Dan Brown on writing thrillers), N.K. Jemisin's workbook isn't as in-depth as I had anticipated. Don't get me wrong, I still found this workbook to be extremely helpful and informative—but at 34 pages, I wished it were longer.
One aspect I found to be very helpful was the recommended assignments:
Explore various subgenres with a freewriting exercise
Practice acculturation–or how your characters fit into society
Create a compelling scenario by pairing a New York landmark with one of several writing prompts
Develop a new character by using N. K.'s pyramid model
Brainstorm two characters in your new world, one who is privileged and the other who is marginalized
Try out different techniques for hooking a reader
Write from the perspective of a child
How you can remain safe if and when your profile grows
These eight assignments pair well with the lessons covered in the MasterClass and summarized in the workbook. They provide a practical application that is essential to the learning experience.
All in all, this was the first workbook that I printed out for easy reference as I work on my novel.
---
About the structure of the class
N.K. Jemisin's MasterClass is divided up into 16 lessons with an average run time of approximately 15 minutes per lesson. However, the video playback buttons allow you to watch the course at 1.5x and 2x speed.
Lesson plan:
Meet Your Instructor: N. K. Jemisin
Elements of Worldbuilding
Macro-worldbuilding Exercise: Build Your World
Micro-worldbuilding: Conceiving the Culture and People
Micro-worldbuilding: Power Dynamics and Cultural Appropriation
Worldbuilding: Inventing Science and Magic
Worldbuilding: Research
Immersing Your Reader: Choosing a POV
The Psychology of Characters
Forget the Rugged Individual Archetype
The Hierarchy of Characterization: Demographics, Outer Life, and Inner Life
The Hierarchy of Characterization: The Character Arc
How to Publish Your Book: Seeking Publication
How to Find a Literary Agent
Surviving the Literary Marketplace
Writing While Marginalized
Lesson summary:
Jemisin's MasterClass covers a wide array of topics divided into three categories:
Worldbuilding
Character development
Writing career advice
In lessons 1 through 7, Jemisin covers all the nitty-gritty behind building your fantasy or science fiction world before writing your novel. "You need to know all the minutia," she explains, "as the artist, that means that you have to understand the day-to-day. How does a person get up every day? How do they put their clothes on? How do they brush their teeth?" In other words, you need to put in the work of understanding the world—at a micro and macro level—as well as the rules that govern it before figuring out how your characters will interact within it. Jemisin provides all the tools needed to accomplish this.
Lessons 8 through 11 dive into the essential practice of character development, such as choosing the right point of view, understanding demographics, and creating a character arc that isn't another rehashing of the "rugged individual archetype." In lesson 11, Jemisin walks you through her Character Pyramid Model to build characters from the bottom up.
Finally, in lessons 12 through 16, Jemisin provides helpful advice for new and aspiring writers on how to get published and, more importantly, make a career out of writing. There's much more to a writing career than simply writing "The Best Novel" and becoming instantly famous. It's hard work, and it's even harder for people from marginalized groups, as Jemisin can attest. However, having a writing career is not impossible, and Jemisin kindly shares advice that I found to be very useful.
My fast-track lesson plan
Although 4 hours of video lessons isn't a huge time commitment, I created a fast-track collection if you are looking for an abbreviated lesson plan. In just over 60-minutes you can watch these lessons, grab a pen or computer, and have a decent idea of how to start your next novel. I found these lessons to be the most impactful and beneficial to helping me learn fantasy and science fiction writing.
Course Reviewers 60-Minute Lesson Plan
3. – Macro-worldbuilding Exercise: Build Your World | 13m31s
4. – Micro-worldbuilding: Conceiving the Culture and People | 18m43s
11. – The Hierarchy of Characterization: Demographics, Outer Life, and Inner Life | 13m58s
12. – The Hierarchy of Characterization: The Character Arc | 17m45s
Total runtime = 1 hour and 4 minutes
---
Key Things I Learned
The notes I took for the N.K. Jemisin MasterClass on fantasy and science fiction writing might be more than the downloadable workbook itself. Okay, maybe I'm exaggerating a bit. However, every lesson was jam-packed with key takeaways and practical advice that Jemisin used to write dozens of award-winning books. As an aspiring novelist myself, I wanted to absorb as much as I could from one of the best.
Here is a small sampling of what I learned.
Below are a few key learnings that stood out during the MasterClass:
Stories about people should always evoke emotion.
Acclimating to a new environment (like someone moving to NYC and learning the subway system) is what you will be doing for your reader. Don't make the learning curve too steep.
"Element X" is a feature of the environment that is drastically different than our world (it can be as simple as magic exists or that the story takes place in the future).
"Show don't tell" is good advice for new writers, but it's okay to discard. Sometimes you have to tell your readers information, especially with worldbuilding.
The Identity Development Model (complacency, encounter, disintegration, reintegration, resolution) makes for a great character arc.
---
Things I liked about the N.K. Jemisin MasterClass on Fantasy and Science Fiction Writing
What I liked best about this MasterClass was its practical applications, not just in the art of storytelling but in the specific area of fantasy and science fiction. The genre requires plausible alternative worlds for characters to interact in, and this requires a unique skill set that Jemisin has mastered over her two decades of being a professional writer.
The class is well-organized and in-depth without being overwhelming. The lessons can easily be consumed over the course of a weekend or spaced out over the course of a few weeks to allow oneself to work on the assignments given in the class workbook.
Overall, I learned a great deal from this course, which at the end of the day, is the most I could ask for in a MasterClass.
My favorite quotes from N.K. Jemisin's MasterClass
"When I began my career as a writer, people were upfront with me about how hard it would be. What I don't think people said to me is that if you were legit good, if you work and hone your craft, you will eventually break in because you're a good writer."

Lesson 1
"Those rituals, those processes, that infrastructure, that's all part of the world that we live in. So when you're creating a secondary world, it's got to be just as plausible and just as lived in."

Lesson 2
"It is on the artist to experience as many things as they can so that they can accurately render the world. The artist's job is to speak truth, sometimes to power, sometimes to reality."

Lesson 7
"I decided to use a variation of this identity development model, where a character who is in a steady state basically encounters something that forces them to rebuild who they are as a person and decide on a new path for themselves."

Lesson 12
---
Things I didn't like about the N.K. Jemisin MasterClass
There wasn't much I didn't like about this course. As I mentioned earlier, I wish the downloadable class workbook was a bit longer, something similar to Dan Brown's 89-page class workbook. However, that's me being nitpicky.
---
Does the class keep its promises?
Yes, 100%. To review, Jemisin makes four big promises at the start of her MasterClass:
build a world from scratch
develop characters
demonstrate ways to get across information
become (and survive as) a professional writer
Each of these promises is addressed thoroughly throughout the video lessons. As someone who is actively working on a speculative fiction novel, I can attest that the tools and methods promised in this class are beneficial and practical.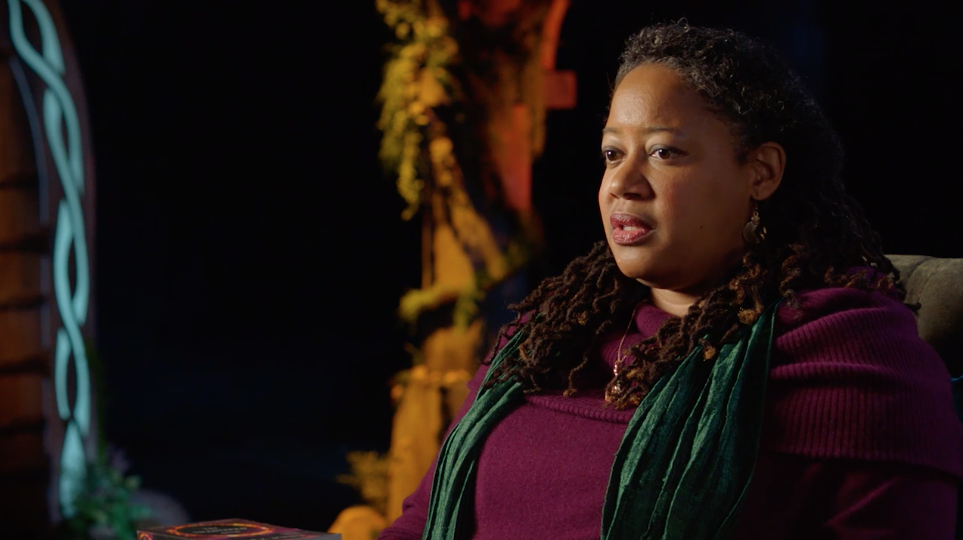 ---
Is N.K. Jemisin's MasterClass worth the money?
Yes if you…
Are interested in fantasy and/or science fiction
Need writing and writing career advice
Have read N.K. Jemisin's books and want to learn her process
Want to develop better characters and worlds in your writing
No if you…
Are not pursuing a writing career
Do not read or write fantasy/science fiction
---
Conclusion
Taking everything into consideration, I believe N.K. Jemisin's MasterClass on Fantasy and Science Fiction Writing is worth checking out if you consider yourself an avid (or even passive) writer and wish to broaden your skillset. Coupled with the other writing-related MasterClasses, the price point is well worth the investment.
If you're interested in learning more, here is a trailer to the class:
---