MasterClass boasts that you can gain access to 180+ classes from the world's leading experts all for a mere $10 a month. But how much does MasterClass cost, actually? Better yet, is MasterClass worth it?
In this MasterClass review, we'll break down the true cost of a MasterClass annual membership as well as how (and when) to keep an eye out for MasterClass offers.
---
Table of Contents
---
What is MasterClass?
MasterClass is an online learning platform consisting of two to four hour-long online courses (divided into high-quality video lessons) taught by respected and renowned experts from around the world.
Founded in 2014 (originally as Yanka Industries, Inc.) by Stanford student, David Rogier, MasterClass launched its e-learning website the following May with only three instructors. Twelve classes were later added in 2017 before the total drastically jumped to fifty by 2018.
Every MasterClass course comes with a supplemental and downloadable workbook.
In 2021, MasterClass rolled out a new learning feature called Sessions by MasterClass. Previously, if students wanted to expand their level of knowledge or want to ask questions, each class had its own individual online portal called "The Hub" where students could interact with other students and MasterClass moderators.
Sessions is a new "hands-on" format where students learn in a structured curriculum alongside one another within 30 days. Each session comes with dedicated and trained Teaching Assistants who are available to help answer questions and provide feedback.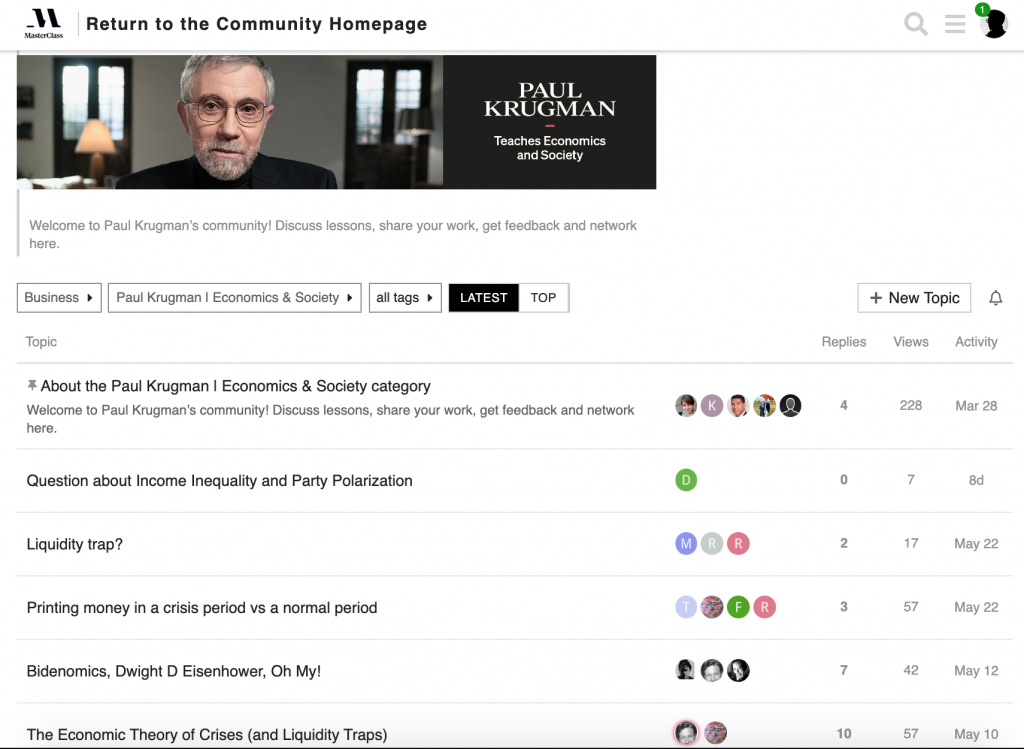 Every once in a while, MasterClass will host instructors on live streams. (I recently found a recording of Ron Finley's private live stream on YouTube, read my review where I share a link.)
---
What does MasterClass Cost?
In 2021, MasterClass began testing alternative subscription models besides their original flat-rate annual membership. Eventually, they settled on a new cost-friendly three-tier MasterClass pricing model for their annual subscription:
Individual – $120 per year (average $10 per month)
Duo – $180 per year (average $15 per month)
Family – $240 per year (average $20 per month)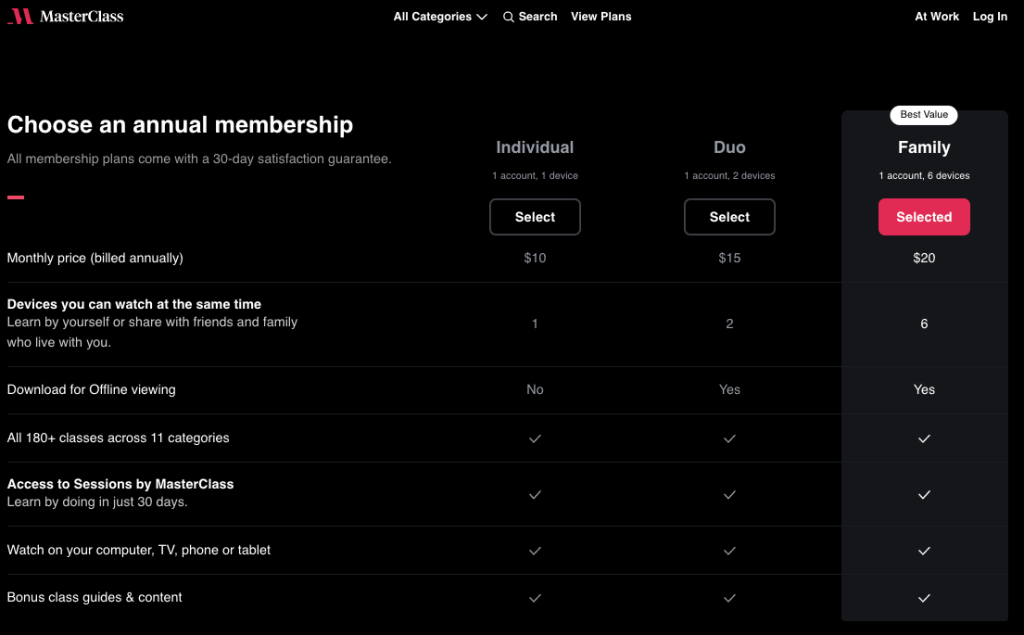 The Individual membership (formerly the "Standard Plan") is perfect for single individuals who are most likely to consume online learning at home. The Duo (formerly the "Plus Plan") and Family (formerly the "Premium Plan") plans are better for couples as MasterClass allows multiple devices to watch at the same time. (Netflix has similar restrictions for their membership plans).
However, the ability to download video lessons for offline viewing is helpful for people who might want to watch MasterClass on their commute to work without eating up most of their data. The Plus and Premium plans offer their users the ability to do just that.
Personally, I go for the $120 per year option as I average about one MasterClass per month, which means my cost per class is $10.
Individual Plan (formerly the Standard Plan)
The Individual membership all-access pass is perfect for single individuals who are most likely to consume online learning at home. With the Individual plan, you still receive access to all 180+ courses and have the ability to watch on your computer, TV, phone, or tablet. The only restriction is that you are unable to download courses for offline viewing nor are you able to watch on multiple devices at the same time.
Personally, I go for the $120 a year option as I average about one MasterClass course a month which means my average cost per course is $10.
Duo and Family Plans (formerly the Plus and Premium Plans)
The Duo and Family annual subscriptions are almost identical except in one way. Unlike the Individual plan, Duo and Family MasterClass memberships allow users to download courses for offline viewing and simultaneous streaming on multiple devices, up to two devices for Duo and six for Family.
The Duo and Family plans are better for couples as MasterClass allows multiple devices to watch at the same time. (Netflix has similar restrictions for their membership plans). The ability to download video lessons to view later is helpful for people who might want to watch MasterClass on their commute to work without eating up most of their data.
Annual Membership Example
Let's say you and your significant other wanted to split a MasterClass subscription. Because you both might be watching at the same time, you opt for the Duo plan with the ability to stream MasterClass on two devices at the same time.
Over the course of a year, you boost your creative writing skills by finishing ten writing courses (I recommend Neil Gaiman, Malcolm Gladwell, James Patterson, and Margaret Atwood), and your significant other ups her cooking skills with ten cooking classes. At $180 for twenty total courses, together you have spent $9 per course, a steal in my opinion.
Because you can always upgrade or downgrade your subscription at a later date, start with a realistic plan and go from there. The best part is, no matter which subscription plan you choose, MasterClass gives you unlimited access to all 150+ of their courses. If you recently finished binging Game of Thrones, sign up for MasterClass and binge some Martin Scorsese or Jodie Foster filmmaking courses instead.
---
Keep an eye out for MasterClass 2-for-1 deal
If you aren't ready to purchase MasterClass, you can always keep a look out for their 2-for-1 special which they run a few times a year. In 2021, MasterClass ran their "Buy one, share one" deal:
March (for non-U.S. customers)
May (Mother's Day)
June (Father's Day)
September
November (Black Friday deal)
December (Holiday Special)
With the buy one, share one deal you can always gift the second membership to yourself (at a different email address) or to a friend who can reimburse half back to you. In other words, you get two subscriptions for the price of one.
Also, after you purchase a MasterClass subscription, MasterClass offers a 30% off year-end deal for its members. This means you can renew your membership for only 70% of the cost. If you are on the Duo plan that's a savings of $72.
If you're curious about how to give MasterClass as a gift, you can read our MasterClass gift buying guide here:
---
MasterClass Review: Is it Worth It?
By now you're probably wondering: Is MasterClass for me?
The short answer is, potentially. Whether you're looking to grow your acting skills with an online class from Natalie Portman or study space exploration from Chris Hadfield and Neil DeGrasse Tyson, there is bound to be at least one MasterClass of the 180+ classes that will suit your interests.
However, that's not the main reason people sign up for MasterClass. I love the possibility of stumbling across a subject that I know little about and diving into four hours of video lessons that end up giving me a well-rounded understanding. To put it simply, MasterClass is best for curious minds.
New courses every month
Every month, MasterClass releases new classes from various MasterClass instructors. Many of these instructors are celebrity instructors (such as Serena Williams, Gordon Ramsay, Garry Kasparov, and Steve Martin) who otherwise are too busy to share their wealth of knowledge. It's amazing to find the great courses they produce all in one place.
Make MasterClass work for you
Nevertheless, a MasterClass subscription is a commitment and an investment. On one hand, you'll need to commit at least two to four hours to cover just one of the 180+ MasterClass classes. On the other, you'll need to spend at least $120 a year to access the online education platform.
If you are someone who can spare a few hours a week and $10 a month to watch Chris Voss teach you the art of negotiation for example, then yes, MasterClass is probably for you.
If, however, you don't have the extra cash for yet another subscription, nor the time (or energy) to learn consistently to make MasterClass worth it, then no, MasterClass is probably not for you.
But, and here is the best part, MasterClass offers a 30-day money-back guarantee. They also offer a 7-day free trial. That's nearly five weeks to test out a few classes, and judge whether MasterClass is right for you.
If you want to cancel your subscription before the 30 days is up, all it takes is a simple email to MasterClass letting them know you'd like to cancel your subscription to receive your refund.
---
Quick List of MasterClass Courses
I've been using MasterClass for nearly two years now and have participated in many of their courses. In no particular order, here are some of my favorites you can easily find on MasterClass's homepage.
Gordon Ramsay Teaches Cooking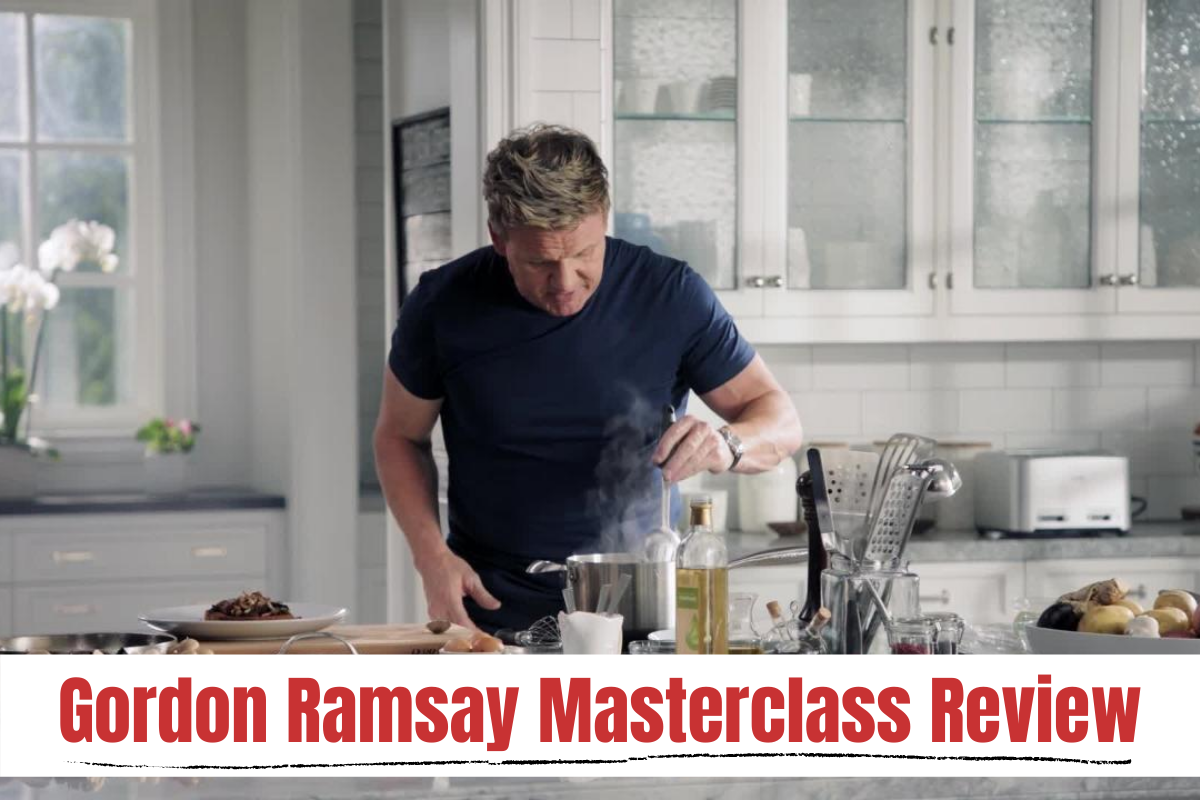 Gordon Ramsay, yes the seven-star Michelin chef and TV personality, actually has two courses on MasterClass: One on homecooking and another on restaurant recipes at home. For anyone looking to boost their cooking skills, Ramsay's first course is a great place to begin.
Neil Gaiman Teaches the Art of Storytelling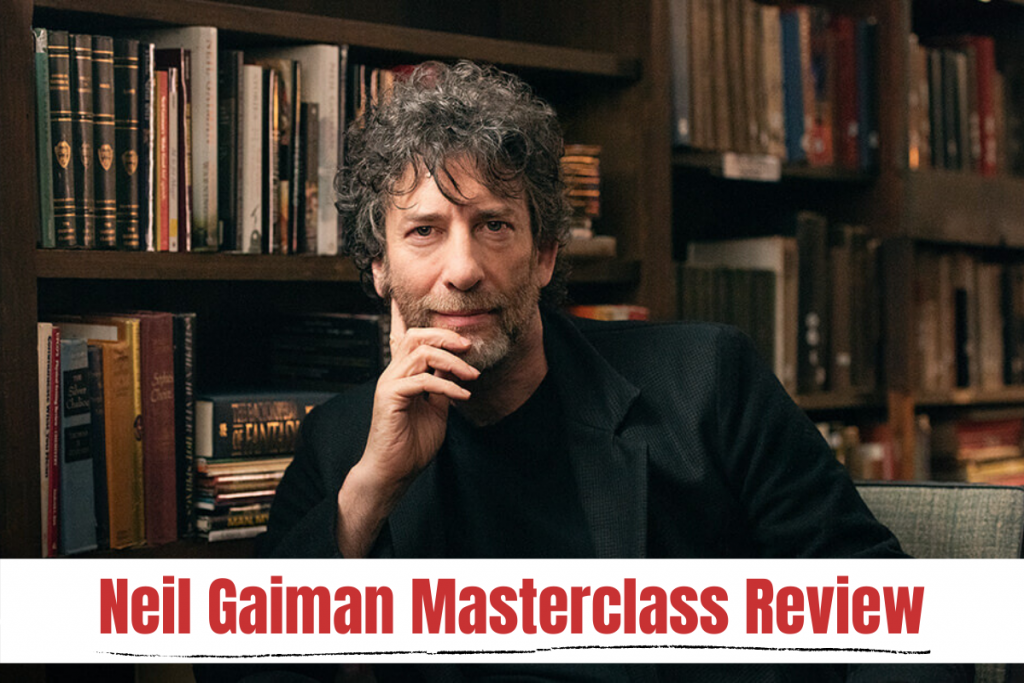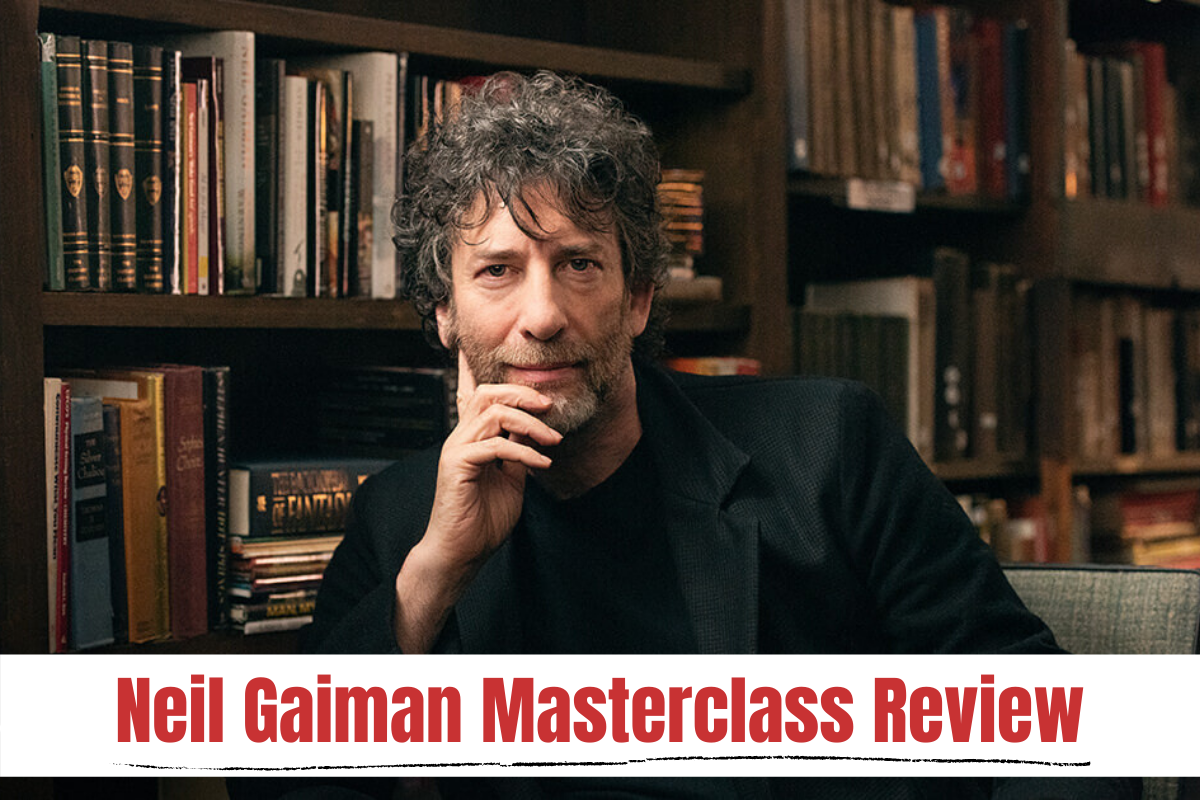 Neil Gaiman's MasterClass is a personal favorite of mine. It's also one I highly recommend to my creative and writer friends who need a boost of motivation and ideas.
Emily Morse Teaches Sex and Communication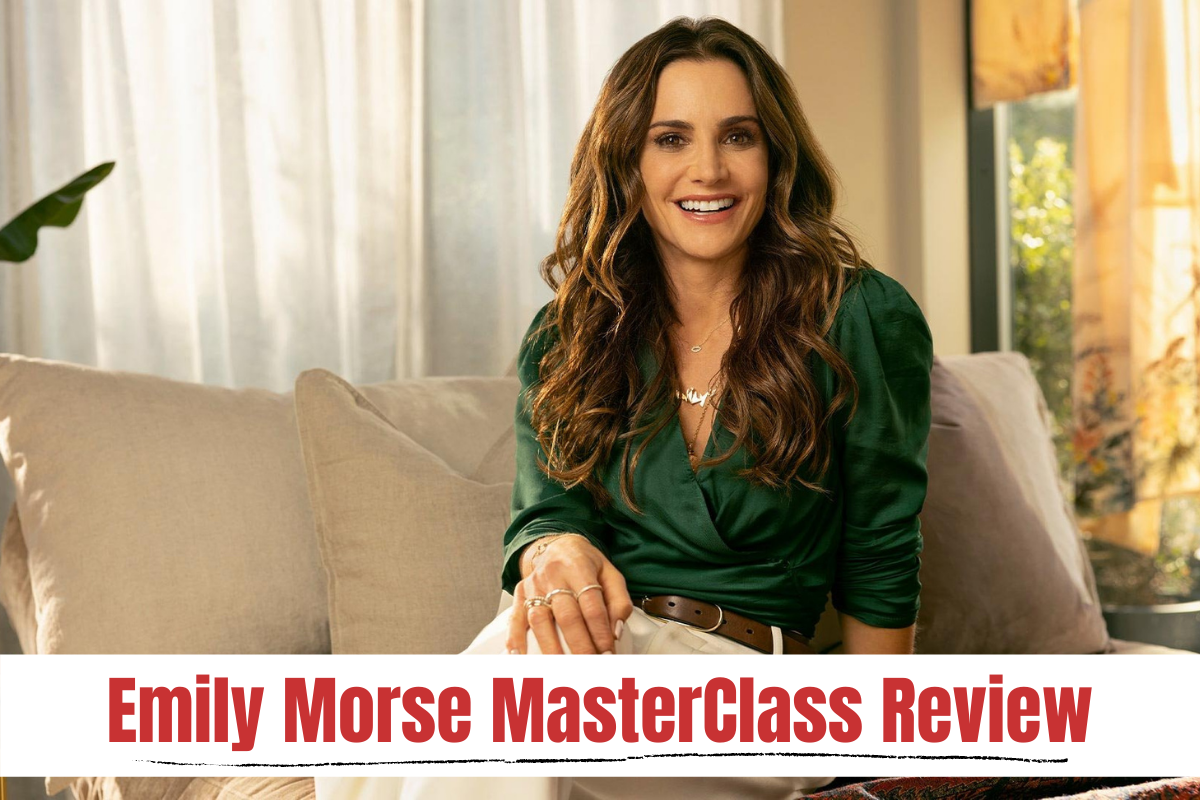 With a runtime of 1 hour and 53 minutes, this short MasterClass by sex therapist, Emily Morse, is definitely worth the investment if you are looking to learn better ways to talk about sex with your partner.
Aaron Sorkin Teaches Screenwriting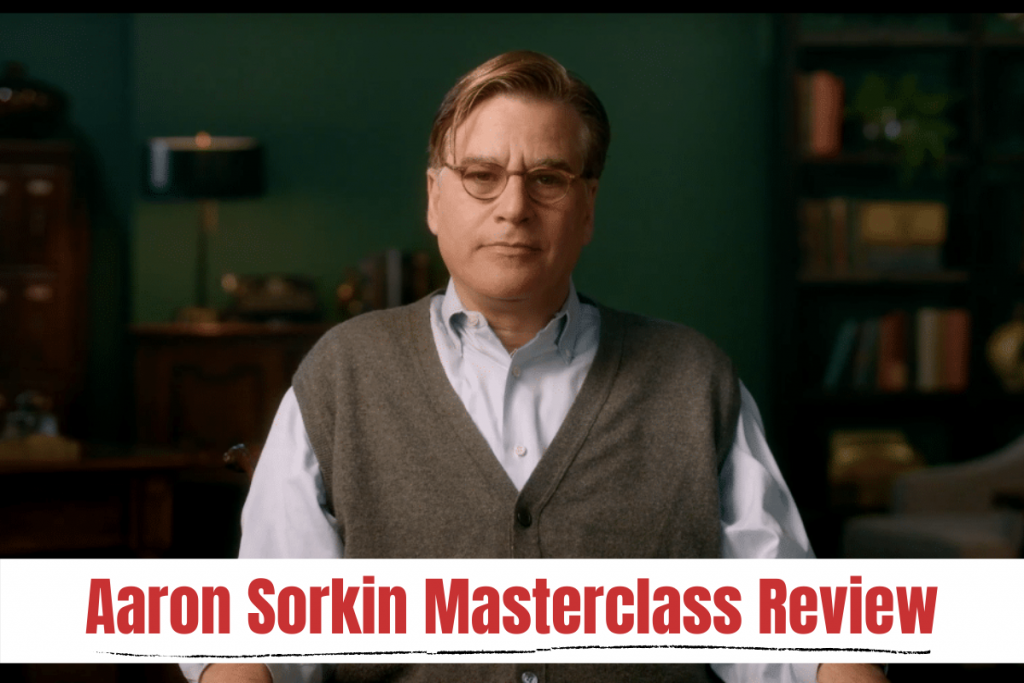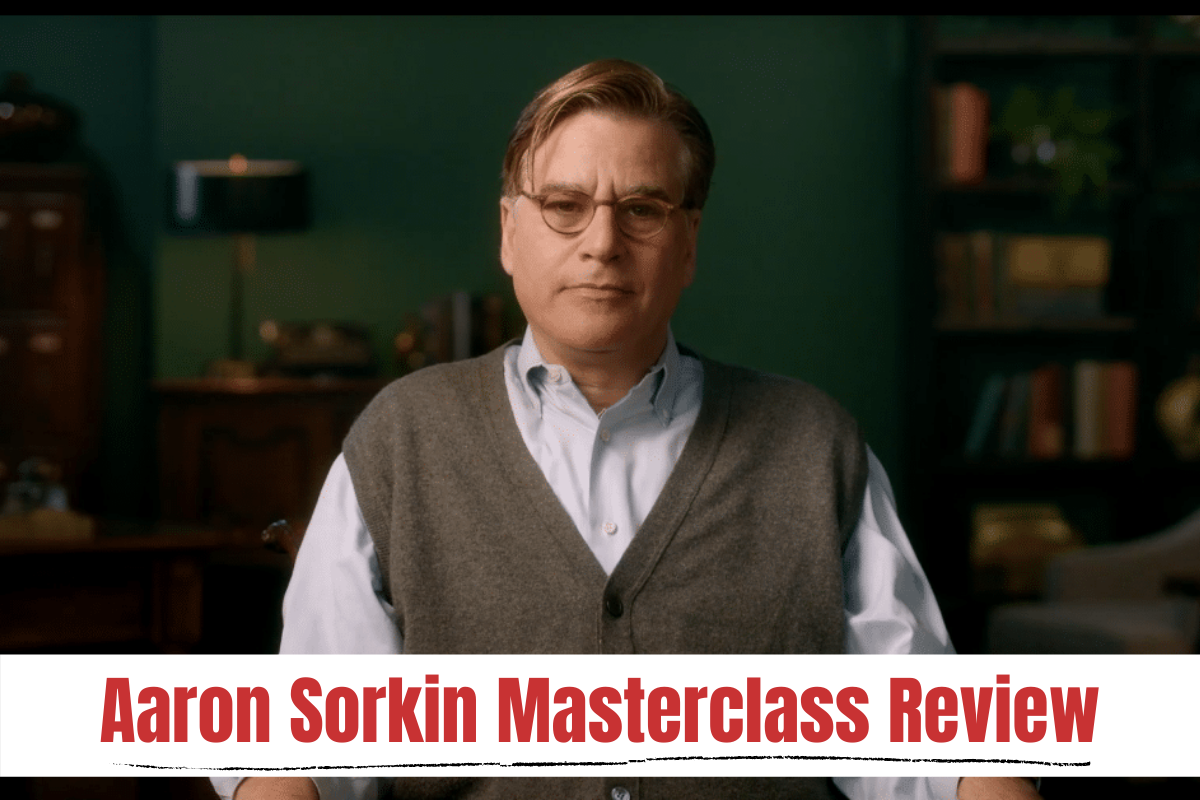 Aaron Sorkin's robust MasterClass on screenwriting is complete with case studies, group workshops, writer's rooms, and plenty of teaching from Sorkin. By the end of this MasterClass, you will possess the necessary skills, tools, and structures needed to begin writing a screenplay, as well as, the know-how to receive feedback and potentially sell a script.
Garry Kasparov Teaches Chess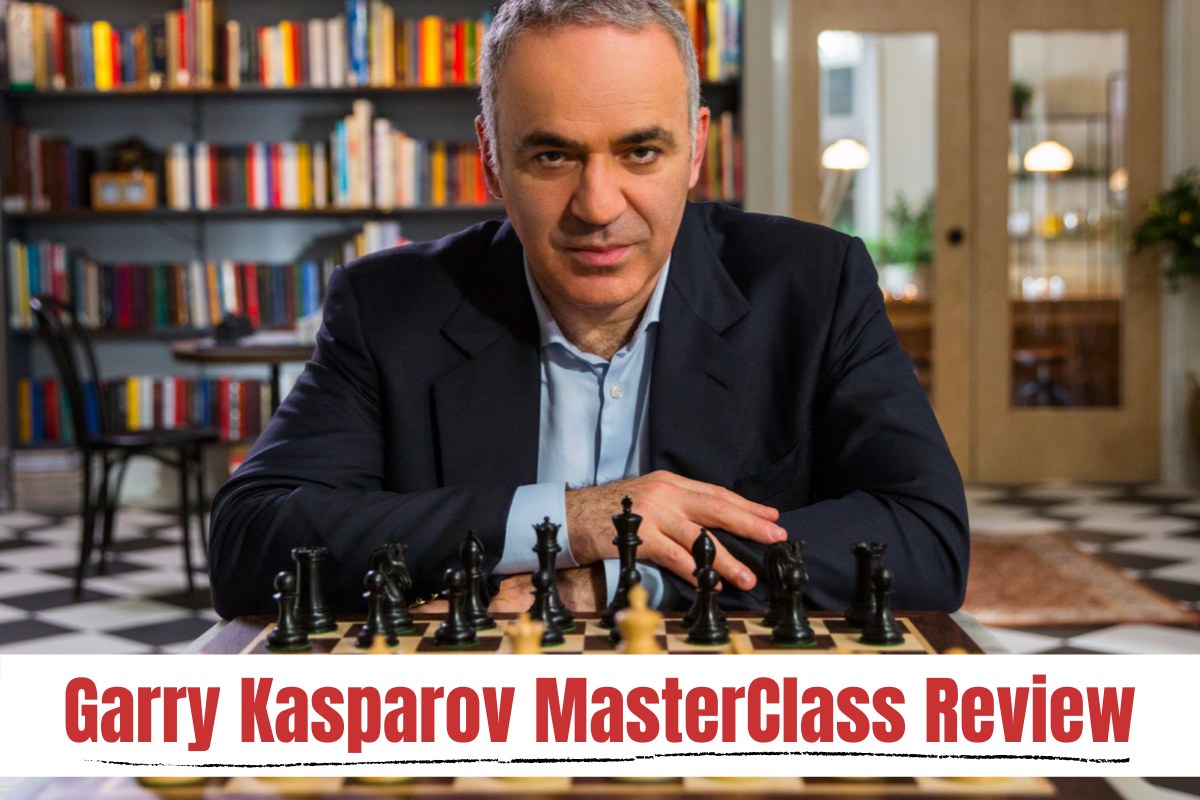 The first half of Garry Kasparov's Masterclass covers double attacks, skewers, discovered attacks, and a considerable amount of time on endgames and openings. The second half is geared more toward intermediate players who benefit more from analyzing historic games. I was able to boost my chess rating by 200 points after watching Kasparov's MasterClass on chess.
Brandon McMillan Teaches Dog Training
I highly recommend this MasterClass for any new dog owners or soon-to-be dog owners. You'll learn core commands such as: sit, down, stay, no, off, come, and heel. Your new best friend will thank you! (And it's a lot cheaper than signing up for a dog training class or hiring a personal dog trainer.)
Margaret Atwood Teaches Creative Writing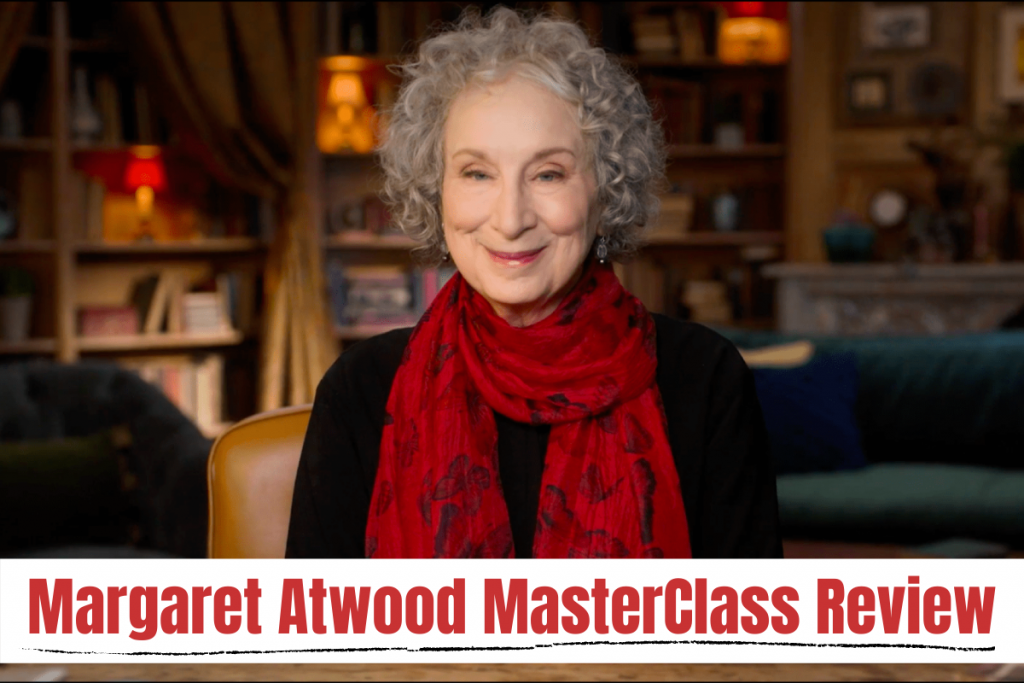 Even if you don't consider yourself a fictional writer, Atwood's MasterClass is in my opinion an essential course worth taking based on her timeless advice. Before diving into other writing classes such as Dan Brown or Shonda Rhimes, invest four hours of your time into taking the Margaret Atwood MasterClass on Creative Writing to set the tone and inspire you to keep writing.
---
MasterClass Alternatives: Skillshare, Coursera, LinkedIn Learning, and Udemy
I get it, MasterClass isn't for everyone. If you are looking for a niche approach to learning you might want to consider these MasterClass alternatives instead.
MasterClass vs Skillshare
Skillshare, unlike MasterClass, is geared toward beginners. If you are looking to get into programming, for example, there are thousands of courses available on Skillshare to dive in and begin learning from scratch.
Skillshare does have some notable instructors such as Seth Godin and Gary Vaynerchuck but their strength comes from having thousands of subject experts, not just celebrity instructors. And some instructors allow you to interact directly with them through Skillshare (a feature not available in MasterClass).
However, for a $159 per year subscription, Skillshare still doesn't feel like they are offering enough to cost nearly as much as MasterClass (in other words, I'd rather pay for MasterClass for 10x the value).
MasterClass vs Udemy
MasterClass is like Trader Joe's, whereas, Udemy is your Aldi. With Udemy, you gain access to the bargain outlet of online learning. While MasterClass offers over 100 high-quality online courses from high-caliber instructors, Udemy offers thousands of cheap online classes from thousands of… instructors.
Nevertheless, Udemy has a more niche topic approach where students can learn specific technical skills from less-famous but still highly-qualified specialists. Course discovery is a bit tricky since some topics have hundreds of video courses alone. Take writing classes, for example, MasterClass has a dozen or so taught by successful authors and Udemy has hundreds of much cheaper writing classes but from less-known authors.
If you have time to look for a gem on Udemy, they don't sell monthly or yearly subscriptions. Rather you pay per class access.
MasterClass vs Coursera
MasterClass doesn't make available the number of subscribers they have, however, I'd assume Coursera is probably considered one of their closest rivals. Unlike MasterClass, Coursera offers courses from world-leading universities, not celebrity instructors.
Coursera's user experience feels a lot more traditional compared to MasterClass. However, Coursera is geared toward more professional users looking to build skills in their profession with actual Degrees and Certificates. Sounds a lot better than, "I took a MasterClass on sales."
MasterClass vs LinkedIn Learning
I'll be honest, I'm not the biggest LinkedIn fan (or user). Somewhere along the way LinkedIn lost who and what they are and eventually dove into the world of online learning with LinkedIn Learning.
At $39.99 a month, or $323.88 paid annually, LinkedIn Learning is way more expensive than MasterClass for way less the value. I can see how this can be useful for employers to give to their employees for career development training. But for personal use, I'd much rather spend my time learning from the much more enjoyable MasterClass (which never feels like homework).
---
MasterClass FAQs
Is there a MasterClass app?
Yes, MasterClass is accessible through their Android and iOS MasterClass app. Unlike the web browser version, the MasterClass app comes with the functionality to listen to just the audio portion of each lesson. This is especially helpful for commuters who'd rather consume their learning a la podcast-style.
How do I cancel my MasterClass subscription?
If you give MasterClass a try and find out it's not for you, you can simply email their support team [email protected]. If you made your purchase less than 30 days ago MasterClass will refund you the full amount, no questions asked. I've interacted with the MasterClass support team multiple times and they are always extremely helpful.
Can I send MasterClass as a gift?
Yes, you can! Actually, that's how my journey into MasterClass began. A relative of mine gifted me a year's membership for my birthday. I've renewed every year since.
Can you try MasterClass for free?
Yup, MasterClass offers new students a 30-day free trial.
Can you stream MasterClass on a television?
Yes, through the MasterClass app, users can cast MasterClass videos to their Apple TV, Chromecast, Roku, or Amazon Fire TV.
---
Does MasterClass Work?
I get asked this all the time and my answer is always the same: MasterClass works if you let it work.
For MasterClass to work, you must be open to learning and exploring new ideas, topics, and skills. Some MasterClass courses are better if you have some prior experience in a specific field (like having music production experience before taking Timbaland's MasterClass). Other courses such as Thomas Keller's MasterClasses on cooking are geared toward beginners.
If you want MasterClass to work for you, you need to be prepared to put in the time and effort to learn, not just from the video lessons but the workbooks and community hubs as well.
If you aren't an avid learner or are looking for more technical-based video courses, MasterClass might not be worth it for you. However, MasterClass offers a 30-day money-back guarantee so you can always take a course or two and decide if the MasterClass cost is worth it for yourself.