In this review, we'll see if the Garry Kasparov MasterClass on Chess lives up to its promises and delivers a course worthy of your time and money.
Like many people inspired by the success of Netflix's The Queen's Gambit, my love of chess was rekindled recently. So much so that I began taking chess lessons online to improve my game.
I'm not a good chess player. But I'm not all that bad either. Before taking Garry Kasparov's MasterClass on chess, I had some prior experience with the game. I played it as a kid — not competitively, but enough to make me proficient at it.
Then I saw MasterClass had a chess course, and I couldn't resist. But before taking the course and seeing if it improved my game, I needed to establish a baseline. Luckily, chess players are ranked by a standard ranking system. Prior to taking Garry Kasparov's MasterClass, my ranking stood at 1112, or just below "novice."
I soon realized that the true power of this MasterClass isn't watching it end to end and hoping it'll magically make you a better chess player. No, the real power comes from Kasparov teaching you how to learn chess.
So, is this MasterClass worth it? Will it make you a better player? I believe it will, but let's first dive into why and how this class is so effective.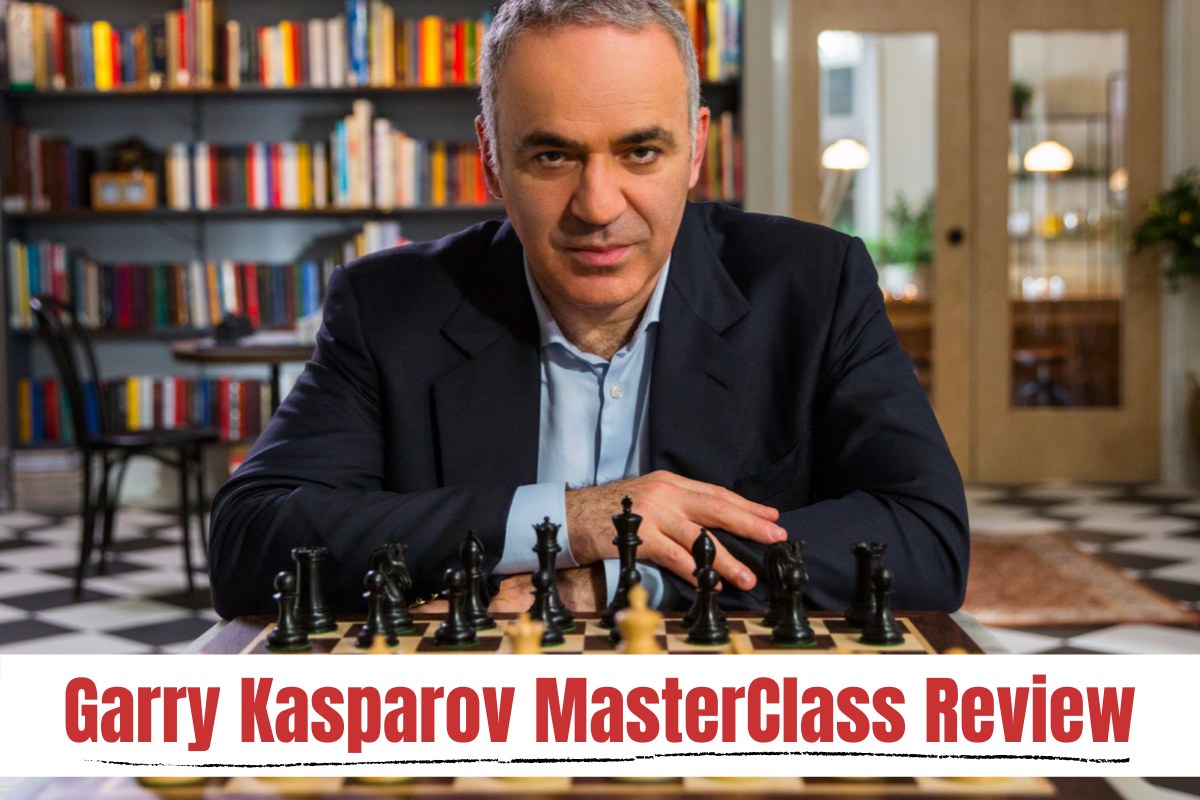 ---
Quick Q and A
Do I need a subscription to access this course?
Yes. MasterClass charges a yearly subscription to access all of their courses. Jump to the pricing section to learn more.
How long is the MasterClass?
The Garry Kasparov MasterClass on chess is 7 hours and 20 minutes long and spans 30 video lessons.
Does MasterClass have a cancellation policy?
Yes. If you cancel within 30 days of purchase, MasterClass will issue you a full refund.
Is the Garry Kasparov Chess MasterClass worth it?
Yes. It won't make you instantly better but it is a wealth of knowledge for any novice or intermediate player.
---
About Garry Kasparov
Where to begin?
Even if you've never played a game of chess in your life, chances are you've heard of Kasparov at least once. For 255 months, he was ranked the #1 chess player in the world. His peak rating was a 2851, the highest ever until it was broken in 2013.
Kasparov won the World Championship in 1985 at the age of 22, the youngest ever to do so. According to 365chess.com, Kasparov has 2,515 games on record, of which he's only lost 200 — or just over 7%.
Needless to say, I hoped to learn a lot about chess in this MasterClass from, quite literally, the world's best.
---
What does this MasterClass promise?
"This MasterClass is for anyone who likes the game of chess," Kasparov begins, "who wants to improve his or her own chess game."
This is not a MasterClass that one simply binges all the way through (although I did and I'll get to why that wasn't the best idea below). This is a MasterClass one continues to reference as they improve their game through practice and study.
So what's the big promise? Well, it's not as straightforward as "you'll improve your ranking by 200 points!" Instead, Kasparov elaborates a bit more:
"I believe this MasterClass will be a success if I can inspire you to learn not just about the game of chess, but about other things. If you feel enriched, and encouraged, and inspired — and I hope that with this class, I will inspire you to love the game of chess as much as I do."
So, did Garry Kasparov live up to his promises? Did he meet my expectations? I'll cover that at the end of the review (skip ahead if you want to find out). But first, let's talk about what's probably on your mind:
---
How much does Garry Kasparov's MasterClass cost?
In 2021, MasterClass began testing alternative subscription models besides their original flat-rate annual membership. Eventually, they settled on a new cost-friendly three-tier MasterClass pricing model for their annual subscription:
Individual – $120 per year (average $10 per month)
Duo – $180 per year (average $15 per month)
Family – $240 per year (average $20 per month)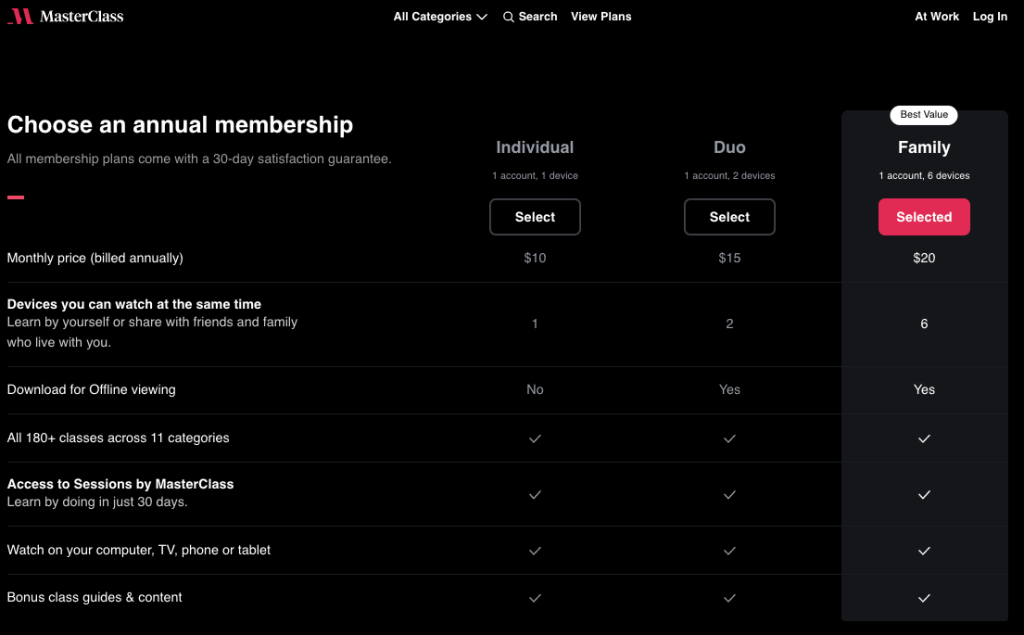 The Individual membership (formerly the "Standard Plan") is perfect for single individuals who are most likely to consume online learning at home. The Duo (formerly the "Plus Plan") and Family (formerly the "Premium Plan") plans are better for couples as MasterClass allows multiple devices to watch at the same time. (Netflix has similar restrictions for their membership plans).
However, the ability to download video lessons for offline viewing is helpful for people who might want to watch MasterClass on their commute to work without eating up most of their data. The Plus and Premium plans offer their users the ability to do just that.
Personally, I go for the $120 per year option as I average about one MasterClass per month, which means my cost per class is $10.
The price may seem steep, however, the subscription gives you access to all 150+ MasterClass courses. For comparison, the chess.com diamond subscription is also $15 a month but is limited to only chess.
Plus, you have to remember that each MasterClass is someone's lifetime of work distilled into well-organized and enjoyable video content. In other words, if it turns out the Garry Kasparov MasterClass isn't for you, chances are you'll find other MasterClasses you do enjoy.
---
What is included in the Garry Kasparov MasterClass?
Here's a rundown of what you are getting with the Garry Kasparov MasterClass.
| | |
| --- | --- |
| Runtime: | 7 Hours 20 minutes |
| Reviews: | 4.7 out of 5 ⭐️ |
| Lessons: | 30 video lessons |
| Materials: | • 1 workbook |
Runtime
The runtime is a doozy with 7 hours and 20 minutes of material. This is easily the longest course I've watched on MasterClass. Even if you watch it at 1.5x speed, it'll still take you close to 5 hours to finish. However, as I mentioned, this course isn't built to be binged but rather consumed in smaller chunks as you learn and practice new strategies and techniques.
Supplemental Material
Kasparov includes an 86-page downloadable workbook that is an excellent companion to the video lessons. Each strategy and tactic taught in the MasterClass have coinciding positional "practices" within the workbook for players to test their new knowledge. I found these practices to be extremely beneficial.
Community Access
Like all MasterClasses, this one comes equipped with access to the community access page — or "The Hub" as MasterClass calls it. There are many students of various playing levels engaged on the community page. It's a judgment-free zone; all questions and discussion are welcome.
---
About the structure of the class
Garry Kasparov's MasterClass is divided up into 30 lessons with an average run time of approximately 15 minutes per lesson. However, the video playback buttons offer you the ability to watch the course at 1.5x or 2x speed. (I recommend watching with the closed captions on as Kasparov has a heavy Russian accent.)
Lesson plan:
Introduction
Garry's Chess Fundamentals
Double Attacks – Part 1
Double Attacks – Part 2
Skewers
Discovered Attacks
Pins
Deflection/Attraction
Interference
Overload
Winning Trades
Endgames – Part 1
Endgames – Part 2
Endgames – Part 3
Openings – Part 1
Openings – Part 2
Openings – Part 3
Simul
Jason's Game
Molly's Game
Dennis' Game
Case Study: Opening
Case Study: Endgame
Garry's Journey
How to Analyze
Computers and Chess
Mental Toughness
Closing
Bonus! Secret Novelty
Lesson summary:
Surprisingly, Kasparov doesn't begin his MasterClass with chess openings. Instead, he begins by highlighting his chess fundamentals and has a perfect quote to summarize his thinking: "Tactics is knowing what to do when there is something to do, while strategy is knowing what to do when there's nothing to do."
Kasparov then jumps right into double attacks, skewers, discovered attacks, and other tactics before spending a considerable amount of time on endgames and openings.
The latter half of the MasterClass is better suited for intermediate players who benefit from analyzing games. If you are a beginner, you might find the analyses interesting; however, it might be best to practice what you've learned first in real games before coming back and learning how to analyze games.
Side Note: This is purely an anecdotal observation; however, after watching lessons 3 through 11, I did see a dramatic rise in my chess.com puzzle score (from around 820 to 1100). I noticed I was able to solve the puzzles faster because I started to recognize more tactics covered in the beginning portion of Kasparov's MasterClass on chess. Again, this isn't conclusive evidence to prove Kasparov's MasterClass makes you a better chess player, but I thought it was worth sharing.
Finally, this MasterClass includes a bonus lesson about a variation Kasparov developed after his crushing loss to Karpov. In this bonus lesson, he shows what he wish he had played and explains how he's always looking for "opportunity over material."
My fast-track lesson plan
Typically in my MasterClass reviews I include a "fast-track" lesson plan as a suggestion for busy students who want only the core elements of the course. I won't do that here in this review for two reasons:
Every chess player is different and thus requires different areas of improvement
This MasterClass is such a valuable resource that referring back to individual lessons is the best way to consume it anyway
Although 7 hours of video lessons is a huge time commitment, there is no need to watch this MasterClass sequentially or all at once. Instead, I highly recommend coming back and watching lessons that you find to be the most impactful and beneficial to helping you learn chess.
---
Key Things I Learned
I thought I knew how to play chess. Then I took this MasterClass and realized there is still much more for me to learn. After watching all 7 hours and 20 minutes of the video lessons, I'm absolutely confident there are things I missed that I'll have to go back and rewatch.
Again, I keep stressing that this class is so valuable not because of its length but because of its organization. However, there are a few specific things I picked up along the way.
Below are a few key learnings that stood out during the MasterClass:
Chess is a game of both physical and mental toughness – sleep and exercise play a vital role.
Analyze your own games, they are the "ultimate source of inspiration."
Technology is a powerful tool to learn chess; however, computers can only teach you so much — you must find your own inspiration.
---
Things I liked about the Garry Kasparov MasterClass
I keep stressing that the most important aspect of the Garry Kasparov MasterClass on chess is the ability to segment out different aspects of the game to watch and learn. Then you can go apply what you've learned in real games — and move on to other areas that need improvement.
I also very much enjoyed the case studies and found them to be highly beneficial. Kasparov broke down previous matches he's played and walks the students move by move, all while delivering insight into his and his opponent's thinking.
I also liked that, within the tactical lessons, Kasparov asks the student to pause the video and try to solve a puzzle he has presented. There are more puzzles presented in the class workbook; however, I felt this practical application made a big difference instead of Kasparov simply walking students through the answer.
Finally, I appreciated how Kasparov first tackled patterns and motifs before covering openings. When I began "relearning" chess recently, I wanted to start with the very beginning of the game, but I would lose focus after a few moves because I couldn't remember the "theory" behind the different openings.
As Kasparov explains, "In the openings, it's very much about your character. It's about your own preferences, tastes." In other words, opening theory can be taught, but each player adds her own flavor.
My favorite quotes from Garry Kasparov's MasterClass
Tactics is knowing what to do when there is something to do, while strategy is knowing what to do when there's nothing to do.

Lesson 2 – Garry'S Chess Fundamentals
If you panic, you lose the game.

LEsson 3 – Double Attacks – Part 1
You may say that chess is similar to real life. Because when we are overwhelmed with our own ideas, and plans, and projects, we tend to forget that there's always a competition. In chess, it's always your opponent who makes the next move.

LESSON 3- DOUBLE ATTACKS – PART 1
All chess pieces, they're moved by certain rules. And if you know how to manage the geometry, you can always get the best out of your pieces.

Lesson 5 – Skewers
If you won the game, it doesn't mean that you haven't made a mistake. Most likely is because your opponent made the last mistake.

LEsson 25 – How to Analyze
---
Things I didn't like about the Garry Kasparov MasterClass
I'm usually able to find a few faults in each MasterClass I take. However, like Kasparov's chess game, it's hard to find any flaws. This class is extremely well organized and structured.
If I have to get real nit-picky, I'd say the only aspect of the class that wasn't beneficial — but was interesting to watch — was the "Simul" lesson. In this video, which spans an outrageous 53 minutes, Kasparov plays three people simultaneously. You can easily shave off an hour of your watch time simply by skipping over this video lesson.
---
Does the class keep its promises?
Yes. I can confidently say this class, out of all the MasterClasses I've taken, has a clear promise and delivers on that promise. Kasparov's hope was for his students to feel inspired and encouraged to continue learning about chess.
I'm more inspired now than ever.
---
Is Garry Kasparov's MasterClass worth the money?
Yes if you…
Want to learn the fundamentals of chess
Are a novice chess player who wants to improve by 100-200 points
Are an intermediate player who wants to learn how to better analyze the game
Simply love the game of chess
No if you…
Aren't interested in chess
Have zero chess experience
Are already a Grandmaster chess player
---
Conclusion
So the question remains, was I able to improve my chess game after watching this MasterClass? I can confidently say yes, I was. Using chess.com as a baseline, I've been able to raise my puzzle rating by nearly 200 points because I can now more easily recognize patterns covered by Kasparov. I'm also beating the 1000-1100 bots more readily and have grown more confident in my game.
After a few more months or maybe even another year of study, I might be able to raise my skill to an intermediate level.
If you're interested in learning more, here is a trailer to the class:
---