In this Bill Nye MasterClass review, we'll see if the Bill Nye course on scientific thinking lives up to its promises and delivers a course worthy of your investment.
Bill Nye MasterClass Summary
What you'll learn: In this MasterClass, scientist and T.V. personality Bill Nye teaches science and problem-solving. You'll learn how to think like a scientist, how to tackle the world's most pressing issues, and how to convert thought into action.

Run time: 2 hours 44 minutes

Recommendation: 9/10—Critical thinkers will love learning from Bill Nye, an entertaining yet informative teacher who is "all about helping you make better decisions for yourself (and the planet)."
Growing up, I didn't have cable T.V. to watch. My parents didn't think we needed it. While my peers shared in the pop culture of the 90s, I was left with whatever was on PBS.
One day, I came home from school and my mother showed me the T.V. guide.
"There's a new science show, you should take a look."
Reservedly, I flicked on PBS to find a skinny man in a bow tie talking about Earth's tectonic plates. To my surprise, the "Science Guy" as he called himself wasn't boring like my teachers but rather quirky and entertaining.
And I actually learned something…
Yes, I grew up an avid fan of Bill Nye the Science Guy and don't regret it one bit. I like to think Bill Nye's educational programming helped shape me into the lifelong learner I am today.
In fact, the day MasterClass announced Bill Nye's course was available, I dropped everything I was doing that day to binge-watch it.
I was not disappointed.
Table of Contents
---
Quick FAQ
Do I need a subscription to access this course?
Yes. MasterClass charges a yearly subscription to access all of their courses. Jump to the pricing section to learn more.
How long is the MasterClass?
The Bill Nye MasterClass on Science and Problem-Solving is 2 hours and 44 minutes long and spans 13 video lessons.
Does MasterClass have a cancellation policy?
Yes. If you cancel within 30 days of purchase, MasterClass will issue you a full refund.
Is the Bill Nye MasterClass worth it?
Yes. If you are looking to sharpen your critical thinking and problem-solving skills, this MasterClass is worth it.
---
About Bill Nye (the Science Guy)
Born William Sanford Nye, Bill grew up surrounded by a deep love of learning. His mother, Jacqueline, was a code-breaker during WWII and his father, Ned, spent four years in a Japanese P.O.W. camp where he developed a deep fascination with sundials.
Nye attended Cornell University where he majored in mechanical engineering and would go on to work for Boeing as an engineer after graduating.
While working full-time, Nye started working on stand-up comedy and would eventually leave Boeing to pursue comedy as a career. In 1987, he'd run into one of his former professors, the notable scientist Carl Sagan, where Nye mentioned his desire to create a science T.V. program and "planned to talk about bridges and bicycles and so on." Sagan replied with career-altering advice: "Focus on pure science. Kids resonate to pure science rather than technology."
In 1993, Nye with other fellow collaborators launched Bill Nye the Science Guy to much critical acclaim. Beloved by many, the show would run on PBS until 1998, winning 19 Emmy awards and helping countless children (and adults) learn more about scientific topics. Nye would continue his activism work as both an educator and an advocate of science.
---
What does this MasterClass promise?
MasterClass promises that this course will teach you to:
solve everyday problems
evaluate information
think like a scientist
"In this class," says Bill Nye in the introductory lesson, "we're going to look at science and how it applies to our everyday life… But we'll also be taking a wider view, I'll explain how science-based decision-making can help us tackle big problems, like client change."
"Here's what I hope students will take away from this class," he continues, "First of all, science is for everyone… I do want everybody to have a fundamental knowledge of science and an appreciation of it. Furthermore, I'll claim that the scientific method…that way of thinking will improve your life."
So, did Bill Nye live up to his promises? Did he meet my expectations? I'll cover that at the end of the review (skip ahead if you want to find out). But first, let's talk about what's probably on your mind:
---
How much does Bill Nye's MasterClass cost?
In 2021, MasterClass began testing alternative subscription models besides their original flat-rate annual membership. Eventually, they settled on a new cost-friendly three-tier MasterClass pricing model for their annual subscription:
Individual – $120 per year (average $10 per month)
Duo – $180 per year (average $15 per month)
Family – $240 per year (average $20 per month)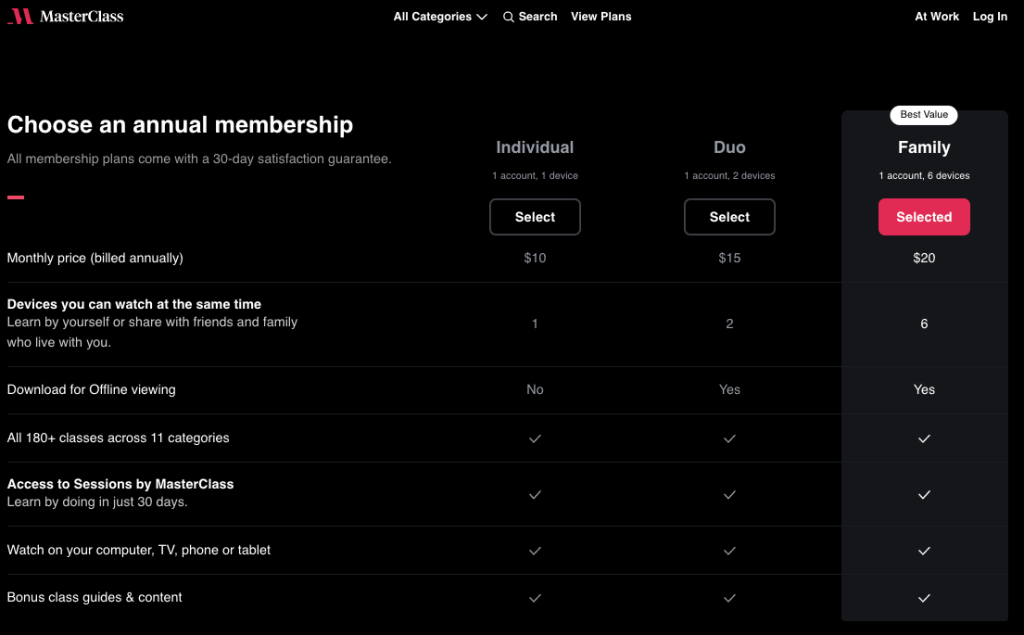 The Individual membership (formerly the "Standard Plan") is perfect for single individuals who are most likely to consume online learning at home. The Duo (formerly the "Plus Plan") and Family (formerly the "Premium Plan") plans are better for couples as MasterClass allows multiple devices to watch at the same time. (Netflix has similar restrictions for their membership plans).
However, the ability to download video lessons for offline viewing is helpful for people who might want to watch MasterClass on their commute to work without eating up most of their data. The Plus and Premium plans offer their users the ability to do just that.
Personally, I go for the $120 per year option as I average about one MasterClass per month, which means my cost per class is $10.
The price may seem steep, however, the subscription gives you access to all of the MasterClass courses, including Paul Krugman's MasterClass on Economics, Neil deGrasse Tyson's MasterClass on Scientific Thinking, and Chris Hadfield's MasterClass on Space Exploration.
Plus, you have to remember that each MasterClass is someone's lifetime of work Plus, you have to remember that each online class is someone's lifetime of work distilled into well-organized and enjoyable video content. In other words, if it turns out the Bill Nye MasterClass on thinking like a scientist isn't for you, chances are you'll find other MasterClasses you do enjoy.
---
What is included in the Bill Nye MasterClass on Science & Tech?
Here's a rundown of what you are getting with the Bill Nye MasterClass.
| | |
| --- | --- |
| Runtime: | 2 Hours 44 minutes |
| Reviews: | 4.7 out of 5 ⭐️ |
| Lessons: | 13 video lessons |
| Materials: | 1 workbook |
Runtime
The runtime clocks in at 2 hours and 44 minutes. I preferred watching the course at 1.5x speed which means I finished the entire video course in about 1 and 50 minutes.
Supplemental Material
This MasterClass (like all MasterClasses) comes with a supplemental workbook that summarizes all the key topics covered in the course. Bill Nye's workbook is a bit lighter in terms of content. At only 30 pages, it feels sparse for the amount of content covered in his course.
However, the real value of Nye's workbook is its friendly and helpful sections on climate change and realistic solutions humanity can adopt. I know climate change is a touchy political subject to some, however, Nye lays out a way of thinking that is neither judgemental or condescending, but is instead scientific and helpful.
---
About the structure of the class
Bill Nye's MasterClass is divided up into 13 lessons with an average run time of approximately 12 minutes per lesson. However, the video playback buttons offer you the ability to watch the course at 1.5x and 2x speed.
Lesson plan:
Meet Your Instructor
Science Changes Your Perspective
Explore Everything All at Once
Practice Critical Thinking and Critical Filtering
Achieve Freedom From Fear
Everyone You'll Ever Meet Knows Something You Don't
Facing Climate Change: Our Greatest Challenge
Using the Upside-Down Pyramid of Design to Make Things
Celebrate the Joys of Constriants
Let's Seek Scientific Solutions to Climate Change
Foster a Science-minded Society
Think Cosmically, Act Globally
Bonus: How to Tie Ancient Knots
Lesson summary:
The Bill Nye MasterClass on thinking like a scientist was entertaining from the start. Granted, I am a bit nostalgic for Bill Nye, having grown up watching his T.V. show. However, I started this MasterClass with a blank slate: what exactly does Bill Nye have left to teach us adults?
As it turns out, quite a lot actually.
He begins with the core of human endeavor: entropy. Entropy is the reason why creating "order" is so much more difficult than creating "chaos." For thousands of years, humans have used entropy to our advantage by using heat to make things spin. In other words, turning heat into mechanical usefulness. Now, in the coming decades, humans will need to find new ideas to create electricity without burning fossil fuels.
Bill then shocks the viewer when he appears to eat a candle. As it turns out, the candle is an apple core thus demonstrating the need for us to question everything, including our own personal beliefs. Science is self-correcting, when presented with new evidence it is okay to change our minds.
One of the most important topics covered, in my opinion, comes in the "Everyone You'll Ever Meet Knows Something You Don't" section of the course. It's here that Bill Nye tells a story about him struggling to design a mechanical device. He ended up talking to machinists who were more familiar with metal and helped him come up with a solution. The lesson here is that we aren't going to know everything and that we should be open to new ideas from other people.
Side Note: One aspect of the class I enjoyed were the moments where Nye breaks the fourth wall, so to speak, and shows a bit of behind-the-scenes of the making of this MasterClass, similar to the style of his original children's series. An example of this was a failed attempt to snap his fingers and turn the light back on, which they don't. You can hear a commotion in the background as the production crew scrambles to get the light back on. It was funny and entertaining.
---
Key Things I Learned
It's been years since I sat in a science classroom (remember those big black tables?) so it's safe to say I learned a thing or two during this MasterClass.
Below are a few key learnings that stood out during the MasterClass:
Without science, there is no possible way we will be able to tackle climate change or feed 10 billion people by the end of this century.
Fear is keeping us from taking big steps to combat big problems society faces.
A dictionary is "plant-based information storage" 😂
The scientific method keeps us from repeating mistakes. Instead, it helps us to take basic observations and turn them into "earth-shaking" discoveries.
Critical filtering involves us asking three important questions when a claim is made: (1) Is the claim specific?; (2) Is there a simpler explanation?; (3) Can the claim be independently verified?
There are many kinds of information "red flags": Information from advertisers, non-identifiable sources, information benefiting one group over another, information that contradicts information you know to be true, information that you want to be true.
Combating climate change will require innovative ideas and solutions such as: efficient airplanes, big batteries, water desalination, low-emission livestock, smart asphalt, hydrogen ships, and tree corridors.
---
Things I liked about the Bill Nye MasterClass on Science and Problem-Solving
Typically when I scroll through MasterClass's streaming platform looking for new classes to take, I look for a course I'd be happy to watch over the course of a weekend in 60 to 90-minute chunks. That was not the case with the Bill Nye MasterClass as I sat and watched the entire course from start to finish.
Bill Nye is an entertainer and an educator, the perfect combination for any learning platform. What I enjoyed most about Bill Nye's MasterClass was that it didn't feel like a MasterClass but rather a fun, yet educational series about developing a scientific mindset.
At no point did I feel overwhelmed by information but rather invigorated and eager to learn more.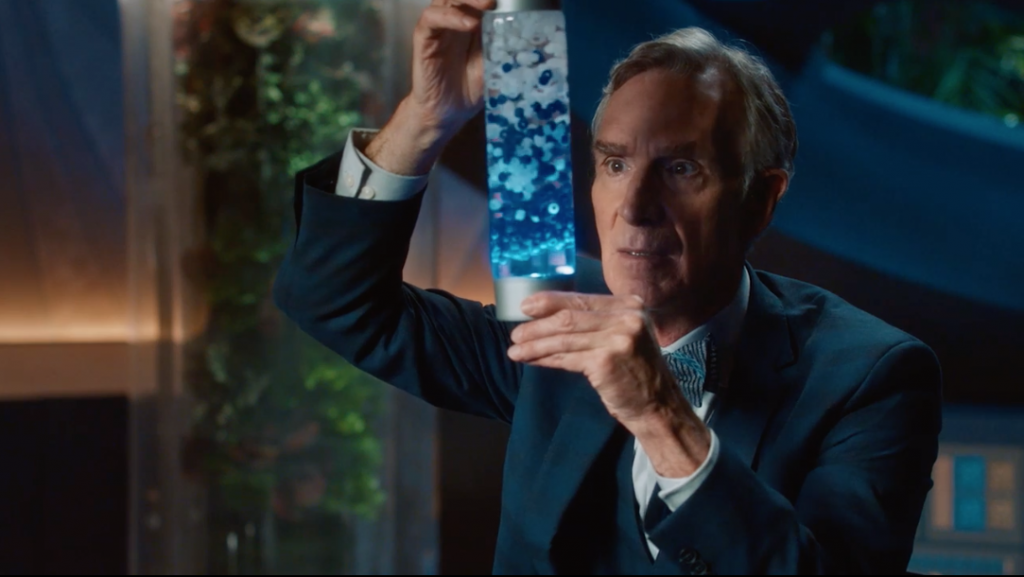 My favorite quotes from Bill Nye's MasterClass
Everyone you'll ever meet knows something you don't.
When you use the process of science to learn something about the universe, your place within it, or about light switches in the hallway of a house, it's empowering. It makes you feel good. You learn more about yourself and your relationship to the world around you…The joy of discovery; the passion, beauty, and joy of science—that's why I'm in this business.
---
Things I didn't like about the Bill Nye MasterClass
Honestly, I think the course could have been longer. Compared to Paul Krugman's MasterClass on economics, which is just under 4 hours long, I believe there are just so many other scientific topics Bill could have explored in deeper detail. However, this MasterClass is more geared toward beginners who are curious about learning the basics. I just wish there were a few extra advanced lessons included.
---
Does the class keep its promises?
Absolutely. MasterClass claims that the "Emmy Award-winning science educator Bill Nye teaches you his method for solving everyday problems, evaluating information, and thinking like a scientist." I'd have to say he checks off all three.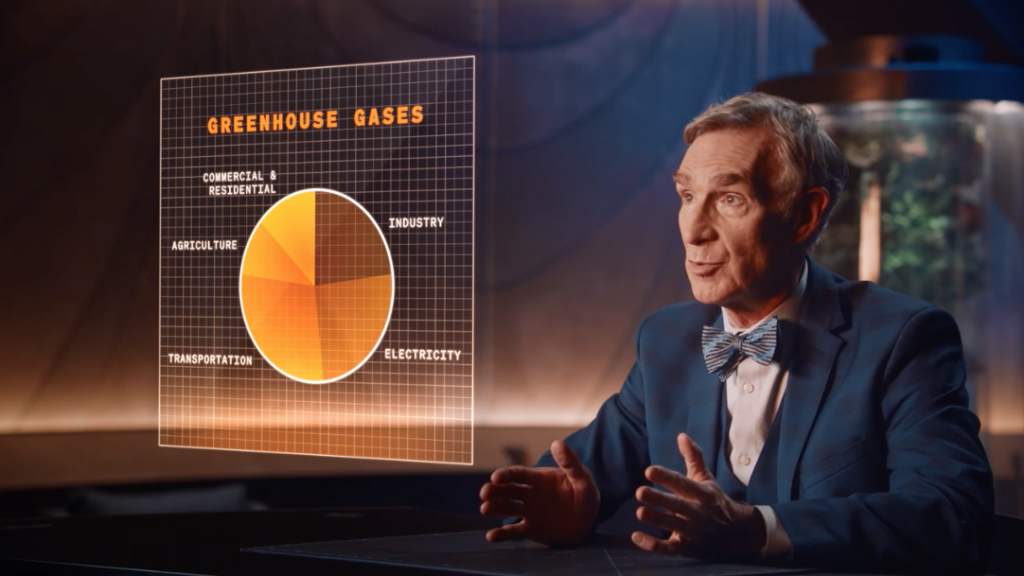 ---
Is Bill Nye's MasterClass worth the money?
Yes if you…
Want to develop your critical thinking skills
Are interested in science
Would like to learn more about the scientific method
Are curious about how to stop climate change
No if you…
Are looking for a more technical class
Don't enjoy Bill Nye's quirkiness
---
Conclusion
Taking everything into consideration I believe the Bill Nye MasterClass on scientific thinking is worth it for everyone, no matter your level of scientific know-how. If you are looking for a fun, entertaining, and educational class to round out your mental models, this course is for you.
If you're interested in learning more, here is a trailer to the class:
---