In this Chris Voss MasterClass review, we'll see if the course lives up to its promises and whether it can help you become a great negotiator.
Chris Voss MasterClass Summary
What you'll learn: Key strategies and tactics—reading body language, tactical empathy, mirroring, etc.—to better your negotiation skills and get more out of life. Because, after all, life is a negotiation.

Run time: 3 hours and 4 minutes

Recommendation: 10/10—I don't hand out perfect scores. However, I feel that Chris Voss's MasterClass on the Art of Negotiation is a must for anyone. With so many real-life applications, this straightforward course is essential to anyone looking to gain an upper hand in life.
It's happened to all of us. You find yourself in a situation where you feel bullied, overtaken, or simply played. Maybe it was your boss denying you a raise or a contractor who overpromised and under-delivered. If only you had better negotiation skills you'd be in a much better place than where you are now.
In my experience, I haven't been the best at negotiating. I'm a people pleaser and am afraid of conflict.
But according to Chris Voss, negotiation isn't a conflict, it's a collaboration.
I don't say this often, but Chris Voss's negotiation MasterClass is a game changer. Without feeling like a sleazy bully yourself, Voss teaches what successful negotiation looks like. He taps into our human nature and provides you with step-by-step approaches to apply in almost all life or business negotiations.
Packed with mock negotiation case studies and real-life examples, this MasterClass on the Art of Negotiation is worth every penny. In this MasterClass review, I'll share what I learned, list what's included in this online course, answer a few common questions, provide my honest opinion, and help you decide if a MasterClass all-access pass is right for you.
I've been a MasterClass subscriber for over two years now. I don't know why I waited so long to take Chris Voss's MasterClass, and neither should you.
---
In this Chris Voss MasterClass Review:
---
Quick Q and A
Do I need a subscription to access this course?
Yes. MasterClass charges a yearly subscription to access all of their courses. Jump to the pricing section to learn more.
How long is the MasterClass?
The Chris Voss MasterClass on the Art of Negotiation is 3 hours and 4 minutes long and spans 18 video lessons.
Does MasterClass have a cancellation policy?
Yes. If you cancel within 30 days of purchase, MasterClass will issue you a full refund.
Is the Chris Voss MasterClass worth it?
Yes! Of all the courses on MasterClass's online learning platform, I can see why the Chris Voss teaches the Art of Negotiation course is one of the most popular.
---
About Chris Voss
Chris Voss is a former FBI hostage negotiator, author of Never Split the Difference, and CEO of the Black Swan Group Ltd.
From 1986 to 2000, Voss was a member of the New York City Joint Terrorism Task Force. Over the years, he's worked high-profile cases across the globe, including the 1993 World Trade Center bombing, the 1996 TWA Flight 800 explosion, as well as the lead negotiator on the Jill Carroll case in Iraq and the Steve Centanni case in the Gaza Strip.
During his 24-year tenure in the FBI, Voss was trained in the art of negotiation by Scotland Yard and Harvard Law School. He developed a unique style that he shares with this MasterClass.
Voss retired from the FBI in 2007 and founded the Black Swan Group, a consultancy business that teaches clients both business and individual negotiation skills.
According to his website, "[Voss] is also a recipient of the Attorney General's Award for Excellence in Law Enforcement and the FBI Agents Association Award for Distinguished and Exemplary Service."
So, yeah. I hoped to learn a thing or two about negotiation from Chris Voss's MasterClass.
---
What does this MasterClass promise?
"In my class," begins Chris Voss in the first lesson, "I'm going to give you all of the strategies and tactics that I developed as one of the top hostage negotiators in the world. You're going to learn everything from bargaining to reading body language and speech patterns to the neuroscience that can literally bend people's reality."
Voss's promise is simple. You're in a negotiation all day long. As soon as you say "I want" or "I need," you're in a negotiation. But here's what most people get wrong. Most people assume the person across the table is their adversary. The situation is your adversary. The person across the table is your partner, a partner whom:
You will learn to demonstrate that you're negotiating in good faith
You will learn to understand what motivates them
You will learn to build trust through tactical empathy
You will learn to collaborate and find a mutually beneficial outcome
In essence, the Chris Voss Teaches the Art of Negotiation MasterClass promises to teach you how to collaborate with others, which is the mark of great negotiation.
So, did Chris Voss live up to his promises? Did he meet my expectations? I'll cover that at the end of the review (skip ahead if you want to find out). But first, let's talk about what's probably on your mind…
---
How much does Chris Voss's MasterClass cost?
In 2021, MasterClass began testing alternative subscription models besides their original flat-rate annual membership. Eventually, they settled on a new cost-friendly three-tier MasterClass pricing model for their annual subscription:
Individual – $120 per year (average $10 per month)
Duo – $180 per year (average $15 per month)
Family – $240 per year (average $20 per month)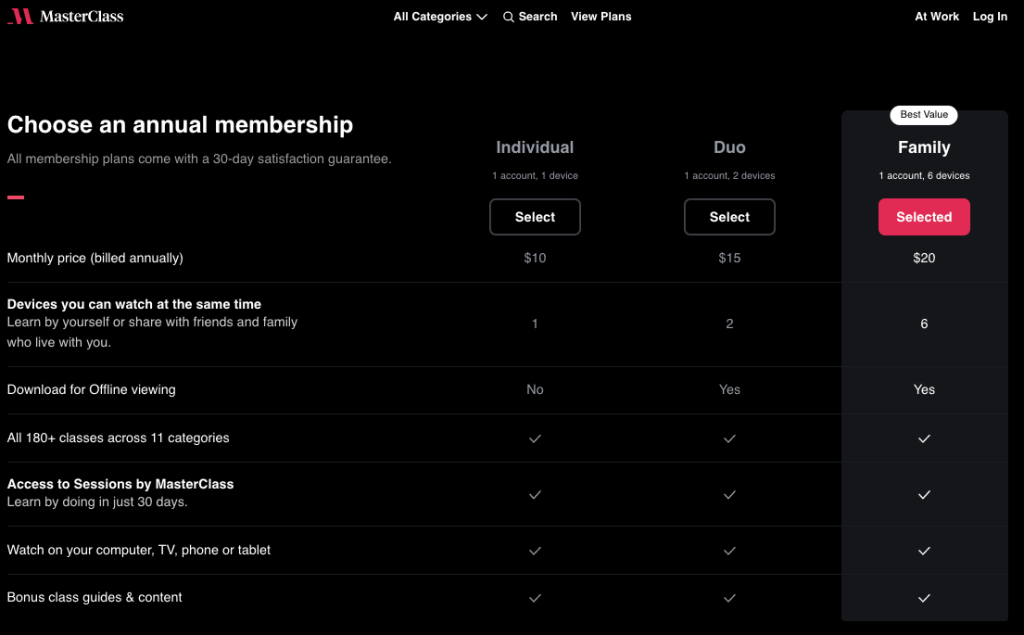 The Individual membership (formerly the "Standard Plan") is perfect for single individuals who are most likely to consume online learning at home. The Duo (formerly the "Plus Plan") and Family (formerly the "Premium Plan") plans are better for couples as MasterClass allows multiple devices to watch at the same time. (Netflix has similar restrictions for their membership plans).
However, the ability to download video lessons for offline viewing is helpful for people who might want to watch MasterClass on their commute to work without eating up most of their data. The Plus and Premium plans offer their users the ability to do just that.
Personally, I go for the $120 per year option as I average about one MasterClass per month, which means my cost per class is $10.
The price may seem steep. However, the subscription gives you unlimited access to all of the MasterClass courses, including other business classes such as Bob Iger teaches Business Strategy and Leadership, Daniel Pink teaches Sales and Persuasion, and Anna Wintour teaches Creativity and Leadership.
Plus, you have to remember that each MasterClass is someone's lifetime of work distilled into well-organized and enjoyable video content. In other words, if it turns out the Chris Voss MasterClass isn't for you, chances are you'll find other MasterClasses you do enjoy.
---
What is included in the Chris Voss MasterClass?
Here's a rundown of what you are getting with the Chris Voss MasterClass.
| | |
| --- | --- |
| Runtime: | 3 Hours 4 minutes |
| Reviews: | 4.7 out of 5 ⭐️ |
| Lessons: | 18 video lessons |
| Materials: | 1 downloadable workbook |
Runtime
The runtime clocks in at just over 3 hours, which feels just right for the material. I preferred watching the course at 1.5x speed which means I finished the entire video course in about 2 hours. However, I highly recommend watching the case studies and mock negotiations at normal speed to better understand Chris' tone of voice and pacing. He utilizes his "Late Night F.M. DJ" voice during negotiations that is all but lost if you speed up the video.
Supplemental Material
This MasterClass (like all MasterClasses) comes with a supplemental PDF workbook that summarizes all the key topics covered in the course.
Voss's workbook is 14 pages in length and is succinctly summarized into four sections:
Introduction
Principles of Negotiation
Techniques of Negotiation
Strategies of Negotiation
Again, 14 pages is a bit on the smaller end when compared to other MasterClass course workbooks. However, it's a perfect guide to print out and review prior to any negotiation, such as a salary raise. Having the tools and strategies readily available in an organized summary is, in my opinion, a great resource.
---
About the structure of the class
Chris Voss's MasterClass is divided up into 18 lessons with an average run time of approximately 10 minutes per lesson. However, the video playback buttons offer you the ability to watch the course at 1.5x and 2x speed.
Lesson plan:
Tactical Empathy
Mirroring
Labeling
Exercise: Mirroring and Labeling
Mastering Delivery
Case Study: Chase Manhattan Bank Robber
Body Language & Speech Patterns
Creating the Illusion of Control
Mock Negotiation: Teenager
The Accusations Audit
The Value of "No"
Mock Negotiation: Rival
Bending Reality
Bargaining
Mock Negotiation: Salary
Black Swans
Mock Negotiation: "60 Seconds or She Dies"
The Power of Negotiation
Lesson summary:
Chris Voss's MasterClass begins by covering three important tactics every negotiator should have in their tool belt: tactical empathy, mirroring, and labeling. Of these three, tactical empathy might seem a bit foreign of an idea, but it isn't. Tactical empathy is nothing more than emotional intelligence, or the understanding of the other side's position, building rapport, and ultimately gaining trust. Chris then uses lesson 4 as a demonstration of these tactics.
Next, Chris moves away from tactics and discusses some of the fundamentals of negotiating, such as mastering your delivery, understanding body language and speech patterns, and creating the illusion of control. Again, Chris and a volunteer role-play a mock negotiation to demonstrate these fundamentals.
Finally, Chris touches on a few key takeaways such as the value of "no," bending reality, bargaining, and something he calls black swans, or key bits of information that change everything in a negotiation.
Side Note: One aspect of the class I thought was very useful and applicable was the mock salary negotiation. Using calibrated questions such as "How can I be more valuable to you?" is so much better than the outdated anchor high negotiation tactics. I believe a lot of people will find Lesson 15 helpful before talking with their managers.
My fast-track lesson plan
Although 3 hours of video lessons isn't a huge time commitment, I created a fast-track collection if you are looking for an abbreviated lesson plan. In just over 60-minutes you can watch these lessons and have a basic set of negotiation skills. I found these lessons to be the most impactful and beneficial to learning negotiation.
Course Reviewers 60-Minute Lesson Plan
2. – Mirroring | 10m22s
3. – Labeling | 11m27s
8. – Creating the Illlusion of Control | 11m21s
11. – The Value of "No" | 11m08s
13. – Bending Reality | 11m09s
15. – Mock Negotiation: | 11m14s
Total runtime = 1 hour 6 minutes
Sessions by MasterClass: Win Workplace Negotiations with Chris Voss
Before moving on in my review, I want also to call out the 30-day, hands-on Win Workplace Negotiations Session taught by Chris Voss.
What are Sessions?
Sessions are built so that you can start and finish within 30 days. As long as you keep your MasterClass all-access pass, you can always return later to the materials and content.
Unlike the video lessons, Sessions is designed to be more interactive with hands-on projects sprinkled throughout. The goal is to apply what you are learning to the real world.
Even though Sessions aren't live (all the material is pre-recorded), MasterClass still implements due dates for activities in order to spur students to stay on track and receive actionable feedback.
Each Session comes with dedicated (and trained) Teaching Assistants who are available to answer questions and provide feedback.
I haven't personally taken this Session yet, so I won't make a recommendation. However, if it's anything like MasterClass, I'm sure it is worth the time and effort. Here is a trailer for the Session if you're interested in learning more:
---
Key Things I Learned
After reading some books on business, I thought I knew a thing or two about negotiation. Turns out, there was a lot more to learn.
Avoiding negative emotions and knowing how the person feels across the table are just a few things that stood out to me during this MasterClass. However, I took extensive notes and am happy to share a few more key learnings below.
Below are a few key learnings that stood out during the MasterClass:
Empathy is becoming aware of the other side's perspective and point of view. It's not agreement, compassion, or sympathy.
When you label your emotions, the electrical activity in the negative parts of your brain decreases (remember to reinforce positive emotions).
The secret to getting the upper hand is giving the illusion that the other side has control.
There are three types of "Yes": Confirmation, Commitment, and Counterfeit.
When bargaining, use The Ackerman System. Set a target price in your mind. First, come in at 65% of that price and plan on making three raises to get to the price you want (20%, 10%, then 5%), land on an odd number, and throw in a non-monetary object that they don't want (ie. your shirt).
---
Things I liked about the Art of Negotiation MasterClass by Chris Voss
Simply put, I like that I learned a lot in these three hours. As an adjunct professor at Georgetown University, I can tell Voss's teaching skills came into play throughout this course.
I particularly liked the fact that at no point did the tactics and strategies feel sleazy or manipulative. Voss kept reminding us that negotiation is not a fight but a collaboration. Fighting and collaborating require totally different skill sets.
In addition, many of the tactics and strategies discussed in his course can be applied right away without any practice. I can safely say that I used a few tactics recently in an email where I needed my collaborator to fix a problem for me. I made sure to think about them and their needs and goals and avoided using words that could stir up negative feelings. We both got what we wanted in the end!
My favorite quotes from Chris Voss's MasterClass
"I'm going to change this wrestling match into a dance."

Lesson 2
"Unexpressed negative emotions never die. They fester like an infection, and they become cancerous."

LEsson 10
"I refer to losing something, loss aversion, as bending reality. Fear of loss and what people lose completely distorts their perception so much that it effectively bends their reality."

LEsson 13
"People are much more likely to make a deal if they feel the process was fair, and they might take a bad deal or a less than optimal deal if they feel they were treated fairly."

LEsson 13
---
Things I didn't like about the Chris Voss MasterClass
I very much enjoyed this MasterClass and felt it was well worth watching. If I were to get nitpicky, however, I did feel that some of the mock negotiations seemed a bit awkward.
Voss utilized a local actor to help him role-play a few negotiation scenarios, and the actor did a great job. But there are a few moments where the negotiation (for example, the "teenager" one) wraps up nice and cleanly. Whereas, in real life, a scenario like this could take hours to resolve.
Again, I understand Voss is simply condensing these tactics in 10-minute segments, so I'll cut him some slack.
---
Does the class keep its promises?
Absolutely. Ever since I took this MasterClass on the art of negotiation, I've approached situations differently. I've used mirroring and labeling to build rapport. I've understood the importance of "no." And I've learned to utilize loss aversion to negotiate better.
In other words, I've directly applied what I learned from Chris Voss to my personal and professional life for my gain.
Of all the courses on MasterClass's online learning platform, I can see why the Chris Voss teaches the Art of Negotiation course is one of the most popular.
---
Is Chris Voss's MasterClass worth the money?
Yes, if you…
✅ Want to learn better negotiation skills
✅ Are tired of losing out to salary raises
✅ Need well-rounded life skills to use in a variety of situations
✅ Have difficulty working with others
No, if you…
🚫 Are already Chris Voss 😅
🚫 Prefer manipulative or forceful negotiation tactics instead
---
Conclusion
Taking everything into consideration, I believe this MasterClass is worth checking out if you consider yourself an avid learner and are looking to polish up or learn from scratch negotiation and collaboration skills. Coupled with the other business-related MasterClasses, the $180 price point is well worth the investment.
If you're interested in learning more, here is a trailer to the class:
---