In this review, we'll see if the Daniel Pink MasterClass lives up to its promises and delivers a course worthy of your investment.
Daniel Pink MasterClass Summary
What you'll learn: How to pitch your ideas like a pro, get others to act, ask for a raise, make your message count, and understand the behavioral science behind sales and persuasion.
Run time: 2 hours and 57 minutes
Pairs well with: Chris Voss Teaches the Art of Negotiation, Bob Iger Teaches Business Strategy and Leadership, and Sara Blakely Teaches Self-Made Entrepreneurship.
Recommendation: 9/10—How much is a 5% raise worth to you? Asking for a raise or anything in your interest is scary, but Daniel Pink shares practical techniques to make asking feel second-nature. If you're still unsure if this MasterClass is for you, continue reading my review for more information.
I didn't go to school for business. And yet, in this ever increasing digital economy, I find myself more and more in situations where I need to negotiate client work or use some form of persuasion skills to get what I want.
When I first saw that MasterClass offered a sales and persuasion class taught by the New York Times best-selling author, Daniel Pink, I was a bit hesitant at first. Do I really need to learn sales? Isn't sales nothing more than old-timey trickery? Could I keep up with the business jargon?
As I would later learn from Mr. Pink, my confirmation biases led me astray and I was completely wrong. Selling isn't what you think it is. "No matter what you do," Pink explains, "you are in sales."
Persuasion is not some kind of magical thing that we do to manipulate people. It's not about tricking people. It's actually more beautiful than that.
This MasterClass isn't just for the white-collar workers on Wall Street, it's for the upstart entrepreneur looking to raise money for her latest venture, for the employee looking to convince their boss for a raise, for the parent who just wants their kid to try the broccoli.
This MasterClass is just what I needed. Why? Because "sales and persuasion is part of our lives," says Pink. "It's like the weather."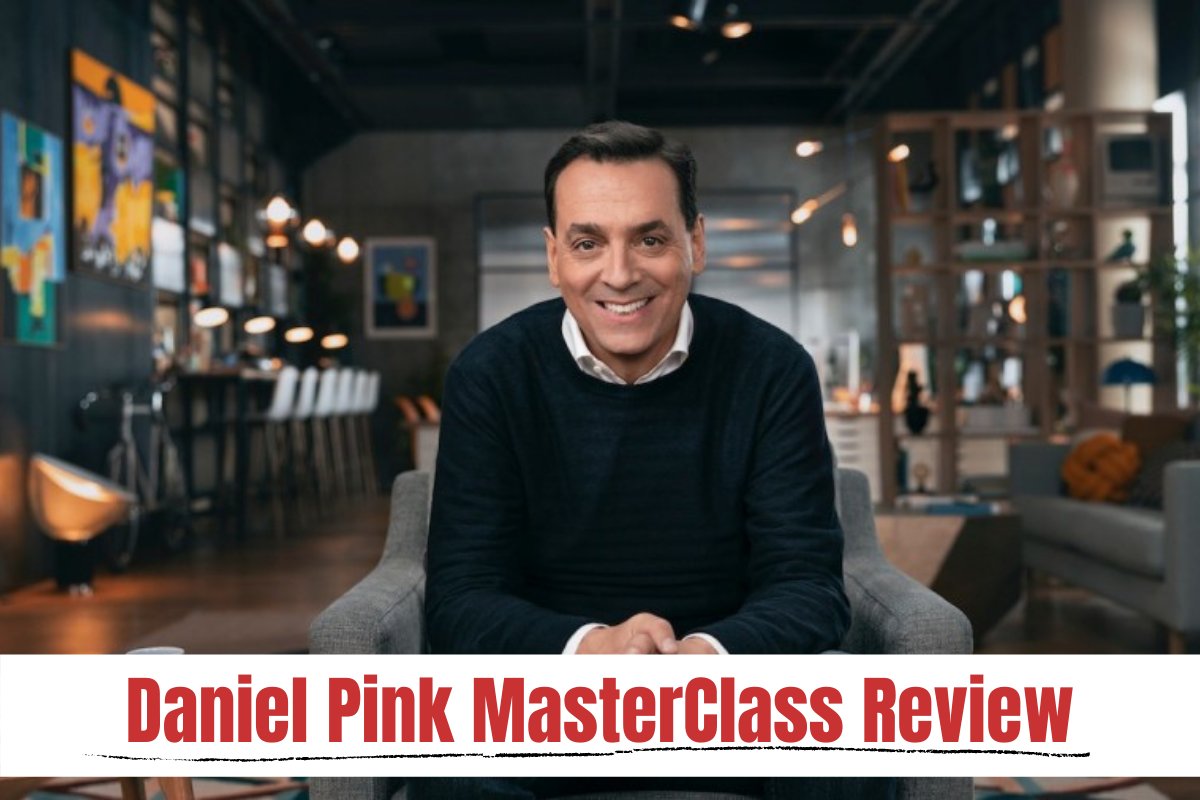 Quick Q and A
Do I need a subscription to access this course?
Yes. MasterClass charges a yearly subscription to access all of their courses. Jump to the pricing section to learn more.
How long is the MasterClass?
The Daniel Pink MasterClass on persuasion is 2 hours and 57 minutes long and spans 16 video lessons.
Does MasterClass have a cancellation policy?
Yes. If you cancel within 30 days of purchase, MasterClass will issue you a full refund.
Is the Daniel Pink MasterClass worth it?
Yes, if you are looking to improve your persuasion and negotiation skills, this class will teach you practical techniques that you can use in real life, as well as, dive deep into the mental psyche of why the tactics work.
---
About Daniel Pink
By 1997, Daniel Pink was well on his way towards a successful and promising career. A Truman Scholar, a Yale Law School graduate, and the chief speechwriter for Vice President Al Gore, at 33 years of age Pink did the one thing no one expected him to do: he quit.
What goes into a decision like that? Well, Pink has spent the past 2 decades thinking and writing about that decision which has lead to a new successful career as a writer. He's now written several NYT best-sellers including When: The Scientific Secrets of Perfect Timing and Drive: The Surprising Truth About What Motivates Us.
Pink is now one of the world's leading experts on the science of motivation and persuasion and is a regular contributor to PBS, the Harvard Business Review, and CNN.
"Daniel's hope," the MasterClass workbook explains, "is to not only give you a deeper understanding of the world around you but to provide you with practical tools to affect real objective change."
---
What does this MasterClass promise?
The Daniel Pink MasterClass on sales and persuasion makes three big promises:
Learn how to pitch our ideas effectively
Understand how to frame our messages in ways that'll get people to act
Explore the behavioral science behind how our brains work
Pink is not here to teach us used-car salesman predatory tactics. He's here to make selling more ethical and transcendent because he believes that effective persuasion means both parties come away better than before.
So, did Daniel Pink live up to his promises? Did he meet my expectations? I'll cover that at the end of the review (skip ahead if you want to find out). But first, let's talk about what's probably on your mind:
---
How much does Daniel Pink's MasterClass cost?
In 2021, MasterClass began testing alternative subscription models besides their original flat-rate annual membership. Eventually, they settled on a new cost-friendly three-tier MasterClass pricing model for their annual subscription:
Individual – $120 per year (average $10 per month)
Duo – $180 per year (average $15 per month)
Family – $240 per year (average $20 per month)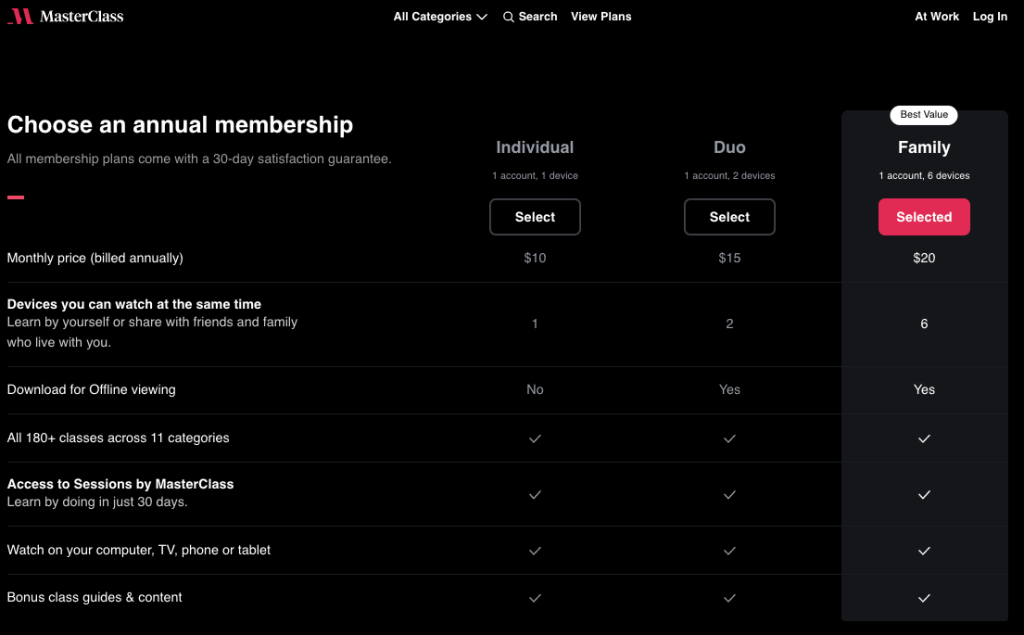 The Individual membership (formerly the "Standard Plan") is perfect for single individuals who are most likely to consume online learning at home. The Duo (formerly the "Plus Plan") and Family (formerly the "Premium Plan") plans are better for couples as MasterClass allows multiple devices to watch at the same time. (Netflix has similar restrictions for their membership plans).
However, the ability to download video lessons for offline viewing is helpful for people who might want to watch MasterClass on their commute to work without eating up most of their data. The Plus and Premium plans offer their users the ability to do just that.
Personally, I go for the $120 per year option as I average about one MasterClass per month, which means my cost per class is $10.
The price may seem steep, however, the subscription gives you access to all 150+ MasterClass courses.
If you were to create your own "business curriculum" so to speak, you could easily pair Daniel Pink's MasterClass with:
That's six business courses taught by some of the world's greatest business leaders for $30 a class. (And if you sign up for my newsletter, I'll let you know what other MasterClasses are worth checking out!)
You can also cancel your MasterClass subscription before the yearly renewal if you're only looking to take a few courses.
---
What is included in the Daniel Master Class?
Here's a rundown of what you are getting with the Daniel Pink MasterClass.
| | |
| --- | --- |
| Runtime: | 2 Hours 57 minutes |
| Reviews: | 4.7 out of 5 ⭐️ |
| Lessons: | 16 video lessons |
| Materials: | 1 workbook |
Runtime
The runtime clocks in at just under 3 hours, which felt just about right for the content provided. The course was packed with insights and was well organized. I preferred watching the course at 1.5x speed which means I finished the entire video course in about 2 hours.
Supplemental Material
This MasterClass (like all MasterClasses) comes with a supplemental workbook that summarizes all the key topics covered in the course. Daniel Pink's workbook is a bit brief, clocking in at 16 pages long.
However, the value of this workbook comes from its list of references to other sources of information as well as its distillation of the main persuasion techniques taught by Pink.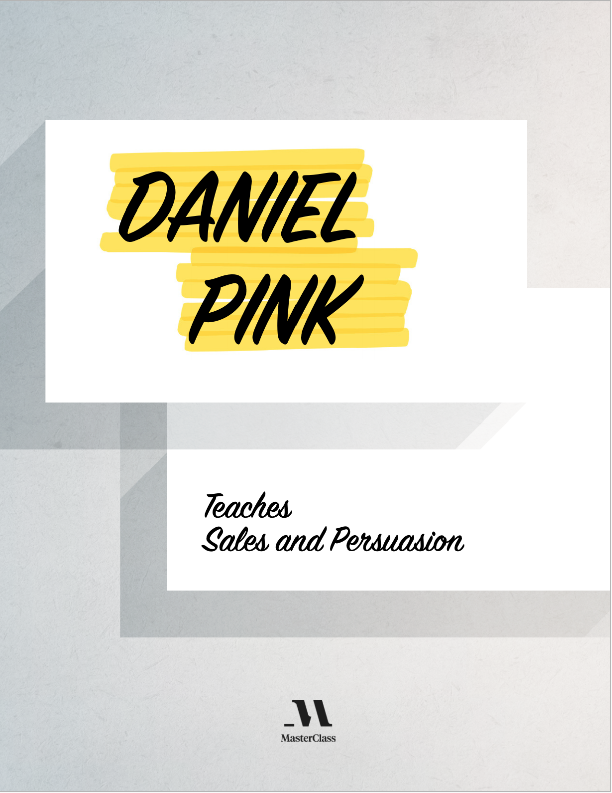 Community Access
Like all MasterClass courses, this one comes with access to a community page called "The Hub." This space is for students to share questions, request feedback, and connect with other learners. Also, just to be clear, this forum is moderated by MasterClass and not Daniel Pink himself. Overall, it's a terrific source of information to further your understanding.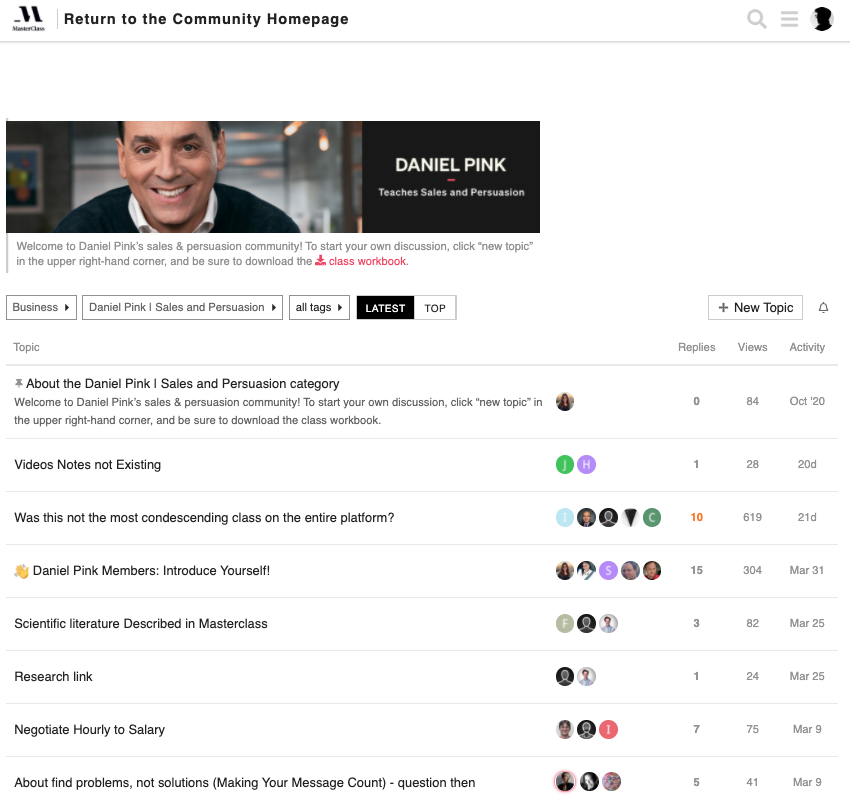 ---
About the structure of the class
Daniel Pinks's MasterClass is divided up into 16 lessons with an average run time of approximately 11 minutes per lesson. However, the video playback buttons offer you the ability to watch the course at 1.5x and 2x speed.
Lesson plan:
Meet Your Instructor
Sales Trends
Attunement: Finding Common Ground
Serve Your Audience
Exercise: Creating a Discussion Map
Clarity: Making Your Message Count
Getting Others to Act
Create a Connection by Mimicking
Persuasive Framing
Pitching Like a Pro
Exercise: Asking for a Raise
Buoyancy: Develop a Resilient Mindset
Introvert, Extrovert, or Ambivert
Persuade Yourself: How to Self-Motivate
Using Timing to Become a Better Persuader
Beginnings, Middles, and Endings
Lesson summary:
Daniel Pink is known for his ABCs of selling. No, not the Alec Baldwin Always Be Closing version, Pink's version is a bit more sophisticated than that:
A—Attunement
B—Buoyancy
C—Clarity
Attunement is nothing more than a fancy word for getting out of one's own head and seeing the motivations, concerns, and biases of the other person. It's understanding what the other person wants and it's respecting their point of view.
Buoyancy is realizing that more people are going to say "no" than "yes". It's being resilient in the face of adversity. Pink recommends interrogative self-talk ("Can I do this, if so how?") which elicits a response and is more effective than your basic pep talk in the mirror.
Finally, clarity is helping other people surface the problems they didn't realize they had. Find problems, not solutions. Do you need a vacuum cleaner? Or do you need clean floors?
Side Note: One aspect of the class that I surprisingly found beneficial was lesson 14: Persuade Yourself: How to Self-Motivate. I went into this MasterClass thinking it was going to be all about persuading others, when in fact we need to convince ourselves from time to time. I struggle with procrastination, but one technique Pink shares is the "just 5 more" technique. Anytime you're working on a task, give yourself an interim goal of five more minutes or actions. Almost always, you'll work past this allotted amount and gain a bit of momentum to continue. I've found this technique to be very beneficial.
The heart of this MasterClass revolves around Pink's ABCs of persuasion. From there, the course dives into more tactical specifics such as using persuasive framing that helps you to set the terms of the discussion.
The course is full of information and even one very helpful (and practical) demonstration of how to ask your boss for a raise.
My fast-track lesson plan
Although 3 hours of video lessons isn't a huge time commitment, I created a fast-track collection if you are looking for an abbreviated lesson plan. In just over 75-minutes you can watch these lessons, take a few notes, and have a decent idea of how to pitch or sell your next big idea. I found these lessons to be the most impactful and beneficial to helping me learn sales and persuasion.
Course Reviewers 75-Minute Lesson Plan
3. – Attunement: Finding Common Ground | 14m47s
6. – Clarity: Making Your Message Count | 14m23s
7. – Getting Others to Act | 16m57s
10. – Pitching Like a Pro | 19m01s
12. – Buoyancy: Develop a Resilient Mindset | 9m49s
Total runtime = 1 hour 15 minutes
---
Key Things I Learned
Of all the MasterClasses I've taken, I took the most notes on Daniel Pink's class on persuasion. Each lesson was chalk-full of information and insights. Below is just the tip of the iceberg of what I learned in total.
Below are a few key learnings that stood out during the MasterClass:
People have access to more information at their disposal. They come prepared with knowledge which makes the transaction less biased and more informed. The seller used to always have more information than the buyer. Now we have information parity, equal footing.
Power distorts the way we see the world (ask the Greeks or Shakespeare). Think of power like a knob, turn it down when you feel threatened and you'll increase your perspective-taking, thus increasing your effectiveness of getting what you want.
The goal isn't to do something to somebody else, it's setting up a situation for others to do something themselves. When people have their own reasons to do something, they will be more motivated to do it.
A perfect pitch should be told like a Pixar movie:

1.) Once upon a time…
2.) Every day…
3.) One day…
4.) Because of that…
5.) Because of that…
6.) Until finally…

When in doubt, take a break and restore your mental acuity.
---
Things I liked about the Daniel Pink MasterClass
There is a lot to learn about sales and persuasion, go over to your local book store and I guarantee you'll find an entire section of books written on the subject. That being said, I never felt overloaded by Daniel Pink's MasterClass. He presented his material in a clear and organized manner. He used creative anecdotes to get his point across. And he never inundated us with research upon research.
In other words, this MasterClass is succinct yet impactful.
My favorite quotes from Daniel Pink's MasterClass
The reason sales isn't what it used to be, has to do with information—Almost everything we know about the world of sales and influence and persuasion has come from a landscape of information asymmetry.

LEsson 2—Sales Trends
There is an inverse relationship between feelings of power and perspective-taking. The more power you feel in general, the worse your perspective-taking becomes.

LEsson 3—Attunement: Finding Common Ground
You don't rely on access to information. You rely on being able to take a wealth of information, make sense of it, and use it to help your customer or prospect solve the real problem.

LEsson 6—Clarity: Making Your Message Count
---
Things I didn't like about the Daniel Pink MasterClass
It's hard to find any fault with this MasterClass, but I do need to point out a few flaws.
One, the available resource material is lacking. Yes, I mentioned that the downloadable workbook contains pointers to other great resources, but the workbook itself is only 16 pages long. For a MasterClass of this size, I would have expected something a lot longer.
Second, one of the exercises demonstrated by Pink was how to create a discussion map.
I'll be honest, I couldn't think of any real-world application where this would be useful or even practical. The idea behind a discussion map is to help unveil who the real decision-maker is in a discussion. If you are part of the discussion and you're scribbling away arrows and such in your notebook, that's bound to be a bit distracting to yourself and others.
---
Does the class keep its promises?
Daniel Pink summarizes his course nicely in the final lesson:
"We have covered a lot of ground in this class—a lot of ideas, a lot of tools, a lot of tips, a lot of tactics—but let's get to the big picture. There are three meta lessons about persuasion, influence, and selling.
"Lesson number 1: context matters (pay attention to context and shape the context).
"Second: Give people autonomy (people are much more likely to do something if they believe it themselves and have their own reasons to do it).
"Third: do the right thing (when in doubt, take the high road)."
I believe this MasterClass keeps the promises Pink sets out in the early stages of the course. By the end, I felt like I had a good understanding of how to identify the context of negotiations, how to give people autonomy in the decision-making process, and how to be ethical.
In the end, Daniel Pink says both sides should come out better after a transaction is agreed upon. I believe he shows us exactly how to do just that.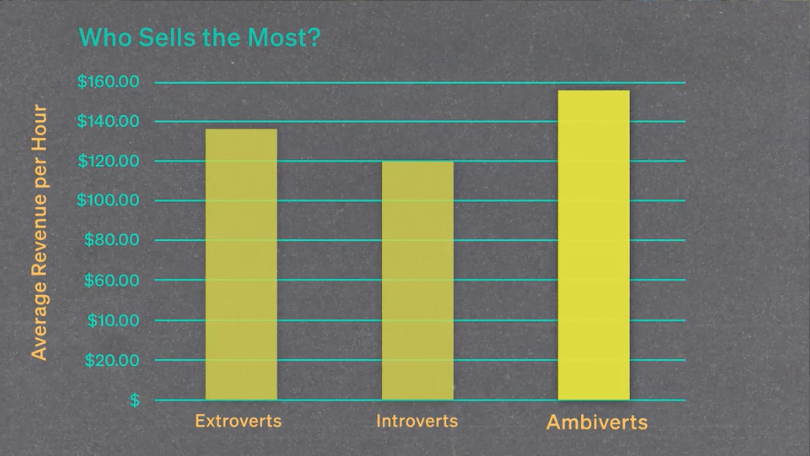 ---
Is Daniel Pink's MasterClass worth the money?
Yes if you…
Want science-backed techniques and tips to become better at negotiating
Need to improve your sales and persuasion approach
Have 3 hours to set aside and learn the modern ways of persuasion that'll help you navigate real-world situations.
No if you…
Still think sales is nothing more than a bunch of used car-salesman tricks
Already are a master negotiator
Aren't interested in asking for a raise
---
Conclusion
Taking everything into consideration this MasterClass is highly valuable on its own. When you pair it with other business MasterClasses such as Chris Voss: The Art of Negotiation or Bob Iger: Business Strategy and Leadership and you're essentially paying $30 per class, it's a steal.
Even if you're not in quote-unquote "sales," everyone every day finds themselves in some act of persuasion. "Sales and persuasion is part of our lives," says Pink, "It's like the weather."
If you want to pitch your ideas like a pro, get others to act, ask for a raise, make your message count, and understand the behavioral science behind sales and persuasion, this MasterClass is for your.
If you're interested in learning more, here is a trailer to the class:
---