In this review, we'll see if the Paul Krugman MasterClass on Economics and Society lives up to its promises and delivers a course worthy of your investment.
Paul Krugman MasterClass Summary
What you'll learn: You will learn to think like an economist. Whether it's how to fix a recession, income inequality, taxation, healthcare reform, or globalization, this MasterClass delivers just enough information, tools, and theories without overwhelming the learner.

Run time: 3 hours and 56 minutes

Recommendation: 10/10—A truly engaging and informative MasterClass that'll get you beyond the headline comments ("The market is up") and start thinking deeper about how the world works.
There's so much going on in the world that it's tempting to throw our hands up in the air and exclaim: I can't make any sense of this!
Paul Krugman doesn't want you to.
Paul Krugman wants to give you the tools and mindset of a real economist so that you too can start digging under the headlines and try to figure out, on your own volition, what exactly is going on in the world today.
A Nobel laureate and New York Times Op-Ed columnist, Paul Krugman is an economist often dragged by the internet elite because of his miscontextualized 1998 "prediction" about the internet.
Nevertheless, in his first-ever online class, Krugman gives us a glimpse into the inner workings of an economist's mind and delivers a surprisingly entertaining, informative, and enlightening MasterClass on economics and society.
If you are a curious learner and looking for better talking points than "the market's up or the market's down" then this MasterClass might be for you.
Quick Q and A
Do I need a subscription to access this course?
Yes. MasterClass charges a yearly subscription to access all of their courses. Jump to the pricing section to learn more.
How long is the MasterClass?
The Paul Krugman MasterClass on Economics and Society is 3 hours and 56 minutes long and spans 22 video lessons.
Does MasterClass have a cancellation policy?
Yes. If you cancel within 30 days of purchase, MasterClass will issue you a full refund.
Is the Paul Krugman MasterClass worth it?
Yes. If you are interested in learning about economics, this MasterClass is an excellent starting point.
---
About Paul Krugman
Where to begin? Paul Krugman won a Nobel Memorial Prize in Economic Sciences for his work on New Trade Theory in 2008. He's a regular contributor to the New York Times Op-Ed column and an avid Twitter user (although, ironically, he hasn't updated his personal website since 2012).
Because Krugman is an economist, it's often presumed that he too is dry and boring when discussing the "stories" of the world. However, that is far from the truth. Krugman often writes in a tongue-in-cheek style and even goes so far to be playful with his predictions.
Opponents to Krugman like to discredit his work by mis-contextualizing his 1998 prediction that the internet would eventually fade away like the fax machine. A "prediction" that Krugman explained, "was a thing for the Times magazine's 100th anniversary, written as if by someone looking back from 2098, so the point was to be fun and provocative, not to engage in careful forecasting."
Krugman is upfront with his political views and doesn't shy away from speaking (or Tweeting) his mind about policy. Nor is he a big fan of bitcoin.
Well aware of all of this, I entered into his MasterClass with an open expectation that I'd learn something, anything to better my understanding of the world. And I believe I did.
---
What does this MasterClass promise?
What you're going to learn here is how to think like an economist, what it means to not just parrot some slogans —the market's up or the market's down—but actually how people who've taken this stuff seriously, who work at it, who try to get at the truth, how they actually approach it.
If I were to sum up the one promise, the one takeaway, Paul Krugman delivers in his MasterClass, it would be this:
There is a lot of nonsense in economics. Having the tools and ability to parse through the headlines and get to the underlining story is a difficult goal to achieve, but it is not impossible.
Yes, even us. The headline-guzzling laymen who might not be the best at math can, and should, take a stab at understanding the economic forces that drive society, and to some sense, what we do in our day-to-day lives.
"You have to figure this out for yourself," says Krugman in the MasterClass introduction, "and maybe someone like me can provide a little bit of guidance."
So, did Paul Krugman live up to his promises? Did he meet my expectations? I'll cover that at the end of the review (skip ahead if you want to find out). But first, let's talk about what's probably on your mind…
---
How much does Paul Krugman's MasterClass cost?
If you want to take Paul Krugman's MasterClass, you have three options to choose from.
In 2021, MasterClass began testing alternative subscription models besides their original flat-rate annual membership. Eventually, they settled on a new cost-friendly three-tier MasterClass pricing model for their annual subscription:
Individual – $120 per year (average $10 per month)
Duo – $180 per year (average $15 per month)
Family – $240 per year (average $20 per month)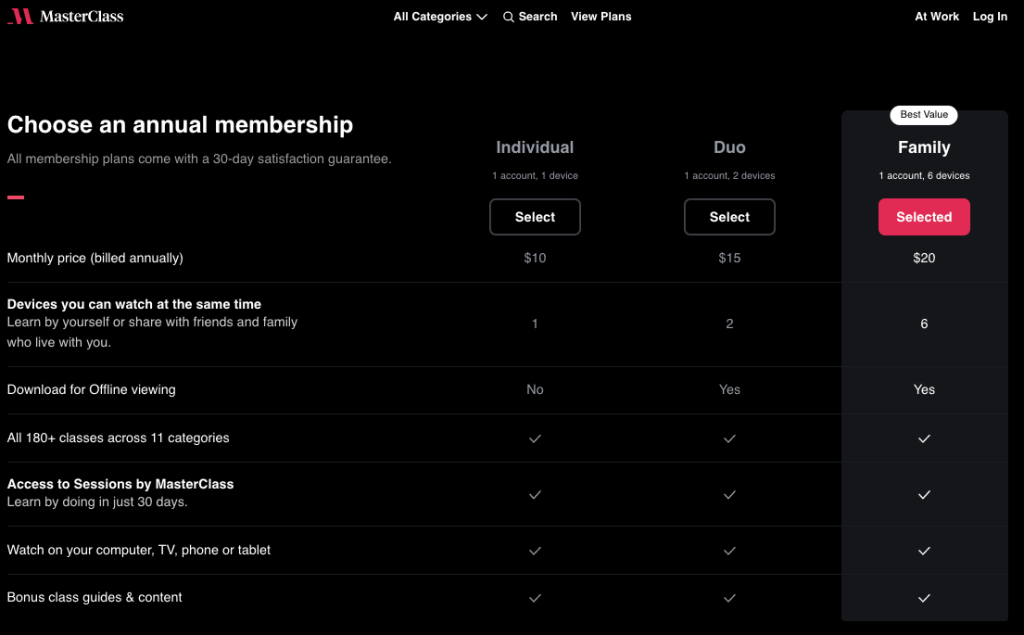 The Individual membership (formerly the "Standard Plan") is perfect for single individuals who are most likely to consume online learning at home. The Duo (formerly the "Plus Plan") and Family (formerly the "Premium Plan") plans are better for couples as MasterClass allows multiple devices to watch at the same time. (Netflix has similar restrictions for their membership plans).
However, the ability to download video lessons for offline viewing is helpful for people who might want to watch MasterClass on their commute to work without eating up most of their data. The Plus and Premium plans offer their users the ability to do just that.
Personally, I go for the $120 per year option as I average about one MasterClass per month, which means my cost per class is $10.
The price may seem steep, however, the subscription gives you access to all 90+ MasterClass courses. You can significantly cut down the "cost-per-course" simply by pairing Paul Krugman's MasterClass with other similar classes such as Bob Iger teaches business strategy, Daniel Pink teaches sales, and Howard Schultz teaches business leadership.
Plus, you have to remember that each MasterClass is someone's lifetime of work distilled into well-organized and enjoyable video content. In other words, if it turns out the Paul Krugman MasterClass isn't for you, chances are you'll find other MasterClasses you do enjoy.
---
What is included in the Paul Krugman MasterClass?
Here's a rundown of what you are getting with the Paul Krugman MasterClass.
| | |
| --- | --- |
| Runtime: | 3 Hours 56 minutes |
| Reviews: | 4.7 out of 5 ⭐️ |
| Lessons: | 22 video lessons |
| Materials: | 1 workbook |
Runtime
The runtime clocks in at just under 4 hours. I typically prefer watching courses at 1.5x speed (which means I could have finished in about 2 and a half hours), however, to ensure I truly digested the material—and took decent notes—I watched Paul Kruman's course at normal 1x playback. I even rewatched a few lessons.
Supplemental Material
This MasterClass (like all MasterClasses) comes with a supplemental workbook that summarizes all the key topics covered in the course. Paul Krugman's workbook is hefty, clocking in at 79 pages long, which feels right for the amount of content covered in his course.
However, the real value of Krugman's workbook is its frequent linking to other resources, references, and other sources of information such as this incredibly helpful tool.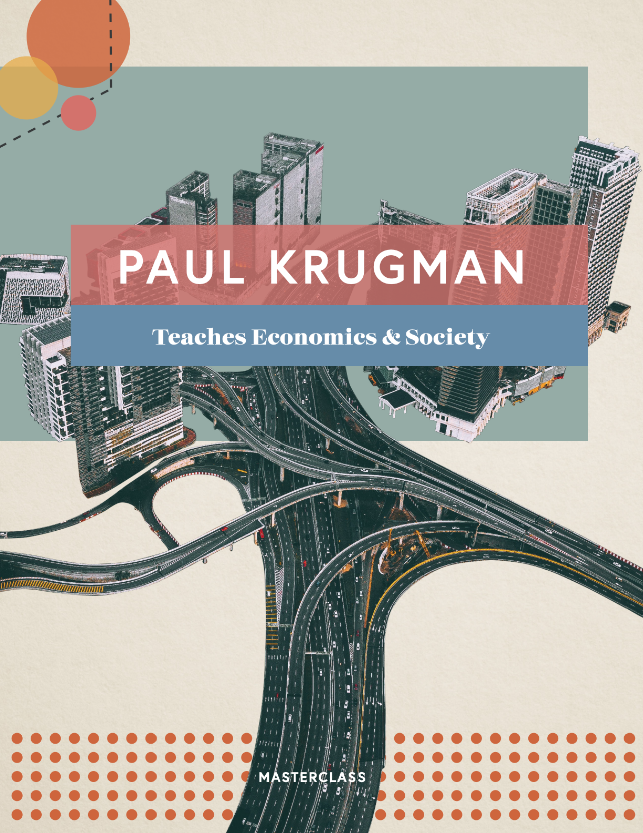 Community Access
All MasterClass courses come with their own community access page called: The Hub. Here other students and learners can interact with each other, post questions, request feedback, and gain further insights into what they are learning. Because economic theory is often a hotly debated topic, Krugman's class forum is a lively one.
Also, just to be clear, this forum is moderated by MasterClass and not Paul Krugman himself.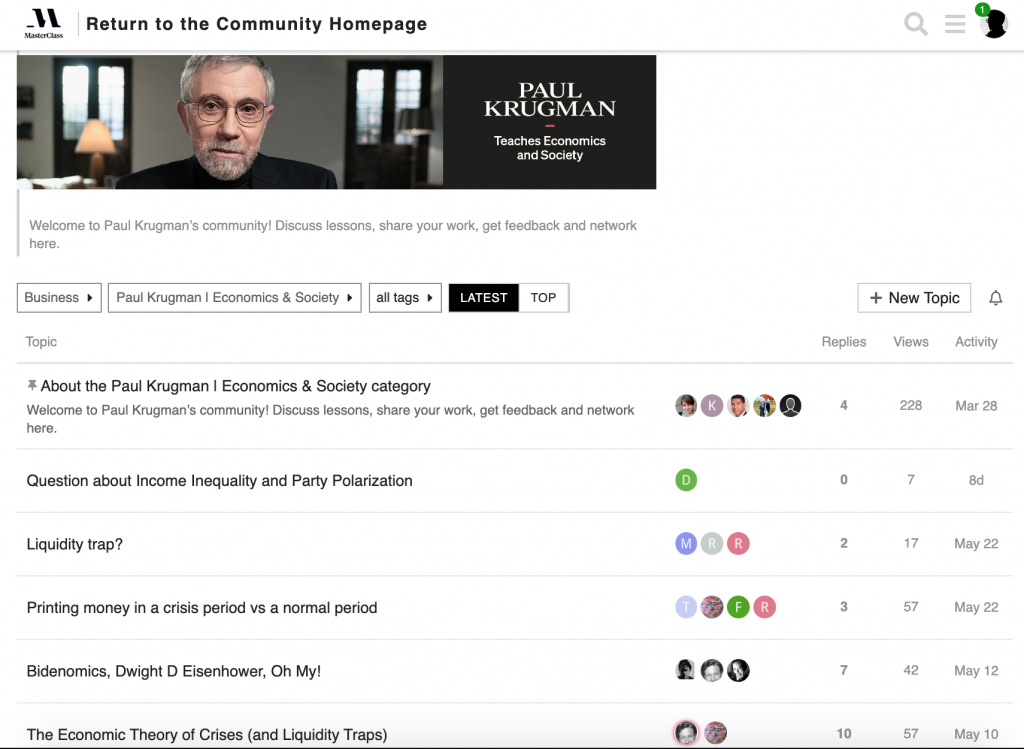 ---
About the structure of the class
Paul Krugman's MasterClass is divided up into 22 lessons with an average run time of approximately 11 minutes per lesson. However, the video playback buttons offer you the ability to watch the course at 1.5x and 2x speed.
Lesson plan:
Introduction
What is Economics
Two Fundamental Principles of Economics
Major Developments in Economic Thought
Understanding Macroeconomics: The Fed and IS-LM (Wonkish)
How '08 Happened
The Economic Theory of Crises
Economic Solutions to Crises
Inequality: The Growing Gap
Inequality: Our Divided Society
Understanding Taxes
The Economics of Technological Progress
Health Care: The Problems
Health Care: The Solutions
Theories of Trade (Wonkish)
Understanding the Hyperglobalized World
China: The Disruptive Miracle
Economic Geography
Reading Economics
Seeing the World Like an Economist
Writing Economics
Closing
Lesson summary:
Economics—explains Paul Krugman—is not about money, it's about what people do in the ordinary business of life. I suspected going into this MasterClass that I would have to memorize a bunch of charts and formulas to help me better understand the vast and complicated global economy. But that wasn't the case.
Paul Krugman's MasterClass begins with a series of lessons to first lay the groundwork as to what exactly is economics and what roles economists play. Yes, there are charts and math involved, but at their core, an economist does their best to uncover the truth of predictable human behavior.
We begin the MasterClass with the two fundamental principles of Economics.
People respond to incentives—"$100 bills don't lie in the street very long."
Every transaction has an equal give and take—"Every sale is also a purchase."
Krugman then takes us through the major developments in economic thought with the seventeen-hundreds being the starting point (life wasn't all that different, economically speaking from 2000 B.C. to 1700 A.D.). It was around this time where society started to evolve—people moved to cities, new technologies emerged, new institutions sprouted—and innovation became the norm, not the exception. Therefore, new ways of thinking about how the world worked came to fruition. Adam Smith and John Maynard Keynes, early economic thinkers, are still cited to this day.
Then Krugman shifts the MasterClass to bigger ideas such as macroeconomics, understanding the Federal Reserve, how '08 happened, which then transitioned into some of the "crises" we face today, such as:
Income inequality
Tax cuts
Automation
Health care
Global trade
Finally, Krugman ends with a few lessons to help students better read, understand, and think about economics on their own.
My fast-track lesson plan
Although 4 hours of video lessons isn't a huge time commitment, I created a fast-track collection if you are looking for an abbreviated lesson plan. In just over 60-minutes you can watch these lessons and have a decent grasp of economics and how to think about it. I found these lessons to be the most impactful and beneficial to helping me learn about economics.
Course Reviewers 60-Minute Lesson Plan
3. – Two Fundamental Principles of Economics | 7m40s
5. – Understanding Macroeconomics: The Fed and IS-LM | 10m43s
7. – The Economic Theory of Crises | 8m53s
11. – Understanding Taxes| 13m53s
16. – Understanding the Hyperglobalized World | 14m56s
Total runtime = 57 minutes
---
Key Things I Learned
It's been years since I last took AP Economics, which means I took a copious amount of notes during this MasterClass. The biggest key learnings I gained from Paul Krugman were how the Federal Reserve works and its role in our economy, how recessions occur and are fixed, that tax cuts work but are trivial (low tax rates are not crucial for economic growth, history shows), and most of all, what is globalization and why trade deficits aren't necessarily bad for developed countries.
Below are a few key learnings that stood out during the MasterClass:
Ordinary life is incredibly complex. Think about the clothing you are wearing and the vast coordination of people all over the world to create them.
Adam Smith was the first to realize that a nation's weath doesn't come from gold or silver but their ability to produce things. Productivity is a nation's true source of wealth.
As interest rates decrease, people are prompted to borrow more, spend more, and create more, driving higher GDP. However, the higher the GDP increases, the higher interest rates rise because people will have a higher demand for cash. The FED can print more money, take money out of the conomy, or adjust interest rates to keep inflation at a steady 2% per year.
History shows us that countries who borrow in their own currency and are stable can carry really high levels of debt.
The health care market is not the same as the market for cars or wheat because of "Asymmetric Information" which is the imbalance of knowledge in a given economic transaction.
The standardization of freight containers was a major technological advancement that has helped lubricate flow of goods around the world.
---
Things I liked about the Paul Krugman MasterClass
Call me nerdy, but I've placed this MasterClass under my personal favorites list of MasterClasses I've taken. I came away with this class with a general understanding of how economics work, but more importantly, how to think like an economist moving forward. I believe this is the ultimate goal of any MasterClass, to give their students the tools and the know-how to tackle future problems on their own.
I never felt overwhelmed with the information presented. If something was confusing, I simply started the video lesson over again or referred to the helpful workbook for further explanation.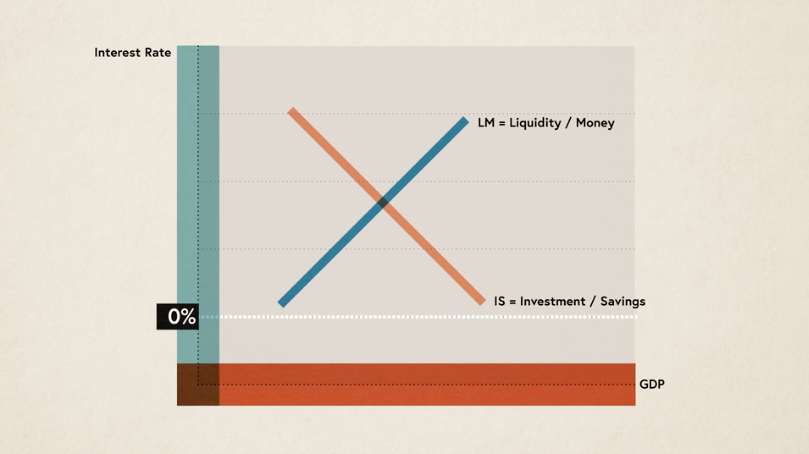 My favorite quotes from Paul Krugman's MasterClass
What do you, an enlightened citizen of the world, need to know? What can you do as a way to make sense of the headlines in your paper or even just the things you see as you drive down the road?

LEsson 1—Introduction
History doesn't repeat but it rhymes.

Lesson 4—Major Developments in Economic Thought
The Fed is our first responder to economic emergencies. It's the over-the-counter medicine we take when we catch an economic cold.

Lesson 8—Economic Solutions to Crises
Trying to recapture a vanished past without understanding why that past vanished is a recipe for more bad stuff happening.

Lesson 17—China: The Disruptive Miracle
---
Things I didn't like about the Paul Krugman MasterClass
Being that Krugman is very vocal on Twitter about his political leanings, I can foresee future students either annoyed with his stance or avoiding his MasterClass altogether. That would be a shame, because I believe this MasterClass is worth a look for anyone interested in economics, regardless of political leanings.
At the very least, Krugman is honest and upfront with his biases. He also admits when his economic predictions are wrong. If anything, I think the MasterClass team should bring on another economic thinker with different economic schools of thought, just to give a different perspective for learners.
---
Does the class keep its promises?
Yes, this MasterClass gives its students enough tools and theories to help them think about economics on their own. If anything, it has spurred me to learn even more about economics and begin formulating my own ideas (instead of just rehashing headlines I read).
I went into this MasterClass hoping for economic guidance. I received just that.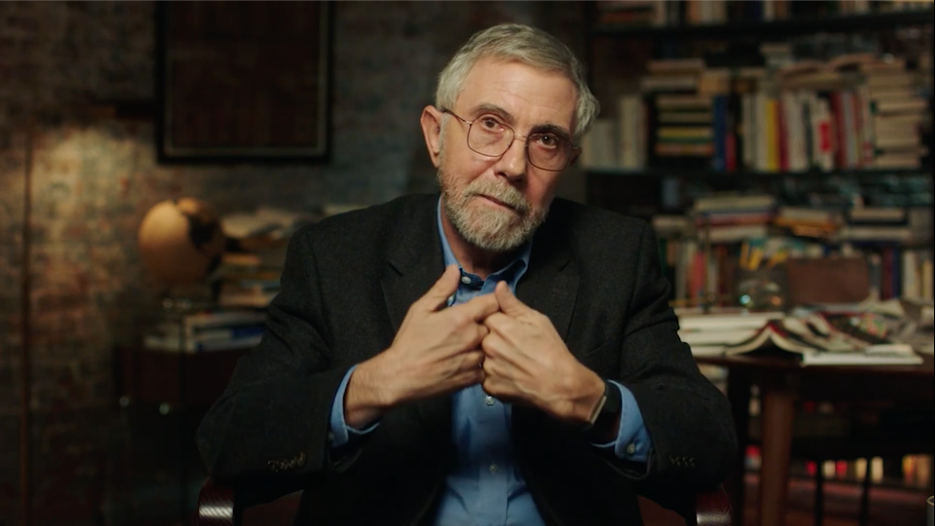 ---
Is Paul Krugman's MasterClass worth the money?
Yes if you…
Are interested in learning about economics and how society works.
Want to build up your ground base of knowledge around inflation, the Fed, trade, and taxes.
Enjoy learning from good stories and helpful graphics.
Love data and statistics.
Need a launching point to learn more about economic theories.
No if you…
Aren't a fan of globalization, healthcare reform, or general liberal thinking.
Prefer a fixed mindset
Are subscribed to other economic schools of though besides Keynesian Economics.
---
Conclusion
If you are open-minded, curious, and love learning about how the world works, then I highly recommend Paul Krugman's MasterClass on economics. I genuinely learned a lot and never felt overwhelmed by the information presented. Instead, I was engaged and eager to learn more that I bought some books on economics after completing this MasterClass.
If you're interested in learning more, here is a trailer to the class:
---