In this review, we'll see if the Ron Finley MasterClass on Gardening lives up to its promises and delivers a course worth taking.
My father is an avid gardener. As for me, I've never been able to grow anything other than weeds. However, when I came across Ron Finley's MasterClass trailer, I was drawn to his energetic style and the simple promise he makes: I'm going to teach you to grow your own food.
With a bit of free time on my hands this past weekend, I decided to give this MasterClass a try. And I'm glad I did.
After finishing the class, I have all the basic knowledge I need to begin my first garden this spring. Finley took something that seemed so foreign and confusing to me and made it simple and approachable.
"It's real simple. You got some sun, you got some soil, you got water, and you got a seed. Now, where do you want your beauty to grow from?"
In this MasterClass review, we'll break down exactly what this class promises, how much it costs, what's included, the key things I learned from it, and finally, if the Ron Finley MasterClass on Gardening is worth taking.
Let's get gardening!
---
Quick Q and A
Do I need a subscription to access this course?
Yes. MasterClass charges a yearly subscription to access all of their courses. Jump to the pricing section to learn more.
How long is the MasterClass?
The Ron Finley MasterClass on Gardening is 2 hours and 7 minutes long and spans 10 video lessons.
Does MasterClass have a cancellation policy?
Yes. If you cancel within 30 days of purchase, MasterClass will issue you a full refund.
Is the Ron Finley MasterClass worth it?
Yes, if you are looking for basic tips to start your own garden (even if you don't own a yard) then you will find this MasterClass beneficial as Finley provides excellent instruction on how to start your own garden from scratch.
---
About Ron Finley
If you were to look up Ron Finley on Google, one of the first things you'd notice is that his Wikipedia page lists him as a fashion designer. Which is true. For years, Finley enjoyed a prosperous career as an LA-based fashion designer (as referenced in this LA Times article from 1998).
But in 2010, when Finley decided to dig up a stretch of his parkway (the narrow strip of grass between the street curb and sidewalk) to plant some fruits and vegetables, he received more than just a citation from the City, he received a new way of living life.
In the decade since his first scuffle with the City of LA, Finley has not only changed the laws, he's changed entire neighborhoods with his "guerrilla gardening" technique. LA is not a city known for lush, green open fields. But that hasn't stopped Finley from planting food among the many food deserts that plague the city.
Today, Finley the "Gangster Gardener" runs the Ron Finley Project, whose chief aim is to create "a world where gardening is gangsta, where cool kids know their nutrition and where communities embrace the act of growing, knowing and sharing the best of the earth's fresh-grown food."
---
What does this MasterClass promise?
Finley lays out his simple promise clearly: I will teach you how to grow your own food.
After watching the introduction to his MasterClass on gardening, I was immediately drawn to Finley's deeper message: "With my garden, I'm taking some control of my power back, where I have control over a major part of my life."
Finley wants to set an example. He wants people to care about their own lives, to gain more knowledge about the world, and to show respect to the earth. Taking this class, I realized Finley is more than a gardener, he's a philosopher.
This MasterClass is more than just learning how to grow your own food, it's about understanding the why behind it.
So, did Ron Finley live up to his promises? Did he meet my expectations? I'll cover that at the end of the review (skip ahead if you want to find out). But first, let's talk about what's probably on your mind…
---
How much does Ron Finley's MasterClass cost?
In 2021, MasterClass began testing alternative subscription models besides their original flat-rate annual membership. Eventually, they settled on a new cost-friendly three-tier MasterClass pricing model for their annual subscription:
Individual – $120 per year (average $10 per month)
Duo – $180 per year (average $15 per month)
Family – $240 per year (average $20 per month)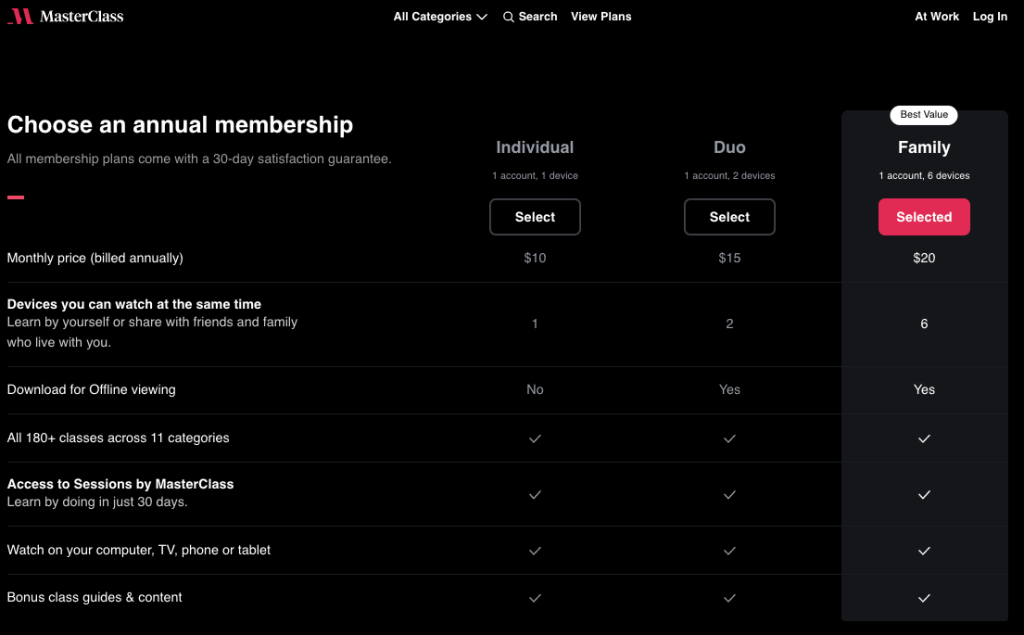 The Individual membership (formerly the "Standard Plan") is perfect for single individuals who are most likely to consume online learning at home. The Duo (formerly the "Plus Plan") and Family (formerly the "Premium Plan") plans are better for couples as MasterClass allows multiple devices to watch at the same time. (Netflix has similar restrictions for their membership plans).
However, the ability to download video lessons for offline viewing is helpful for people who might want to watch MasterClass on their commute to work without eating up most of their data. The Plus and Premium plans offer their users the ability to do just that.
Personally, I go for the $120 per year option as I average about one MasterClass per month, which means my cost per class is $10.
The price may seem steep, however, the subscription gives you access to all 150+ MasterClass courses, including courses on food such as Gordon Ramsay and Alice Waters.
Plus, you have to remember that each MasterClass is someone's lifetime of work distilled into well-organized and enjoyable video content. In other words, if it turns out the Ron Finley MasterClass isn't for you, chances are you'll find other MasterClasses you do enjoy.
---
What is included in the Ron Finley MasterClass?
Here's a rundown of what you are getting with the Ron Finley MasterClass.
| | |
| --- | --- |
| Runtime: | 2 Hours 7 minutes |
| Reviews: | 4.7 out of 5 ⭐️ |
| Lessons: | 10 video lessons |
| Materials: | 1 downloadable workbook |
Runtime
The runtime clocks in at just over 2 hours, which I thought was a little brief compared to some other MasterClasses I've taken before. However, this MasterClass is packed with information, so don't let the brevity fool you. I preferred watching the course at 1.5x speed, which means I finished the entire video course in about 1 and a half hours.
Supplemental Material
Like all MasterClasses, this one came with a downloadable 41-page class workbook that is filled with other supplemental knowledge not covered in the videos. For example, the workbook goes into more detail on climates and which plants are suitable for your climate.
Community Access
Ron Finley's Community page, or "The Hub" as MasterClass calls it, is filled with avid learners who are eager to connect with fellow gardeners. This class is still under a year old at the time of writing, but this is easily the most active Community page I've come across on MasterClass.
There are over a hundred posts full of hints, tips, and questions.
Bonus: MasterClass Live
This is actually something I found quite recently. Due to the pandemic, MasterClass has been conducting their MasterClass Live sessions publicly. Originally, these sessions were only for subscribed members.
The recordings of these discussions are hosted on Youtube, I've embedded Ron Finley's Live session below:
The Live session gives you a taste of Finley's style and a peek into his philosophy. He's an engaging and entertaining (not to mention knowledgable) character to say the least!
---
About the structure of the class
Ron Finley's MasterClass is divided into 10 lessons with an average run time of approximately 12 minutes. However, the video playback buttons offer you the ability to watch the course at 1.5x or 2x speed.
Lesson plan:
Meet Your Instructor
Planting a Revolution
Getting Dirty
Creating Planters
Grow Your Own Food: Greens & Legumes
Grow Your Own Food: Sweet Potatoes
Grow Your Own Food: Herbs
Increasing Your Bounty
How to Not Kill Your Plants
Finding Your Creativity
Lesson summary:
Ron Finley's MasterClass is divided into three sections. The first section, lessons 1 through 4, takes you through Finley's philosophy on gardening and covers some basics such as identifying different types of soil and using old containers as simple planter boxes.
The next section, lessons 5 through 7, covers four different crops that are simple for any gardener to grow: greens, legumes, sweet potatoes, and herbs. These crops are included in the MasterClass because they don't require a huge amount of open space to grow. In other words, even urban dwellers can grow these crops in their apartments.
Finally, Finley closes with lessons 8 through 10, which highlight how to increase your bounty and avoid killing your plants.
Side Note: One aspect of the class I enjoyed tremendously was Lesson 8 about increasing your bounty. In it, Finley shows how to propagate (growing a new plant from a piece of another plant) various species. He took a branch off of a citrus tree and demonstrated how you can plant it to grow a whole new citrus tree. It gave me such a greater appreciation for nature.
My fast-track lesson plan
Although 2 hours of video lessons isn't a huge time commitment, I created a fast-track collection if you are looking for an abbreviated lesson plan. As long as you are willing to research the specific plants you want to grow later, these three lessons contain concepts that every serious gardener should know. I found these lessons to be the most impactful and beneficial to helping me learn gardening.
Course Reviewers 1-Hour Lesson Plan
3. – Getting Dirty | 16m47s
8. – Increasing Your Bounty | 17m12s
9. – How to Not Kill Your Plants | 21m52s
Total runtime = 56 minutes
---
Key Things I Learned
This is one of the shortest MasterClasses I've taken, and yet, it's the one in which I took the most notes. Below, I break down some of my key takeaways:
The ideal soil is loamy soil – a perfect mix of sand (drainage) and clay (water retention) with a mix of broken down organic matter for nutrients.
Good compost contains: coffee grounds, hair, sawdust, eggshells, vegetable and fruit peels, scraps.
Legumes are a special kind of plant that pulls Nitrogen out of the air and puts it into the soil where it is needed.
You can eat the leafy greens from sweet potatoes, they are highly nutritious.
Tip: use an old burlap bag (one found in coffee roasters) and fill it with soil to plant your sweet potatoes.
Know your zone! Every yard has its own microclimate that can be affected by proximity to other buildings and trees — and even by its orientation.
---
Things I liked about the Ron Finley MasterClass
Ron Finley's MasterClass on gardening is very approachable. What do I mean? Finley takes a newb gardener (like myself) and gives them everything they need to go outside and start planting. He doesn't overwhelm students with too much high level information, but he also doesn't keep things too basic.
For example, one important aspect to successful gardening is understanding your garden's microclimate. Knowing how shadows fall on your garden or how much sunlight exposure it receives will impact the overall success of your garden.
Also, and this was really important, just because you have soil doesn't mean it's good for gardening. Finley covers the different types of soil and what to look for in a healthy garden.
I also very much enjoyed Finley's style and personality. Sure, he throws in a swear word here and there ("Propagating is cool as f*ck"), but overall, he's a delight to watch and quite an entertaining teacher.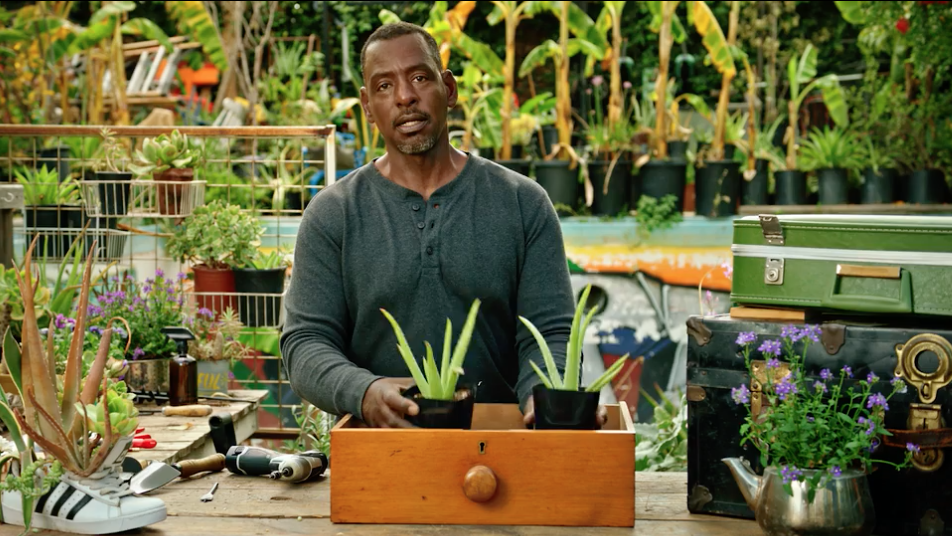 My favorite quotes from Ron Finley's MasterClass
Growing your own food gives you power. Once you have it, it's something that can never be taken away from you.

Lesson 1 – Meet Your Instructor
Air is gangster as f*ck. You can't get no more gangster than air.

Lesson 1 – Meet Your Instructor
Beauty in, beauty out. If you put beauty into a space, that's what you're going to get out of it.

Lesson 2 – Planting a Revolution
Just because you have soil in your backyard really don't mean you can use that sh*t.

Lesson 3 – Getting Dirty
If it can hold soil, I'm putting a plant in it.

Lesson 4 – creating Planters
The one thing that we need to exceed is man's need for greed and change that to man's need for seed.

Lesson 8 – Increasing Your Bounty
It's real simple. You got some sun, you got some soil, you got water, and you got a seed. Now, where do you want your beauty to grow from?

Lesson 10 – Finding Your Creativity
---
Things I didn't like about the Ron Finley MasterClass
I don't say this often about MasterClasses I've reviewed but: I wish this MasterClass was longer.
Don't get me wrong, I still think this MasterClass is worth the subscription. However, my only complaint is that this class doesn't cover a wide variety of plants. I think it also would have been helpful to learn how to build a planter box, not just reuse old containers.
However, this is all readily available online and I'm sure I can find a simple DIY planter box video on YouTube. But being that this is a MasterClass, I kind of wanted to see more.
---
Does the class keep its promises?
Yes, plain and simple. Finley promises students he'll teach them how to grow their own food, and he does exactly that by covering the basics of planting a few simple crops.
---
Is Ron Finley's MasterClass worth the money?
Yes if you…
Want to grow your own food
Live in an urban area and want more access to fresh fruits and vegetables
Love working on long-term projects
Are interested in helping the environment
No if you…
Are already an avid gardener
Have no intention of growing your own food
Just aren't interested in gardening
---
Conclusion
Taking everything into consideration, this is easily one of the best MasterClasses I've taken. Ron Finley is personable and entertaining. He breaks down something that was once so foreign to me and made it approachable. He's encouraging and enlightening.
I highly recommend this MasterClass if you are looking for a weekend project or want to take an active role in the food you eat.
If you're interested in learning more, here is a trailer to the class:
---