You might have seen their ads on YouTube or Facebook. You know the ones, a famous person or chef in front of a really cool backdrop talking about science, photography, or cooking. The ads alone are good enough to make you ask: What is MasterClass?
​I've been an avid user of MasterClass for years now and have watched and reviewed dozens of courses so I feel I am well-suited to answer your question.
In this MasterClass guide, I'll share a bit about MasterClass including their history, how MasterClass works, how much does MasterClass cost, where to access MasterClass, and what you can expect if you do so choose to sign up.
Let's start at the beginning.
---
What exactly is MasterClass?
Founded in 2014 (originally as Yanka Industries, Inc.) by Stanford student, David Rogier, MasterClass—an online education platform—launched its website the following May with only three instructors. Twelve classes were later added in 2017 before the total drastically jumped to fifty by 2018. In 2021, MasterClass received a $2.75 billion evaluation by CNBC.
Over the years, MasterClass has grown to offer a variety of courses under the following categories:
Arts and entertainment
Home and lifestyle
Music
Writing
Business
Food
Design and style
Sports and gaming
Community and government
Wellness
Science and technology
MasterClass classes are taught by respected and renowned experts in a series of high-quality video lessons totaling between two and four hours of video per course. Each course is divided up into ten to fifteen video lessons that last about ten to twelve minutes per lesson.
If students are curious to expand their level of knowledge or want to ask questions, MasterClass has now rolled out a new feature called Sessions that guide students through a 30 day, hands-on learning experience with trained teaching assistants.
Students also have access to a downloadable workbook that is a perfect companion for supplemental learning outside of the video lessons.
In addition to the video lessons, Sessions, and workbook, MasterClass will every once in a while host instructors on live streams. (I recently found a recording of Ron Finley's private live stream on YouTube, read my review where I share a link.)
---
How does MasterClass work?
MasterClass's unique selling proposition (or USP which I learned after taking Daniel Pink's MasterClass on sales) is giving you access to the world's greatest athletes, chefs, artists, writers, musicians, and more all from the comfort of your home (or phone).
Not only that but when you look at how much some of these experts charge for lectures at prominent universities, having them all in one place for the mere price of $180 is a steal (more about pricing in a bit).
But, how does MasterClass work as a learning experience? More importantly, does MasterClass actually work? Will you learn new skills and knowledge simply by watching a few celebrity instructors talk for a few hours?
Those questions are hard to answer for everyone as we all have different expectations and goals in life. However, being that I (and chances are you) fall under MasterClass's target market of 30 to 40-year-old professionals, I can try to break down what it's like to use MasterClass which will help you answer the above questions yourself.
MasterClass Course Navigation and Discovery
As I've mentioned, MasterClass offers a plethora of classes—over 100 at the time of writing—with new classes and instructors added every month. However, humans aren't the best at making choices when too many are on the table (another thing in Dan Pink's MasterClass on sales).
Nevertheless, finding what course you want to take first is pretty straightforward. When you first join, you'll be asked to complete an optional questionnaire of your interests that'll help narrow down your search. You can skip this step if you want and go directly to the Library Search page where you can look up topics or select from over eleven categories to browse.
As you take more classes, MasterClass will continue to recommend classes that fit your interests. All in all, finding the next course to take is easier than finding the next Netflix show to watch.
MasterClass Structure and Set-Up
As I already mentioned, every MasterClass course comes equipped with roughly a dozen video lessons, a downloadable course workbook, and access to the community page. Some courses come with extra supplemental material like Aaron Sorkin's screenwriting course that comes with sample scripts to review.
Video Lessons
Every MasterClass is subdivided into ten to fifteen or so video lessons that average approximately 10 to 12 minutes a video. You can complete these video lessons at your own pace and in any order you choose (although the next lesson automatically plays after you complete a lesson).
And we're not talking about grainy Zoom recordings either. MasterClass is top-of-the-line production quality. They use real filmmaking experts who know how to light, film, and edit high-quality video lessons.
MasterClass's secret sauce is finding the best locations for their MasterClass instructors. Sometimes MasterClass videos are filmed directly within the homes of their instructors (example: Alice Waters). Other times, MasterClass places its instructors within a setting to help set the learning mood. It certainly makes the viewing experience much more enjoyable.
On the web browser version, you are able to take notes alongside the video playback which is really helpful if you aren't very organized.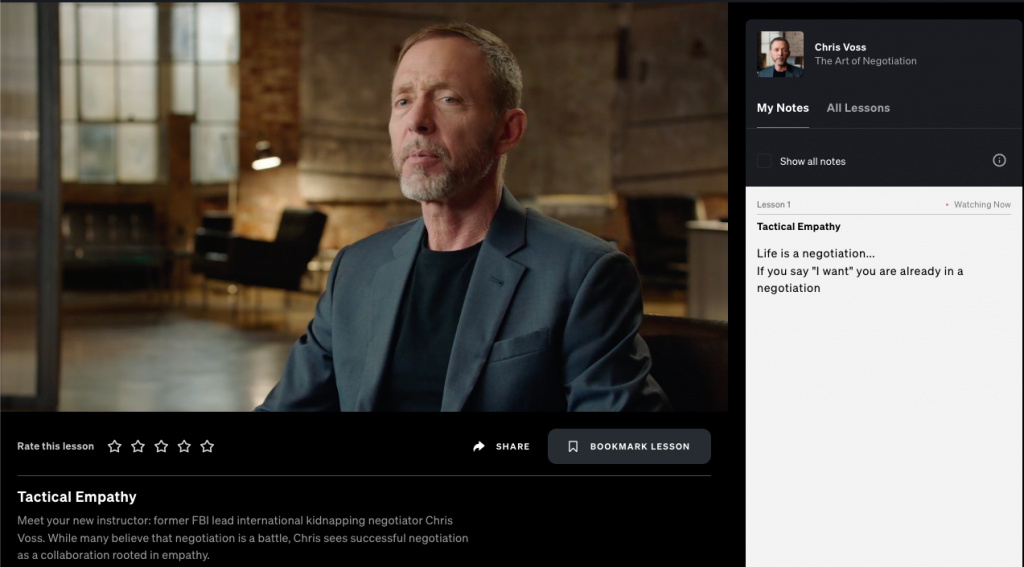 If you are crunched for time, you can choose 1.5x or 2x playback speed to significantly cut down on the runtime. I find this feature extremely useful combined with the closed captions to make sure I'm not missing any important tidbits.
Downloadable Workbook
I think the workbooks are the unsung heroes of MasterClass. Each workbook is beautifully crafted, unique, and employs its own cohesive style that fits the instructor. (Again, would you prefer 60 pages of boring PowerPoint slides?)
Not only do they look nice, but they are also chock-full of additional information (not just summaries of the video lessons). If an instructor requires concepts that are easier to explain visually, MasterClass provides informative and interesting graphics that are simple and easy to follow within the workbook.
For example, in the Paul Krugman MasterClass on economics, I learned about helpful sources of economic data (such as FRED). When you take a MasterClass, make sure to spend time with each course's workbook to fully immerse yourself in learning.
(I think my favorite workbook so far has been Bill Nye's.)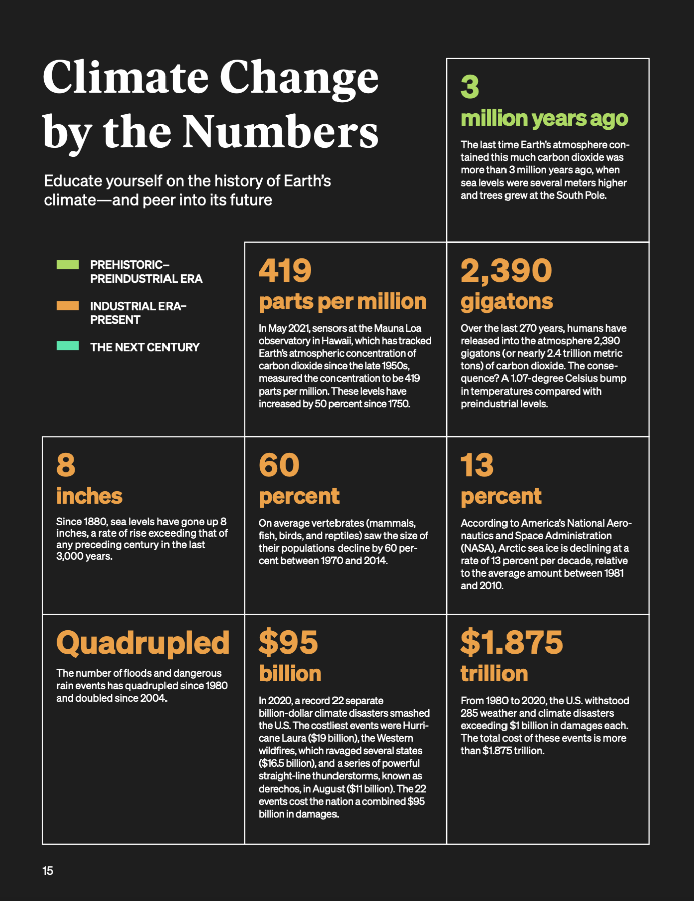 Community Access (aka The Hub)
For the longest time, MasterClass offered community forums for each class where students can interact with each other, post questions, request feedback, and gain further insights into what they are learning. This community forum was often referred to as "The Hub" by MasterClass.
In late 2021, MasterClass removed this feature and replaced it with a revamped program called Sessions. When I say "revamped" I really mean revamped, which means this topic really needs its own section (that I conveniently placed below).
And in case you're curious, this is what the old community page looked like: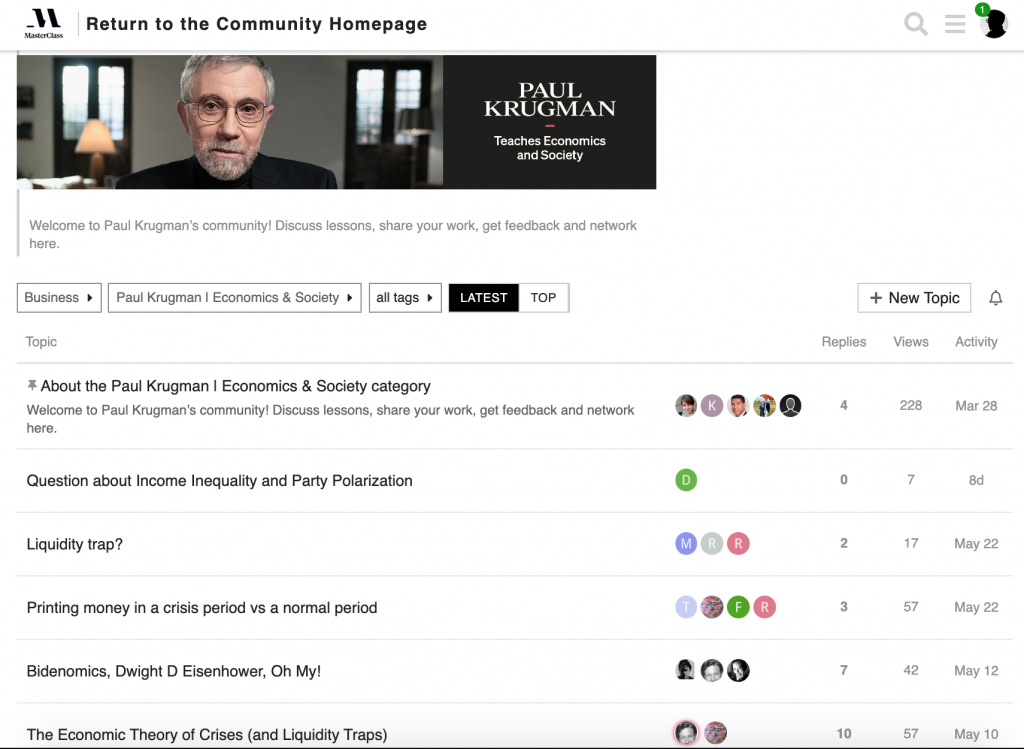 Sessions by MasterClass (NEW!)
Sessions is a new "hands-on" format where students learn in a structured curriculum alongside one another. Think group projects but with cooler teachers.
Each Session is built so that you can start and finish within 30 days. As long as you keep your MasterClass all-access pass, you can always return later to the materials and content.
Unlike the video lessons, Sessions is designed to be more interactive with hands-on projects sprinkled throughout. The goal is to apply what you are learning to the real world.
Even though Sessions aren't live (all the material is pre-recorded) MasterClass still implements due dates for activities in order to spur students to stay on track and receive actionable feedback.
Each Session comes with dedicated (and trained) Teaching Assistants who are available to answer questions and provide feedback. And just like the old Hub I mention above, students have the ability to interact with one another in the community feed.
Currently, Sessions is only available within the web browser and iOS versions of MasterClass (the Android version is coming soon).
---
How much does MasterClass cost?
In 2021, MasterClass began testing alternative subscription models besides their original flat-rate annual membership. Eventually, they settled on a new cost-friendly three-tier MasterClass pricing model for their annual subscription:
Individual – $120 per year (average $10 per month)
Duo – $180 per year (average $15 per month)
Family – $240 per year (average $20 per month)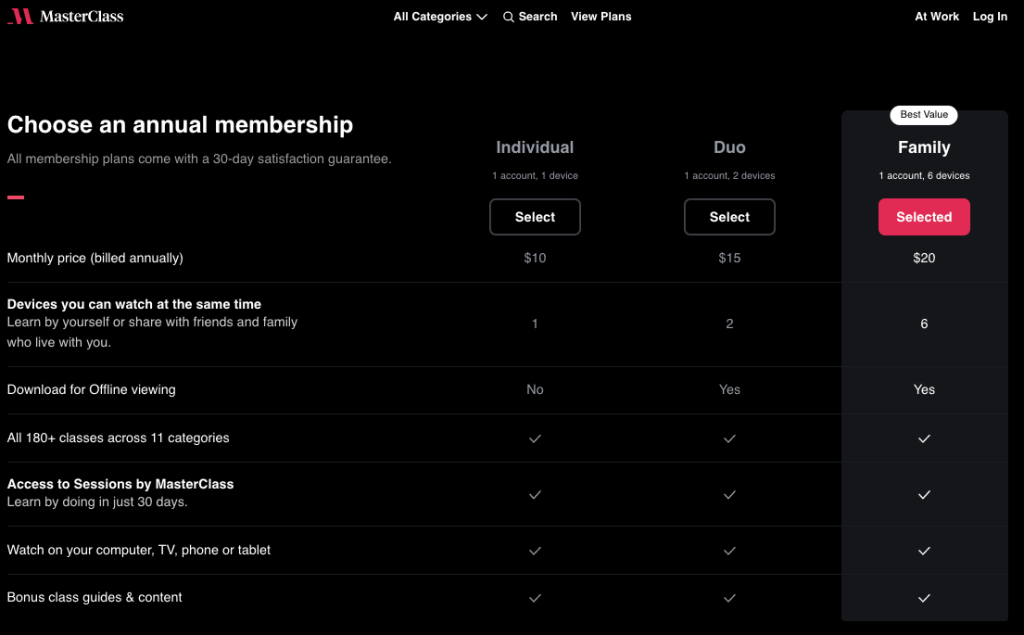 The Individual membership (formerly the "Standard Plan") is perfect for single individuals who are most likely to consume online learning at home. The Duo (formerly the "Plus Plan") and Family (formerly the "Premium Plan") plans are better for couples as MasterClass allows multiple devices to watch at the same time. (Netflix has similar restrictions for their membership plans).
However, the ability to download video lessons for offline viewing is helpful for people who might want to watch MasterClass on their commute to work without eating up most of their data. The Plus and Premium plans offer their users the ability to do just that.
Personally, I go for the $120 per year option as I average about one MasterClass per month, which means my cost per class is $10.
You can always upgrade or downgrade your subscription at a later date. Start with a realistic plan and go from there. The best part is, no matter which subscription plan you choose, MasterClass gives you unlimited access to all their courses.
---
How to Access MasterClass
MasterClass is available to access on all modern web browsers simply by going to masterclass.com.
However, you can also access MasterClass via their MasterClass app which is available for both iOS and Android users. Unlike the web browser version, the MasterClass app comes with the functionality to listen to just the audio portion of each lesson. This is especially helpful for commuters who'd rather consume their learning a la podcast-style.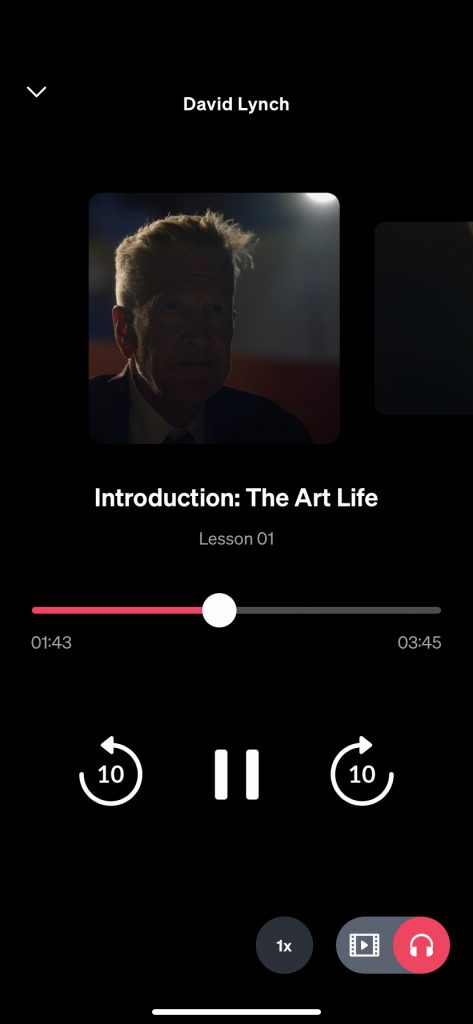 The MasterClass app also comes with the ability to cast each video lesson to a smart television such as Apple TV, Chromecast enabled TV, Roku, or an Amazon Fire TV.
I don't particularly use the MasterClass App as I prefer to take hand-typed notes on my computer while I watch. However, for passive learners, this is an incredibly helpful feature.
---
Can you send MasterClass as a Gift?
Absolutely! An annual membership to MasterClass makes for a great gift for those life-long learners in your family. You can read our full write-up on how to give a MasterClass gift here, or click on the button below that'll take you directly to MasterClass's gift-giving page. Just follow the prompts on the screen.
---
Quick List of MasterClass Courses
I've written extensive reviews of MasterClass courses which you can find in our MasterClass archive here, however, for quick reference, below are some of the most popular MasterClass courses:
---
FAQs
How do I cancel my MasterClass subscription?
If you give MasterClass a try and find out it's not for you, you can simply email their support team [email protected]. If you made your purchase less than 30 days ago MasterClass will refund you the full amount, no questions asked. I've interacted with the MasterClass support team multiple times and they are always extremely helpful.
Can I send MasterClass as a gift?
Yes, you can! I've written an extensive MasterClass gift buying guide to help walk you through how to give the gift of MasterClass to a loved one.
Can you try MasterClass for free?
Yup, MasterClass offers new students a 30-day free trial.
Is there a MasterClass app?
Yes, and it's available to both iOS and Android users.
Can you stream MasterClass on a television?
Yes, through the MasterClass app, users can cast MasterClass videos to their Apple TV, Chromecast, Roku, or Amazon Fire TV.
---
MasterClass Alternatives: Skillshare, Coursera, and Udemy
If you are looking for a niche approach to learning you might want to consider these MasterClass alternatives instead.
MasterClass vs Skillshare
Skillshare, unlike MasterClass, is geared toward beginners. If you are looking to get into animation, for example, Skillshare offers hundreds of courses for various skill levels.
However, for a $159 per year subscription, Skillshare still doesn't feel like they are offering enough value to cost nearly as much as MasterClass (in other words, I'd rather pay more for MasterClass for 10x the value).
MasterClass vs Udemy
With Udemy, you gain access to the bargain outlet of online learning. While MasterClass offers over 100 high-quality online courses from high-caliber instructors like Helen Mirren and Samuel L. Jackson, Udemy offers thousands of cheap online classes from thousands of unknown instructors.
If you have time to look for a gem on Udemy, they don't sell monthly or yearly subscriptions. Rather you pay per class access.
MasterClass vs Coursera
Coursera offers courses from world-leading universities, not celebrity instructors. With a more traditional learning experience, Coursera has the upper hand compared to MasterClass. However, Coursera is geared toward more professional users looking to build skills in their profession with actual Degrees and Certificates. Sounds a lot better than, "I took a MasterClass on sales."
---
My Honest MasterClass Review
The final question on everyone's mind is: Is MasterClass worth it?
The short answer is, probably. Whether you're looking to grow your acting skills with an online class from Natalie Portman or better your creative writing skills from a Margaret Atwood lecture, there is bound to be at least one of the 100+ classes on the MasterClass online learning platform that is bound to teach you something.
However, that's not the main reason people sign up for MasterClass. Like most people, I don't know what I don't know. Therefore, I love the possibility of stumbling across a subject that I know little about and diving into 4 hours of video lessons that end up giving me a well-rounded understanding.
In other words, MasterClass is best for curious minds.
For me, there are seven reasons to invest in MasterClass's online courses:
Learn from the best instructors in a variety of fields
Content is enjoyable to watch
Discover new subjects worth exploring
You can't beat the cost
Courses are split up into easily digestible video lessons
Knowledge improves your well-being
More classes are added every month
If you aren't an avid learner (or into online education) or are looking for more technical-based video courses, MasterClass might not be worth it for you (you can always check out Udemy or Skillshare for more niche topics). However, MasterClass offers a 30-day money-back guarantee so you can always take a course or two and decide if MasterClass is worth it for yourself.
But no need to take my word for it, MasterClass offers a 30-day money-back guarantee. You can easily sign up, test out a few classes, and judge whether MasterClass is right for you.