In this Skillshare review, we'll explore whether Skillshare is worth it for online learners or if there are better alternatives available.
As an online creator and consultant, I'm constantly learning new skills to keep up with the trade and make clients happy. To do so, I've relied heavily on online learning over the past five years. Typically, when I want to learn something new, I simply go to YouTube and type in a question and hope for the best.
Most of the time, I get videos taught by "experts" with endless ad breaks and pitches to buy their merchandise. I mean, what else can you expect from "free courses." Recently, fed up with the poor quality and questionable knowledge shared on free platforms, I turned to an online learning platform I keep hearing so much about: Skillshare.
Impressed by Skillshare's high-quality free classes, I signed up for an annual membership (and scored a 40% discount, more on that in the Skillshare pricing section) and dove deeper into the Skillshare courses offered to premium members.
I will share my experience as a Skillshare learner here in this in-depth review. While some reviews for online courses tend to be regurgitations of sales pages, everything you are about to read comes directly from my own experience as an avid learner.
If you are looking for a TLDR version of this review, here it is:
Skillshare—compared to other expensive online learning platforms—is absolutely worth it for beginners and experts looking for an at-your-own-pace learning experience. A Skillshare account gives you unlimited access to a wide variety of online classes. Skillshare offers the perfect balance of specific skill development and aspirational learnings to help students thrive in the real world. For the low-cost premium membership and free 7-day trial, Skillshare is worth checking out!
Get complete, unlimited access to all Skillshare classes
🔥🔥50% off Annual Membership with code affdtp50🔥🔥
---
Table of Contents
Skillshare Pros and Cons
Like Leslie Knope, I like a good pros and cons list. So here is mine for Skillshare:
Pros:
✅ Large selection of over 30,000 courses
✅ Free one-month trial
✅ Wide variety of course topics and length
✅ Project-based learning
✅ Affordable
✅ Discounts and perks for additional products and services
✅ Refer a friend = 1 month additional free
✅ Curated Learning Paths
Cons:
🚫 Quality of courses vary
🚫 No certificates or accreditation
🚫 No "MasterClass caliber" instructors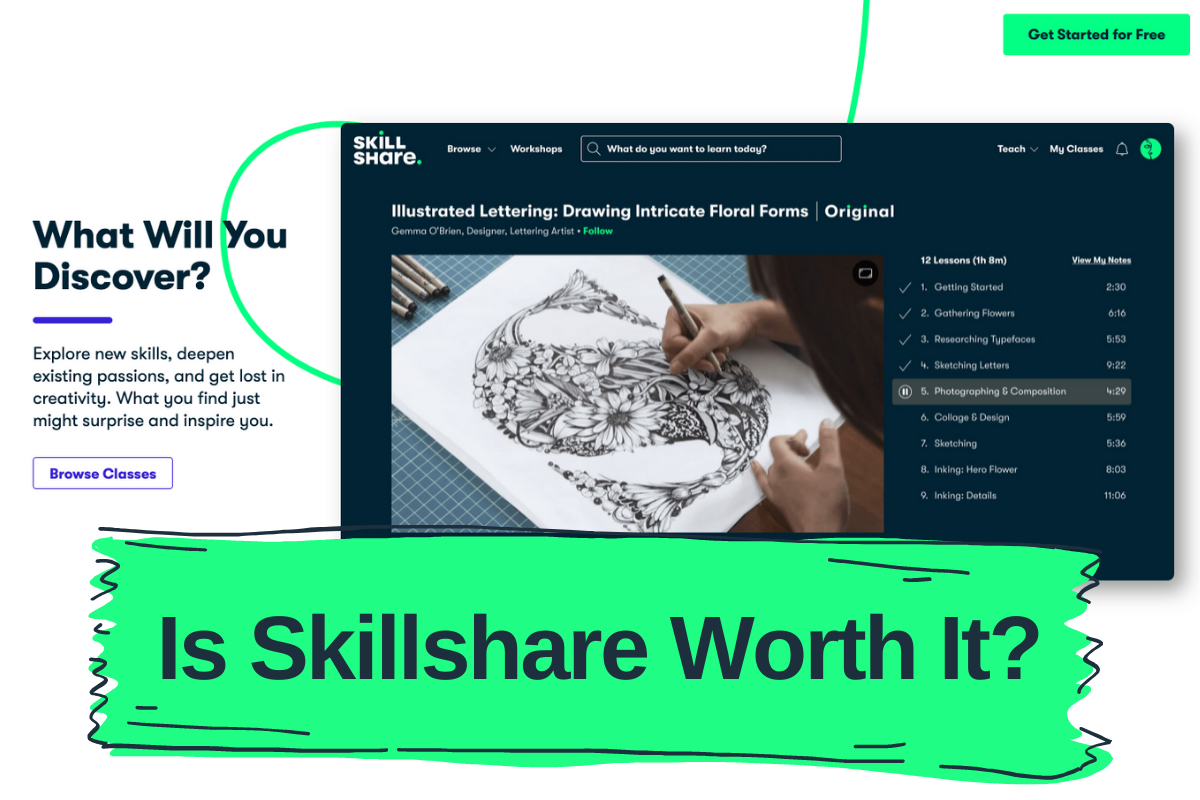 ---
An honest and in-depth Skillshare review
Any time I dive into a new online learning platform, I like to find an easy course to try out. Why? Because I prefer to understand the inner working of how the course platform works (course structure, the learning experience, mobile app vs. browser) before committing myself to more demanding courses.
In Skillshare's case, curiosity got the better of me. After a spout of taking creativity courses in MasterClass, I browsed Skillshare's course listings and found a course on—don't laugh—how to clean and organize your fridge.
Two things stood out:
Here was a practical course I desperately needed
It was only 26 minutes long (21 minutes after watching on 1.25x speed)
Why are these two things important? Because unlike other high-end online course platforms (like MasterClass), Skillshare has an abundant trove of courses ranging from creative, lifestyle, business, and productivity that are accessible and practical. Not to mention short and to the point.
As you will see in this review of Skillshare, what sets Skillshare apart from other e-learning platforms is its dedication to hosting niche topics. They accomplish this by opening up course submissions to practically anyone (more on this below) and offering a huge selection of courses (over 30,000 at the time of publication).
While this may seem overwhelming, course discovery is hardly an issue in my experience. Skillshare offers carefully curated subjects with badges of approval (called "Staff Picks") and even in-house produced courses (called "Originals"). They've recently launched a new feature called Learning Paths which are "hand-picked, sequential classes."
What follows is an honest and accurate review of Skillshare from someone who loves to learn. But first, let's quickly cover exactly what Skillshare is.
What is Skillshare?
Skillshare is an online learning community for students to take online video classes at their own pace. The Skillshare platform offers a broad variety of specific skills such as UX design, creative writing, business analytics, graphic design, Photoshop, web development, and so much more.
Founded in New York in 2010 by Michael Karnjanaprakorn and Malcolm Ong, the primary means of learning offered by Skillshare is the completion of a project while viewing online video content.
Compared to other e-learning platforms, Skillshare is cost-effective and an excellent launching point for people to boost their career skills or discover new courses to perk new interests.
Skillshare divides its courses into the following categories:
Advertising
Business
Design
Entrepreneurship
Fashion and style
Film and video
Food and drink
Gaming
Music
Photography
Social media
Technology
Writing and publishing
How are Skillshare courses structured?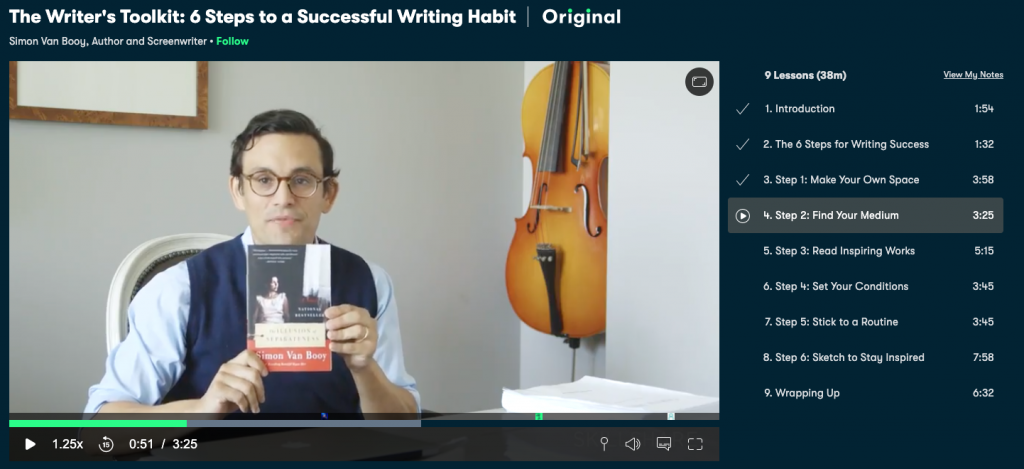 Skillshare courses are structured in a traditional online learning setup with cool extra functionality built in.
First, there are the video lessons. The video lessons are organized and displayed to the right of the video playback screen (on the web browser version) which makes it easy to toggle between lessons or quickly see how the course is organized.
Beneath the video playback screen is five options to further your learning:
About
Reviews
Discussion
Projects and Resources
Transcripts
About
The About section lays out a summary of the course and what you can expect to learn. Some courses also describe who the course is for specifically (helpful when browsing for new courses).
Reviews
The Reviews section is especially helpful when looking for new courses to take. Here you can read reviews and opinions from past students who have taken the course. Skillshare conveniently displays who the course is "Best suited for" (beginners, advanced, etc.), what students liked most, and whether or not the course met students' expectations.
I don't know about you, but I find this review format extremely helpful so that I don't waste time taking a class that is too advanced or below par.
Discussion
The Discussion section is a place for students to post questions and request feedback among themselves. The best part is that sometimes the Skillshare instructor will jump in and reply to comments. The group learning aspect is beneficial for learners who are looking for feedback to gauge their progress in a specific area.
Projects and Resources
As I've mentioned, every Skillshare course comes with a project to complete. In this section, you will find a detailed description of the project along with other helpful resources shared by the instructor. Students are encouraged to share pictures (and an optional write-up) of their project where they can receive feedback from peers and the instructor themselves.
Transcripts
I personally learn better when I read along to what I'm listening to. That's where the transcript section comes in handy. Not only that but going back to reference sections where the instructor is detailed or listing out specifics makes the transcript section a very helpful tool.
Bonus: Scheduling functionality
​I thought this last feature was so cool. Next to the menu options is a button to "Schedule" your learning time. The button will send an invite to whichever calendar app you use (Google, Outlook, etc.) so that you can send personal reminders to take your classes! This is helpful for those who are sometimes forgetful (like me).
Meet the Skillshare instructors
The nearly 30,000 courses offered to Skillshare members are taught by thousands of teachers across a broad array of talent and experience. Some notable Skillshare teachers include Susan Orlean, Young Guru, Marc Ecko, Gary Vaynerchuk, Guy Kawasaki, and Paula Scher.
However, unlike other high-quality online learning platforms, Skillshare accepts anyone as an instructor.
"There's no application or approval process, and you don't need to have teaching experience. Our teachers are creatives, entrepreneurs, and professionals who are great at what they do and passionate about sharing their skills with others. Each has a unique background, perspective, and teaching style."

Skillshare Help Center
To offset any worries about the quality of learning content, Skillshare recently launched Skillshare Originals which are courses created by their in-house content team. Skillshare Originals along with their Staff Picks helps students easily discover courses worth taking.
Skillshare also cares deeply about its instructors, offering—get this—a course on how to create a successful course on Skillshare. Their blog is also a handy tool for course creators. In other words, Skillshare does a lot to ensure its instructors are well-informed and creating high-quality courses.
Introducing Chroma Courses by Skillshare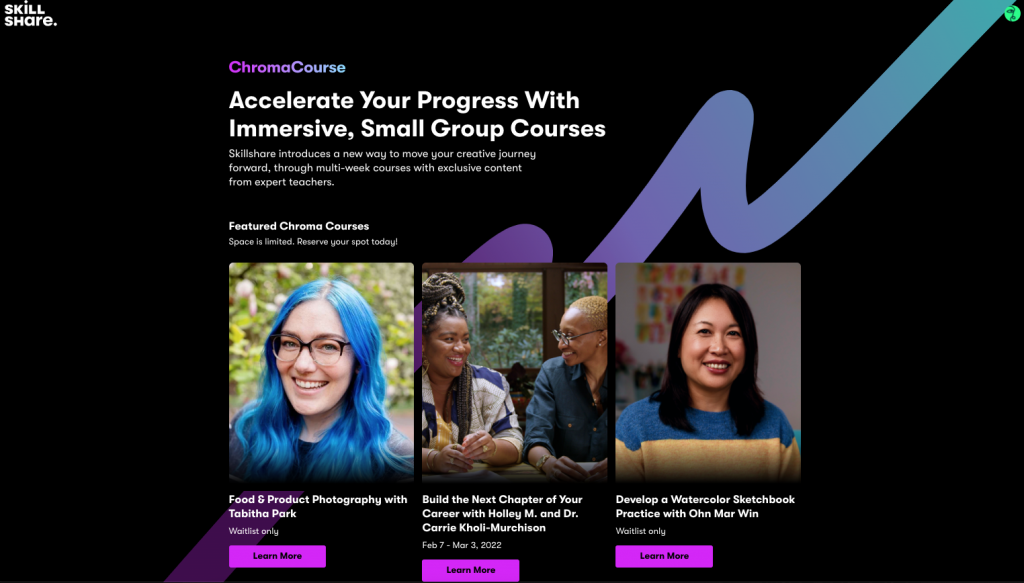 If group learning, personalized feedback, and live Q&As sound like your way of learning, then hold on to your seats.
Recently, Skillshare rolled out a new feature called Chroma Courses which are, "Multi-week, immersive, small group courses that feature limited seating, exclusive content from expert teachers, live Q&As, and personalized feedback on your assignments."
Chroma courses allow you to collaborate with other learners in private Slack channels. Anyone can join, however, seating is limited. If a Chroma course is full, you can always add your name to the waitlist or wait until a new session launches the following month.
Chroma Courses do cost an extra $499 which is a bit steep for average learners like me.
As you can see above, for a brief time Skillshare offered a feature called Chroma Courses. While I never enrolled in one personally (I thought they were a bit too expensive), Skillshare decided to roll back the feature and launch Learning Paths instead (more on that in the following section).
I contacted Skillshare to comment on their decision to remove Chroma Courses. Here is what they had to say:
"Based on the information we gathered from our community and students while running our Chroma Courses, [we] made the decision to deprecate Chroma Courses. Our last Chroma Course ran in June of 2022. While not intended to be a replacement for Chroma Courses, we did recently introduce Learning Paths with curated classes on some of our most popular topics."
Introducing Learning Paths by Skillshare
Learning Paths, on the other hand, definitely feels better suited for learners who are eager to learn but don't want to spend time browsing for the perfect course to take. Instead, Skillshare created Learning Paths where carefully selected courses are stitched together to create one cohesive, well, learning path.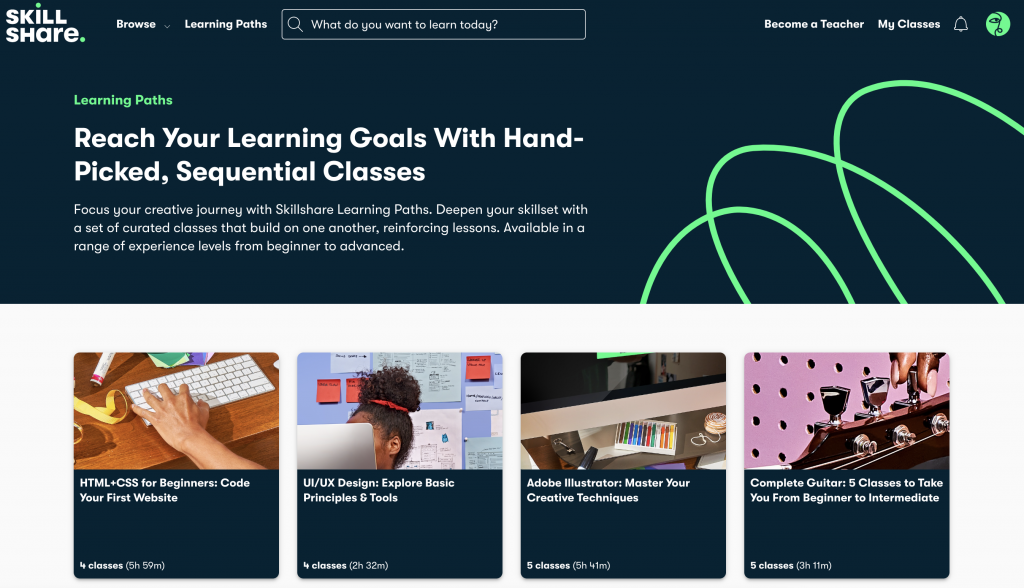 At the time of publication, Skillshare has released 35 Learning Paths ranging from a variety of learning subjects such as playing the piano and self-care.
Basically, when you take a Learning Path, you're essentially enrolling in three to five Skillshare courses.
I've browsed through a select few and noticed that all of the classes are Original productions from Skillshare. That isn't to say they'll reach out to the Skillshare community of instructors and create other Learning Paths. But for now, it appears Skillshare is keeping this new feature's content in-house.
Skillshare Community
Similar to Chroma Courses, Skillshare once offered its learners the ability to join groups to connect with other learners, ask questions, and share ideas. However, this feature appears to be discontinued as well.
Instead, Skillshare now has a section called Student Projects where learners can upload their work for review and feedback by other learners (and instructors). The only drawback here is that Student Projects tend toward creative/artistic projects.
---
How much does Skillshare cost?
If you've Googled "Skillshare cost" but couldn't find a pricing page, you're not alone. Skillshare isn't forthcoming about its pricing, but to save you from all the trouble of internet sleuthing, here is a quick breakdown of what you can expect to pay for Skillshare.
Free membership—Yes, Skillshare offers a free 1-month trial if you sign up for their monthly plan (you can always cancel before you are charged).
Monthly subscription—After your free 1-month trial, Skillshare costs $32 per month
Yearly—If you are looking to save, a yearly membership costs $168 which averages out to $14 per month.
At various times during the year, Skillshare runs a 40% off promotion (promo code "annual40aff") which means you can sign up for a Skillshare annual subscription for a hair over $100. (Prices vary for our non-U.S. readers.) However, for the other times during the year, you can receive a 30% off discount using the button below. (Read my Skillshare Pricing Guide for up-to-date prices.)
Currently, Skillshare is running their Black Friday/Cyber Monday holiday deal which is 50% off with coupon code AFF50. Hurry up and snag this before the promotion is over on November 28th at midnight!
Skillshare also offers team subscriptions if you are looking to furnish your book club or office coworkers with group access.
Finally, if you want to cut down on costs, Skillshare offers students one month free for every new student they refer. That's right if you refer a dozen of your friends you'll receive access to Skillshare for an additional year at no extra cost. That's not a bad deal.
Get complete, unlimited access to all Skillshare classes
🔥🔥50% off Annual Membership with code affdtp50🔥🔥
Did you know Skillshare offers perks?
I love a good deal. Once you sign up for a Skillshare subscription you immediately gain access to perks offered to Skillshare users. Perks range from a variety of creative services and products such as Adobe Premiere Pro, Squarespace, Todoist, Freshbooks, Canva, and more.
The perks vary in savings but quickly add up. To redeem the perks simply visit skillshare.com/perks after you sign up.
---
Are there better Skillshare alternatives?
Aren't there other learning platforms out there? What sets Skillshare apart? If you are looking for other high-quality or accredited online learning Skillshare alternatives, below are a few options to consider.
Skillshare vs MasterClass
MasterClass—unlike Skillshare—offers select, high-quality courses taught by world-renown experts and celebrities. Comparable in cost (the MasterClass Standard plan costs $96 per year), MasterClass only offers just over 150 courses in their catalog with about 2 to 3 new classes added every month.
MasterClass courses tend to also be high-level and geared towards beginners looking to learn a broad set of skills instead of specific niche subjects (like the fridge organization course I found on Skillshare).
Don't get me wrong, MasterClass is one of my favorite online learning platforms based on its wide array of subject material and high production value and definitely worth a look (they offer a risk-free 30-day refund policy).
Skillshare vs Udemy
With Udemy, you gain access to the bargain outlet of online learning. While Skillshare offers over 30,000 quality online courses from high-caliber instructors, Udemy offers thousands of cheap online classes from thousands of unknown instructors.
Nevertheless, Udemy touts a much more niche topic approach where students can learn specific technical skills from less-famous but still highly-qualified specialists. Course discovery is a bit tricky since some topics have hundreds of video courses alone.
If you have time to look for a gem on Udemy, they don't sell monthly or yearly subscriptions. Rather you pay per class access.
Skillshare vs LinkedIn Learning
I'm not the biggest LinkedIn fan (or user). Somewhere along the way LinkedIn lost who and what they are and eventually dove into the world of online learning with LinkedIn Learning.
At $39.99 a month, or $323.88 paid annually, LinkedIn Learning is way more expensive than Skillshare for way less the value. I can see how this can be useful for employers to give to their employees for career development training. But for personal use, I'd much rather spend my time learning from the much more enjoyable Skillshare (which never feels like homework).
Skillshare vs Coursera
Unlike Skillshare, Coursera offers courses from world-leading universities, not everyday instructors.
Coursera's user experience feels a lot more traditional compared to Skillshare. However, Coursera is geared toward more professional users looking to build skills in their profession with actual Degrees and Certificates.
While Coursera has a lot more selection of professional and accredited courses, Skillshare edges out Coursera, in my opinion, due to their diverse selection of videos, ease of use, and curated Learning Paths.
If you'd like to try Coursera, there are plenty of free courses available. I'm currently taking a novel writing course taught by Michigan State University, completely free!
---
How to access Skillshare
Skillshare is available online at skillshare.com or can easily be accessed on their mobile app. The Skillshare app can be found in both iOS and Android stores and offers users the ability to download courses for offline viewing.
However, to access the app, you must first sign up for a 1-month free trial or sign in with an already existing account.
The Skillshare app is easy to navigate and search for new course content. If you want to stay up-to-date on new classes offered by Skillshare, you can turn on push notifications to receive alerts directly to your mobile device.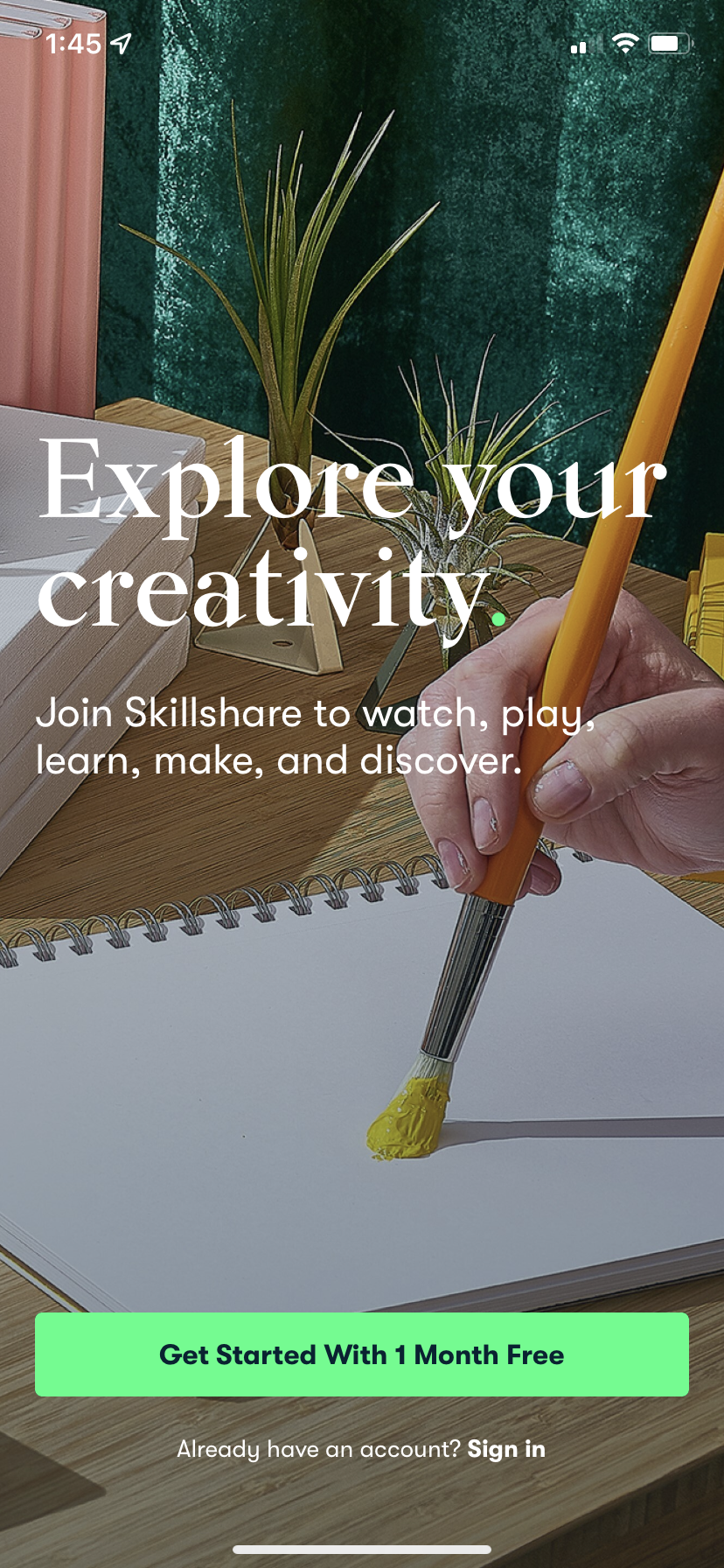 ---
How to cancel Skillshare
I get it. Maybe you want to try Skillshare but are worried that canceling your subscription will be a huge hassle. Fear no more.
To cancel your Skillshare subscription, follow these steps in order:
1.) Click on your profile icon and go to "Payments"
2.) In your "Account Settings" click on the "Cancel Membership" link
3.) Follow the prompts to cancel
It's seriously that easy. There is no haggling with stingy customer service reps, no number that you have to call, and no surprise charges on your credit card after you cancel.
---
Skillshare classes are worth it for…
Although they boast over 30,000 courses on a wide range of subjects, Skillshare is definitely geared for (and marketed toward) creative individuals. While you are likely to find courses on practically anything (like fridge organization tutorials), Skillshare is worth it for individuals looking to learn or grow their creative skills.
For proof, below are a few of the top-viewed Skillshare courses over the past six months (March-September 2022). Notice a trend?
If holding a pencil is about as creative as you get, no worries, there are enough courses in a Skillshare premium membership to keep you busy. With easily-digestible video lessons, students can watch on their lunch breaks, on public transit, or late at night in lieu of Netflix.
If you are a more hands-on learning kind of person, Skillshare is definitely worth it with most courses complemented with a project to complete. By the way, I am this type of person which is why I signed up for Skillshare in the first place.
And if you don't like a course, did I already mention there are plenty of other options from which to choose? Sure, you might not find a Margaret Atwood-level class on writing, but you will find hundreds of writing classes from trending and established writers.
As I keep mentioning, you can always try a Skillshare free trial and find out if Skillshare is worth it for you.
Get complete, unlimited access to all Skillshare classes
🔥🔥50% off Annual Membership with code affdtp50🔥🔥
---
FAQ
Does Skillshare come with a free trial?
Yes, you can sign up for a 1-month free trial of Skillshare. You will have to create an account, however, you can cancel your subscription prior to being charged if it turns out Skillshare is not for you.
How much does it cost to join Skillshare?
A yearly membership costs $168 which averages out to $14 per month. However, Skillshare often runs promotions that can help you save between 30-40% off their subscriptions.
Can I cancel my Skillshare membership?
Yes, to cancel your Skillshare subscription, go to "Payments" in your "Account Settings" and click on the "Cancel Membership" link and follow the prompts.
Is there a Skillshare app?
Yes, there is! The Skillshare app is available to both iOS and Android users.
Can I watch video classes offline?
Yes, to view video classes offline simply navigate to any course and click on the "Download Video" button. The videos will be saved under the "My Classes" button on the Skillshare app.
Can I stream Skillshare courses on my smart T.V.?
Yes, with Chromecast or Airplay you can stream Skillshare videos directly to your television. Follow these more detailed instructions to do so.
---
Final review of Skillshare: Does Skillshare work?
The short answer is yes, Skillshare works.
The long answer is still yes, but only if you make it work. Like anything in education, learning takes time, patience, effort, and a willingness to put yourself in a place of curiosity. Luckily Skillshare offers students all of these options in a convenient and practical space.
If you are willing to find the right courses, watch the video lectures, complete the projects, and ask for feedback, then yes, Skillshare will work for you.
The good news is that you can try all this for yourself and make your own decision with a one-month free trial.
Get complete, unlimited access to all Skillshare classes
🔥🔥50% off Annual Membership with code affdtp50🔥🔥