In this Gordon Ramsay MasterClass review, we'll see if his online course on home cooking actually helps you to learn new skills and new recipes you can use in your home kitchen.
Gordon Ramsay, the energetic, boastful, and rough-around-the-edges chef, begins his MasterClass on Cooking (Part 1) with an elegant promise.
What you are going to see for the first time ever is real detail, real understanding, and finesse brought together from start to finish. You'll see a side to me across this class that I don't think has ever been shown before.
The gregarious world-renowned chef and television personality might not be your first idea of a MasterClass chef. However, after watching Ramsay's class I've grown to respect his culinary talents as well as his love of sharing his craft.
I set out to answer one question: Will Gordon Ramsay's MasterClass teach you to become a better cook at home?
I discovered that yes, you will be a better home cook, but only if you have some experience in the kitchen first (skip ahead to find out why).
The biggest downside of this MasterClass is you'll have to frequently pause it to grab a snack — everything Ramsay cooks looks delicious.
Let's dive deeper and unpack this MasterClass.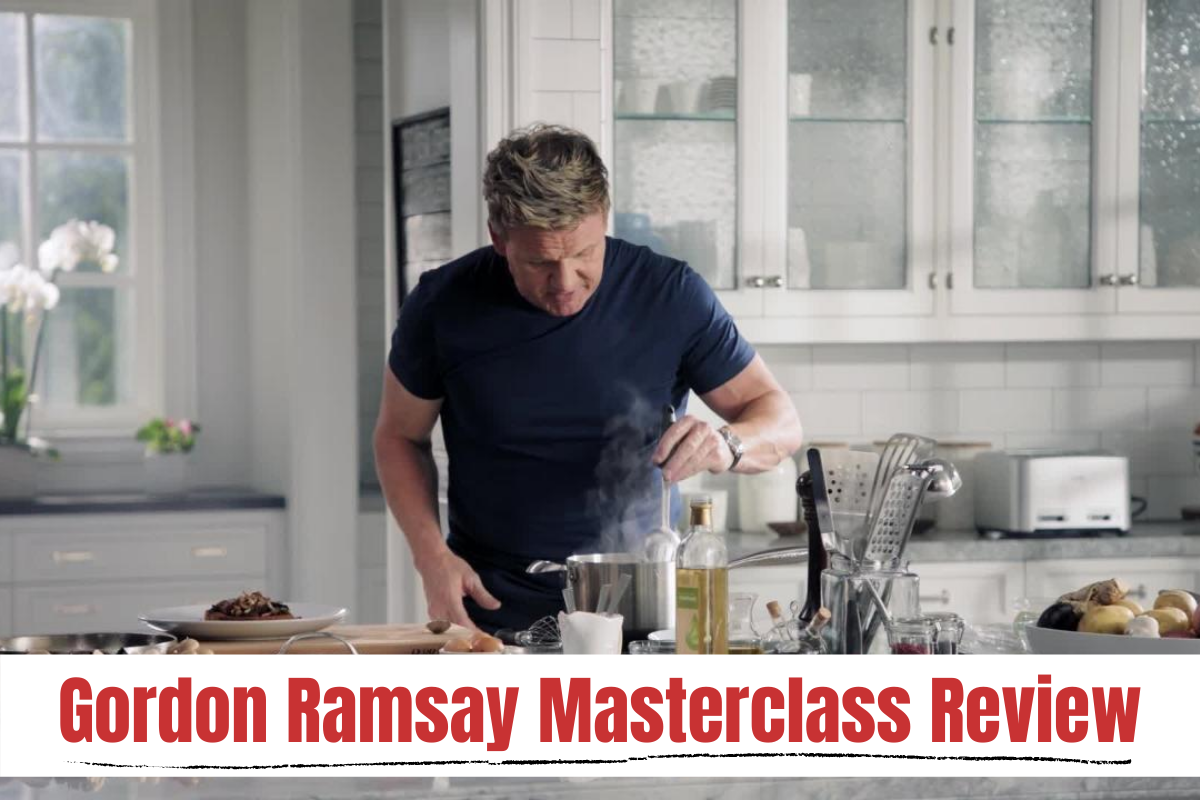 Quick Q&A about Gordon Ramsay Teaches Cooking
Do I need a subscription to access this course?
Yes. MasterClass charges a yearly subscription to access all of their courses. Jump to the pricing section to learn more.
How long is the MasterClass?
The Gordon Ramsay MasterClass on Cooking (Part 1) is 3 hours and 53 minutes long and spans 20 video lessons.
Does MasterClass have a cancellation policy?
Yes. If you cancel within 30 days of purchase, MasterClass.com will uphold their money-back guarantee and issue you a full refund.
Is the Gordon Ramsay MasterClass worth it?
Yes. Even better, a MasterClass membership gives you access to Ramsay's Part 2 class on restaurant recipes.
---
About Gordon Ramsay
Gordon Ramsay is the British chef and television personality known for his work on MasterChef, Hell's Kitchen, and Kitchen Nightmares. He also owns the world-renowned Restaurant Gordon Ramsay in Chelsea, London and has written various cookbooks.
He began cooking at the age of 16 after a knee injury prevented him from chasing after his football dreams. At 23 he moved to Paris to study cooking from the best, namely Guy Savoy and Joël Robuchon. There, he spent 3 years honing his craft before eventually moving back to London and becoming the head chef of Aubergine.
Chef Ramsay is a seven-star Michelin chef which means in total his restaurants have earned seven coveted Michelin stars across his career. For reference, this puts him in the top ten chefs alive today.
---
What does this MasterClass promise?
As a decent home cook myself, I had high hopes and expectations coming into this MasterClass. I knew there were areas in the kitchen where I need to improve and I really wanted to learn how to chop and slice as the professional chefs do on cooking shows.
This sales page for this MasterClass promises one thing: you're not just learning recipes, you're learning how to take your cooking to the next level.
The "next level" they speak of is threefold:
Learning kitchen setup and step-by-step techniques
Understanding ingredients
Constructing unforgettable and mouthwatering dishes
Ramsay is a seven-star Michelin chef. He's known for his brash behavior in the kitchen. However, judging from the course trailer, this MasterClass seems to want to showcase another side of him. One that is generous to show the skills and knowledge he's gathered over the past 30 years in the culinary arts.
However, my first question before diving into the lessons was: who exactly is this class for? The Introduction lesson answered my question somewhat.
What you are going to see for the first time ever is real detail, real understanding, and finesse brought together from start to finish. Everything I've learned, understood, grabbed, stolen, perfected is laid bare across this MasterClass.
From what I could gather early on, MasterClass is making a big promise: We'll teach you home cooking skills from a seven-star Michelin chef, but only if you have some experience beforehand.
As I'll explain below, if you already don't know how to cook, this MasterClass might not be beneficial for you. However, you will certainly find it inspiring.
So, did Ramsay's cooking class live up to its promises? Did he meet my expectations? I'll cover that at the end of the review (skip ahead if you want to find out). But first, let's talk about what's probably on your mind:
---
How much does Gordon Ramsay's MasterClass cost?
If you want to take Gordon Ramsay's Masterclass, you have three all-access pass options to choose from.
In 2021, MasterClass began testing alternative subscription models besides their original flat-rate annual membership. Eventually, they settled on a new cost-friendly three-tier MasterClass pricing model for their annual subscription:
Individual – $120 per year (average $10 per month)
Duo – $180 per year (average $15 per month)
Family – $240 per year (average $20 per month)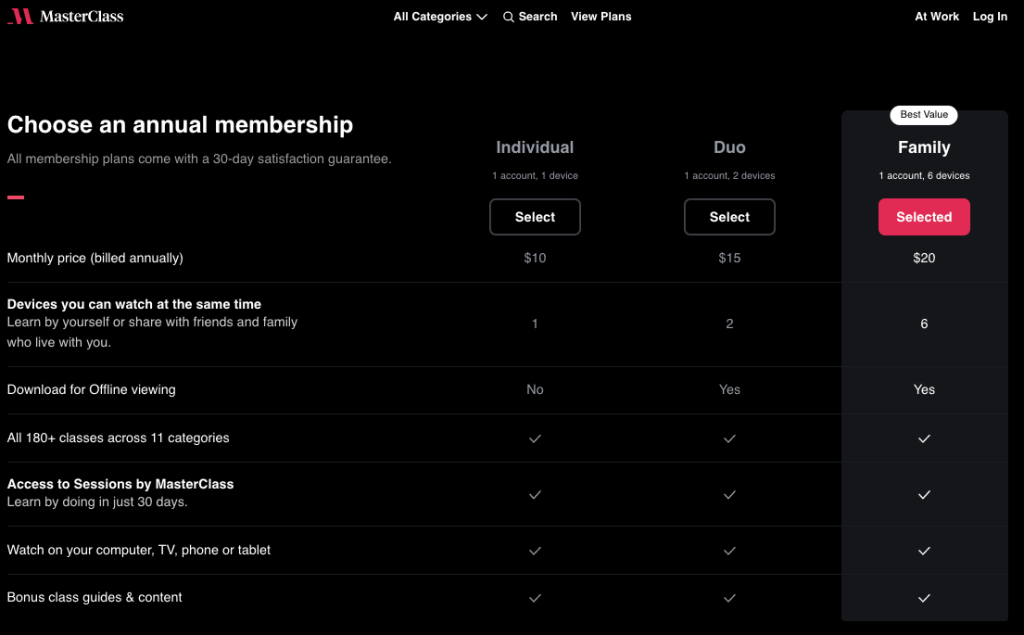 The Individual membership (formerly the "Standard Plan") is perfect for single individuals who are most likely to consume online learning at home. The Duo (formerly the "Plus Plan") and Family (formerly the "Premium Plan") plans are better for couples as MasterClass allows multiple devices to watch at the same time. (Netflix has similar restrictions for their membership plans).
However, the ability to download video lessons for offline viewing is helpful for people who might want to watch MasterClass on their commute to work without eating up most of their data. The Plus and Premium plans offer their users the ability to do just that.
Personally, I go for the $120 per year option as I average about one MasterClass per month, which means my cost per class is $10.
The price may seem steep, however, the subscription gives you unlimited access to all 150+ MasterClass courses, including Ramsay's other cooking course on restaurant recipes and other notable chefs such as Dominique Ansel, Alice Waters, Thomas Keller, Massimo Bottura, and Wolfgang Puck.
If you look at it, one MasterClass is someone's entire body of professional work presented in well-organized and educational video content. In addition, one MasterClass subscription grants you access to over 150 of these courses.
Moreover, if it turns out the Gordon Ramsay MasterClass isn't for you, chances are you'll find other MasterClasses you will enjoy.
---
What is included in the Gordon Ramsay Cooking MasterClass?
Here's a rundown of what you are getting with the Gordon Ramsay MasterClass.
| | |
| --- | --- |
| Runtime: | 3 Hours 53 minutes |
| Reviews: | 4.7 out of 5 ⭐️ |
| Lessons: | 20 video lessons |
| Materials: | 1 class cookbook |
Runtime
The runtime is just short of 4 hours, which is about average compared to other MasterClasses I've taken before. I preferred watching the course at 1.5x speed which means I finished the entire video course in about 2 and a half hours.
Supplemental material
This MasterClass comes with only one form of supplemental material, a 44-page downloadable "cookbook" and workbook. All 6 recipes Ramsay cooks are listed in the PDF which means you won't have to scramble for pen and paper while watching the lessons. The PDF also comes equipped with links to other helpful resources (such as this printable seafood guide), as well as, sections titled "Take if further" that offer valuable insights not covered in the video lessons.

Community Access
Finally, like every MasterClass, this one comes with its own Community Forum where you can interact with fellow aspiring cooks. The Ramsay page is active with other passionate learners and home cooks and is a great resource to receive peer feedback on your cooking skills.
---
About the structure of the class
Gordon Ramsay's Masterclass on cooking is divided up into 20 cooking lessons with an average run time of approximately 11 minutes per lesson. However, the video playback buttons offer you the ability to watch the course at 1.5x and 2x speed.
Lesson plan:
Introduction
Gordon's Journey: Learning from Masters
Method: Kitchen Layout
Mastering Ingredients: Vegetables & Herbs
Make: Poached Egg & Mushrooms on Brioche
Method: Knife Skills
Make: Elevated Scrambled Eggs
Method: Breaking Down a Whole Chicken
Make: Chicken Supreme with Root Vegetables
Mastering Ingredients: Fish & Shellfish
Gordon's Journey: Becoming a Master
Method: Breaking Down a Whole Fish
Make: Salmon with Shellfish Minestrone
Method: Making Pasta Dough
Method: Rolling Pasta Dough
Make: Lobster Ravioli
Mastering Ingredients: Beef, Lamb & Pork
Make: Beef Wellington
Advice for Life
Closing
The key thing to understand about this MasterClass is how it is organized. The MasterClass team smartly alternates the different focuses throughout the class. Ramsay focuses on three main subjects: Make, Method, and Mastering Ingredients.
Make
Poached eggs and mushrooms on brioche
Elevated scrambled eggs
Chicken supreme with root vegetables
Salmon with shellfish minestrone
Lobster ravioli
Beef wellington
Method
Knife skills
Breaking down a whole chicken
Breaking down a whole fish
Making pasta dough
Rolling pasta dough
Mastering Ingredients
Fish and shellfish
Beef, lamb, and pork
Typically, I create an abbreviated lesson plan where I pick and choose the most critical lessons from the MasterClass. However, the way Ramsay's class is organized makes it important for students to watch all the lessons in order. Each lesson builds off one another and the recipes become increasingly more technical and advanced.
I enjoyed how the lessons alternated so that you weren't stuck with a series of recipes followed by a series of cooking methods. Instead, they provide enough variety to keep the class moving along.
---
Key Things I Learned
I always thought I was pretty decent at chopping vegetables. Turns out I've been doing it all wrong.
I learned a lot in Ramsay's MasterClass, more than I expected. First, I learned how to properly grip a kitchen knife as well as how to place your free hand to control the vegetable you're chopping. (Ramsay uses butternut squash as an example, one of the most awkward vegetables to dice).
Second, Ramsay provided a thorough cookware review of everything he considers essential to his kitchen.
Third, I learned how to use different herbs and what to look for in fresh ingredients. I even learned how to make pasta dough from scratch.
However, Ramsay taught me the importance of "knowing what works and knowing how to put food on a plate." Even if you aren't an aspiring chef, Ramsay wants to instill in his students a love of food. A love that requires our understanding of it.
To dive deeper, the next two sections cover what I specifically liked and disliked about Ramsay's MasterClass.
Things I liked about the Gordon Ramsay MasterClass
Chicken is one of the world's most popular ingredients. I eat it at least a few times a week as it's a great source of protein and is low in fat. However, any time I go to the grocery store I always buy a chicken that's been broken down for me. I'm terrified of whole chickens.
That all changed after Lesson 8.
Lesson 8, over the span of 9 minutes, confidently breaks down a whole chicken into 8 beautiful portions (breasts, drums, thighs, and wings). The last time I tried breaking down a whole chicken, I butchered it — and not in the good kind of way.
Breaking down a whole chicken is just one of many examples where Ramsay takes a "scary" cooking technique and makes it look simple. I know he's had many more years of experience than me, but he presents these techniques in a way that anyone can learn from.
A few other notable mentions:
Proper kitchen layout (even if you have a small kitchen)
Understanding the importance of ingredient seasonality
Making the perfect pan sauce (and perfecting the trick where the pan catches on fire!)
Making pasta from scratch
Things I didn't like about the Gordon Ramsay MasterClass
Do you use sea urchin tongues or grated white truffle in your scrambled eggs? No, me neither.
This is where I was most concerned about going into the MasterClass. How does a world-renown chef, like Ramsay, pare down recipes so they are accessible to most people? I've never eaten sea urchin tongue nor have I ever put them in my scrambled eggs, but according to Ramsay they "elevate the creaminess" of the eggs.
All 6 recipes covered in this MasterClass included an ingredient or a tool (like a pasta roller) that I either never carry in my kitchen (unless it's Italian red wine) or would have to make a trek to Whole Foods to find. Although I found the recipe demonstrations helpful, I'll probably stick to simpler recipes.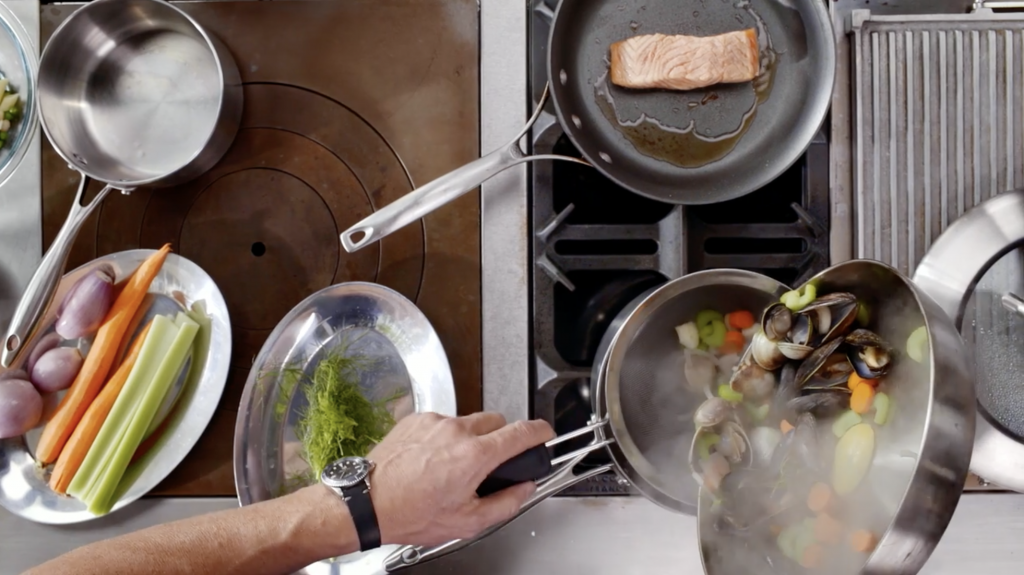 ---
Does the class keep its promises?
I want to say yes because I feel that this MasterClass has taken my cooking "to the next level." However, this comes with a major caveat: I already have a lot of cooking experience and understand many of the basics and fundamentals not covered in this class.
I've been cooking for well over 10 years and could easily follow along.
If you are new to cooking, I'd say this class is probably too advanced. You'll learn a lot and will have a benchmark to aspire towards, however, you might find the recipes unattainable at this stage of your cooking level.
Nevertheless, Ramsay is an inspiring chef so even if you don't learn the basic necessary skills, you will certainly be inspired to get into the kitchen and learn more.
---
Is Gordon Ramsay's MasterClass worth the money?
Yes if you…
Have cooking experience and would like to elevate your skills
Are interested in learning a few "high end" recipes
Want to study from one of the best chefs in the world
Are a fan of Gordon Ramsay and want to see a different side of his personality
No if you…
Are a complete beginner in the kitchen
Don't enjoy cooking
Want to learn more basic cooking skills
---
Conclusion
In conclusion, I highly recommend the Gordon Ramsay MasterClass on home cooking only if you have some experience and understanding going into the class. If you are a complete beginner, I'd recommend finding resources elsewhere to begin your cooking journey.
Nevertheless, I enjoyed the MasterClass and found Ramsay to be a surprisingly pleasant instructor. He even ends the class with a bit of life advice:
Finding your passion in life is the most important thing you can do. Stop worrying about a bonus and financial security. Find a passion because everything else falls into place once you've got that track set.
If you're interested in boosting your puree skills or want to impress your friends at your next dinner party, check out the MasterClass trailer to learn more:
---