Here are the nine best gifts for chefs for the upcoming holiday season!
Many home chefs (and professional chefs) love to prepare and serve delicious dishes in their kitchens. Some people turn their love of cooking into a career, while others use their skills to entertain friends and family. Regardless, you probably have at least one beloved chef to shop for each year.
When we purchase gifts for the people we love, we try to find items they will enjoy and use because of what they enjoy in life. However, if you aren't a great cook, you may not know what perfect gift to buy for the chef on your list. Infomercials bombard you with fancy kitchen tools or futuristic kitchen gadgets. But choosing the best holiday gift for your loved one can feel a bit overwhelming.
Look no further. We have assembled a gift guide of nine thoughtful gifts for your favorite chef. So put that cheese board back on the shelf and find something that's next level for your foodie enthusiast!
---
In this gift guide:
---
#1 Chef Gift Idea: A MasterClass Subscription
The art of cooking takes serious practice. Chefs are constantly looking for new techniques to master and recipes to try. Taking in-person cooking classes can be expensive, but a MasterClass subscription brings the classroom into your favorite chef's kitchen for a fraction of the price.
For just $15 per month, chefs at any experience level can learn from the world's best master chefs and restauranteers through over 180 structured, 30-day courses filled with brief video lessons and related hands-on activities.
The courses available on MasterClass cover a wide array of topics. There are nearly 30 classes in the Food category, which cover so many different styles of cooking and kitchen techniques. However, these classes aren't just taught by anyone—they are offered by some of the most notable chefs around the world.
Some stand-out classes include The Art of Home Cooking with farm-to-table movement leader Alice Waters, Modern Italian Cooking with the award-winning Italian chef and restauranteur Massimo Bottura, and Mexican Cooking with Iron Chef Gabriela Cámara. Of course, if you are looking for more introductory courses for an aspiring chef who is just getting started, both Gordon Ramsay and Thomas Keller offer a series of introductory courses for this very purpose.
If the chef you are shopping for has aspirations of sharing their creations with the world, then they may also like the classes available in sectors like business or design and style. They can also check out classes for writing, art, and more.
A MasterClass subscription is a Christmas gift that keeps on giving for any home cook in your life. New classes are constantly being added, and there's already a great variety for the taking.
🔥 Get 50% off a MasterClass subscription! 🔥
Get a head start on Father's Day shopping with a MasterClass 50% off offer. Give the amazing dad in your life a gift that fuels his passions and empowers him to reach new heights!
2. Kitchen Scale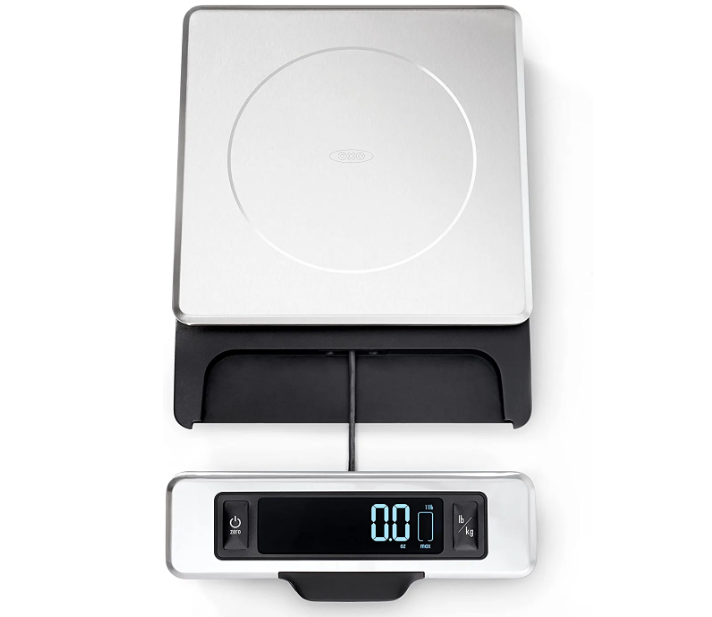 Most novice cooks roll with the basics. However, if you are shopping for someone who genuinely loves to cook, they probably want to prepare their dishes with precision. That's where a good quality kitchen scale can come in handy.
As the name implies, a kitchen scale is a tool you can use on your countertop to weigh food items. With this handy gadget, a chef can adequately measure ingredient serving sizes and help portion out food when the meal is completed. These devices help you avoid the issue of certain items getting packed down, meaning you don't end up with inaccurate measurements like you can with a measuring cup or spoon. This ensures that your recipe tastes great and has everything in the right proportions.
In general, you want a scale that offers accuracy to the smallest measurement possible and one that is easy to clean up and store. If you need recommendations for a high-quality kitchen scale, check out the OXO Good Grips 11-Pound Stainless Steel Food Scale or the Zwilling Enfinigy Digital Kitchen Food Scale.
3. High-Quality Chef's Knives
No matter what style of cuisine the chef in your life loves to make, they will need a good set of knives at their disposal. Unfortunately, not all knives are made the same, so you need background information on what makes a good knife before you simply buy a set that "looks pretty."
Typically, kitchen knives made from carbon steel are of the best quality. They are highly durable and robust, maintaining their sharpness for much longer than knives of other materials. You also don't want a knife that is too light, nor do you want one that is so heavy that it interferes with the chef's movements. You want knives with a well-distributed weight that feels comfortable in your hand.
Regarding brand, look for Wusthof, Zwilling J.A. Henckels, and Shun. Other brands have good quality knife sets, but you will want to carefully research and read reviews before buying something cheap or a brand you've never heard of.
4. Books For Chefs
As previously mentioned, one thing that makes chefs stand out from the crowd is their willingness to continue learning and evolving. The more a chef reads and studies, the better he becomes. That's why books make a great gift for chefs—they give them the opportunity to keep learning.
For example, the book "On Food and Cooking" by Harold McGee dives into the science of cooking. It explains foundational information like temperature and ingredient selection, what makes food flavorful, and what makes cooking "healthy" or not. Although it includes tons of information, this book is quite accessible for chefs at any level, even those who are just getting started.
If the chef you're shopping for enjoys letting their creative juices flow and has some artistic talent, they may enjoy "Culinary Artistry" by Andrew Dornenburg and Karen Page. This book provides recommendations on how food, imagination, and taste can all intersect in your meal preparation. It also includes interviews with notable culinary artists and chefs so your favorite cook can pull inspiration from multiple sources and experiment with their cooking.
There are dozens of great book options, and these are just a couple. You can find many great options from booksellers everywhere without even touching cookbooks.
5. Cutting Board Care Items
Chefs use a lot of cutting boards, which we know is true. However, the best cutting boards are made of wood, which requires lots of care to maintain. So, if you see the chef you are shopping for uses wooden cutting boards often, you can provide them with the items they need to care for their beloved cutting boards properly.
For everyday care, your chef can hand wash the cutting board using materials they already have at home. However, they should also apply a mineral oil like Thirteen Chefs Food Grade Mineral Oil or Howard Products Cutting Board Oil at least once per month to care for the wood. You can also apply finishing wax after you wipe the board down, which the chef you are buying may need.
If in doubt, you can always get Clark's Cutting Board Oil and Wax kit. This includes the oil and wax, plus an applicator and buffering pad. Given all the kit consists of, it is a fairly affordable option, especially if you are shopping for a Christmas or another holiday.
6. Aprons
Chefs get dirty while they work. They also sometimes need extra hands to hold things for them while they work. Luckily, a good kitchen apron can solve both of these common issues cooks encounter.
Bib aprons are very traditional and the most popular. These aprons provide full-body coverage against spills and backsplashes. The length also gives chefs a great place to wipe their hands as they work. The loose neck loop and ties in the back of the apron make it easy for chefs to take it on and off. Most bib aprons also include pockets, which helps a chef who constantly needs to carry items around, like their meat thermometer, utensils, and other small kitchen items.
However, if the chef you are buying for doesn't like bib aprons, there are other styles to choose from. There are bistro aprons, 4-way aprons, and server aprons. However, most of these other aprons don't provide the same level of protection as the traditional bib apron.
If you want to really get into it, you can buy a customized apron with their name embroidered on it through sites like Etsy or local vendors.
7. Hydroponic Garden
Many chefs love growing their herbs. After all, home-grown herbs taste better, and you can easily select the herbs you want without the hassle of running to the grocery store. Unfortunately, weather conditions can make it hard to grow herbs outside in a traditional year-round. That's where this gift comes in: a hydroponic garden.
If you aren't familiar with hydroponic gardens, they are a growing system that lets you cultivate various edible plants inside your home without soil or the outdoors. The appeal of hydroponic gardening is that it enables you to grow herbs, fruits, and vegetables inside your home all year long, even when these plants wouldn't normally grow outside in nature. These gardens also take up very little space, which makes them perfect for chefs living in tiny homes.
You can purchase hydroponic garden kits from Amazon, Home Depot, Walmart, and most other retailers selling gardening items. You can also select plants to go in the garden based on what you know the chef you're shopping for likes the most. They may want herbs, or they may want a variety of edible plants. You can decide what the best approach is.
8. Stainless Steel Soap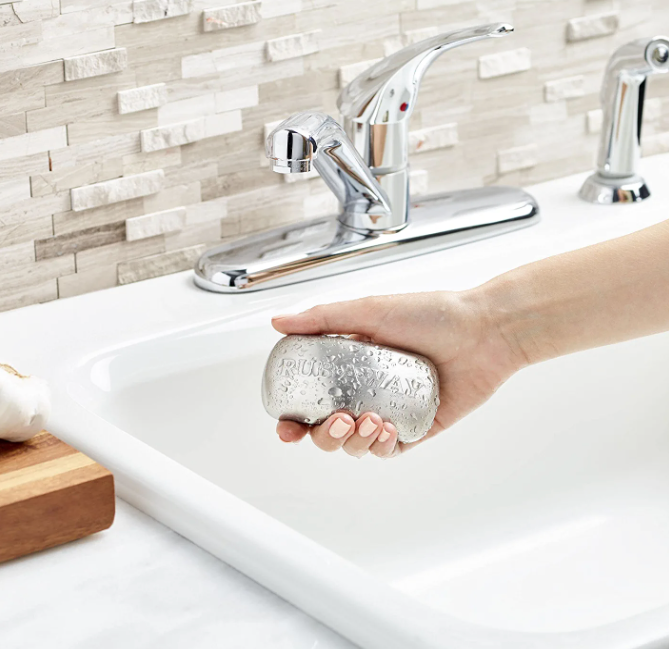 If you've ever cooked anything with garlic, you know how hard it is to get that scent off your fingers or hands. The same can be said about other smelly foods, like fish, onion, and more. Regular soap often doesn't cut the smell, which can be an issue for someone who always cooks.
So, if you're looking for the best gift for chefs, look no further than a bar of stainless steel soap!
This item isn't technically soap but a bar of stainless steel that you rub on your hands. The molecular structure of the stainless steel binds with the molecules on your hands that cause the odor. It then transfers those molecules to the steel, meaning the smell is off your hands.
These stainless steel bars are relatively affordable. (You can purchase one on Amazon for just $10.) This makes them the perfect add-on item or stocking stuffer for a chef. 
9. Restaurant Gift Card
Usually, people who like to cook also like to eat food. In fact, eating at a high-quality restaurant can often inspire chefs to break out of their comfort zone and try new recipes or styles of cuisine. Eating out isn't cheap, though, especially for people who love good food.
If you feel like giving the chef in your life a treat, you can get them a gift card to a restaurant you know they may like. You can approach this gift idea two different ways. If you want to give them something to talk about, you can purchase a gift card to a restaurant they haven't tried yet. This gives them a chance to explore new recipes and see what they like. Otherwise, you can get them a gift card to a restaurant you already know is on their favorites list so they can enjoy a night off from cooking and eat their favorite dishes.
Just make sure any gift card you get will cover at least one person's entire meal. There's nothing worse than going out to eat with a gift card that barely covers a single dinner dish.
Help Your Favorite Chef Whip Up Something Tasty
Locating the best gifts for chefs doesn't need to stress you out. Most cooks will appreciate anything that helps them work their magic in the kitchen. Many items make great gifts for chefs, and these nine items are a fantastic starting point. If you're still looking for ideas and are willing to splurge, consider these gift alternatives:
Williams Sonoma gift card
Truffle infused olive oil
Ooni pizza oven
Breville sous vide
Lodge cast iron skillet
Le Creuset dutch oven
Silicone nonstick baking mats
Mandoline slicer
Kitchenaid mixer
Vitamix blender
Some of these recommended gifts, like the subscription for MasterClass, are an investment that will continue to pay dividends for years to come. Other options, like new cutting board care items, will eventually need to be replaced, but they will help in the short term.
At the end of the day, you know the chef you are shopping for the best. You probably know what items from this list are already standing out. So, trust your gut and finish your gift shopping!