Here are the eleven best writing gifts for writers for the upcoming holiday season!
Writing is a career for some people but a beloved hobby for many more. Because of this, you probably know at least one person who is a writer. When you consider the best gifts for writers, you want to find something that not only helps them draft their next masterpiece but also lets them recharge.
As a writer myself, I'm always appreciative when loved ones consider my "writer needs" instead of just sending another Amazon gift card (although those are still helpful at times).
With that goal in mind, I've curated this list of the 11 best gifts for writers.
---
In this gift guide:
---
1. A Subscription to MasterClass
Even the best writers need to improve their craft. One of the best ways to do this is by learning skills and techniques from professional writers on MasterClass. For just $15 per month, the professional or aspiring writer in your life can learn from the world's best writers through over 150 structured video courses or 30-day hands-on curriculum options.
There are over 20 unique writing courses available through MasterClass, and many of them are taught by the biggest names in the world of literature and creative writing. Some notable courses available on MasterClass include Writing for Television by Shonda Rhimes, Creative Writing by Margaret Atwood, and The Art of Storytelling by Neil Gaiman.
The course options don't just end there, though. The creative writer you're shopping for may also be interested in other course categories like business, arts, or wellness. Also, all video lessons on MasterClass can be streamed from any device, meaning your favorite writer can learn from the comfort of their home, or anywhere they please.
And gifting a MasterClass subscription is quick and easy. I've written an in-depth gift guide here:
A subscription to MasterClass is really the gift that keeps on giving, making it a worthwhile investment and the perfect gift for any writer.
🔥 Get 50% off a MasterClass subscription! 🔥
Get a head start on Father's Day shopping with a MasterClass 50% off offer. Give the amazing dad in your life a gift that fuels his passions and empowers him to reach new heights!
2. Writer Emergency Pack
Writers rely on their minds to provide them with great ideas to keep them going. Unfortunately, writer's block can get in the way sometimes and prevent authors from finishing their stories. Luckily, this Writer Emergency Pack can provide everything a storyteller needs to fight off any bouts of writer's block.
This deck of 52 cards includes a variety of different writing prompts to help writers get unstuck when their creative juices run dry. The cards focus on topics related to storylines, characters, and conflict, which means they work best for people writing fiction novels, scripts, poems, or plays. The Writer Emergency Pack is another tool in a writer's toolbox.
The ideas aren't just abstract concepts—they're specific ideas that provide immediate inspiration to keep the story moving along and help your favorite writer dive back into their writing process. Many writers who have used them say they take your mind off of your writer's block and help you focus back on the story that is unfolding on paper. And, for less than $20, this simple deck of cards makes a great stocking stuffer and a unique gift for any occasion.
3. A Thesaurus
Even when writers aren't fighting off writer's block, they're still dealing with the age-old problem of figuring out the best way to say things. Unfortunately, this can sometimes lead to too much repetition, which makes texts boring and boring (sorry, I had to throw in a thesaurus joke at some point). So, if you know the Hemingway in your life is looking for ways to spice up their latest masterpiece, consider buying them a thesaurus.
In case you don't know what a thesaurus is, it's a book of words with their synonyms and antonyms listed. This makes it easy for writers to quickly lookup a word and find a suitable replacement based on the rest of the sentence or paragraph. Yes, Google can do this as well, but as a writer, I can say there is no better feeling than flipping through a real thesaurus to find the right word.
Any thesaurus, like the Oxford American Writer's Thesaurus, is helpful. However, there's an entire series of writing-specific thesauruses out there to help writers find creative ways to describe character emotion, conflict, and various settings. This Writers Helping Writers series includes a total of nine thesauruses, each with a specific focus area. This can be great for fiction writers, but it can also help writers who simply want to work on their craft and learn to describe anything in their writing with greater detail.
4. Noise-Cancelling Headphones
Writing requires concentration. Whether the writer you are shopping for writes from their favorite coffee shop or the comfort of their desk chair, chances are they deal with noise distractions from time to time. These sounds can cause a shift in focus that leads to lost writing time. When not carefully managed, this can lead to frustration or missed deadlines.
Luckily, noise-canceling headphones exist for this exact reason. They protect from sounds that occur around someone while they work. Depending on the model, they can also provide wired or wireless Bluetooth connectivity to a laptop or mobile device, meaning a writer can enjoy soothing music or watch a MasterClass video while they work.
No matter how much you're looking to spend on your beloved writer, there are a variety of noise-canceling headphone options that fit into every budget.
5. Grammarly Subscription
Many writers use their computers or smartphones to write these days. Although apps like Google Docs offer basic spell check, they don't catch every single grammatical error. These tools also don't offer suggestions for tone, sentence length, and other things that enhance readability. However, there is one tool that does: Grammarly.
Grammarly is powered by AI technology that provides corrections and optimization tips for all aspects of writing, including sentence structure and word choice. It also includes a plagiarism checker and offers suggestions relative to tone and formality, so you can seamlessly switch from writing a fiction novel to drafting a formal pitch email to publishers.
Purchasing a Grammarly Premium subscription for the writer in your life as a gift is straightforward. You just need their email address to get started, then decide how long you want their subscription to last.
All in all, a Grammarly subscription is an excellent writing tool that your favorite writer absolutely needs.
6. Back and Neck Massager
Since most writers now use computers to do their work, they usually spend hours at a time hunched over a non-ergonomic desk or table. This can cause back and shoulder tension, which makes writing more difficult. But, you can help them remedy this situation with a back and neck massager.
Some options, like the Viktor Jurgen Shiatsu Neck and Back Massager, can use used while working. Others, like the InvoSpa Shiatsu Back Shoulder and Neck Massager, are meant to be used while not doing another activity. Regardless of which option you choose, any massager that includes heating will be appreciated. 
7. Adjustable Standing Writer's Desk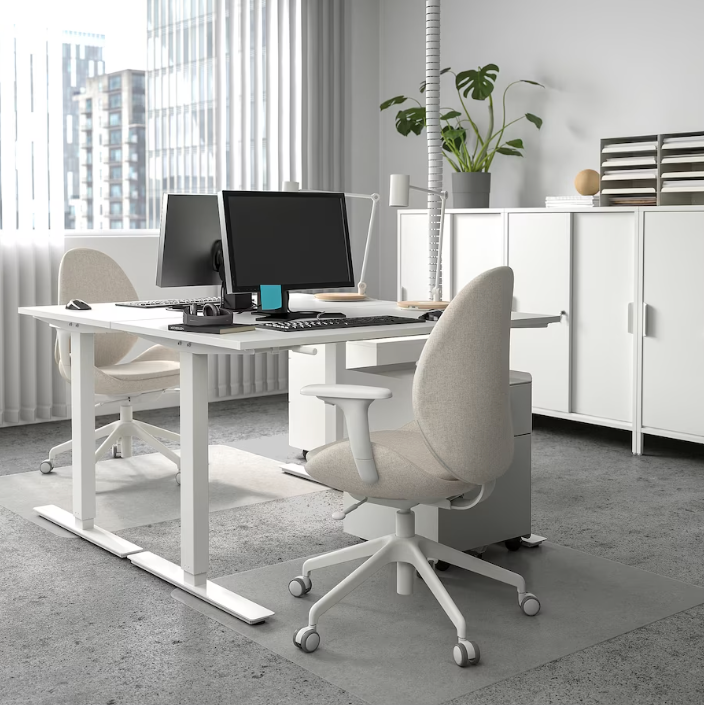 Again, writers spend a lot of time working at a desk. However, nothing says they have to sit down when they work. Standing desks exist to give people the option to sit or stand, and they are one of the best gifts for writers because they provide this versatility.
Of course, there are many options when it comes to standing desks. You can go with affordable options that include manual adjustments like the Ikea Trotten Standing Desk or more elaborate options like the Vari Electric Standing Desk. It all just depends on your budget and what you think will work best for the writer you are shopping for.
When purchasing a desk, think about their living space so you can get a desk that will best fit. Also, consider their preferences for color and style, as there are many options to choose from. Worst case scenario, you can buy them a gift card and let them pick the desk they like best, although that isn't nearly as fun.
8. Books About Writing (Or a New Kindle)
Believe it or not, writers also like to read. In fact, many bookish writers read about writing so they can improve their skills and make their masterpieces even better. This means that books about writing also make great gifts for writers, and they are thoughtful gifts they will absolutely use!
One popular book for writers is Bird by Bird: Some Instructions on Writing and Life by New York Times bestselling author Anne Lamott. It offers superb writing advice but is wrapped in a hilarious, helpful package filled with laughter and honesty. Some even say it's one of the funniest books ever written about such a serious subject.
Other great options include The Forest for the Trees: An Editor's Advice to Writers and On Writing: A Memoir of the Craft.
If you think the book lover/writer in your life already has all of these books, you can always get them a gift card to their favorite bookstore instead. Or, you could get them a new Kindle with a pre-paid Kindle Unlimited subscription so they can pick out the best books for themselves. Chances are they will make use of it fairly quickly, and this guarantees they get some books they want out of the deal.
Who knew reading could make great writing gifts?
9. Rocketbook Smart Reusable Notebook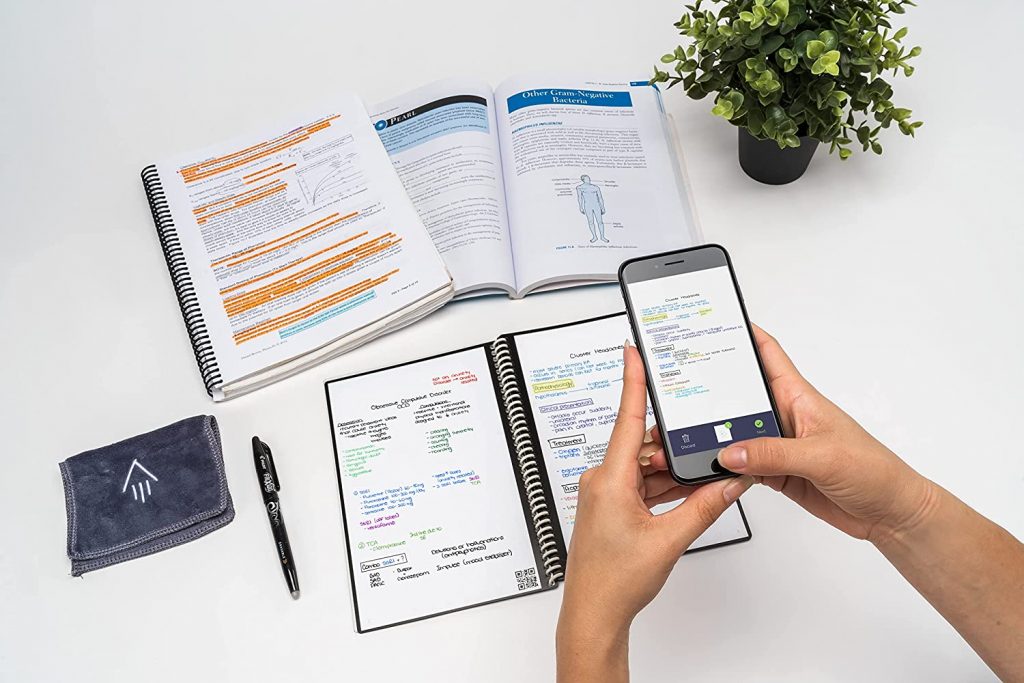 Sure, writers love journals and notebooks. But have you ever considered how much paper the writer in your life would save if they had a reusable notebook? Probably a lot!
The Rocketbook Smart Reusable Notebook is one of the best gifts for writers because it lets them jot down ideas on paper from anywhere (well, not anywhere, it's not a waterproof notepad, so don't use it to capture shower ideas!), then transfer them to a digital platform and reuse the journal over and over again. The free Rocketbook application (available on both iOS and Android) lets you easily transfer your handwritten notes over to popular cloud storage services like Dropbox, Google Drive, or iCloud, or you have the option to email them to yourself.
The Rocketbook Smart Reusable Notebook includes 32 pages of dotted grid pages, one Pilot Frixion pen, and a cleaning cloth to wipe away the pen after you've transferred your notes. So, your writer will have everything they need to use this new journal straight out of the box.
10. Games for Writers
All writers need a break from time to time. Board and card games are a great way to relax and reconnect with loved ones. Luckily, there are several great games out there that are designed specifically for writers and their friends.
For example, The Storymatic is a game that essentially helps you start your own story. Each player draws a specific number of character cards and plot cards, then drafts a short story based on what they have to work with. It can work with any number of players and can result in some hilarious stories to share.
Similarly, Storymatic Synopsis helps you craft a short story in a slightly different way. You get a card that gives you genre and general direction, then you build a single sentence with some cards. After that, you get question cards to guide you even more so you can write a synopsis (or summary) of the story.
Of course, you can also go with more classic games, like Scrabble, or more hilarious games, like Cards Against Humanity. Whatever you decide, just make sure it includes some of the same skills your writer friend uses on a daily basis.
11. A Professional Photoshoot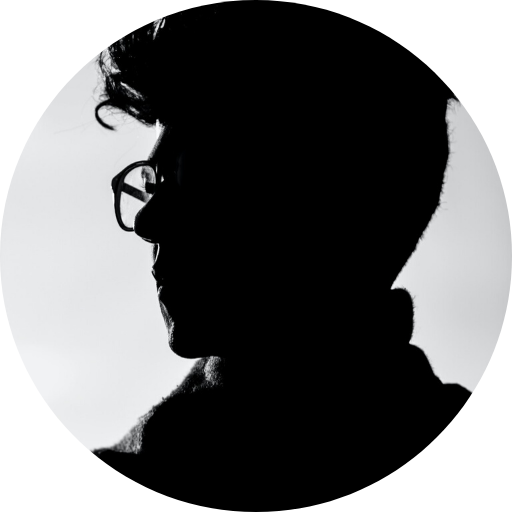 All writers need to promote themselves in some way. Many of them have their own website, blog, or social media accounts for this very purpose. Regardless of what platform they use to share their work or publicize themselves, chances are headshots and other professional photographs would help with that.
You can usually contact local photographers and pay for a gift card that covers a photoshoot for a certain duration. Also, most photographers now provide clients with digital copies of everything, meaning the writer in your life can use the photos right away.
If you aren't sure how much time the photographer will need, simply ask them about their package options and explain the purpose of the photoshoot. Most photographers know how much time they will need.
Make the Writer In Your Life Smile With the Right Gift Idea
Shopping for the best gifts for writers doesn't have to be a difficult task. Most writers love anything related to writing, and these 11 gift recommendations definitely fit the bill. No matter the occasion or your budget, there should be at least one recommendation on this list that will work for you.
Some of the gifts on this list, like the MasterClass subscription, are more like endless gifts. Others, like noise-canceling headphones, are something your writer will use over and over again until they must replace them. Either way, you can't go wrong because the writer you're shopping for will get plenty of use out of all the gifts you give them.
If you're still stumped for ideas, here are a few more grab-bag ideas that I know I'd appreciate receiving as a writer:
Fountain pen
Audiobooks subscription
Desk lamp
Book club subscription
Moleskine or leather journal
Blue light filter
A new Mac computer 😊
Just remember, the best gifts are those that come from the heart. So go with what your instinct says your writer will love the most—your gut is probably right.