In this review, we'll see if the David Sedaris MasterClass on Storytelling lives up to its promises and delivers a course worthy of your investment.
David Sedaris MasterClass Summary
What you'll learn: How to observe the world through a writer's eyes. Turning your observations into stories people will remember. Editing and revision strategies. How to grow as a writer.

Run time: 3 hours 23 minutes

Recommendation: 9/10–No matter if you are a fiction or non-fiction writer, taking this MasterClass with strengthen your writing skillset.
I have watched and reviewed many MasterClass writing courses. So when I saw that there was another writing course by David Sedaris about storytelling and humor of all things, I was intrigued.
I never considered myself a funny writer (or person for that matter). However, this course taught me that life is full of funny moments, moments that are worth capturing and sharing.
You might be thinking to yourself, "Well, I'm not interesting, what could I possibly write about?" In his MasterClass, David Sedaris will tackle these limiting beliefs and show you his way of turning offhand journal entries into memorable stories.
In this David Sedaris MasterClass review, I'll answer a few key questions, summarize what I liked and disliked about the course, and give you my honest recommendation. I aim to give you as much information as you need to decide: Is the David Sedaris Teaches Storytelling and Humor MasterClass worth it?
Let's get started.
Quick Q and A
Do I need a subscription to access this course?
Yes. MasterClass charges a yearly subscription to access all of their courses. Jump to the pricing section to learn more.
How long is the MasterClass?
The David Sedaris MasterClass on Storytelling and Humor is 3 hours and 23 minutes long and spans 14 video lessons.
Does MasterClass have a cancellation policy?
Yes. If you cancel within 30 days of purchase, MasterClass will issue you a full refund.
Is the David Sedaris MasterClass worth it?
Yes, absolutely. Since completing this course, I have been actively keeping a journal, capturing odds and ends of my days and saving little vignettes to use in future works.
About David Sedaris
I'll admit that I didn't know about David Sedaris until one recent afternoon while pursuing the shelves of my local bookstore a very strange title caught my eye: Let's Explore Diabetes with Owls.
I picked it up, unsure of its contents, and studied the book jacket. "He's funny," said another patron after seeing my confused face.
I bought the book and headed home to research this funny David Sedaris guy. As it turns out, I lived under a rock all these years because Mr. Sedaris has quite the resume.
A humorist, comedian, essayist, and author, Sedaris popped onto the scene in 1992 while reading his radio essay, Santaland Diaries, on NPR's Morning Edition. It was an instant hit, according to The New York Times, and kickstarted his career. From there, Sedaris continued to do monthly readings on NPR, wrote his first book, Barrel Fever, and began writing essays for Esquire and The New Yorker.
Sedaris's style captures real-life situations with a bit of exaggeration, so much so that some publishers are unsure whether to classify his work as fiction or non-fiction. Many of his well-known books are simply a collection of journal entries fleshed out into longer essays, including his award-winning books, Me Talk Pretty One Day and Calypso.
As someone interested in becoming a better writer, I was pleased to learn that David Sedaris offered a MasterClass for the art of storytelling, and let's say I had high hopes.
---
What does this MasterClass promise?
The David Sedaris Teaches Storytelling and Humor MasterClass comes with a downloadable class workbook. In that workbook, in a very inconspicuous location, it says:
"To write is a way of life and a privilege. Celebrate your ability to make something out of your experiences, especially the difficult ones."
Yes, I signed up to take this MasterClass because I wanted to become better at creative writing and learn a writing process I could use to capture everyday life. However, Sedaris makes a deeper promise in his MasterClass, it's not even a promise, but rather a mantra one should adopt: Your life is worth writing about.
Your life, my life, the day-to-day boring stuff, even the difficult times ("Everything is funny, eventually."), these are all human experiences worth sharing. All we need to learn is how to become aware of them and instill a writing practice that'll help us capture these moments.
There are writing courses, and then there is David Sedaris's writing course. If you're looking for a collection of writing tips, look elsewhere because this MasterClass will open your eyes (and your journal).
So, did David Sedaris live up to his promises? Did he meet my expectations? I'll cover that at the end of the review (skip ahead if you want to find out). But first, let's talk about what's probably on your mind:
---
How much does David Sedaris's MasterClass cost?
In 2021, MasterClass began testing alternative subscription models besides their original flat-rate annual membership. Eventually, they settled on a new cost-friendly three-tier MasterClass pricing model for their annual subscription:
Individual – $120 per year (average $10 per month)
Duo – $180 per year (average $15 per month)
Family – $240 per year (average $20 per month)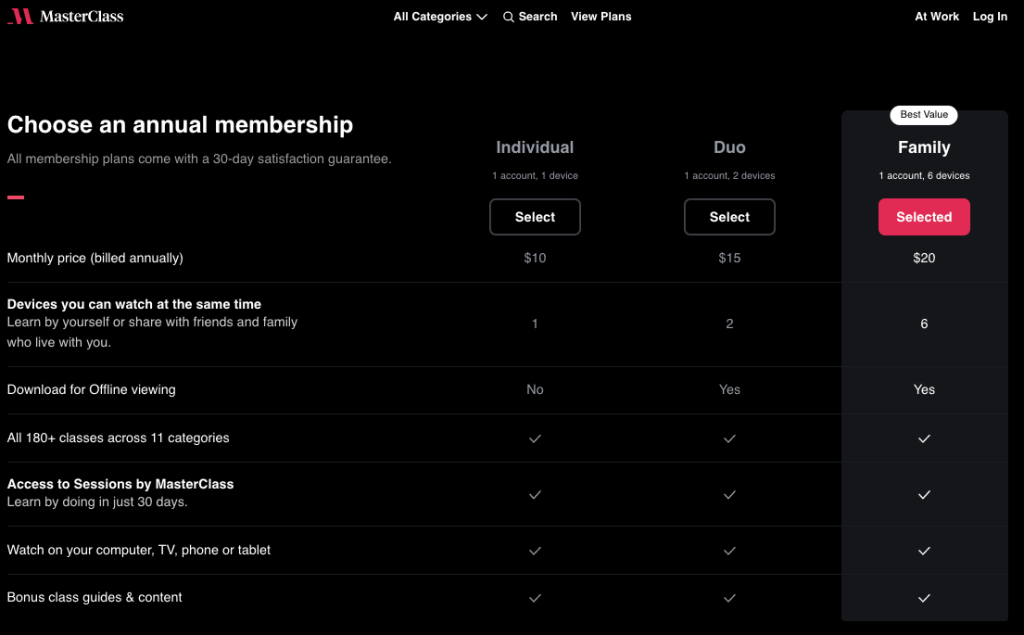 The Individual membership (formerly the "Standard Plan") is perfect for single individuals who are most likely to consume online learning at home. The Duo (formerly the "Plus Plan") and Family (formerly the "Premium Plan") plans are better for couples as MasterClass allows multiple devices to watch at the same time. (Netflix has similar restrictions for their membership plans).
However, the ability to download video lessons for offline viewing is helpful for people who might want to watch MasterClass on their commute to work without eating up most of their data. The Plus and Premium plans offer their users the ability to do just that.
Personally, I go for the $120 per year option as I average about one MasterClass per month, which means my cost per class is $10.
The price may seem steep, but the all-access pass gives you access to all of the MasterClass courses, including other writing classes taught by James Patterson, Margaret Atwood, Neil Gaiman, Malcolm Gladwell, and Dan Brown.
Plus, you must remember that each MasterClass is someone's lifetime of work distilled into well-organized and enjoyable video content. In other words, if it turns out the David Sedaris MasterClass isn't for you, chances are you'll find other MasterClasses you do enjoy.
---
What is included in the David Sedaris MasterClass?
Here's a rundown of what you are getting with the David Sedaris MasterClass.
| | |
| --- | --- |
| Runtime: | 3 Hours 23 minutes |
| Reviews: | 4.7 out of 5 ⭐️ |
| Lessons: | 14 video lessons |
| Materials: | 1 workbook |
Runtime
The runtime clocks in at just under 3 and a half hours. Typically, I preferred watching MasterClass courses at 1.5x speed, which means I can finish a course of this length in about 2 and a quarter hours. However, I really love Sedaris's pace and delivery and watching this course on normal speed.
Supplemental Material
This MasterClass (like all MasterClasses) comes with a supplemental PDF workbook that summarizes all the key topics covered in the course.
Sedaris's workbook is in the average range of size. It clocks in at 38 pages long, 6 of which are a breakdown of how David turned a diary entry into his "Active Shooter" essay (covered in Lesson 7).
Nevertheless, the class workbook provides learners with further resources and assignments based on the MasterClass lessons, including:
9 Podcasts David Thinks You Should Listen To
A list of weird questions to ask strangers ("Have you ever been to Athens, Greece to feed yogurt to stray cats?")
And a selection of David's favorite clothiers (when dressing up for public readings)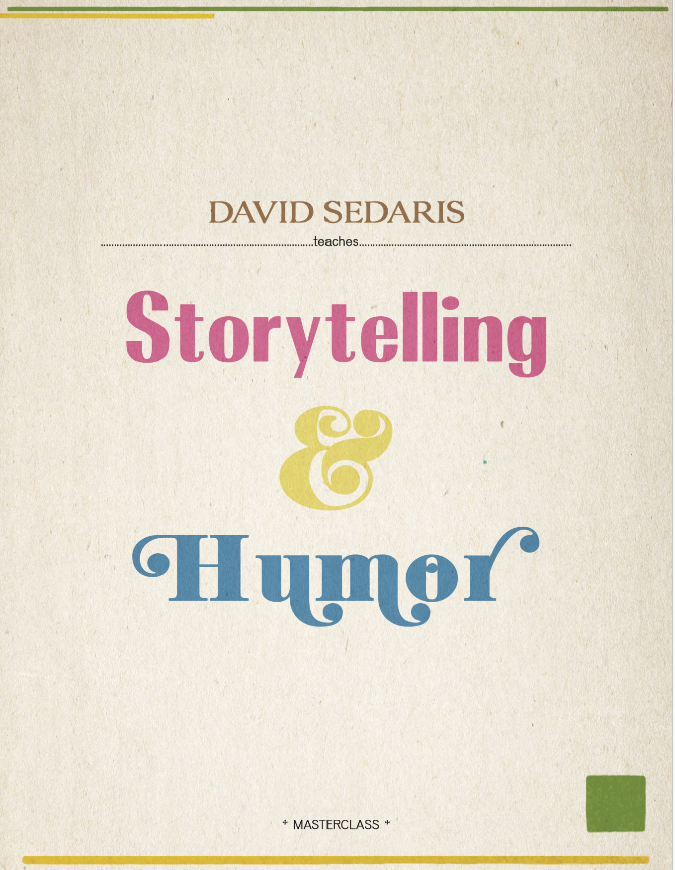 ---
About the structure of the class
David Sedaris's MasterClass is divided into 14 lessons with an average run time of approximately 14 and a half minutes per lesson. However, the video playback buttons offer you the ability to watch the course at 1.5x and 2x speed.
Lesson plan:
Introduction
Observing the World
Turning Observations Into Stories
Breaking Into a Story
Connecting to Your Reader
Writing About Loved Ones
Story Evolution: "Active Shooter"
Kitchen Sink Stories: Live in Cleveland
Ending With Weight
Revision Philosophy
Growing as a Writer
David's Influences
Conclusion: Two Groups of People
Bonus Reading: "The Spirit World"
Lesson summary:
Typically, MasterClass online courses are broken into groups of lessons. However, Sedaris's course flows from one lesson to the next, each almost being a vignette of the course as a whole.
Lessons 2 through 4 focus on how to observe the world and turn those observations into stories. Sedaris is a proponent of writing every day, saying it's okay not to be perfect. Writing is all about re-writing. But to turn observations into an essay, one must look to make connections to something bigger.
Sedaris then provides some housekeeping by offering ways to connect with your readers. He stresses the importance of being honest with your reactions to things and not being afraid to laugh at your bad qualities. For example, Sedaris admits he is unapologetic about his stance on dogs. He doesn't like them.
Side Note: One aspect of the class I enjoyed was watching the live recordings of Sedaris reading to an audience. His unique style and delivery contribute so much life into his writings, becoming something more than a collection of words on a page and instead memories worth sharing. To me, I had a very limited view of how a writer should be and act, sitting alone at a typewriter for example, and never considered that a writer needs to go out into the world and share their work. I'm grateful that MasterClass offered us this insight.
Lessons 11 through 13 are less focused on writing tips and more focused on how to grow as a writer and as a person. Although carving out time to sit and write at your desk every day is important (as Sedaris keeps stresses), going out into the world, being open to new experiences, and striving to be a good and kind person are all facets of being a successful writer. Also, don't confuse "publishing" with "writing." You are still a writer even if you haven't published anything.
"Write something, learn from it, write something new," says Sedaris. I can't summarize this course any better.
My fast-track lesson plan
Although 3 and half hours of video lessons isn't a huge time commitment, I created a fast-track collection if you are looking for an abbreviated lesson plan. In just over 60-minutes you can watch these lessons and have a decent idea of the initial steps to becoming a better writer. I found these takeaways to be the most impactful and beneficial in helping me learn writing.
Course Reviewers 60-Minute Lesson Plan
2. – Observing the World | 16m38s
4. – Breaking Into a Story | 11m01s
9. – Ending With Weight | 18m10s
10. – Revision Philosophy | 15m06s
Total runtime = 1 hour
---
Key Things I Learned
When I log into masterclass.com I expect a high-quality learning platform to deliver courses jam-packed with insights (you need to keep up Udemy). And that's exactly what I took away from David Sedaris's course on storytelling and humor. I took extensive notes for each lesson and will attempt to summarize what I learned here.
Below are a few key learnings that stood out during the MasterClass:
Everything is funny, eventually. A day will come when you can laugh about everything. Therefore, even when things are hard, write about them in a journal.
If you don't think you're funny, quote funny people in your life. You're also allowed to insult yourself as much as you want.
Say "Yes" to weird experiences.
Re-write. Re-write. Re-write. And then re-write ten more times.
Sorrow often gives weight to humor and thus makes it more memorable. If people laugh at your writing but don't remember anything, what's the point?
Most important: develop a discipline for writing. Set aside a time and space for you to practice your craft. It's the only way you'll get better.
---
Things I liked about the David Sedaris MasterClass on Storytelling
The obvious thing I liked is David Sedaris is a very funny person. Countless times I laughed out loud at an off-hand remark he made.
The course was just the right length. Sedaris didn't give tactical advice but rather a high-level approach to being a writer (there are plenty of other writing MasterClasses with tactical advice). However, even at a high level, his advice was practical and applicable.
Throughout the course (and listed out in the class workbook), Sedaris shared other authors and works we should read if we want to continue becoming better writers.
Finally, and this isn't huge but rather a remark I appreciated, Sedaris mentions not to confuse writing with publishing. Even if you don't publish, you are still a writer and have every right to call yourself one. Sedaris wrote for 15 years before ever publishing anything. He didn't set out to find a publisher, a publisher found him because of his work.
My favorite quotes from David Sedaris's MasterClass
"You should celebrate if you get fired from a job, or if your house catches on fire, or if you lose a limb that's not your writing arm. Make the most of it."

Lesson 1
"You can pretty much guarantee that if you're sitting at home and you're just online all day, and then you leave your house and you're walking down the sidewalk and you're texting to your friends, and then you go to the grocery store and you continue to text while you're in the grocery store, that nothing's going to come and sit in your lap."

Lesson 2
"I just figured, you know what? If I live, I can write about it."

Lesson 2
"The thing about writing as opposed to speaking is writing gives you the illusion that you're in control."

Lesson 5
"I like a joke that becomes a finger that points at you."

Lesson 9
"But that's what writing is, it's rewriting."

Lesson 10
---
Things I didn't like about the David Sedaris MasterClass
There isn't a whole lot that I didn't like about this class. If anything, I wish the class workbook was a bit longer. In comparison, Dan Brown's class workbook is 89 pages in length.
Besides that, I had high expectations going into this course, and those expectations were met.
---
Does the class keep its promises?
Yes, absolutely. Since completing this course, I have been actively keeping a journal, capturing odds and ends of my days and saving little vignettes to use in future works.
Sedaris has rekindled in me a desire to write and perfect my craft, and if anything, is enough to make this class worth it.
---
Is David Sedaris's MasterClass worth the money?
Yes if you…
Are looking to become a better writer
Want to observe the world in a better light
Enjoy journalling
Hope to become published one day
No if you…
Are not interested in writing
Don't enjoy David Sedaris's style or delivery
---
David Sedaris MasterClass Review Conclusion
Taking everything into consideration, I highly recommend this writing course to not only anyone looking to improve as a writer (fiction or non-fiction), but to anyone looking for ways to elevate how they observe the world (which to be honest, is all of us).
This course was fun, insightful, and a delight to watch.
---