In this Emily Morse MasterClass review, we'll find out if it lives up to its promises and delivers a course worthy of your time and money.
Emily Morse's MasterClass Summary
What you'll learn: How to avoid awkward conversations about sex with your partner, how to ask for what you want, and fun ideas to enhance your sex life all taught with tasteful and conscientious dialogue.

Run time: 1 hour and 53 minutes

Recommendation: 9/10—Perfect for any consenting age, sexual orientation, or sexual experience level looking to boost their sexual confidence.
Okay, we're all grown ups here. Emily Morse thinks we should all feel as comfortable talking about sex as if we were talking about the weather. "I really don't want sex to be this thing where you're giggling in the corner," she says in the introduction of her MasterClass on sex. "It's a really important part of our overall health and well-being."
Destigmatizing sex is Emily's biggest goal. It's important to realize that the MasterClass isn't called "Sex and Pleasure" but rather "Sex and Communication". Her personal mission is to "liberate the conversation around sex because sex is still something very uncomfortable to so many people."
I was hesitant to take this MasterClass at first because, well, it did make me feel a bit uncomfortable. But that uncomfortableness spurred on some important questions: Why do I feel uncomfortable? What don't I know about sex? Why can't I talk about sex like it's a normal thing?
So I went for it and I'm glad I did. I learned more from this short 7 lesson MasterClass than I ever did during sex-ed classes. Let's dive in and find out what makes this MasterClass worth your time and attention.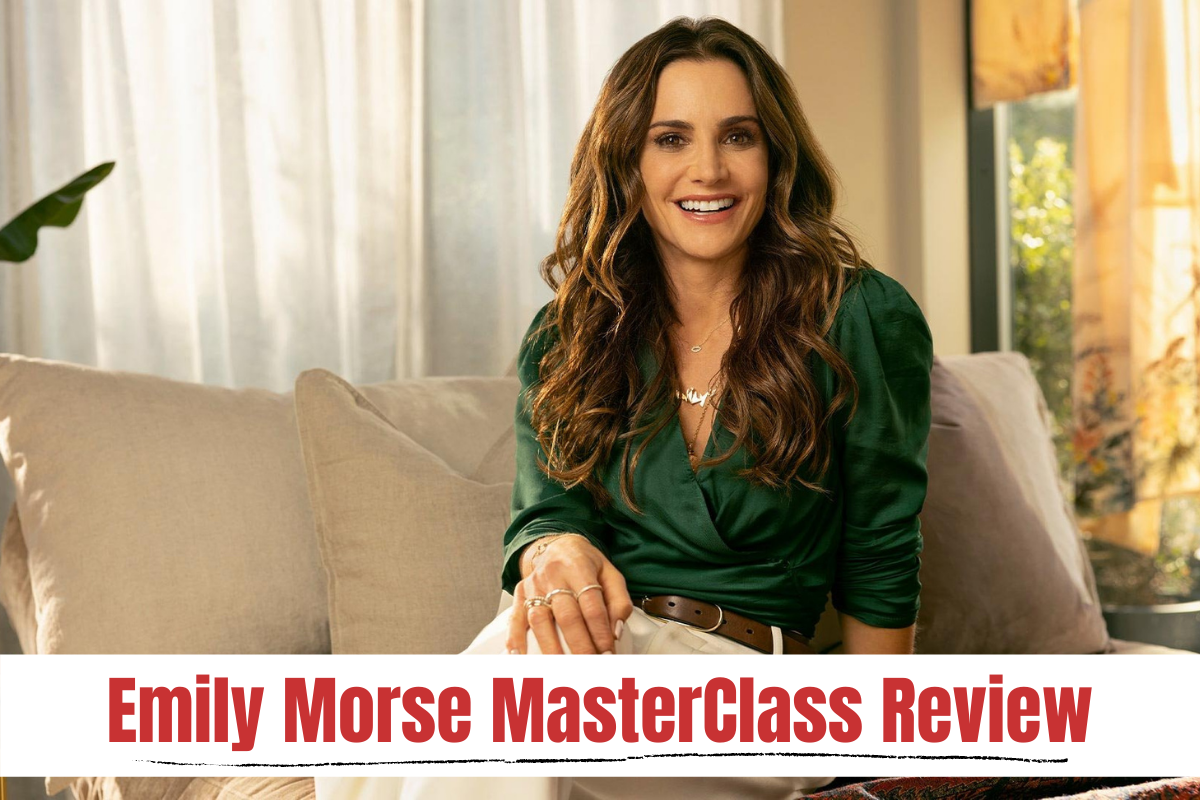 Quick Q and A
Do I need a subscription to access this course?
Yes. MasterClass charges a yearly subscription to access all of their courses. Jump to the pricing section to learn more.
How long is the MasterClass?
The Emily Morse MasterClass on Sex is 1 hour and 53 minutes long and spans 7 video lessons.
Does MasterClass have a cancellation policy?
Yes. If you cancel within 30 days of purchase, MasterClass will issue you a full refund.
Is the Emily Morse MasterClass worth it?
Yes. If you are looking for ways to communicate better about sex as well as learn more about making pleasure a priority, this class is worth taking.
---
About Emily Morse
Emily Morse is a sex therapist and host of the popular, long-running podcast, Sex with Emily, which is still downloaded over a million times a month. She's had a long career writing and talking about sex — including hosting her own SiriusXM radio show, being featured in The New York Times, as well as contributing to Cosmopolitan, Bustle, and Men's Health.
Emily has over 285,000 followers on Instagram and 170,000 followers on Twitter.
---
What does this MasterClass promise?
"Emily's hope is that you'll learn to better navigate your sex life, discover new techniques, and find ways to communicate openly about sex," begins the class workbook.
Emily Morse's promise for her MasterClass isn't to transform you into a sex goddess or discover all the hidden secrets, "My goal for you, my vision for the world," she says, "is that the second you get into a sexual relationship with somebody, you start talking about your sex life."
Emily simply wants you to treat sex as if it's a normal part of your life. Because she believes communication is at the heart of any satisfying sexual experience and relationship.
So, did Emily live up to her promises? Did she meet my expectations? I'll cover that at the end of the review (skip ahead if you want to find out). But first, let's talk about what's probably on your mind…
---
How much does Emily Morse's MasterClass cost?
In 2021, MasterClass began testing alternative subscription models besides their original flat-rate annual membership. Eventually, they settled on a new cost-friendly three-tier MasterClass pricing model for their annual subscription:
Individual – $120 per year (average $10 per month)
Duo – $180 per year (average $15 per month)
Family – $240 per year (average $20 per month)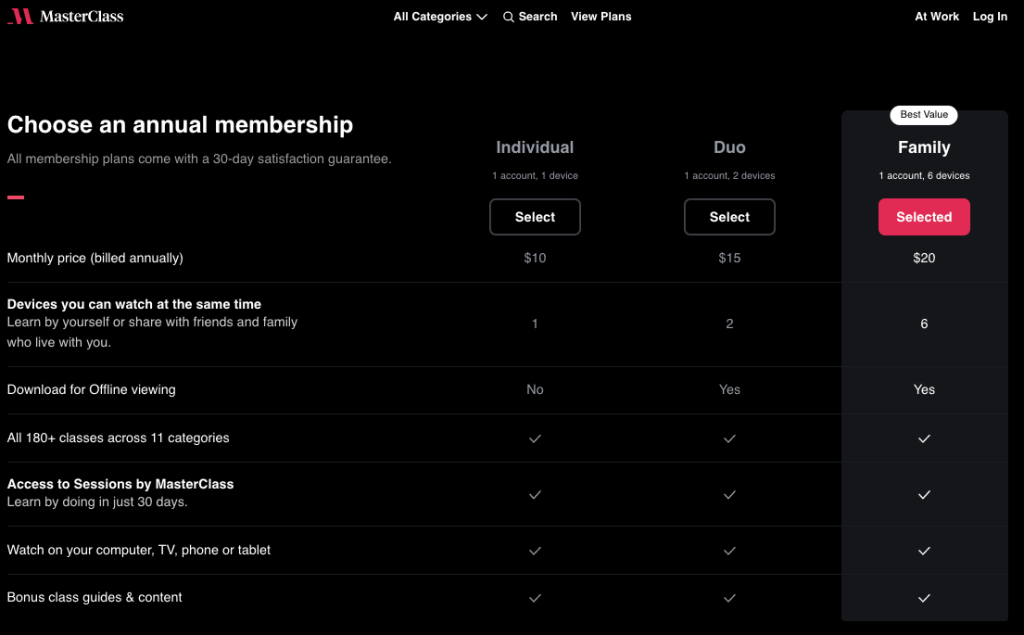 The Individual membership (formerly the "Standard Plan") is perfect for single individuals who are most likely to consume online learning at home. The Duo (formerly the "Plus Plan") and Family (formerly the "Premium Plan") plans are better for couples as MasterClass allows multiple devices to watch at the same time. (Netflix has similar restrictions for their membership plans).
However, the ability to download video lessons for offline viewing is helpful for people who might want to watch MasterClass on their commute to work without eating up most of their data. The Plus and Premium plans offer their users the ability to do just that.
Personally, I go for the $120 per year option as I average about one MasterClass per month, which means my cost per class is $10.
The price may seem steep, however, the subscription gives you access to all 90+ MasterClass courses.
Granted, Emily's course is the only sex and relationship course within the MasterClass library. The only other course listed under the "Wellness" category is RuPaul's class on self-expression and authenticity. However, MasterClass is continuing to put out new courses every month so it's only a matter of time before other health and wellness courses appear.
---
What is included in the Emily Morse MasterClass?
Here's a rundown of what you are getting with the Emily Morse MasterClass.
| | |
| --- | --- |
| Runtime: | 1 hour 53 minutes |
| Reviews: | 4.7 out of 5 ⭐️ |
| Lessons: | 7 video lessons |
| Materials: | 1 workbook |
Runtime
The runtime clocks in at just under 2 hours, which is by far the shortest MasterClass I've reviewed to date. Nevertheless, don't let the brevity fool you. Emily shares a lot of information throughout her 7 videos which I will cover in more depth below. I should also note that I watched this MasterClass at 1.5x speed, which meant I finished it in 75 minutes without negatively affecting my learning experience.
Supplemental Material
I was a little disappointed in the supplemental material included in this class. Most MasterClasses I've reviewed thus far come with a hefty downloadable workbook. This class did come with a workbook but it's only 16 pages long. It does however contain some informative sections titled: "Pleasure Chest" and "What They Don't Teach You in Sex Ed."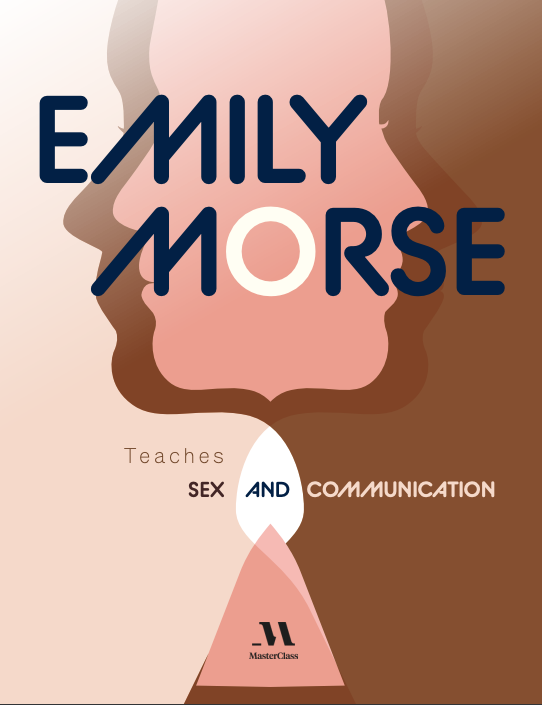 Community Access
Like every class, Emily Morse's MasterClass comes with a community page where students can interact with each other, ask questions, and share what they've learned. At the time of writing, Emily's course is still new, so the community page isn't quite popping yet. However, one post from a disgruntled user has received significant attention called "What was Masterclass thinking?"
As you can imagine, a heated debate ensued. It serves as a reminder of why this course is needed in the first place. Also, another thing to point out is that the community forum is monitored by members of the MasterClass team and not Emily herself.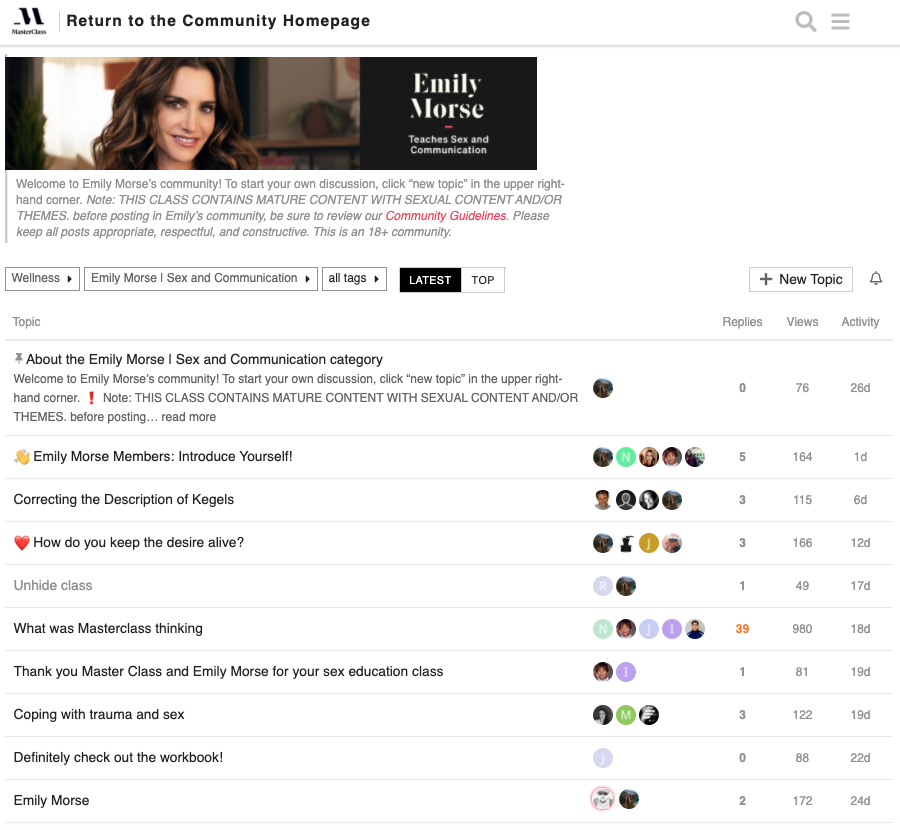 ---
About the structure of the class
Emily Morse's MasterClass on sex is divided up into 7 lessons with an average run time of approximately 16 minutes per lesson. However, the video playback buttons offer you the ability to watch the course at 1.5x and 2x speed.
Lesson plan:
Meet Your Instructor
Asking for What You Want
Taking Control of Your Orgasm
The Power of Mindful Masturbation
Keeping Desire Alive
Practicing Consent and Safer Sex
Fun Ideas to Enhance Your Sex Life
Lesson summary:
As I've mentioned, this MasterClass is one of the shorter classes I've reviewed. However, each video lesson is divided up into 3 to 4 informative topics. There isn't a particular order to the video lessons. In other words, Emily doesn't walk you through what you should do first, then second, then last. Instead, Emily begins the MasterClass on how to communicate what you want. She then moves on to the all-important orgasm before finally touching on subjects such as keeping the desire alive in long-term relationships, practicing safe and consensual sex, and finally sharing ideas to add a little fun to your love life.
---
Key Things I Learned
I'm not claiming to be Don Quixote of the dating scene; however, I thought I had pretty much figured out everything there is to know about sex at this stage in my life. I was so wrong.
I went into this MasterClass with subdued expectations. I mean, how much can you really learn about sex? But Emily spent a good deal of time on the comprehensive elements that make for a healthy sex life.
For example, I didn't know that only 20% of vulva-owners orgasm during penetrative sex. Emily points out that usually penis-owners feel shame that they can't make their partner orgasm and calls attention to the need for better communication in this situation. She also makes it very clear, "I'm responsible for my orgasm. You're responsible for your orgasm."
Emily also speaks about the poor job we've done teaching sex ed to students. Only a few countries in the world include pleasure, consent, and orientation in their sex-ed curriculum. In a lot of places, the United States for one, sex ed tends to only be abstinence-based or fear-based rather than medically-based.
Below are a few key learnings that stood out during the MasterClass:
The Three T's of Communication: Timing, Turf, Tone
When in doubt, schedule sex
To build sexual energy and arousal throughout the day, tease your partner with anticipation
There are over a million nerve endings stimulated while kissing
---
Things I liked about the Emily Morse MasterClass
I particularly enjoyed how this class was more about communication around sex rather than a "how-to" video. My thinking is that most mature adults watching this course already have the basics down but are looking for ways to enhance their sexual experiences with their partners through what Emily calls a "path of discovery and exploration."
This exploration means knowing how to bring up sex in conversation with your partner and clearly communicating what you want and also how to handle rejection if your requests aren't met.
I also liked that this class wasn't long. It felt like just enough material to watch over a weekend.
Overall, Emily is clearly gifted when it comes to talking about sex. She doesn't make the viewer feel awkward but rather empowered to take control of their sex life and steer it toward pleasure and enjoyment.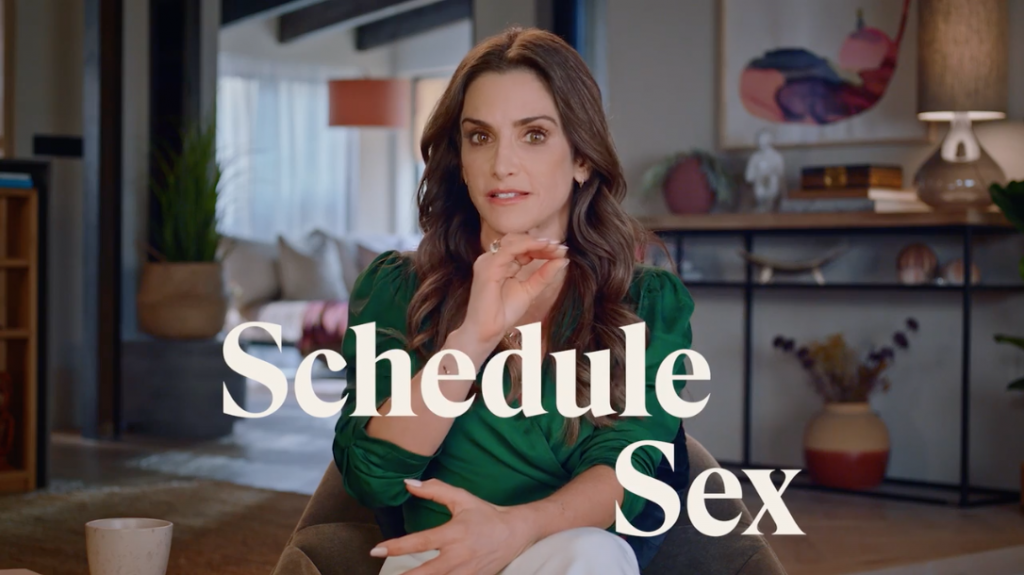 My favorite quotes from Emily Morse's MasterClass
We are responsible for our own pleasure. I'm responsible for my orgasm. You're responsible for your orgasm. It's not about your partner giving you an orgasm.

LEsson 3 – Take Control of Your Orgasm
We actually think that we want sex, but what we actually crave is intimacy. And intimacy is when we are truly our open, vulnerable, authentic selves with somebody else.

LEsson 5 – Keeping desire alive
Kissing is underrated.

LEsson 5 – Keeping desire alive
Think about it, we use technology to enhance our life, right? And so this notion that, no, but not in the bedroom. There's no technology. There's no toys. We love toys when we were kids. Why don't we love toys now? We should.

LEsson 7 – Fun ideas to enhance your sex life
---
Things I didn't like about the Emily Morse MasterClass
For privacy's sake, I won't disclose my own personal sexual preferences. However, there were a few sections I didn't enjoy only because I wasn't into what Emily was describing. And that's okay. I know everyone has different preferences and might not like "what's on the menu," to steal Emily's own words.
The point is to come in to this class with an open mind. And if your mind is already made up on certain things, you can always skip past one section and move onto the next.
---
Does the class keep its promises?
Yes it does. Emily's goal from the start was to empower her viewers to feel more comfortable talking about sex.
"My hope for you after watching this class," Emily concludes, "is that it's given you permission to begin your path of discovery and exploration around your sex life, in your intimate life."
"I hope that I hear from you that you learned something that just blew your mind," she continues.
I know I can't speak for everyone, but I'm confident enough that anyone who's curious about improving their sex lives will come away from this MasterClass with at least one thing that blew their mind. And for that reason, I believe this MasterClass kept its promise.
---
Is Emily Morse's MasterClass worth the money?
Yes if you…
Are looking to enhance your sex life
Are struggling to rekindle intimacy
Want to learn tips to improve sex
Struggle to talk about sex
Are afraid to ask your partner about certain sex acts
Didn't have the best sex education growing up
---
Conclusion
Emily Morse's MasterClass on sex and communication is a brilliant piece of content that I feel everyone has a chance to learn something new. Emily's goal is to de-stigmatize the conversation around sex and empower us to improve our sex lives with others. She accomplishes this with open, clear, and succinct discussion.
If you're interested in learning more, here is a trailer to the class:
---