In this review, we'll see if the magical duo can unveil a Penn and Teller MasterClass worthy of your time and investment.
TLDR: If you are interested in learning and mastering the fundamental principles of magic, this MasterClass is worth the 2 hours and 53 minutes of your time. You can sign up for the Penn & Teller Masterclass here.
---
If you've ever been browsing through YouTube and a MasterClass ad begins to play you already know how hard it is to skip past it and get to your "try not to laugh challenge" video. I'm already a MasterClass member and I still can't bring myself to skip past them.
Recently, while brushing up on my chess skills, I saw an ad for a MasterClass that I didn't even know existed. It was so magical, so enticing, that I completely forgot about the Italian Opening and jumped over the MasterClass to add it to my queue.
I am, of course, talking about Penn and Teller, the magical duo known for elaborate tricks who have broken the code of the Magicians Alliance and opened up about the secrets behind their magic.
After watching the trailer, I was met with high expectations. "No matter what level you are at magic," says Penn during the class trailer, "we've got stuff here for you."
If I could learn a few simple magic tricks to impress my friends and family, I would have considered this MasterClass worth my time. But that's not what Penn and Teller hope to pass onto their students, "Once you know a few simple principles, you can build your whole magic routine."
Could I, someone with no magic experience, learn enough to build my own magic act? You'll have to keep reading to see. (Presto! Here's a magical link that'll transport you directly to my recommendation.)
---
Quick Q and A
Do I need a subscription to access this course?
Yes. MasterClass charges a yearly subscription to access all of their courses. Jump to the pricing section to learn more.
How long is the MasterClass?
The Penn & Teller MasterClass on Magic is 2 hours and 53 minutes long and spans 17 video lessons.
Does MasterClass have a cancellation policy?
Yes. If you cancel within 30 days of purchase, MasterClass will issue you a full refund.
Is the Penn & Teller MasterClass worth it?
Yes. If you are completely new to magic and want to learn a few fundamental methods to performing magic, this class does just that.
---
About Penn and Teller
Penn Jillette and Raymond Joseph Teller met in 1975 and have performed magic together ever since. They originally began as a trio until their third member dropped out of show biz altogether and in 1981, Penn and Teller worked exclusively as a pair.
Since then they've done numerous Broadway, late-night, and nation-wide shows gaining recognition and awards for their work.
At 6′ 7″, Penn towers over the often-silent Teller who decided early in his magic career that not speaking was a sure way for audience members to focus more on his actions instead of trying to heckle or distract him.
Offstage, Penn and Teller have admitted to having a business-like friendship, one of respect and not much else. The duo has little in common but attributes their success to their respectful relationship which has allowed them to make better artistic decisions.
In April of 2013, Penn & Teller received a star on the Hollywood Walk of Fame which sits only a few steps away from Harry Houdini's star.
---
What does this MasterClass promise?
"If you've never done any magic in you life," reads the class workbook, "this is a good place to start. You will learn tricks that you will be able to perform and surprise your friends and family."
"If you already do some magic," the workbook continues, "you'll be able to incorporate the ideas Penn & Teller discuss into the tricks you already do."
In Lesson 1, Penn & Teller clearly lay out that this MasterClass is for those who have little to no magic experience, which eased my anxieties a bit. However, they added that this class not only will teach you the fundamentals of magic but is also for those interested in learning about human behavior.
At first, I thought that was an odd comment, but as the course unfolded, both Penn and Teller were steeped in the philosophy, psychology, art, and methodology of their craft. Even if you aren't interested in learning magic, this course is chock-full of what makes us human, enough to satiate any curious learner.
But since this is a MasterClass about magic, Penn sums up perfectly their main objective:
"If you learn just the stuff we're going to teach you, nothing else, but learn it perfectly, you have really hundreds of tricks you can do."
So, did Penn & Teller live up to their promise? Did they meet my expectations? I'll cover that at the end of the review (skip ahead if you want to find out). But first, let's talk about what's probably on your mind…
---
How much does Penn & Teller's MasterClass cost?
If you want to take Penn & Teller's MasterClass, you have three options to choose from.
In 2021, MasterClass began testing alternative subscription models besides their original flat-rate annual membership. Eventually, they settled on a new cost-friendly three-tier MasterClass pricing model for their annual subscription:
Individual – $120 per year (average $10 per month)
Duo – $180 per year (average $15 per month)
Family – $240 per year (average $20 per month)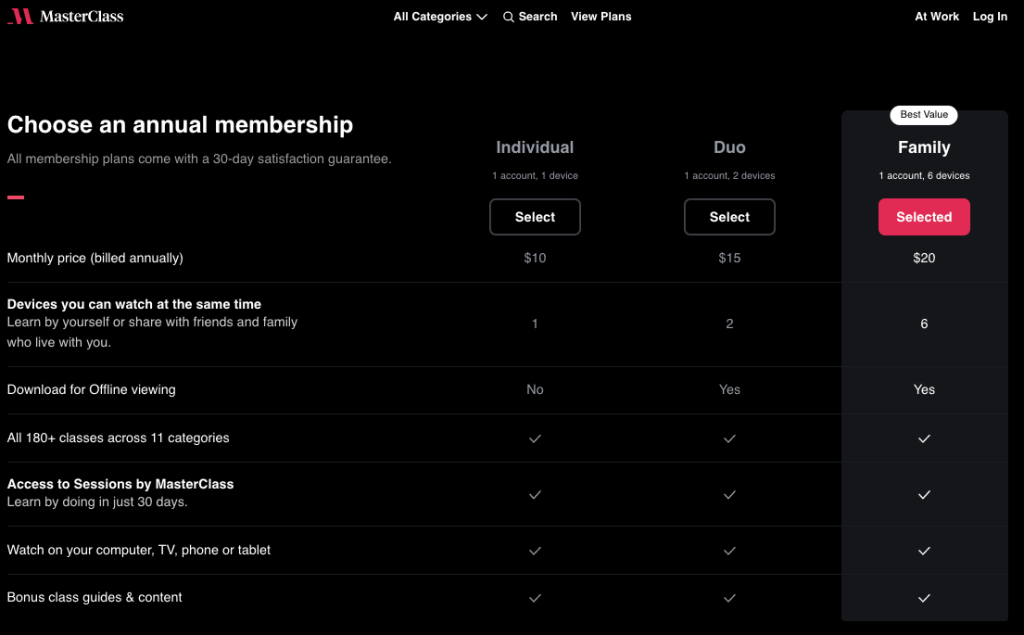 The Individual membership (formerly the "Standard Plan") is perfect for single individuals who are most likely to consume online learning at home. The Duo (formerly the "Plus Plan") and Family (formerly the "Premium Plan") plans are better for couples as MasterClass allows multiple devices to watch at the same time. (Netflix has similar restrictions for their membership plans).
However, the ability to download video lessons for offline viewing is helpful for people who might want to watch MasterClass on their commute to work without eating up most of their data. The Plus and Premium plans offer their users the ability to do just that.
Personally, I go for the $120 per year option as I average about one MasterClass per month, which means my cost per class is $10.
The price may seem steep, however, the subscription gives you access to all 90+ MasterClass courses including other courses in arts and entertainment such as Robin Roberts teaches communication, Questlove teaches DJing, and David Lynch teaches creativity and filmmaking.
Plus, you have to remember that each MasterClass is someone's lifetime of work distilled into well-organized and enjoyable video content. In other words, if it turns out the Penn and Teller MasterClass isn't for you, chances are you'll find other MasterClasses you do enjoy.
---
What is included in the Penn & Teller MasterClass?
Here's a rundown of what you are getting with the Penn & Teller MasterClass.
| | |
| --- | --- |
| Runtime: | 2 Hours 53 minutes |
| Reviews: | 4.7 out of 5 ⭐️ |
| Lessons: | 17 video lessons |
| Materials: | 1 workbook |
Runtime
The runtime clocks in at just under 3 hours, which I thought was a little brief for a class focused on performative art. However, it does appear that MasterClass is rolling out a slew of these 3-hour-long-ish classes instead of the much longer older versions of previous years (I'm looking at you, Aaron Sorkin).
I preferred watching the course at 1.5x speed which means I finished the entire video course in under 2 hours.
Supplemental Material
This MasterClass comes with a beautiful, in-depth, 64-page workbook that is free to download for students. I found the workbook to be incredibly helpful after first watching the video lessons. It's not that Penn & Teller are bad at teaching magic, it's just that once I have the gist of it down it's hard to go back and keep rewinding the video.
The workbook offers detailed (and visual) instructions on how to do the tricks covered in the video lessons and even comes with a recommended reading list to further your study of magic.
Community Access
Also referred to as "The Hub," this MasterClass has a dedicated discussion portal for students to interact with each other, ask questions (for MasterClass reps, not Penn and Teller, to answer), and find new ideas for magic tricks.
---
About the structure of the class
Penn & Teller's MasterClass is divided up into 17 lessons with an average run time of approximately 10 minutes per lesson. However, the video playback buttons offer you the ability to watch the course at 1.5x and 2x speed.
Lesson plan:
Meet Penn & Teller
Sleight of Hand: The French Drop
Cups and Balls
What Is Magic?
Misdirection
Coin Magic
Magic Vs. Lying
Mentalist or Crook?
Card Magic
Exploiting the Best of the Human Brain
Rope Tricks
Principles of Performing
Cause and Effect
The Joy of Magic
Bonus Chapter No. 1: Advanced Student Coaching
Bonus Chapter No. 2: Piff the Magic Dragon
Bonus Chapter No. 3: Penn & Teller Live at Rio Las Vegas "Cell Fish"
Lesson summary:
First, you are going to want to get your hands on a few simple props:
That's going to make this MasterClass a lot more interactive instead of passive. Once you have your props, you'll follow Penn and Teller as they walk you through the core principles:
Sleight of hand
Misdirection
Cause and effect
Of these principles, you will learn specific tricks that use combinations of these principles such as the French Drop, cup and balls, coin tricks, and card tricks. Dispersed between the "instructional" lessons are discussions by Penn and Teller around what is magic, how to use it morally, the difference between a mentalist and a crook, and even sweet anecdotes of why they got into magic in the first place.
They care deeply about their art and hate to see it used for any other purpose besides giving joy to audiences.
Side Note: One thing I really enjoy about Teller's performance is his mime-like approach on stage. He never utters a word, why is that? Well, in one lesson, Teller explains that when he was very young he fell ill and required a regiment of "tea, toast, and television" to recover. One of the shows he watched was called Howdy Doody. One of the characters was a silent clown who communicated through magic tricks. Teller adopted this persona when he started performing in front of audiences because he felt that it was more poetic to let the magic speak for itself.
My fast-track lesson plan
Although 3 hours of video lessons isn't a huge time commitment, I created a fast-track collection if you are looking for an abbreviated lesson plan. In just over 60-minutes you can watch these lessons, grab a few props, and master a few simple magic tricks for your friends. I found these lessons to be the most impactful and beneficial to helping me learn magic.
Course Reviewers 60-Minute Lesson Plan
2. – Sleight of Hand: The French Drop | 15m58s
3. – Cups and Balls | 10m24s
6. – Coin Magic | 18m52s
9. – Card Magic | 22m16s
Total runtime = 1 hour 7 minutes
---
Key Things I Learned
I'd have to say this is one of the first MasterClasses where I knew nothing about the subject going in and came out with fundamental knowledge (for example, I still don't know enough about beat-making after watching the Timbaland MasterClass).
To capture it all here would require a separate post entirely. Instead, I'll summarize the key learnings that stood out the most.
Below are a few key learnings that stood out during the MasterClass:
Every movement in a magic act—no matter how natural it looks—has a purpose
Magic is the only art form where you can take what someone else has done and make it your own (you can't publish a book that's already been written, you can't give the same stand-up routine someone has already done).
Sometimes the misdirection of a magic act comes in "proving" that it couldn't be done.
The French Drop is the quintessential hand movement for magicians
Card magic can be broken down into the following methods:

Card Force: Making someone think they had a free choice
Card Location: Being able to find the card someone selected
The Magician's Choice: A verbal technique in which the magician gives the illusion of free choice, but in reality frames the trick so that each "Choice" has the same end result
Keycard: you don't need to know their card, just the card next to
---
Things I liked about the Penn & Teller MasterClass
One of my favorite things about the Penn & Teller MasterClass are the vignettes of their actual performances. For example, after teaching you the elements of coin magic, we watch as Teller performs a solo act involving making coins appear out of water before eventually transforming the coins into real live fish. Even after watching the basics and knowing that there is obvious deception afoot, I still found tremendous joy (and appreciation) of magic.
Besides feeling giddy like a child, I especially liked how deep and thoughtful Penn and Teller both are. In one lesson alone they quote or reference, Christopher Hitchens, Sartre, Aristotle, and Macbeth.
For someone who says nothing at all on stage, Teller certainly had in-depth insights into art and philosophy, adding a layer of complexity to what I thought was going to be a simple and straight-forward course.
Most of all, this class is flat out fun. Penn and Teller are funny, witty, and the tricks they teach you are certainly going to impress a few friends of yours.
My favorite quotes from Penn & Teller's MasterClass
"Then you first learn how a magic trick is done, there's often a moment of disappointment where you say, oh, he just held it in the other hand."

Teller—Lesson 1: Meet Penn & Teller
"The strongest lie is a lie the audience tells itself."

Teller—Lesson 5: Misdirection
"If I go over to the tank and pick up some water, and the water's dripping out of my hand. And then the coin drips out and lands in the bowl with a clink, then there's a real poetic connection. And that's when causality is not primitive and cliched, but beautiful and poetic."

Teller—Lesson 6: Coin Magic
"Learn magic for joy."

Penn—Lesson 8: Mentalist or Crook?
"You want to learn how to make it personal. And I don't think I understood for a long time that who you are makes such a big difference."

Penn—LEsson 12: Principles of Performing
"I see what seems to be impossible and yet some human being has made it possible and spoken through it. The fundamental quality of a work of art includes a sense of the impossible for a moment seeming to be real."

Teller—Lesson 14: The Joy of Magic
---
Things I didn't like about the Penn & Teller MasterClass
I was a bit frustrated at myself that I couldn't learn some of the tricks right away. The French Drop—the act of making it look like you are passing an object from one hand to another—is difficult to make look convincing. I know they said practice will be required, however, I was expecting to stun my friends next weekend with my new skills (looks like I'll have to postpone).
Also, I found some of the postulating to be a bit out of place. For example, at one point Penn starts to question whether or not humans have free will. Now, while I don't personally mind a good philosophical discussion, I can see how this might irritate other students who are here to learn magic and not have their world views questioned.
---
Does the class keep its promises?
Yes, I wanted to learn a few simple magic tricks and this MasterClass has been able to teach me just that. I still need more practice on the tricks that involve sleight of hand, however, the card tricks are so straight-forward that I was easily able to learn those after two tries.
Penn also promised that students would learn about human behavior and learn we do. Lesson 10 is all about how magicians exploit human brains which are hardwired to run on autopilot. "Magic goes into those things that you've taken for granted," says Penn, "and made minor changes that you can't see." I found this section to be incredibly interesting.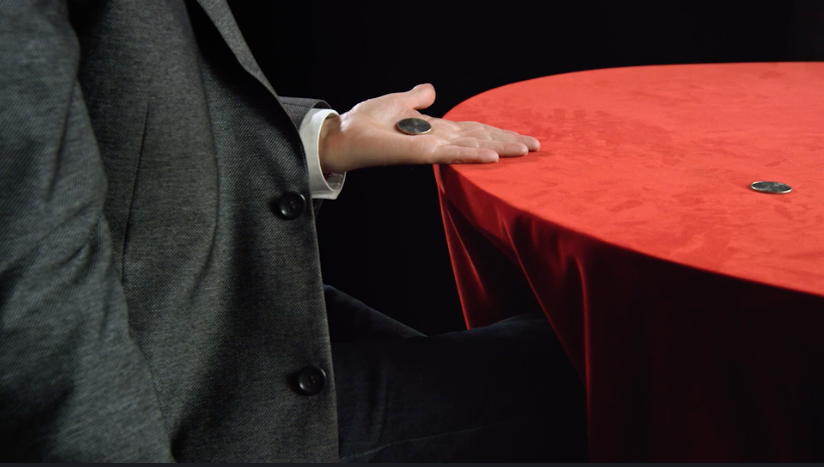 ---
Is Penn & Teller's MasterClass worth the money?
Yes if you…
Are interested in learning magic
Want to know more about human behavior
Are looking for a fun way to impress your friends
Want to beef up your magic act
No if you…
Have no interest in magic
Are looking for Penn & Teller to reveal the secrets behind their biggest tricks
Already have advanced magical skills
Are Harry Potter 🙂
---
Conclusion
Taking everything into consideration, if you're looking to get into magic and also want access to well over 80 other classes, the Penn & Teller MasterClass on magic is a terrific launching point.
If you're interested in learning more, here is a trailer to the class:
---