In this review, we'll take a look at the Aaron Sorkin MasterClass on Screenwriting and find out if it lives up to its promises and delivers a learning experience worthy of your time and investment.
Aaron Sorkin, the Oscar, and Emmy award-winning screenwriter begins his MasterClass on Screenwriting trailer with a surprising comment:
I'm in a constant state of writer's block.
In some ways, this is the perfect entry into his course. Sorkin doesn't believe in the romanticized view of writing some bloggers have tried to popularize. He doesn't sit around waiting for inspiration to strike. He's a process-driven tactician.
As someone who's never personally written a screenplay before (but enjoys good film and television), I wanted to see if Sorkin could take a newbie like me and give me a process I could use to write.
I carved out some time this past week to learn as much as I could from Sorkin's MasterClass and put together this review to answer this one question: Is the Aaron Sorkin MasterClass on Screenwriting worth it?
"The worst crime you can commit is telling the audience something they already know," Sorkin says.
So, does Sorkin's MasterClass tell us something we already know? Or does it deliver something much more?
Overall, I highly recommend this MasterClass (jump to the recommendation section to learn why). However, let's dive in to see if MasterClass delivers a course worthy of your investment.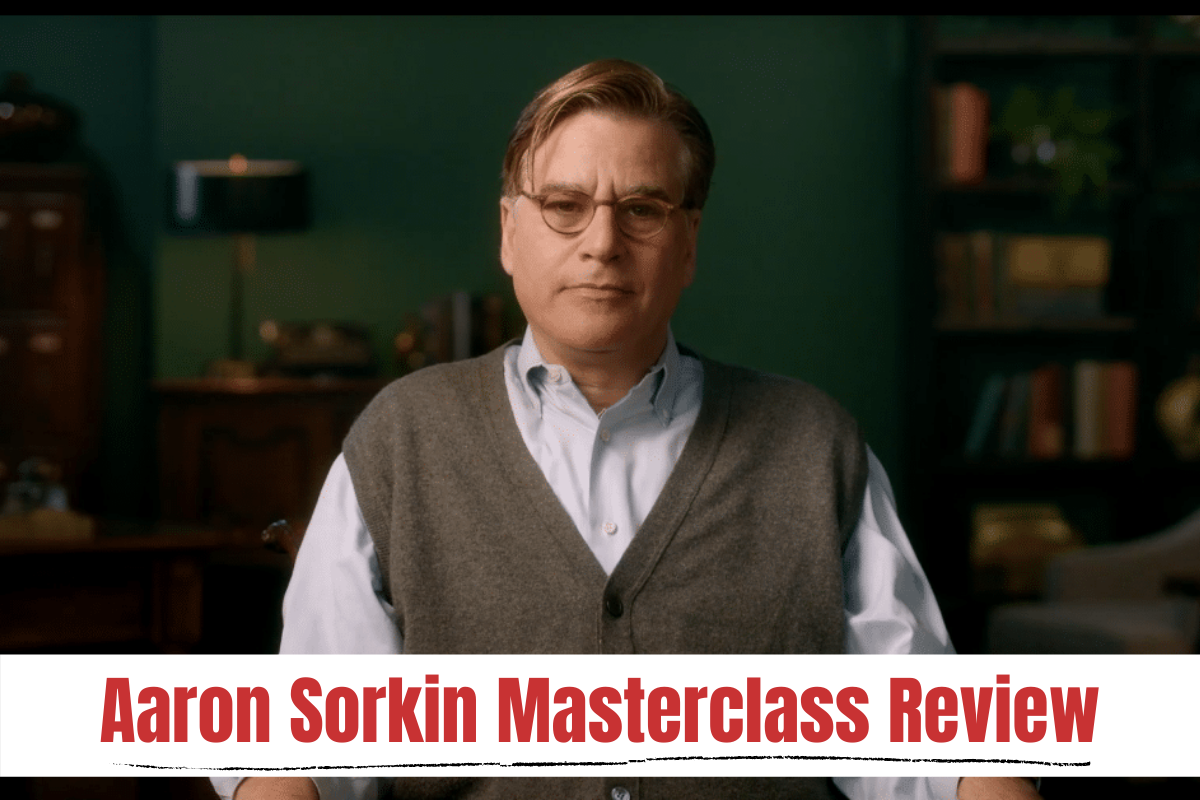 Quick Q and A
How much is Aaron Sorkin's MasterClass?
MasterClass charges a yearly subscription to access all of their courses. Jump to the pricing section to learn more.
How long is Aaron Sorkin's MasterClass?
The Aaron Sorkin MasterClass on Screenwriting is 7 hours and 58 minutes long and spans 35 video lessons.
Does MasterClass have a cancellation policy?
Yes. If you cancel within 30 days of purchase, MasterClass will issue you a full refund.
---
About Aaron Sorkin
I was well aware of Sorkin's prestige as a screenwriter before taking his MasterClass. He's the creator of the award-winning television show The West Wing as well as the hit play (and later film) A Few Good Men. Sorkin also won an Academy Award (Best Adapted Screenplay) for the film The Social Network.
Personally, I am a big fan of Moneyball, which was adapted for the screen by Sorkin.
When it comes to his style, rapid-fire dialogue and extended monologues are quintessential Sorkin. His films often feature long drawn-out walk and talk sequences in which the camera tracks two (or more) characters in conversation without ever cutting away.
So I hoped to learn a lot about writing dialogue in his MasterClass.
---
What does this MasterClass promise?
The MasterClass website lays out the following promises for Sorkin's class on writing screenplays for T.V. and film:
Learn the rules of storytelling, dialogue, and character development
Discover what makes a script actually sell
By the end, write screenplays that capture your audience's attention
These are bold promises, but they do represent attainable goals. Moreover, with nearly 8 hours of content, I was certain I'd be able to learn different rules to follow and glean some insight on how to sell a script.
As for writing an entire script, I was a bit hesitant to believe that promise, and Sorkin himself was a bit more conservative than the MasterClass website when speaking of the course.
Writing, like any other art form… there are chunks of it that can be taught and there are chunks of it that can't be taught. We're here for the parts that can be taught… But my hope is that I'm able to say something in here that will be meaningful to some writer and allow them to do what they want to do and get better.
However, the course trailer and summary of the lessons convinced me that a screenwriting beginner like myself might possess the proper tools to write a screenplay after watching this MasterClass.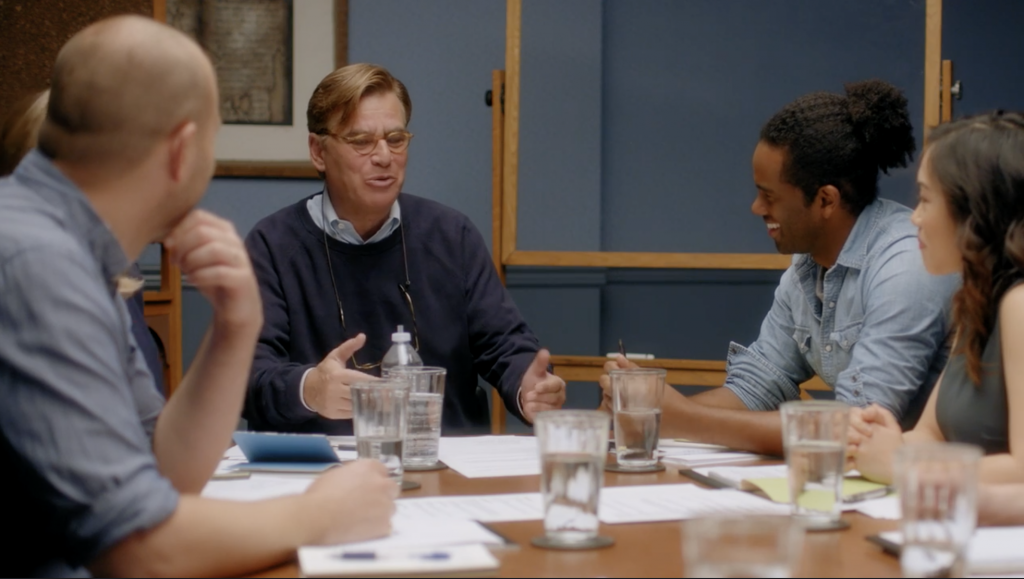 In addition, the downloadable workbook that accompanies this class sprinkles in a few extra promises:
The exercises in this workbook are designed to teach you the craft of screenwriting from Aaron's unique perspective. You'll learn the ins and outs of storytelling and develop the skills to craft and pitch your next script.
So, did Aaron Sorkin live up to his promises? Did he meet my expectations? I'll cover that at the end of the review (skip ahead if you want to find out). But first, let's talk about what's probably on your mind…
---
How much does Aaron Sorkin's MasterClass cost?
If you want to take Aaron Sorkin's MasterClass, you have three options to choose from.
In 2021, MasterClass began testing alternative subscription models besides their original flat-rate annual membership. Eventually, they settled on a new cost-friendly three-tier MasterClass pricing model for their annual subscription:
Individual – $120 per year (average $10 per month)
Duo – $180 per year (average $15 per month)
Family – $240 per year (average $20 per month)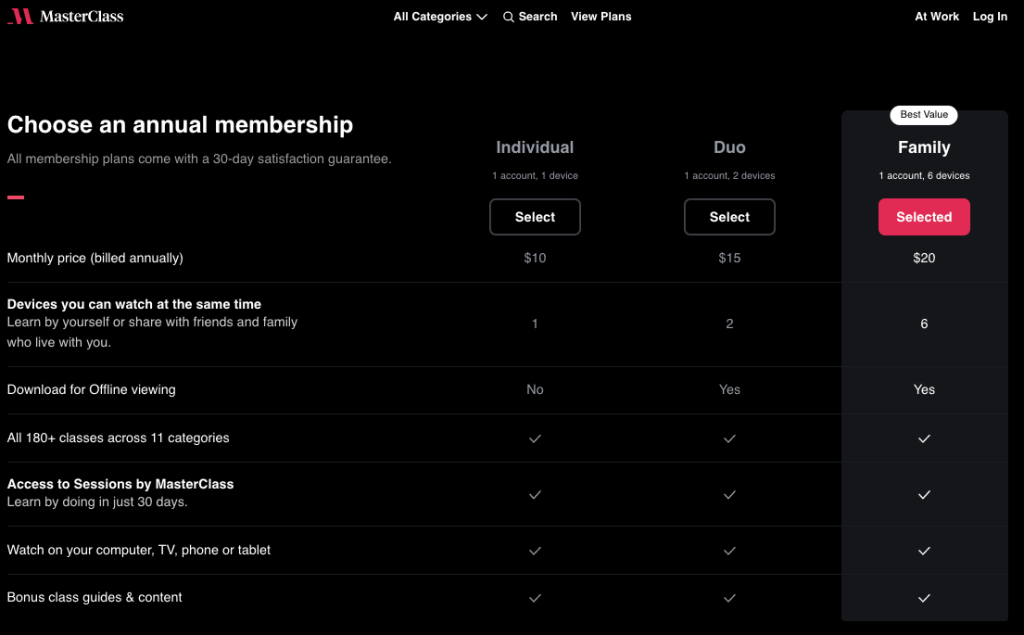 The Individual membership (formerly the "Standard Plan") is perfect for single individuals who are most likely to consume online learning at home. The Duo (formerly the "Plus Plan") and Family (formerly the "Premium Plan") plans are better for couples as MasterClass allows multiple devices to watch at the same time. (Netflix has similar restrictions for their membership plans).
However, the ability to download video lessons for offline viewing is helpful for people who might want to watch MasterClass on their commute to work without eating up most of their data. The Plus and Premium plans offer their users the ability to do just that.
Personally, I go for the $120 per year option as I average about one MasterClass per month, which means my cost per class is $10.
The price may seem steep, however, the subscription gives you access to all 90+ MasterClass courses, including other filmmakers and writers such as David Lynch, Martain Scorsese, and Neil Gaiman.
If you look at it, one MasterClass is someone's entire body of professional work presented in well-organized and educational video content. In addition, one MasterClass subscription grants you access to over 80 of these courses.
Moreover, if it turns out the Aaron Sorkin MasterClass isn't for you, chances are you'll find other MasterClasses you will enjoy.
---
What is included in the Aaron Sorkin MasterClass?
Here's a rundown of what you are getting with the Aaron Sorkin MasterClass.
Runtime:
7 Hours 58 minutes
*Rating:
4.7 out of 5 ⭐️
Lessons:
35 video lessons
Materials:
• One 52-page class workbook
• A Few Good Men screenplay
• Steve Jobs continuity and spotting list
• The Social Network screenplay
*As of 5 July 2020 Ratings are no longer shown on the MasterClass website
Runtime
At 7 hours and 58 minutes, this is the longest MasterClass I've reviewed so far (a previous title held by Neil Gaiman). However, a decent bulk of the course is made up of two "workshops" Sorkin puts on for other students.
If a nearly 8-hour course seems like too long of a time commitment, the video playback buttons offer you the ability to watch the course at 1.5x and 2x speed. I watched the videos at 1.5x speed with subtitles on and finished the course in about 5 hours and 20 minutes. It did not negatively affect my learning experience.
Supplemental material
Sorkin also provides plenty of downloadable resources including a class workbook PDF, two screenplays, and a continuity and spotting list. The class workbook is 56 pages long and includes assignments and additional supplemental material.

An important note to keep in mind. The class workbook includes assignments for each lesson, however, these are not reviewed by Sorkin or the MasterClass team. The assignments are there for your benefit and are a great launching point for discussion in the community forum. Speaking of which…
Community Access
Finally, like every MasterClass, this one comes with its own Community Forum where you can interact with fellow students. The Sorkin page is active with other passionate learners and is a great resource to receive peer feedback.
---
About the structure of the class
Aaron Sorkin's MasterClass on Screenwriting is divided up into 35 lessons with an average run time of approximately 14 minutes per lesson. Each lesson is subdivided into 3 to 5 sections.
Aaron Sorkin MasterClass Lesson Plan:
The first section of the class covers all of the basics. It's a lot of Sorkin telling you what you should and shouldn't do. He uses some examples from his previous work, but it's material you can follow along with even if you aren't familiar with his work.
I skipped over the five group session lessons and saved them to watch later. They are helpful if that style of learning suits you (ie. watching other people learn). However, I skipped them at first to make sure I covered everything else on my own.
The middle lessons focus on scene building and writing dialogue. Lessons 17 through 24 are where Sorkin really shows what sets him apart from other screenwriters. He includes insightful tips around crafting dialogue and how to properly rewrite your first draft.
Side Note: Two of my favorite lessons are 23 and 24 pertaining to rewrites. I've never considered the rewrite process essential. I thought screenwriters write their scripts and send them off. However, Sorkin shares valuable insights on how to receive feedback from others, compiling notes, and rewriting the script to get rid of anything that feels "first-drafty."
Finally, the class wraps up with an extensive 8 part "writer's room" for the West Wing. I never saw the West Wing, but I found these sections to be helpful. Again, these aren't used to directly teach you how-to's but rather to see Sorkin in action.
My fast-track lesson plan
At almost 8 hours of video content, I realize this class is a time commitment. If you are looking for an abbreviated lesson plan, I compiled my own version that covers the basics in slightly over 1 and a half hours. I found these lessons to be the most impactful and beneficial to helping me learn the screenwriting process.
Course Reviewers 90-Minute Lesson Plan
2. – Intention & Obstacle | 10m11s
4. – Developing Characters: Part 1 | 11m43s
9. – Rules of Story | 8m05s
10. – Film Story Arc | 11m26s
11. – Writing Habits | 15m25s
17. – Writing Scenes: Part 1 | 9m18s
18. – Writing Scenes: Part 2 | 11m34s
19. – Scene Case Study: Steve Jobs | 8m35s
23. – Rewrites: First Draft | 7m45s
Total runtime = 1 hour 34 minutes
---
Key Things I Learned
The #1 thing I learned is that nothing exists on-screen without intention and obstacles. Or as the class workbook says:
Developing the intention and obstacle in your story creates the friction and tension needed to create a strong screenplay.
Establish intention and obstacle early (and make them believable) then build everything else around them including:
Story ideas
Character development
Rules of story
Story arc
Below are a few key learnings that stood out during the MasterClass:
Make sure your stakes are high and urgent to keep the story compelling and interesting.
Rule of thumb, if the main character dies at the end, it's probably a feature film and not a television series.
Connect your characters to their intentions and obstacles. Show the audience what they want — not who they are.
Art — like sports and music — is best when it follows a set of rules. The best rules to follow for screenwriting are Aristotle's Poetics.
The first 15 pages of your script should be the most memorable.
Get to the end of your first draft before you even begin to rewrite it.
Always rewrite your first draft.
---
Things I liked about the Aaron Sorkin MasterClass
In the next two sections, I'm going to cover what I liked and what I did not like about the Aaron Sorkin MasterClass.
First, Sorkin is a reputable name in the screenwriting industry. He's written many well-known films and plays and it's clear from the start that he is knowledgeable about his craft.
Second, there is plenty of material for all types of learners. For instance, I found the first dozen or so lessons to be the most helpful because I like learning about processes. However, other students find the group workshops to be more helpful.
Third and finally, throughout the class, we cut away to actual examples of Sorkin's work. I absolutely loved watching Sorkin break down a scene he's written over ten years ago and learn what went through his mind to create it.
My favorite quotes from Aaron Sorkin's MasterClass
Believe it or not, the properties of characters and the properties of people have very little to do with each other. I know it seems like the goal should be to have a character be as human as possible. And that's not the goal, or at least not my goal.

Lesson 5 – Developing Characters: Part 2
You've got to sort of balance right of the edge of that razor, of [the audience] not being confused, and you're not telling them something they already know.

Lesson 8 – The Audience
Rules are what makes art beautiful.

Lesson 9 – Rules of story
In terms of how to handle a comedy…I always try to, if I can, tell a serious story funny.

Lesson 17 – Writing Scenes: Part 1
Remember, you don't want to tell the audience who a character is, you want to show the audience what a character wants.

LEsson 19 – Scene Case Study: Steve Jobs
Rewriting is a lot easier than writing because you have a problem to solve. You're no longer looking at an empty page with a flashing cursor.

Lesson 23 – Rewrites: First Draft
---
Things I didn't like about the Aaron Sorkin MasterClass
I mentioned above that I didn't find the group workshops very helpful. I initially skipped over them to watch the "core" lessons, and even after watching them, I didn't feel like I gained any more knowledge on screenwriting.
Everyone has a different learning preference, so it's totally possible that you'll find the group workshops beneficial. Again, MasterClass doesn't force anyone to watch the lessons in any specific order. They are there if you need them, and if not, it's fine to skip over them.
Also (and this is a personal preference) Sorkin isn't as "elegant" of a speaker as the dialogue he writes. He even says at the beginning of the class that he speaks in roundabout ways. Sorkin speaks with a lot of false starts, umms, and hand gestures that sometimes make it hard to follow.
Finally, I didn't find the final section of the MasterClass — about pitching ideas — to be helpful. Sorkin pitches his own idea around a hypothetical series called Mission to Mars, and it's surprisingly underwhelming.
---
Does the class keep its promises?
Yes, this is a robust MasterClass complete with case studies, group workshops, writer's rooms, and plenty of teaching from Sorkin. To recap, MasterClass made the following promises:
Learn the rules of storytelling, dialogue, and character development
Discover what makes a script actually sell
By the end, write screenplays that capture your audience's attention
These are big promises and I had high expectations going in. I can confidently say that my expectations were met. This MasterClass gave me a clear starting point for writing screenplays and I now feel that I know how to tell a story that makes sense all the way through.
In conclusion, by the end of this MasterClass, you will possess the necessary skills, tools, and structures needed to begin writing a screenplay, as well as, the know-how to receive feedback and potentially sell a script.
---
Is Aaron's MasterClass worth the money?
Yes if you…
Are new to screenwriting
Want to break into film and television
Are looking for a new hobby
Have struggled with screenwriting and need a refresher
Have a half-finished script and want to get unstuck
No if you…
Can't commit to watching 8 hours of video lessons
Are looking for direct feedback on your work
Don't want to write drama or comedy screenplays
Are already an Oscar-winning screenwriter
---
Conclusion
Let's wrap this thing up. Do I feel inspired or exhausted after watching the Aaron Sorkin MasterClass on Screenwriting?
Inspired.
I had high expectations about this MasterClass and Aaron Sorkin delivered on those expectations. In other words, he took a craft I was initially unfamiliar with and broke it down into an approachable process.
Yes, there are things that cannot be taught and Sorkin doesn't pretend to know it all. However, he gives you enough to get started.
As I mentioned at the beginning, I was hesitant to believe that by the end of this MasterClass I'll be able to write a screenplay. I was wrong. After watching this MasterClass I began writing my first 15 pages of a new screenplay.
If you're interested in learning more, here is a trailer to the class:
---