In this review, we'll see if the Timbaland MasterClass on producing and beatmaking lives up to its promises and delivers a course worth your time, attention, and most importantly, your money.
"As long as you love music, you're welcome in this world of music," Timbaland opens his MasterClass.
I love music, but sadly, I have no music production experience. Nevertheless, I went into Timbaland's MasterClass on beatmaking with an open mind and a desire to learn.
As a total beginner, what I came away with was a newfound respect for music producers who put in endless hours of work to make the music we listen to palatable. But did I leave this class with enough knowledge to produce my own music? Probably not.
However, for someone with basic beatmaking experience, this MasterClass will show you the ins and outs of taking your beats and making them (dare I say it?) dope.
Let's dive in and find out if this MasterClass is right for you.
---
Quick Q and A
Do I need a subscription to access this course?
Yes. MasterClass charges a yearly subscription to access all of their courses. Jump to the pricing section to learn more.
How long is the MasterClass?
The Timbaland MasterClass on beatmaking is 3 hours and 2 minutes long and spans 15 video lessons.
Does MasterClass have a cancellation policy?
Yes. If you cancel within 30 days of purchase, MasterClass will issue you a full refund.
Is the Timbaland MasterClass worth it?
Yes, for people with some basic understanding of music. No, for anyone with little to no music background.
---
About Timbaland
Timothy Zachary Mosley, AKA Timbaland, is a record producer, rapper, DJ, and record executive. His professional career began in 1996 when he earned production credit on Ginuwine…the Bachelor for singer Ginuwine.
Timbaland has since gone on to work with countless big-name artists such as Justin Timberlake, Missy Elliott, Rhianna, Drake, Jay-Z, and Madonna. Over the span of his career, Timbaland has written 99 U.S. hit songs and has won four Emmys.
---
What does this MasterClass promise?
"You don't need a big old studio to do what you need to do," says Timbaland in his MasterClass trailer.
Music, specifically hip-hop, seems like an art that is unattaiable for the masses. But Timbaland is promising to break down the fears and help us to see that creating dope beats is possible with a computer, a microphone, and some creative free time on our hands.
"We're going to make music. We're going to talk about the music. We are going to record vocals. We're going to show you how melody is structured."
So, did Timbaland live up to his promises? Did he meet my expectations? I'll cover that at the end of the review (skip ahead if you want to find out). But first, let's talk about what's probably on your mind…
---
How much does Timbaland's MasterClass cost?
If you want to take Timbaland's MasterClass, you have three options to choose from.
In 2021, MasterClass began testing alternative subscription models besides their original flat-rate annual membership. Eventually, they settled on a new cost-friendly three-tier MasterClass pricing model for their annual subscription:
Individual – $120 per year (average $10 per month)
Duo – $180 per year (average $15 per month)
Family – $240 per year (average $20 per month)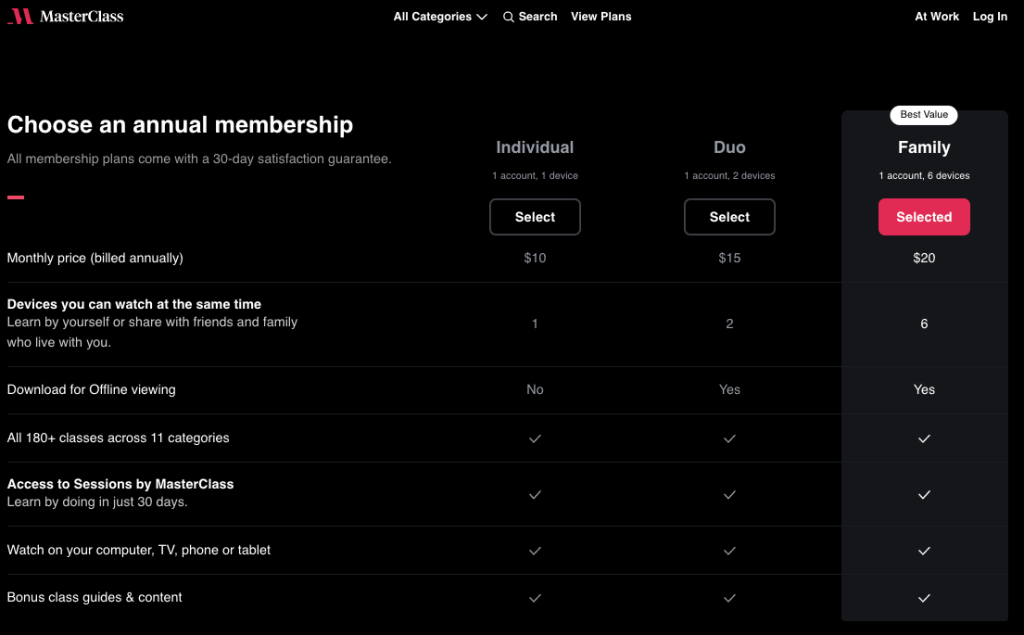 The Individual membership (formerly the "Standard Plan") is perfect for single individuals who are most likely to consume online learning at home. The Duo (formerly the "Plus Plan") and Family (formerly the "Premium Plan") plans are better for couples as MasterClass allows multiple devices to watch at the same time. (Netflix has similar restrictions for their membership plans).
However, the ability to download video lessons for offline viewing is helpful for people who might want to watch MasterClass on their commute to work without eating up most of their data. The Plus and Premium plans offer their users the ability to do just that.
Personally, I go for the $120 per year option as I average about one MasterClass per month, which means my cost per class is $10.
The price may seem steep, however, the subscription gives you access to all 90+ MasterClass courses, including other classes by notable musicians such as Christina Aguilera, deadmau5, and Usher.
Plus, you have to remember that Timbaland's MasterClass is his lifetime of work distilled into well-organized and enjoyable video content. In other words, if it turns out the Timbaland's MasterClass isn't for you, chances are you'll find other MasterClasses you do enjoy.
---
What is included in the Timbaland MasterClass?
Here's a rundown of what you are getting with the Timbaland MasterClass.
Runtime:
3 Hours 2 minutes
Reviews:
4.7 out of 5 ⭐️
Lessons:
15 video lessons
Materials:
• 1 class workbook
• Exclusive songs and stems
Runtime
The runtime clocks in at just over 3 hours, which I thought was a little brief compared to some other MasterClasses I've taken before. I preferred watching the course at 1.5x speed during the general overview parts but slowed it back to 1x speed during the music tutorials. I found that watching at 1.5x speed did not hinder my learning experience.
Supplemental Material
The Timbaland MasterClass comes equipped with a 47-page class workbook which expands on each video lesson and supplies additional assignments for students to complete.
An important note to keep in mind: the workbook assignments are not reviewed by Timbaland nor the MasterClass team. They are there for your benefit and practice only and are a great launching point for discussion in the community forum.
This MasterClass also comes with exclusive songs and stems are found in the class community and are available for download. These digital recourses are specifically used in Lesson 2 and 12.
Community Access
Finally, like every MasterClass, this one comes with its own community page called "The Hub" where you can interact with fellow aspiring music producers. The Timbaland page is active with other musicians and is a great resource to receive peer feedback.
---
About the structure of the class
Timbaland's MasterClass on beatmaking is divided up into 15 lessons with an average run time of approximately 12 minutes per lesson. However, the video playback buttons offer you the ability to watch the course at 1.5x and 2x speed.
Lesson plan:
Introduction
Studio Session: Making a Beatbox Beat
Building Beats: Tim's Process
Making a Beat: Getting Warmed Up
Song Origins: "Dirt Off Your Shoulder"
Making a Beat: Starting With a Chord Progression
Making a Beat: Tweaking and Layering Drums
Song Origins: "Pony"
Making a Beat: Manipulating Vocal Samples
Making a Beat: Creating a Breakdown
Song Origins: "Gossip Folks"
Making a Beat: Adding a Topline
Song Origins: "Are You That Somebody?"
Tim's Influences
How to Persevere
Lesson summary:
The first lesson, besides the Introduction, is a 27-minute studio session where we watch Timbaland and his co-producers, Angel and Fede, work their magic in the studio.
As someone with no music production experience, the lesson felt overwhelming, but the process was so intriguing I could not look away. It's almost the same feeling as when Dorthy pulled back the curtain of the Great Oz. It's mesmerizing and scary but left me with more questions. I wanted to learn more.
At first I thought this was an odd way of beginning a MasterClass, but as the rest of the lessons unfolded, I saw the necessity of beginning open ended then layering in all the different skills and techniques required to produce a beat.
Side Note: Although this MasterClass isn't particularly long. I cover the most essential Lessons below in my fast-track lesson plan pertaining to beatmaking.
The first half of the MasterClass is heavily focused on the techniques of beatmaking. Timbaland breaks down how to use chord progressions, layer in drums, and even manipulating vocal samples.
The later half dives into origins of Timbaland's past hits and what went into each of them. They complement the technical lessons because the student can take what they've learned and understand it in a real-world example.
Timbaland closes his MasterClass with a few wise words on how to persevere in the music industry.
My fast-track lesson plan
Although 3 hours of video lessons isn't a huge time commitment, I created a fast-track collection if you are looking for an abbreviated lesson plan. In just under 90-minutes you can watch these lessons, grab a computer, and have a decent idea of how to make some beats. I found these lessons to be the most impactful and beneficial to helping me learn beatmaking.
Course Reviewers 90-Minute Lesson Plan
4. – Making a Beat: Getting Warmed Up | 14m40s
6. – Making a Beat: Starting With a Chord Progression | 12m14s
7. – Making a Beat: Tweaking and Layering Drums | 9m45s
9. – Making a Beat: Manipulating Vocal Samples | 9m20s
10. – Making a Beat: Creating a Breakdown | 19m21s
12. – Making a Beat: Adding a Topline | 22m13s
Total runtime = 1 hour 27 minutes
---
Key Things I Learned
I can safely say that my life long question of "what comes first, the music or the lyrics?" can be now answered. From this MasterClass I learned that music producers like Timbaland begin with a beat or a melody and continue to build out a song before ever "toplining" lyrics to it.
Besides the behind the scenes of music production, I did learn a lot about beatmaking.
Below are a few key learnings that stood out during the MasterClass:
Beatmaking begins with building a chord progression. Timbaland and his team begin with a simple four-bar phrase that loops throughout the song.
After a chord has been established, Timbaland begins to layer in and tweak the percussion. His engineers then use plugins to adjust the EQs.
In traditional jazz and rock, there is a section of the song that is different than all the rest called the bridge. In club music, it's called a breakdown.
---
Things I liked about the Timbaland MasterClass
There's no denying Timbaland's energy and passion for his craft.
Listening to Timbaland talk about his beatmaking production was inspiring, even for me as someone who's never recorded a beat in their life.
I thoroughly enjoyed the sections where Timbaland shows a bit of the behind the scenes of his past hits such as Dirt Off Your Shoulder, Pony, Gossip Folks, and Are You That Somebody?
Finally, I especially enjoyed Timbaland's closing lesson where he shares a few remarks on how to persevere. "If it's good," Timbaland says, "it'll manifest itself." I found this advice applies to many facets of our lives, not just music.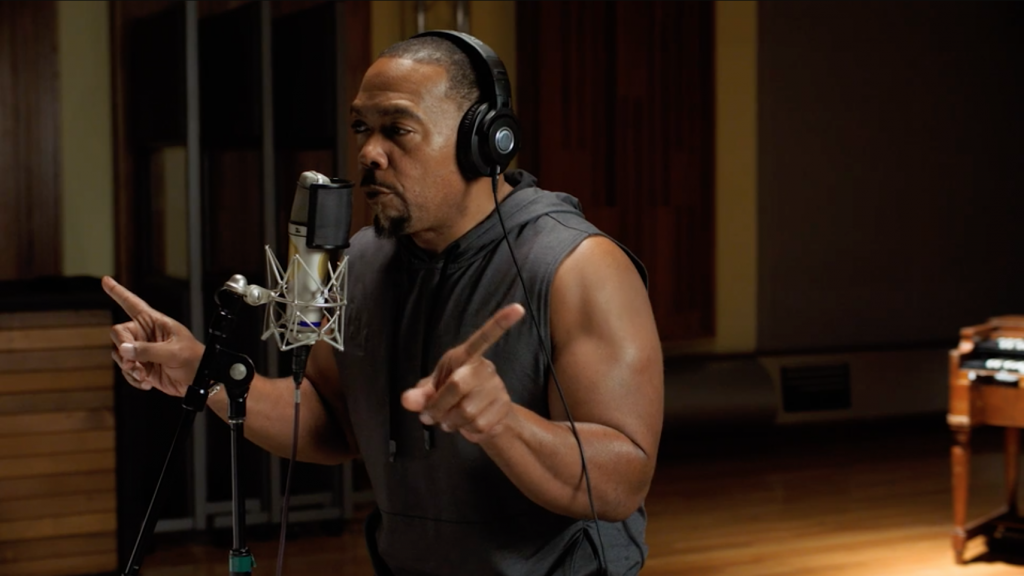 ---
Things I didn't like about the Timbaland MasterClass
The biggest downside of the Timbaland MasterClass is the general assumption that students have some beginner knowledge around the technology used in music production.
I have past experience in podcasting and video editing work so I had some understanding. However, there were some technical aspects that I felt could be covered a bit more.
Nevertheless, MasterClass did stipulate in their class workbook that the class was:
Designed as an introduction to music composition or production software. Students who don't already know the basics of recording and mixing music on a personal computer are encouraged to take a primer on the topic in order to get the most out of the course. Assignments are designed for students who have access to audio production software and at least a basic understanding of how to use it.
However, I was a bit disappointed that after 3 hours of lessons I couldn't say I could sit down and record my own music. I'm an absolute beginner which means I'd still need to watch supplemental material on my own.
---
Does the class keep its promises?
Not exactly. My expectation going into this MasterClass was that even a beginner like myself could learn enough to master some basics to beatmaking. However, as I've previously mentioned, I still need additional practice to unsterstand the basics.
I did, however, compare my reaction to other student reactions in the Community Forum and found the following comments:
I never do kudos online but this class is the BOMB! What an inspiration. Thank You Thank You thank you. Take this class if you have an ounce of interest in music.

Steve d.
Timbaland's masterclass is a true blessing, he's one of my favorite producers and what he has to say about music and producing is so meaningful.

Charlotte B.
---
Is Timbaland's MasterClass worth the money?
Yes if you…
Have some former knowledge in music production
Are musically inclined
Have the necessary software and recording equipment
Are interested in making club music
No if you…
Have no background in music
Don't have a computer capable of music production
Are not into club music
---
Conclusion
Taking everything into consideration, I think this MasterClass is too overwhelming for a beginner. I felt lost throughout the lessons as Timbaland and his team used terminology I was unfamiliar with and jumped around their process of making music.
I did, however, enjoy the sections where Timbaland talked about the song origins of some of his popular hits. When he talked about the emotional elements, such as how a song "felt," I found I could relate more to his process.
However, judging by the feedback given by other students with music backgrounds, this MasterClass does serve as an excellent launching point for proficient beginners with some past experience. At the very least, Timbaland's style and energy is enough to motivate any young artist to perfect their craft.
If you're interested in learning more, here is a trailer to the class:
---