Are you considering investing in your personal or professional development through online courses? Look no further than Udemy, a platform with over 22,000 courses spanning a wide array of topics, from business and design to marketing and personal development. In this comprehensive review, we'll explore the pros and cons of Udemy, its cost, alternatives, accessibility, and much more. Whether you're a seasoned learner or new to online education, we aim to provide you with all the information you need to make an informed decision.
If you are looking for a TLDR version of this review, here it is:
Udemy—boasting 22,000+ courses, is a versatile platform for affordable online learning. After five years of use, it's clear that Udemy offers a wide range of courses, including business and personal development. Pros include affordability, self-paced learning, and world-class instructors, while cons stem from varying course quality and the absence of interactivity. Pricing is flexible, and frequent sales provide significant discounts. Alternatives like Coursera and LinkedIn Learning exist, but Udemy's user-friendliness and convenience make it a compelling choice. Whether you're a beginner or expert, Udemy offers a pathway to knowledge on a budget, ideal for the self-motivated learner. Start your learning journey today!
---
Table of Contents
Udemy Pros and Cons
Like Leslie Knope, I like a good pros and cons list. So here is mine for Udemy:
Pros:
✅ Diverse range of courses
✅ Affordable
✅ Self-Paced learning
✅ World-Class instructors

Cons:
🚫 Quality variability
🚫 Self-directed learning

---
An honest and in-depth Udemy review
Udemy, boasting an extensive library of over 22,000 online courses spanning diverse subjects, offers an affordable gateway to online education. As an avid user for over five years, I've leveraged Udemy for both personal and professional skill acquisition, even sponsoring team members due to its exceptional value. Udemy's strengths lie in its affordability, allowing access to courses typically priced between $12 and $199, often complemented by frequent sales offering significant discounts. However, Udemy's open platform, while advantageous in its vast diversity of topics and instructors, poses a challenge in course quality consistency. To navigate this, relying on reviews and feedback from fellow students who've completed a course becomes crucial.
In summary, Udemy proves to be an accessible and budget-friendly means to acquire professional and personal skills, with the flexibility of self-directed learning. Its success, however, hinges on the motivation and strategy of the learner. If approached strategically, Udemy offers a valuable resource for acquiring knowledge and skills that can substantially enhance one's personal and professional life.
What is Udemy?
Udemy is an online learning platform that offers a vast library of courses on a wide range of subjects. It provides an accessible and affordable way for people to acquire new skills, explore interests, or further their education. The courses on Udemy are created and taught by experts in their respective fields, and they cover topics spanning from business and technology to personal development, arts, and many more. Users can enroll in courses, study at their own pace, and access course materials from anywhere with an internet connection. Udemy is popular for its diverse course offerings and flexible learning options, making it a valuable resource for both personal and professional development.
How are Udemy courses structured?
Udemy courses are structured in a way that provides flexibility and ease of access for learners. While the specific structure can vary from course to course, here is a general outline of how Udemy courses are typically organized:
Course Overview
Course Sections
Lectures
Quizzes and Assignments
Discussion Boards
Progress Tracking
Additional Resources
Course Completion
Lifetime Access
Mobile Accessibility
It's important to note that Udemy courses are often self-paced, meaning you can progress through the material at your own speed. This flexibility makes Udemy courses suitable for learners with varying schedules and commitments. However, the specific structure and content of each course depend on the instructor's teaching style and the subject matter. Therefore, it's a good practice to review the course description, syllabus, and student reviews to ensure a particular Udemy course aligns with your learning goals and preferences.
Course Overview
The About section lays out a summary of the course and what you can expect to learn. Some courses also describe who the course is for specifically (helpful when browsing for new courses).
Course Sections
Courses are divided into sections, each focusing on a specific topic or module. These sections make it easier for students to navigate and follow the course's progression.
Lectures
Within each section, you'll find lectures. Lectures are the core content of the course and can take various forms, including video lectures, written materials, quizzes, assignments, and downloadable resources. Instructors present the course material through these lectures.
Quizzes and Assignments
Many Udemy courses include quizzes or assignments to help reinforce learning. Quizzes are often used to test your understanding of the material, while assignments may require you to apply what you've learned.
Discussion Boards
Udemy courses usually have a discussion board or forum where students can interact with the instructor and fellow learners. This is a valuable space for asking questions, seeking clarification, and engaging in discussions related to the course content.
Progress Tracking
Udemy provides tools to track your progress throughout the course. You can see which lectures you've completed and which ones are pending.
Additional Resources
Instructors often provide supplementary materials, such as PDFs, ebooks, or links to external resources, to enhance the learning experience.
Course Completion
Once you've completed all the lectures and any associated quizzes or assignments, you typically receive a certificate of completion for the course. This certificate can be a valuable addition to your resume or portfolio.
Lifetime Access
After purchasing a course, you have lifetime access to its content. This means you can revisit the course material at any time, even after completing it.
Mobile Accessibility
Udemy offers a mobile app, which allows you to access course content on smartphones and tablets, making learning more convenient.
Meet the Udemy instructors
Udemy instructors come from diverse backgrounds and possess expertise in a wide range of subjects. They can be professionals, educators, industry experts, entrepreneurs, or enthusiasts who have in-depth knowledge and skills in their respective fields. Here are some common types of Udemy instructors:
Subject Matter Experts: These instructors are experts in their specific fields, often with years of professional experience. They teach courses related to their areas of expertise, sharing valuable insights and practical knowledge.
Educators and Teachers: Many instructors on Udemy are experienced educators, including current or former teachers, professors, and trainers. They bring pedagogical expertise to their courses, making them effective for learners.
Entrepreneurs and Business Professionals: Udemy is known for its business and entrepreneurship courses. Instructors in this category may be successful entrepreneurs, business leaders, or consultants who share their insights on topics like startups, marketing, finance, and management.
Tech and IT Professionals: Instructors in technology-related fields often have backgrounds as software developers, engineers, or IT specialists. They teach courses on programming, web development, cybersecurity, and more.
Creative Professionals: Artists, designers, writers, and musicians often serve as instructors for creative courses, covering subjects like graphic design, writing, photography, and music production.
Language Instructors: Language courses on Udemy are taught by individuals fluent in the language or certified language educators who provide instruction in various languages.
Health and Wellness Experts: Instructors in the health and wellness category may include fitness trainers, nutritionists, psychologists, and medical professionals who share knowledge on fitness, mental health, nutrition, and well-being.
Life Coaches and Personal Development Experts: These instructors focus on personal development, life coaching, motivation, and self-improvement, drawing from their experiences and training in these areas.
Academic Instructors: Some instructors have academic backgrounds and teach courses related to academic subjects like mathematics, science, history, and social studies.
Enthusiasts and Hobbyists: Even individuals who are passionate hobbyists or enthusiasts can become Udemy instructors, sharing their expertise and insights on topics they love.
It's essential to read the instructor's biography and check their credentials, experience, and reviews when considering a Udemy course. Student reviews and ratings provide valuable insights into the instructor's teaching style and the overall quality of the course. Additionally, Udemy encourages instructors to update their courses regularly to ensure that the content remains current and relevant. This diverse pool of instructors contributes to the rich and varied course offerings available on the Udemy platform.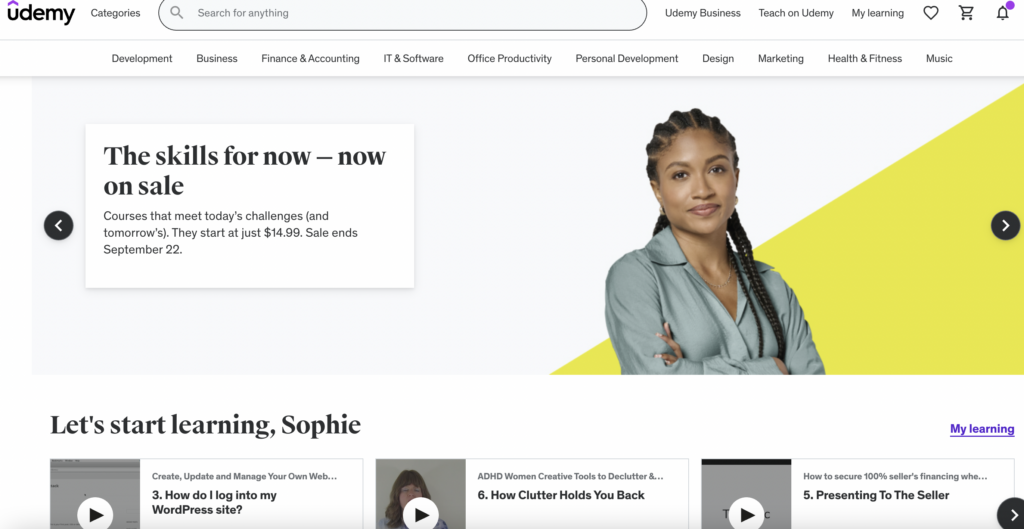 Udemy Community
Udemy boasts a thriving and interactive community that enhances the learning experience for both students and instructors. Within the platform's ecosystem, students can actively participate in course-related discussions on dedicated discussion boards, seek clarification during live Q&A sessions hosted by instructors, and offer valuable feedback through course reviews. Instructors, in turn, engage with their students by addressing queries, sharing updates, and facilitating a sense of connection. Moreover, Udemy maintains a strong online presence through its blog and social media channels, where it disseminates educational content and fosters a broader sense of community. For corporate clients, Udemy for Business extends this community-oriented approach, catering to organizational learning needs. Additionally, Udemy provides instructors with their own community space to exchange insights and best practices, ensuring a dynamic and supportive environment for both learners and educators alike.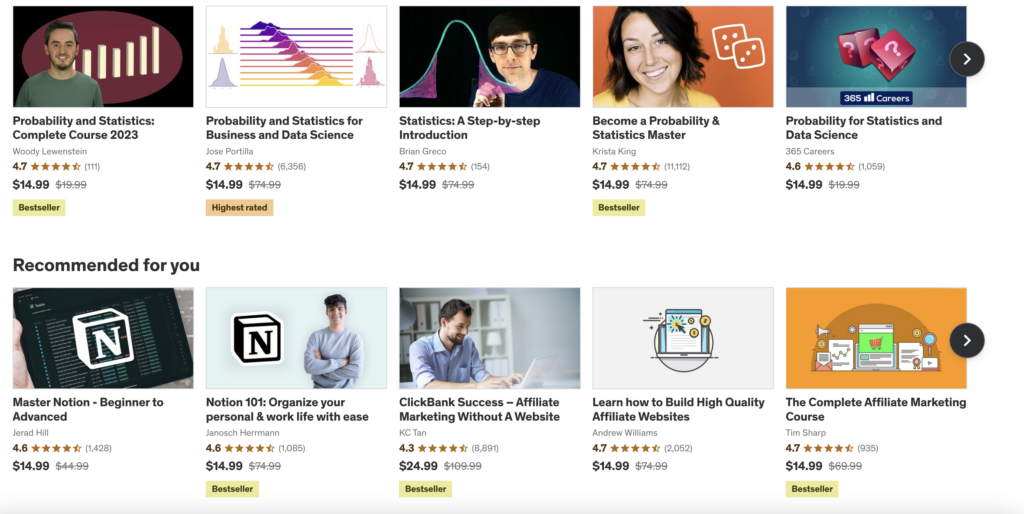 ---
How much does Udemy cost?
Udemy's pricing structure is flexible, with courses ranging from $12 to $199 at full price. The real gem, however, lies in Udemy's frequent sales and discounts, which can lead to significant savings. In my experience, I rarely paid the full listed price for courses, and some courses appear to have permanently reduced rates. Keep in mind that pricing strategies may affect sales and commissions for course creators, which is something I'll explore when launching my own course on Udemy later in 2023.
The perks vary in savings but quickly add up. To redeem the perks simply visit skillshare.com/perks after you sign up.
---
Which are the best courses on Udemy?
I reviewed Udemy's most popular courses based on student popularity and feedback. There are 13 categories and here are the top courses in each category
Development:
Business:
Finance and Accounting:
IT and Software:
Office Productivity:
Personal Development:
Design:
Marketing:
Lifestyle:
Photography & Video:
Health & Fitness:
Music:
Teaching & Academics:
---
Are there better Udemy alternatives?
Aren't there other learning platforms out there? What sets Udemy apart? If you are looking for other high-quality or accredited online learning Udemy alternatives, below are a few options to consider.
Udemy vs Coursera
Udemy and Coursera are both prominent players in the online education landscape, yet they offer distinct learning experiences. Udemy is known for its vast library of courses created by individual instructors, covering a wide array of topics. It excels in providing affordable, self-paced learning opportunities, making it suitable for learners seeking specific skills or personal enrichment. In contrast, Coursera collaborates with universities and institutions to offer structured, accredited courses and even full-degree programs. Coursera's emphasis lies in formal education and certification, making it an excellent choice for individuals pursuing academic qualifications or career advancement. Ultimately, the choice between Udemy and Coursera depends on your learning goals: Udemy for flexible, skill-oriented courses, and Coursera for accredited, comprehensive learning pathways.
Udemy vs Skillshare
With Udemy, you gain access to the bargain outlet of online learning. While Skillshare offers over 30,000 quality online courses from high-caliber instructors, Udemy offers thousands of cheap online classes from thousands of unknown instructors.
Nevertheless, Udemy touts a much more niche topic approach where students can learn specific technical skills from less-famous but still highly-qualified specialists. Course discovery is a bit tricky since some topics have hundreds of video courses alone.
If you have time to look for a gem on Udemy, they don't sell monthly or yearly subscriptions. Rather you pay per class access.
Udemy vs LinkedIn Learning
Udemy and LinkedIn Learning are two prominent platforms in the online learning sphere, each catering to distinct needs. Udemy offers a vast array of courses created by individual experts, spanning diverse subjects. It excels in affordability and self-paced learning, making it ideal for those seeking specific skills or personal enrichment. Conversely, LinkedIn Learning primarily targets professionals looking to advance their careers. It features high-quality, curated courses taught by industry leaders, often with a focus on business, technology, and soft skills. LinkedIn Learning's integration with LinkedIn profiles is a unique feature, allowing users to showcase their completed courses, enhancing their professional credentials. In essence, Udemy is ideal for flexible, skill-based learning, while LinkedIn Learning is a strong choice for career-oriented, professionally recognized education. The choice between the two depends on your specific career and learning objectives.
---
How to access Udemy
Accessing Udemy is straightforward. You can sign up for an account, select courses, and make payments securely online using your credit card. The beauty of Udemy is that once you've enrolled in a course, it remains accessible in your member's area for a lifetime—a valuable feature for those looking to revisit course content.
---
How to cancel Udemy
Should you ever need to cancel a course on Udemy, the process is user-friendly. Udemy offers a generous 30-day refund period, ensuring that you're satisfied with your purchase. If your expectations aren't met or you encounter any issues, Udemy will issue a refund promptly.
---
Udemy classes are worth it for…
A broader audience, from beginners seeking introductory courses to experts looking for advanced knowledge. Whether you're a teenager, a career professional, an entrepreneur, or someone committed to lifelong learning, Udemy offers courses tailored to your needs. Additionally, Udemy serves as an excellent resource for those seeking free education and for educators looking to host their own courses
---
Prefer to watch this review in video format?
Watch here:
FAQ
How does Udemy work?
Udemy courses are created by individual instructors who design and structure the content. Users can browse the course catalog, enroll in courses, and access course materials, including video lectures, quizzes, assignments, and supplementary resources. Courses are typically self-paced, allowing learners to study at their convenience.
How much do Udemy courses cost?
Udemy offers courses at various price points, which can range from $12 to $199 or more, depending on the course and any ongoing promotions. Udemy frequently runs sales and discounts, making it common to find courses at significantly reduced prices
Are Udemy courses accredited?
Udemy courses are not accredited in the traditional sense, as they do not lead to formal degrees or academic credits. However, many courses provide certificates of completion that can be valuable for showcasing skills to employers or on resumes.
Can I access Udemy courses on mobile devices?
Yes, Udemy offers a mobile app that allows users to access course content on smartphones and tablets. This feature enables learning on the go and enhances convenience.
How long do I have access to Udemy courses?
After purchasing a Udemy course, you have lifetime access to the course content. This means you can revisit and review the material at any time, even after completing the course.
Are Udemy courses of high quality?
The quality of Udemy courses can vary since anyone can become an instructor. However, Udemy encourages instructors to provide high-quality content, and student reviews and ratings can help identify well-regarded courses.
Can I interact with instructors or other students on Udemy?
Yes, Udemy courses often include discussion boards or forums where students can ask questions, engage in discussions, and seek clarification from instructors. Instructors may also host live Q&A sessions.
Is Udemy a subscription-based service?
Udemy is not a subscription-based service for individual courses. Instead, users pay for courses individually. However, Udemy offers a subscription service called "Udemy for Business" tailored to organizations.
Can I get a refund if I'm not satisfied with a Udemy course?
Yes, Udemy offers a 30-day refund policy. If you are not satisfied with a course for any reason, you can request a refund within this timeframe.
---
Final review of Udemy: Does Udemy work?
The short answer is yes, Udemy works.
Udemy offers an incredibly affordable and efficient way to acquire both professional and personal skills. The platform is user-friendly, frequently offers enticing sales, and provides access to world-class instructors. While the learning experience is primarily self-directed, you have the freedom to choose when and how you consume course content.
As I reflect on my over five years of experience with Udemy, I can attest to its enduring value. The skills I've gained from Udemy courses have significantly enhanced my business and technology expertise. Furthermore, Udemy's features like gifting courses, tracking progress, and facilitating communication with instructors have added layers of convenience and engagement to my learning journey.
So, is Udemy worth it? In a word, yes! If you're motivated, strategic in planning your learning path, and willing to put in the effort, Udemy can empower you to acquire knowledge that would typically cost thousands of dollars through in-person courses or tertiary institutions. Whether you're a novice or an expert, Udemy can be your gateway to a world of affordable and accessible education.
Whether you're embarking on a new career path, enhancing your skills, or simply exploring new interests, Udemy is a reliable companion on your journey to personal and professional growth. So, why wait? Start your Udemy adventure today and unlock a world of knowledge at your fingertips.