If you're thinking about using Podia to create and sell digital products, but you're still asking "is Podia worth it," you've come to the right Podia review.
As a consultant, I've personally used almost every course builder tool—Thinkific, Teachable, Kajabi, LearnDash—but when it was time to choose a course creation tool for my own program, I chose Podia. In this review, I'll tell you why so that you can decide if it's a good fit for you.
Most online reviews are basically just regurgitations of the sales page. While I have provided many of those details in the full review below, I want to open with some big-picture analysis to help you make a smart decision.
The Pros:
Podia is one of the most versatile internet marketing platforms in existence.
You can use it as a digital storefront for online courses, digital downloads, paid webinars, membership sites, and even coaching sessions.
And you can also use it for email marketing, website design, drip campaigns, affiliate management, and more.
This is not only convenient for beginners, but it's also a big cost-saver for running an online business.
For comparison, if you were to do your email marketing with the popular platform ConvertKit, and you had a list of 5,000 people, you could spend roughly $79 per month just for email marketing.
With Podia, you can have up to 5,000 subscribers in their lowest tier plan (the Mover plan) for $39 per month, which also comes with most of the email marketing features listed above, such as creating and selling online courses.
Or let's say you want to offer a live chat support feature on your sales page.
With Intercom, a popular chat tool, your bill could start at around $65 per month (depending on your situation). With Podia? Included. Again. For $39 per month. And you don't even need third-party code to set up these additional features.
These are just two of many such examples I could give. In a customer testimonial on their site, Podia talks about one small business woman who saved over $1,200 on various tools when she switched to Podia (who, by the way, offer free migration services). So yeah, it's versatile and affordable.
What are the downsides of Podia?
Because it's offered as a low-cost online course platform, Podia has fewer bells and whistles than some competing platforms. It does a lot of things and does them well, but for every feature, there will almost always be a fancier alternative if you're willing to pay more. That said, in the few circumstances where Podia's limitations have been a problem for me, I've always been able to find a creative customization option as a workaround.
For example, if you sell courses, you'll learn that Podia's built-in reporting on student user experience isn't very comprehensive. And if you're a data nerd like me (don't get me started about my love of Google Analytics) who wants to know how many buyers are actually watching your videos and exactly how long they're watching, this could be a drawback. But, with a free Vimeo account, you can upload your videos and use Podia's simple link embed feature (it's literally copy/pasting) to create your lessons. With that done, you'll be able to access more advanced reporting in your free Vimeo account.
Do you get the idea?
Podia is versatile, professional, and affordable—but not super fancy.
So, if you want as many frills as possible, and you don't mind spending more money, you might consider combining an alternative platform with a few more specific services such as Intercom, MailChimp, ConvertKit, Zapier, etc.
But if you simply need a solid tool at a solid price, I recommend Podia.
One other point I'll mention up front is that while some Podia alternatives offer a free tier, Podia does not (although it does offer a 14-day free trial). Free tiers usually come with a very limited list of features, and some of them charge large fees on any sales you make (so, not really free). But if you have no money to spend upfront and you don't mind taking whatever you can get when it comes to functionality, it might be worth looking at other options.
If that high-level Podia review was enough to answer your questions, click the button below to set up your Podia account.
Need more info? No problem. Just keep reading for the full review.
---
What is Podia and what can Podia do?
Podia markets itself as "Everything you need to sell courses, webinars, downloads, and community […] from pre-launch to post-purchase."
This includes features such as:
Which allows you to build "a beautiful, modern, mobile-friendly" landing page for your brand. You can build said site on your own custom domain or on a Podia subdomain, making hosting your own website one of the many other tools you can potentially avoid with Podia.
An email marketing system
Which allows you to send both one-time broadcasts and automated campaigns. If you only use this one feature of Podia, there's a good chance you'll be saving money compared to other marketing email service providers. And it's just scratching the surface of what the full Podia platform can do.
A live messaging widget
This allows you to offer real-time customer service right on your sales page, so you can filter more leads through your sales funnel (and convert them into buyers).
Affiliate marketing program capabilities
Which gives you the potential to grow your sales exponentially through partner promotion.
---
What types of products can you create with Podia?
With Podia, you can create and sell a variety of web-based products, including:
Online courses
If you're interested in creating Masterclass-style course content, Podia allows you to:
Host as much digital content (files and videos) as you want (they use Wistia as their video host, which can cost you $99 per month if you use Wistia outside of Podia).
Offer payment plans and upsells to increase your conversion rates and cart value
Maximize your customer engagement with quizzes, drip content, and interacting with students via comments (you can turn commenting off if you don't want that).
Podia even lets you upload videos in 4K. So if you've been watching Gordon Ramsay's or Martin Scorsese's fancy Masterclass ads and you're looking for ways to up your video quality, Podia has your back.
Digital downloads
Podia is also great for content creators who create written or audio-based content. You can use the platform to sell eBooks, audiobooks, PDFs, cheat sheets, checklists, and other one-off downloads.
Community Memberships
As the former owner of a subscription box, I can tell you that charging recurring fees can be challenging. But it's yet another thing you can do in Podia, allowing you to grow a membership that incorporates both content and discussions.
Webinars and Coaching
Want to sell a live event (such as a group class or a 1×1 coaching call)? Podia offers Zoom and YouTube Live integrations so you can charge for such offerings.
One of my favorite things about selling products in Podia is, if you have more than one, customers can access ALL of their purchased products in the same account—and even learn about other products they haven't bought from you yet. Very convenient.
Plus, creating and editing products in Podia is easy—you need very little prior tech experience. (Do you know how to type? Drag and drop? Upload a file? You're probably fine.)
NOTE: In order to sell any of these products, you will need to integrate your Podia account with a payment processing app such as PayPal or Stripe in order to actually process credit card transactions. These apps also handle your payouts which typically take between 1-2 days to process. This is typical with course platform checkout processes and it's not complicated to set up, but I don't want that step to catch you off guard.
---
Podia Pricing: How Much Does Podia Cost?
Podia offers a few different pricing plans.
Their Mover plan is $39 per month. And for many of my clients, this plan is more than sufficient.
It allows you to create and sell courses and other digital products, send emails to a list of up to 5,000 people, design a website, and more.
The next level Shaker plan is $89 per month. It adds in the ability to run an affiliate program, sell coaching, email a bigger list of people, and more. This is the plan I have personally, but to be honest, I could probably get away with the less expensive Mover plan.
Finally, Podia's Earthquaker plan is $199 per month. It's an enterprise option that primarily gives you more employee logins and higher levels of customer support (such as priority phone support).
I should also point out, all three tiers allow you to sell unlimited courses.
To see a full and current list of what features are included in each plan, click here.
Three more important points:
1. For all three of those plans, you can save an impressive amount of money by paying annually.
So if you plan to use Podia for at least one full year, it might be smart to consider that.
2. Podia does not charge transaction fees on your sales.
Some course builder platforms appear to offer lower prices than Podia. But if you read the fine print, you'll learn that in addition to the subscription cost, they also charge a percentage of your sales as a fee (often 5% – 10%).
In a recent launch that I managed through my consulting business, that fine print could have cost my client roughly $12,000.
Thankfully, with Podia, they only spend $39 a month.
So if you're considering another platform, be sure to look into transaction fees and do the math to make sure you're actually coming out ahead.
(NOTE: The fees I'm discussing above are separate from credit card or payment processor fees you might incur on each sale.)
3. Podia offers a free trial, but not a free plan.
Some Podia alternatives offer a "free" plan with a limited selection of features. I put "free" in quotes because free plans often charge transaction fees on any sales you make (sometimes as high as 10%). While Podia does offer a 14-day free trial, it does not have a free plan.
So…
If you want to create a course builder account now
But you don't plan to use Podia's email marketing tool or website builder
And you don't plan to actually sell anything for a while
You might want to consider alternatives to Podia. Just remember that when you do start selling things, there's a good chance you'll be charged fees on every sale and you'll be working with a limited selection of features—unless you upgrade to a higher tiered plan that will probably cost more than Podia does and still have fewer features.
---
What kind of customer support does Podia offer?
Outside of a platform's capabilities, ease of use, and cost, my biggest concern is always the customer service. And I can honestly say Podia's is one of the best (I'd like to also give a shoutout to Deadline Funnel in this area).
Podia offers a daily live chat popup feature (yes, even on weekends) and their customer service agents are smart and helpful. I've even had one go as far as to log into Wistia (the video hosting service Podia uses for its courses) and send me screenshots of some of the reporting on my videos so I could measure student engagement. That's an impressive level of dedication. (Note: I still recommend the Vimeo strategy I listed above for video reporting.)
Podia also offers live demos and Q&A calls to help members get the most out of the platform.
---
My Personal Favorite Podia Feature
Sometimes in life, it's the little things you really appreciate. For me, when it comes to Podia, that has to be the coupon feature.
Creating coupons in Podia is so easy.
You can offer discounts on a dollar basis or a percent basis, which is nice. And you can limit the use of a coupon to a specific product to make sure it doesn't get used improperly.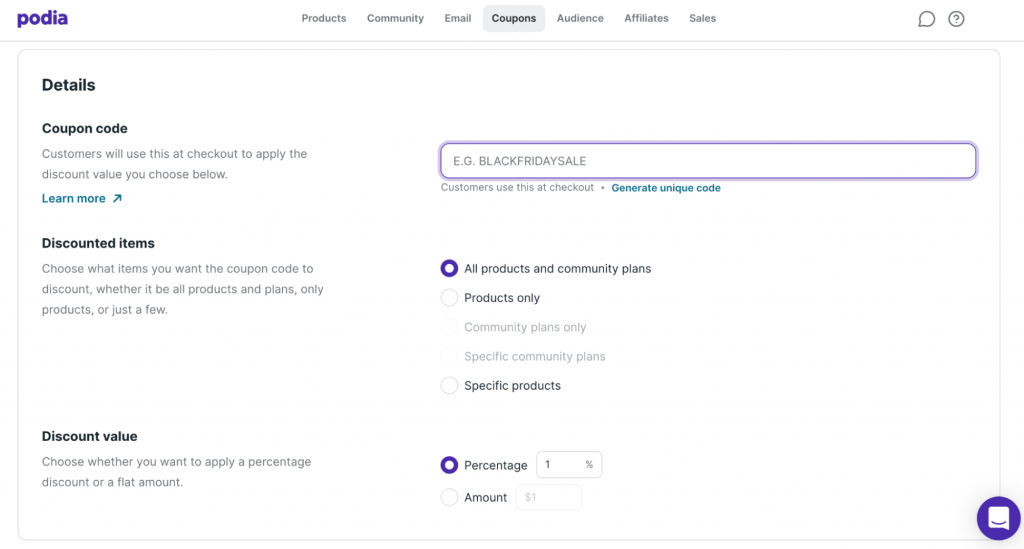 You can also place a limit on the total number of uses or simply set an automatic expiration date. It's a smart way to keep spammy coupon sites from undercutting your sales.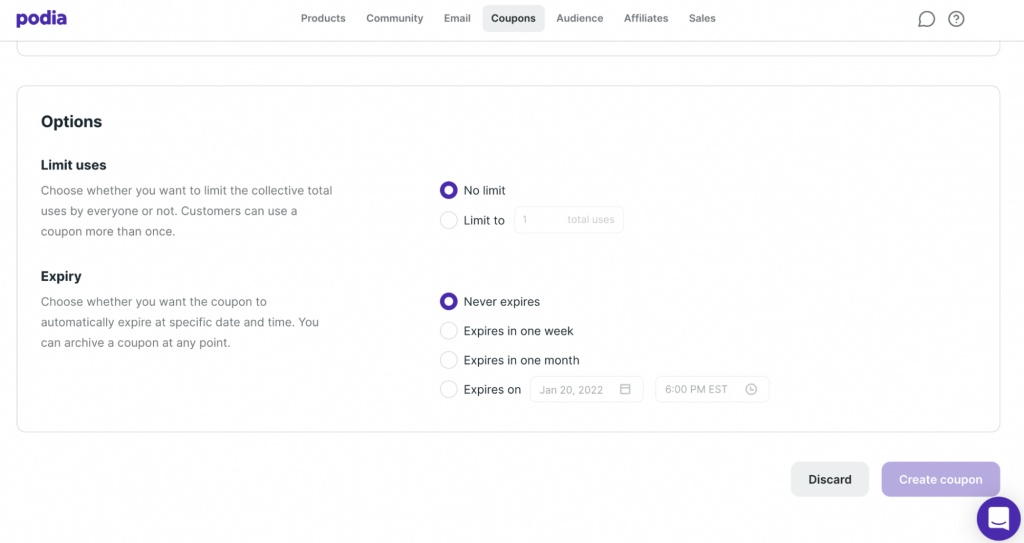 ---
What do I dislike about Podia?
Get ready for nit pickiness like you've never seen it before.
I get annoyed with their email marketing opt-in system, but there's a workaround. I'm not a lawyer, and I do not give legal advice. But it seems to me if someone buys your course, you should have the ability to email them about said product. In Podia, however, customers are asked to check an extra box to agree to receive "marketing emails." And if they don't check that box, they won't be added to your Podia email list. It might be legally correct—I'm not sure—but it's definitely annoying. The good news is you have options. There's a way to set up automated emails within your course's content drip settings (here's a guide). And at least from an operational standpoint, you can export your sales and move the email addresses to another provider (or maybe even re-import them to Podia's email tool)
I've mentioned weak video engagement reporting several times. If more data is important to you, use the Vimeo trick I mentioned above and you should be fine.
The coupon box on their checkout form is really small. In general, I like that because I think a giant coupon box can distract full-price buyers. But I have had customers (often older) complain that they wanted to use a coupon I was offering and couldn't find the coupon box.
Podia doesn't have a true gifting feature, but they do offer a workaround. This has never bothered me personally. In my mind, if you want to gift someone a course, just checkout with their email address. But the lack of a direct gifting solution has annoyed some of my consulting clients.
Some customers of mine have trouble remembering how to log in. For some reason, I've had a number of customers (usually older) who really struggle with logging into courses I manage on Podia. They forget that I sent them a link with their receipt, and they can't remember the URL. To be fair, the free login URL is "SUBDOMAIN NAME.Podia.com/login," which can get long in some cases. So some people will go back to the sales page, which has a login button, but get confused by the buy button…
Anyway, I usually set up a more memorable redirect link from my website to help customers login more easily. It's not really a Podia problem per se, but rather a potential user interface optimization.
As I mentioned in the pricing section, while there is a free trial, there's no free tier. Personally, I think that's appropriate since Podia offers instant-use features such as email marketing. But if you're planning to take a long time creating a product and you want access to a course builder platform the whole time (I'm not sure why you would need that), it might be a factor.
Some cool features are only available in advanced tiers. What I'm about to say is true of virtually every SaaS tool in existence, but certain Podia features are only available within their higher-priced packages (which are still cheaper than many alternatives). For example, I would have loved to get affiliate marketing capabilities in the lowest-priced plan, but I obviously understand Podia's decision to charge more for that. They're a business, not a charity. I would do the same thing in their position.
---
One last thing I appreciate: Podia is constantly innovating.
True story: Literally while I wrote this article, I logged into Podia to double-check my facts on something and noticed they just upgraded the formatting of the customer interface for courses. It looks really good. And I routinely get emails from Podia about new improvements they've made. Podia has even added some of the ideas I've suggested in support to their list of potential future upgrades. They're constantly improving and I really value that.
---
Wrapping Up: Is Podia Worth It?
Obviously, I don't know your specific goals, so I can't tell you if Podia is worth it for your exact situation. What I can say is Podia is a very versatile, very affordable tool. I've used pretty much all of them, yet Podia is my platform of choice due to the reasons I just listed and Podia's commitment to constant improvement.
I hope this Podia Review has given you the information and analysis you need to make an informed decision for yourself!
One final point that I want you to leave with: No matter what platform you choose, I want you to recognize that you don't have to be a tech wizard to create and sell online courses. Sure, you might have a hard time matching the production value of a giant operation such as Masterclass. But with Podia or an alternative, you'll have the opportunity to create and sell video-based courses that educate, inspire, and convert.
I once worked with a company that had spent an enormous amount of time and money building a proprietary way to deliver its own courses. I mentioned to them that platforms such as Podia allow you to create and sell courses for as little as $39 a month, and things got…awkward. So anyway, know your options. And best of luck as you pursue your entrepreneur goals.