Everything you need to know about Skillshare pricing and to answer the age-old question: Is Skillshare free?
You're probably here because you've Googled "Skillshare cost" or "is Skillshare free" but had trouble finding a reliable pricing page. You're not alone.
Skillshare isn't forthcoming about its pricing model, but to save you from all the trouble of internet sleuthing, here is a quick breakdown of what you can expect to pay for Skillshare. (For a more in-depth breakdown, check out my How Much Does Skillshare Cost article.)
Yes, Skillshare is free. But only for the first month.
It is entirely possible, however, to sign up for a free month of Skillshare, have access to high-quality online courses, and cancel before the month is up to avoid being charged.
If it sounds a bit sleazy, even Skillshare admits it's totally acceptable to do so. Just take a look at the text at the bottom of their free trial sign-up page.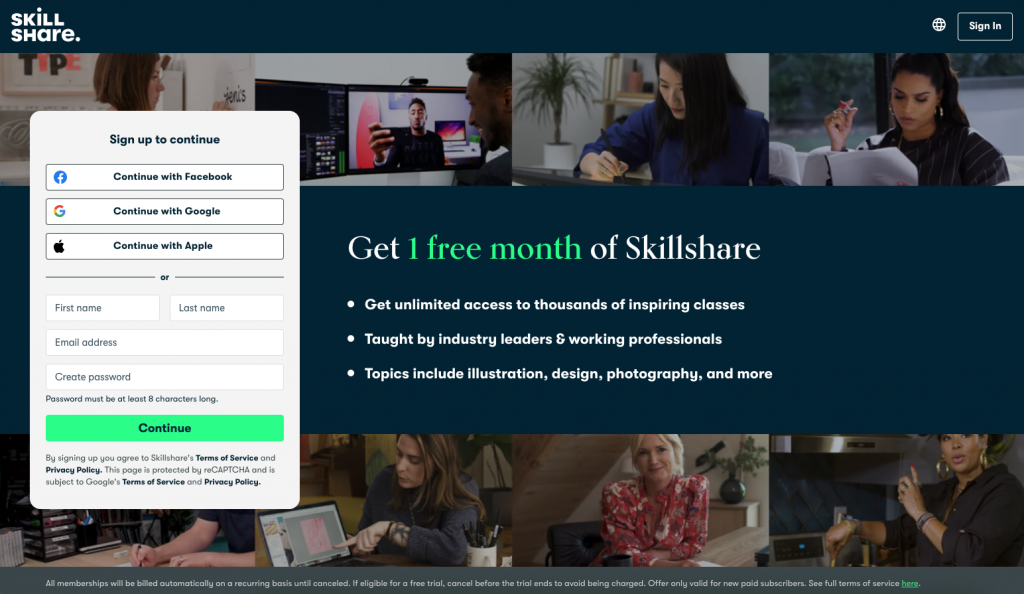 Not to mention that Skillshare offers one month free for every new student you refer. Think of it this way, if you gather up a dozen of your friends and ask them to sign up for a free trial of Skillshare, you'll receive access to an annual membership of Skillshare at no extra cost. That's not a bad deal.
So, if that's all that you were looking for, yes, Skillshare offers free classes for one month for new users. Cancel at any time before the month and you won't be charged.
For a limited time, use coupon code ANNUAL30AFF to receive 30% off Skillshare Premium for one year!
But, if you are looking for a more in-depth look into this online learning platform before making a decision, keep on reading.
---
Table of Contents
A Quick Skillshare Review
Skillshare is an online learning community for students to take online video classes at their own pace. The Skillshare platform offers a broad variety of specific skills such as UX design, creative writing, business analytics, graphic design, photoshop, web development, and so much more.
Compared to other e-learning platforms, Skillshare classes are cost-effective and an excellent launching point for people looking to boost their careers with new skills or simply want an enjoyable learning experience.
The nearly 30,000 courses offered to Skillshare members are taught by thousands of teachers across a broad array of talent and experience. Some notable Skillshare teachers include Seth Godin, Susan Orlean, Young Guru, Marc Ecko, Gary Vaynerchuk, Guy Kawasaki, and Paula Scher.
Recently, Skillshare rolled out a new feature called Chroma Courses which are, "Multi-week, immersive, small group courses that feature limited seating, exclusive content from expert teachers, live Q&As, and personalized feedback on your assignments." Chroma courses allow you to collaborate with other learners in private Slack channels.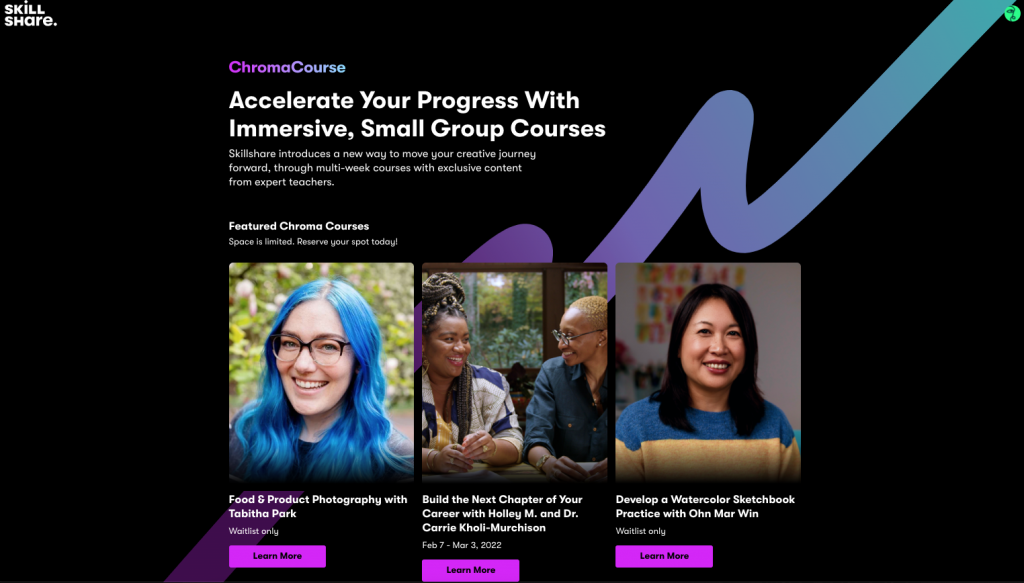 Finally, when you sign up for a Skillshare subscription you immediately gain access to perks offered to Skillshare users. Perks range from a variety of creative services and products such as Adobe Premiere Pro, Squarespace, Todoist, Freshbooks, Canva, and more. The perks vary in savings but quickly add up. To redeem the perks simply visit skillshare.com/perks after you sign up.
Skillshare subscription plans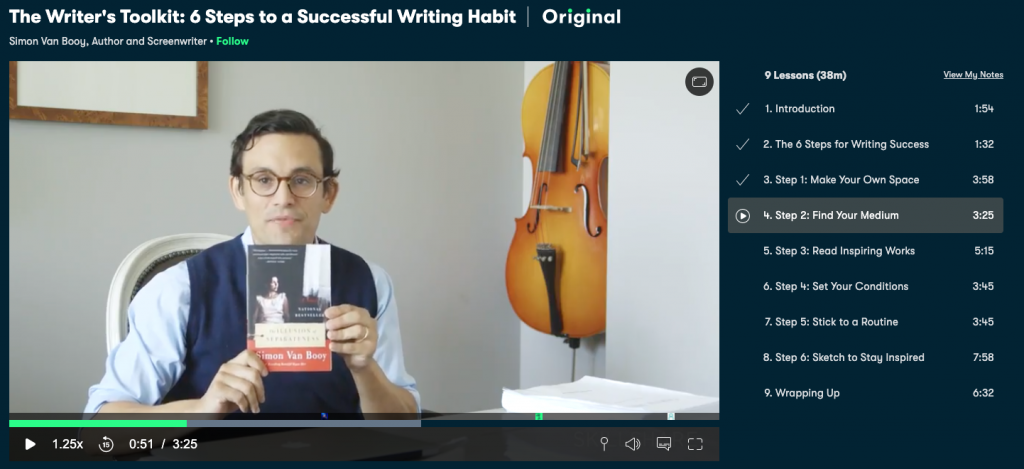 Skillshare used to have free courses under a free membership option, however, that plan is no longer offered. Instead, Skillshare offers free access for one month after signing up for a Skillshare Premium membership (yes, you will need a credit card to sign up). To sign up for the premium subscription, you have two payment opinions:
Monthly subscription—$32 a month
Annual subscription—$168 a year (Over 50% savings)
For a limited time, use coupon code ANNUAL30AFF to receive 30% off Skillshare Premium for one year!
(I should also note that Skillshare also offers team subscriptions if you are looking to furnish your book club or office coworkers with group access.)
With a premium plan, you gain unlimited access to all 30,000+ online classes. Also, as a premium member, you can also download classes onto your iOS or Android devices for offline viewing.
Skillshare courses available
Unlike other high-end online course platforms (like MasterClass and Udemy), Skillshare has an abundant trove of courses ranging from creative, lifestyle, business, and productivity that are accessible and practical. Not to mention, short and to the point.
Skillshare divides its courses into the following categories:
advertising
business
design
entrepreneurship
fashion and style
film and video
food and drink
gaming
music
photography
social media
technology
writing and publishing
How to use Skillshare
You click the "play" button and sit and learn. Just kidding. There's a bit more to it than that.
For starters, Skillshare is heavily geared towards creatives looking for tutorials from respectable instructors. While you are likely to find courses on practically anything (like fridge organization tutorials), Skillshare is worth it for individuals looking to learn or grow their creative skills.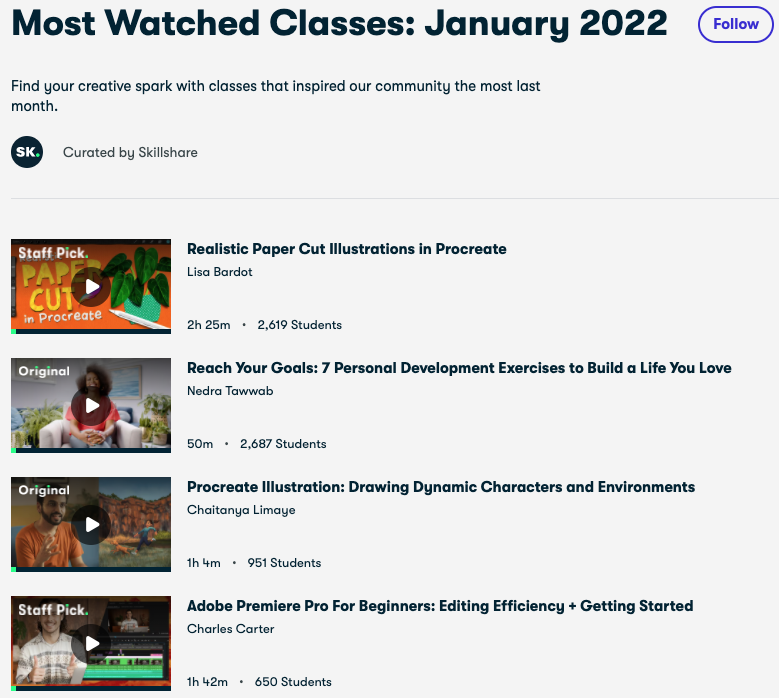 However, if holding a pencil is about as creative as you get, no worries, there are enough courses in a Skillshare premium membership to keep you busy. With easily-digestible video lessons, students can watch on their lunch breaks, on public transit, or late at night in lieu of Netflix.
If you are a more hands-on learning kind of person, Skillshare is definitely worth it with most courses complemented with a project to complete. By the way, I am this type of person which is why I signed up for Skillshare in the first place.
And if you don't like a course, did I already mention there are plenty of other options from which to choose? Sure, you might not find a Margaret Atwood-level class on writing, but you will find hundreds of writing classes from trending and established writers.
As I keep mentioning, you can always try a Skillshare free trial and find out if Skillshare is worth it for you.
---
FAQ
Does Skillshare come with a free trial?
Yes, you can sign up for a 1-month free trial of Skillshare. You will have to create an account, however, you can cancel your subscription prior to being charged if it turns out Skillshare is not for you.
Can I cancel my Skillshare membership?
Yes, to cancel your Skillshare subscription, go to "Payments" in your "Account Settings" and click on the "Cancel Membership" link and follow the prompts.
Is there a Skillshare app?
Yes, there is! The Skillshare app is available to both iOS and Android users.
Can I watch video classes offline?
Yes, to view video classes offline simply navigate to any course and click on the "Download Video" button. The videos will be saved under the "My Classes" button on the Skillshare app.
Can I stream Skillshare courses on my smart T.V.?
Yes, with Chromecast or Airplay you can stream Skillshare videos directly to your television. Follow these more detailed instructions to do so.
---
So, is Skillshare worth it?
The low-cost, high-quality Skillshare leads me to personally answer this question with: Yes, Skillshare is worth it.
However, this is a question only you can answer. So, let's first take a look at the pros and cons of Skillshare.
Pros:
✅ Large selection of over 27,000 courses
✅ Free one month trial
✅ Wide variety of course topics and length
✅ Project-based learning
✅ Affordable
✅ Discounts and perks for additional products and services
✅ Refer a friend = 1 month additional free
✅ Live sessions
Cons:
🚫 Quality of courses vary
🚫 No certificates or accreditation
🚫 No "MasterClass caliber" instructors
Like anything in education, learning takes time, patience, effort, and a willingness to put yourself in a place of curiosity. Luckily Skillshare offers students all of these options in a convenient and practical space.
If you are willing to find the right courses, watch the video lectures, complete the projects, and ask for feedback, then yes, Skillshare will work for you.
The good news is that you can try all this for yourself and make your own decision with a one-month free trial.