Here are the ten best gifts for coaches for the upcoming holiday season!
Working as a coach is often a thankless job. They put in long hours, give up weekends with their families, and even endure difficult weather conditions to make sure their teams get the best possible experience season after season. They do much more than we realize, and yet we rarely take the time to thank coaches for everything they do on and off the field. (Or we end up gifting them a generic coach t-shirt, or worse, a keychain with the coach's name on it.)
If you're looking for an appreciation gift, end-of-season gift, or Christmas gift ideas for your favorite coach, look no further. In this gift guide, I've assembled ten thoughtful gifts to reward all the hard work coaches do for us.
No matter what type of coaches you work with or the occasion you are shopping for, one thing's for sure—you want to make sure the gift you give them comes from the heart and makes them smile. Chances are at least one of the items on this list will resonate with you, and we already know your beloved coach will love all of them.
---
In this gift guide:
---
#1 Coach Gift Idea: A MasterClass Subscription
Even the best coaches need to expand their skill set sometimes. One easy way to do this is through virtual training sessions offered by professional athletes, trainers, and sports coaches. MasterClass is a service that offers just that and is the perfect gift to invest in your favorite coach.
MasterClass is an online catalog of over 150 courses taught by notable leaders in nearly every area of life. Within the sports and gaming category alone, there are over a dozen 30-day curriculum choices. Some notable options include Shooting, Ball-Handling, and Scoring taught by NBA superstar Stephen Curry, Gymnastics Fundamentals by gymnastics coach Simone Biles, and Leading Winning Teams by Geno Auriemma. Not to mention the mental aspects that every coach needs: The Athlete's Mindset by Wayne Gretzky and A Winning Mindset by Lewis Hamilton.
However, there's much more available in MasterClass than courses on sports topics. There are also a wide variety of options in related areas like wellness as well as choreography classes in the arts and entertainment section. Also, every single class can be accessed from any device with an internet connection, meaning the coach in your life can watch these from home or use them alongside their players.
At only $15 a month, a MasterClass subscription really is the gift that keeps on giving. It's also an outstanding investment and a unique gift for any coach.
🔥 Get 50% off a MasterClass subscription! 🔥
Get a head start on Father's Day shopping with a MasterClass 50% off offer. Give the amazing dad in your life a gift that fuels his passions and empowers him to reach new heights!
2. Coaches Clipboard by GoSports
Coaches often need a way to visually show their players what they need them to do. However, it's hard to show team members something without the other team finding out unless you have a tool that lets you draw everything out.
That's where the GoSports Coach Clipboard comes in — it's a dry-erase board that coaches can use to discuss plays or movements with the team. This lets coaches of any experience level stay on top of the game, track game statistics, and elevate their team's performance all in one place. The GoSports board is really a win-win for everyone, but especially the players. You can even get a board for softball/baseball coaches, basketball coaches, football coaches, soccer coaches, volleyball coaches, and many other sports, which means nearly all sports are represented.
Whether you are shopping for a little league coach or a college-level director, the GoSports Coach Clipboard will remain one of the best gifts for coaches over the years.
3. Books Written for (and by) Coaches
Contrary to popular belief, coaches do like to read. Many of them love reading books written by great coaches who came before them because it gives them perspective and inspiration. This means that books written by coaches make some of the best keepsake gifts for coaches.
One popular book for coaches is "Beyond Basketball: Coach K's Keywords for Success" by Duke basketball coach Mike Krzyzewski. It is a collection of short essays written to inspire, motivate, and teach people about the game of life, whether it is on or off the court. It's easy to read and offers insights that head coaches can immediately apply in their own lives or transfer to their students.
Other great book options include "Every Moment Matters: How the World's Best Coaches Inspire Their Athletes and Build Championship Teams" and "Called to Coach: Reflections on Life, Faith and Football."
If you think the coach you're shopping for already has these books, you can get them a gift card to their bookstore of choice. Or, you could get them a new Kindle with a pre-paid Kindle Unlimited subscription so they can pick out the best books for themselves. Chances are they will make use of it fairly quickly, and this guarantees they get some books they want out of the deal. This lets them decide what to purchase, and it takes the pressure off you (at least a little).
4. Spotify Premium Subscription
The best workouts and warm-up sessions are the ones with music playing. Every good coach knows this. Coaches need to be the ones in control of the playlists, so nothing inappropriate happens and the beats fit with what the players are doing. Music app subscriptions can add up over time, but you can help your coach by purchasing a Spotify subscription on their behalf.
You can buy Spotify Premium subscription gift cards in increments of 1, 3, 6, or 12 months. Then, all the coach in your life has to do is redeem the gift card once you gift it to them. They can use it to go towards an existing subscription (meaning they don't have to pay out of pocket for a bit), or they can use it to start a new membership.
Spotify gift cards are available through most major retailers where other gift cards are sold.
5. Coaching Accessories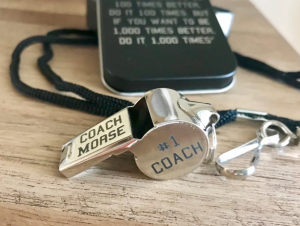 Coaches need a lot of things for their job. However, all of this equipment adds up, and not every coach makes enough extra to afford things (assuming they get paid at all). If you want to help them out, find out what accessories they need and purchase them as a gift.
For example, maybe the coach you're shopping for needs a new personalized coach whistle. Well, you can find customizable engraved whistles through retailers like Amazon or private sellers on Etsy. This not only gives the coach a practical gift but it makes it more personal. 
Similarly, coaches may need a megaphone or stopwatch. They may also need a ball pump that is electric and programmable. Coach tumblers, water bottles, or even some wall art for their office are great opportunities for personalized gifts. There are endless possibilities with coaching accessories, so you may need to keep an eye out or bring up what they need in casual conversation to get a better idea of what items would be the most helpful at present.
6. Sporting Event Tickets
Coaches don't do what they do just because they like being in charge of a team—they do it because they enjoy sports. So what better thank-you gift to get them than tickets to a local or professional sporting event?
There are many sports to choose from, such as football, soccer, hockey, basketball, or baseball. Some special events or tournaments may be going on in your area, depending on the time of year and the venues near you. Many people love professional sporting events, but college teams can also be fun to watch. Just make sure you find out what teams your coach is a fan of before you buy tickets.
Many websites specialize in selling tickets for sporting events. Some notable sites include StubHub, Vivid Seats, SeatGeek, and TicketMaster. Alternatively, you can go directly to the team of your choice's website and see what ticketing platform they use to sell tickets.
7. Registration Fees for a Coaching Clinic
Coaching clinics are like professional conferences for coaches where they can learn new techniques, teambuilding ideas, drill exercises, and more. These events are usually highly beneficial for coaches and help them rejuvenate at the end of the season and before a new year of sports. However, coaching clinics can be quite costly, and many coaches pay for them out of pocket if they don't have a booster club with money to cover it.
Paying for the registration fees for a coaching clinic is one of the best gifts for coaches because it lets them receive training and insight without breaking the bank. You are giving them a gift that will pay dividends in years to come, and you will at least somewhat benefit from them. It also frees up their money for other related expenses like hotel and meal expenses.
Not sure what coaching clinics the coach in your life is interested in? Just ask or give it a quick Google.
8. Rocketbook Reusable Smart Notebook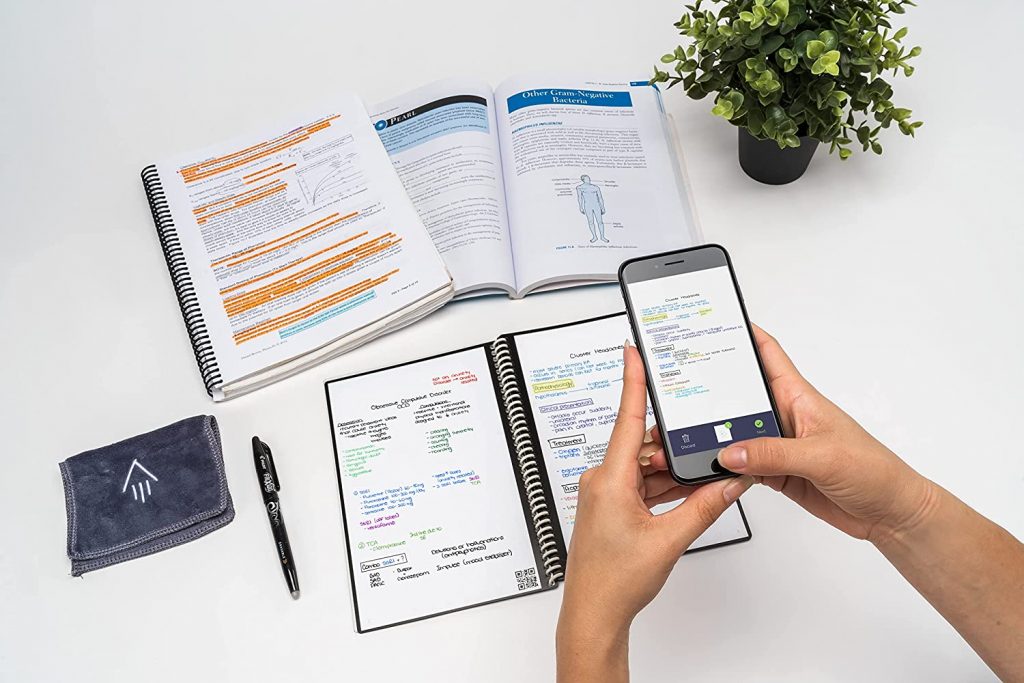 Coaches sometimes need to jot down notes, sketch play ideas, or organize other information. However, it can be difficult to keep up with what notebook or random sheet of paper those miscellaneous items ended up on, not to mention paper can easily get wet and messed up.
But what if there was a notebook that was more versatile and reusable? Well, there is!
The Rocketbook Smart Reusable Notebook lets coaches jot down plays or other thoughts on paper anytime they need to. Then, once they leave the field or court, they can transfer these notes to Rocketbook's free digital platform and wipe the journal clean to reuse another day. Your coach can also easily transfer their handwritten notes over to their favorite cloud storage service (Dropbox, iCloud, Google Drive) and organize everything into folders. 
This notebook comes with 32 dotted grid pages, a single Pilot Frixion pen (you can always buy more), and a cleaning cloth. It's one of the best gifts you can buy for coaches, and it's very versatile.
9. A Picture Book
Coaches love to remember each season of play. One easy way to do this is by creating a picture book or scrapbook that includes images from the entire season.
Some places, like Shutterstock or Mixbook, let you take digital images and import them to a template you select. You can move the images around or let them auto-populate where they best fit in the book. They're very easy and ship fairly quickly.
If you are a bit more artistically talented, you can make a scrapbook yourself with team photos, quotes, the team logo, and other items you've collected throughout the season. This offers a much more personal touch, but it can be time-consuming. If you have the time and like to create crafts, this could be fun.
Regardless of which option you choose, your coach will love seeing the pictures and reliving the season for years to come. Just make sure you collect pictures of everyone from the team and include a variety of funny pictures and more serious moments, as well as a flattering coach photo or two. This will make it candid and a true representation of the season.
10. Gift Cards
Still not seeing a gift idea you like for that coach in your life? That's okay—gift cards always make great gifts too!
Coaches can find purposes for a variety of gift cards. They can use restaurant gift cards to pay for meals on the road or feed their family on busy game weeks. They can use Amazon and similar retail gift cards to buy items for the team or their own needs throughout the sports season. Even massage gift cards can be great gifts for coaches because they probably need to relax after a stressful sports season.
If you aren't sure what type of gift card the coach you're shopping for would like, ask around to find out what their favorite things are. That should spark some ideas that you can use. And, if you're still stumped after that, you can always try a Visa or American Express gift card since those can be used anywhere, anytime.
Make A Coach's Day With A Great Coach Gift
Shopping for the best gifts for coaches doesn't have to feel like its own difficult workout. Most coaches love anything related to the sport they work in, and these 10 gift recommendations definitely meet that requirement. Regardless of your budget or the occasion, you can probably find at least one item on this list that will meet your needs and make the coach in your life smile.
Some recommendations on this list of best gifts, like the MasterClass subscription, are continuous gifts that coaches can keep using over time. Others, like the sporting event tickets, may only yield a one-time use, but they will definitely let the coach you're shopping for make lifelong memories.
No matter what you decide, the coach in your life will definitely appreciate your kindness and make sure the gift doesn't go to waste. At the end of the day, what matters is that coaches know how much you appreciate them, and any gift will do that.